Our Nation Has a Progression of Ungodly Leaders and Now The Death Angel will Visit Them–It's Just The Beginning …
Millions of Americans have just lost their jobs in the last several weeks due to the COVID-19 outbreak shutting down large swaths of the US economy. Households are coming under severe financial stress, with no savings, insurmountable debts, and job loss. Many are waiting for President Trump's stimulus check to arrive in the mail, some have skipped out on their rent or mortgage payments on April 1, and others have called their credit card companies to defer debt servicing payments as incomes for tens of millions of people have gone to zero.
The panic buying of food and supplies over the last month shows just how many people were unprepared for a national health crisis, nevertheless, now developing into an economic crash, and soon could be followed by a period of social unrest.
But before the social fabric of America becomes unstitched – households are to crack first. Their finances are piss-poor, with no savings and insurmountable debts, which include auto, credit cards, and student loans.
At the beginning of March, we noted how the gig-economy was about to crash, and by looking at the employment data that has come out since, along with future estimates, it's pointing to an economic depression that could be arriving as soon as the second quarter.
Households are in rough shape. Many people are heavily medicated, own weapons, and have some sort of substance use disorder, suggesting that in periods of extreme financial stress – suicides could increase.
What's concerning is that a suicide wave among low-income folks, who are already feeling the side effects of job loss, could be imminent.
President Trump warned in the last week of March that nationwide lockdowns must be reversed to prevent "tremendous death" from the economic depression, referring to the likely increase of suicides.
The 2008 Great Recession resulted in more than 10,000 suicides. The Great Depression resulted in tens of thousands of people taking their own lives. If the economy continues to be shuttered through April and or even May, then the depression will deepen, and suicides will increase. That is just the nature of the beast.
"People get tremendous anxiety and depression and you have suicide over things like this, when you have a terrible economy, you have death," President Trump said this week.
Pedophile Rapist Released From Massachusetts Prison to Protect Him From Coronavirus
Are they making room for law-abiding citizens not staying quarantined.??
@realDonaldTrumpPedophile Rapist Released From Massachusetts Prison To Protect Him From CoronavirusPresident Trump got criticized for saying "we cannot let the cure be worse than the problem itself," with regard to the coronavirus. Sadly, he was right in more ways than one. The Massachusetts…pjmedia.com
And with that being said, on Monday, a Pennsylvania man upset over losing his job due to the virus shutdown shot his girlfriend and then killed himself in an attempted murder-suicide. While this is only one incident, all the evidence above suggests suicides across the country will increase in the weeks or months ahead.
What could come next is social unrest – households are crushed, have no money and or job, and that is likely why President Trump signed an executive order last Friday to call up as many as one million National Guard and reservists – not just to fight the virus outbreak – but to maintain social order.
Watchmen, of today, are called to speak the word of the Lord from within the court, mounting an internal critique. The pressures on Nathan to keep silent after David seized Bathsheba and sent her husband to his death must have been enormous. He could have vented himself in a scathing editorial and then kept his head down. From all appearances, though, Nathan had free access to the court, was a friend of David, and a close adviser. It is said that prophets spoke truth to power, but that goes beyond cliché when we realize that prophets spoke the truth face to face with power, to powerful men and women whom the prophets knew intimately, frequently from their own position of power.SRH…
Everything is right on schedule and, now, the time is come to remove one of the final obstacles standing in the way of a New World Order: The United States Constitution – even if, over the course of many decades, it has already been greatly diminished by the B.E.A.S.T. system; or, more specifically, Bullshit Emerging As Strategic Totalitarianism (B.E.A.S.T.).
This Is Where We're All Headed, Get Ready…
National Guard Deploys In Baltimore As City Enforces Restrictive Curfew
Summary:
NYC Mayor de Blasio says "we are now the epicenter of the crisis."
A staffer for VP Pence test positive; White House says "no close contact"
China reports no local infections for 2nd day in a row
Global case total passes 250k
Hong Kong reports largest daily jump in cases on record as travelers revive outbreak
NY rolls out restrictive new measures
NY case total tops 7k
Italy says Army will help enforce lockdown, effectively declaring martial law; might extend lockdown through early May
Spain death toll cracks 1,000
Italy reports another 627 deaths
National Guard spotted in Baltimore as 2nd death recorded in Baltimore County
Confirmed cases in US pass 14k
Drive-thru testing site in NJ's Bergen County has a line that's over 1,000+ cars long
Switzerland bars all gatherings of more than 5 people
Greenwich cases spike as Darien shutters COVID-19 testing clinic
Trump says no plans for national lockdown
Germany to pass 'shadow' budget on Monday
EU suspends budget rules
Bavaria becomes the first German state to impose 'lockdown'
Johnson says the UK can defeat virus in 12 weeks if 'we work together'
Treasury now moving back both filing & payment deadlines for 2019
Novartis will donate up to 130 million doses of hydroxychloroquine to support the global response
NBC News employee succumbs to the virus
Dr. Fauci says social distancing should continue for several weeks
MTA confirms it has 23 sick workers
US, Mexico agree to shut southern border
China makes first purchase under 'Phase 1' trade deal
Altria chairman & CEO tests positive
Military confirms 35 American troops infected in Europe
TRAVEL PAPERS AND ELECTRONIC TRAVEL PERMITS ISSUE WORLDWIDE "Travel Papers" & The Pandemic Patriot Act 2.0 https://www.zerohedge.com/political/travel-papers-pandemic-patriot-act-20 On March 17th, a few days before New York issued a shelter in place order, the Metropolitan Transportation Authority issued "travel papers" to their employees to prepare for a potential coronavirus curfew. The NY Daily News reports: If non-emergency travel is restricted, workers can show law enforcement officials the letter if they're stopped on the way to work. "This letter along with current New York City Transit identification identifies this individual as an essential employee who is required to travel during the curfew imposed due to the Coronavirus emergency," states the letter, which is signed by the Metropolitan Transportation Authority's Police Department's acting chief Joseph McGrann. "Please give this individual due consideration during this crisis." It seems like the DoJ is itching to suspend the Constitution. Jordan also is issuing "permits" for moving around during the curfew. https://en.royanews.tv/news/20394/2020-03-24 With regard to the movement permits currently in place to those whose work nature requires so, they will be canceled as of next Thursday evening and will be replaced with electronic permits.
The mechanism for obtaining them will be announced later. The government warned against movement permits forgery or giving permits to others to use them. By far, the biggest surveillance state is now China.
Eight of the top 10 most surveilled cities in the world are in China, according to Comparitech, as the world's No. 2 economy rolls out an unparalleled system of social control. Facial–recognition software is used to access office buildings, snare criminals and even shame jaywalkers at busy intersections.
China today is a harbinger of what society looks like when surveillance proliferates unchecked. But while few nations have embraced surveillance the way China has, it is far from alone. Surveillance has become an everyday part of life in most developed societies, aided by an explosion in AI-powered facial–recognition technology. Last year, London police made their first arrest based on facial recognition by cross-referencing photos of pedestrians in tourist hot spots with a database of known felons. A few months earlier, a trial of facial–recognition software by police in New Delhi reportedly recognized 3,000 missing children in just four days. In August, a wanted drug trafficker was captured in Brazil after facial recognition software spotted him at a subway station. The technology is widespread in the U.S. too. It has aided in the arrest of alleged credit-card swindlers in Colorado and a suspected rapist in Pennsylvania. On December 17, 2019, the New York Times ran an article on the state of surveillance tech. https://www.nytimes.com/2019/12/17/technology/china-surveillance.html China is ramping up its ability to spy on its nearly 1.4 billion people to new and disturbing levels, giving the world a blueprint for how to build a digital totalitarian state. Chinese authorities are knitting together old and state-of-the-art technologies — phone scanners, facial-recognition cameras, face and fingerprint databases and many others — into sweeping tools for authoritarian control, according to police and private databases examined by The New York Times. Once combined and fully operational, the tools can help police grab the identities of people as they walk down the street, find out who they are meeting with and identify who does and doesn't belong to the Communist Party.
The United States and other countries use some of the same techniques to track terrorists or drug lords. Chinese cities want to use them to track everybody. In the world of "mark of the beast" surveillance, everyone will be considered a terrorist until proven 'not guilty' through having voluntarily accepted an implanted tracking device. Israel is using the coronavirus outbreak to implement China's draconian surveillance. The average phone has 14 sensors collecting data on its owner's 'micro-environment,' says systems engineer whose firm is helping the Israeli government. https://www.timesofisrael.com/how-digital-surveillance-in-virus-fight-watchesyou-more-closely-than-any-gps/ Coronavirus phone tracking doesn't just tell governments more or less where their citizens are, but can also show the phone owners' "micro-environment" and provide a treasure trove of information about their physical surroundings, a systems engineer behind key technology being used in the battle against the spread of coronavirus has revealed.
He said that Neura [his company] is working with health organizations in several countries, and "helping" the government in Israel, though he agreed only to discuss his company's work in general terms without going into the specifics of its role in Israel. processes build a highly accurate picture of exactly where an infected person has been. It uses precise levels of ambient light and other characteristics of the environment, along with information like what WiFi networks and Bluetooth devices were available at what signal strength, regardless of whether or not the person in question was connected. Motion sensors are a giveaway if people were in the same car or on the same bus or train. Neura's algorithms trawl the cellphone information collected by governments and determine who else was in an identical setting — something that can normally be determined even if a phone was in a pocket or a bag. When there is a match, authorities see it on their systems and can choose to place that person in quarantine. "We are finders of needles in haystacks," said [vice president of Neura] Shaashua, whose technology is normally used by companies that want artificial intelligence to improve customer relations.
He said his company knows nothing about the people whose smartphone data it analyzes, not even their names or phone numbers. Governments tell the company who has the coronavirus by flagging up their phone with an "anonymized token," and a similar token is used by Neura to identify the phones of people who may need to be quarantined. He said that this same "anonymized" data is setting the tone of what national leaders are saying to their citizens. Neura takes the raw data and gives authorities a picture of how citizens have been behaving — how much they have been moving around, to what extent they are gathering and in what scale of the crowd, and what kind of environments they are in.
It Should Be Clear by Now Our Elected Officials Are in Reality Members Of, Enablers of the New World Order, the Department of Justice Has Asked Congress for Indefinite Detention Powers, Citing the Coronavirus, That's Laughable, They Intend to Turn Total Control Over to the United Nations, People Like Bill Gates That Have the Demonic Vision for Humanity Here's the Good News They Only Have 7 1/2 Years and Jesus Will Returns and These Ungodly Individuals and Groups Will Reap Their Reward, a Life TIME of Torment, Enjoy Reprobates… StevieRay Hansen
The Justice Department is using the outbreak of the coronavirus to expand their power. They have reportedly asked Congress for the power to detain Americans indefinitely without a trial in order to fight the outbreak which has so far, infected 32,000 Americans.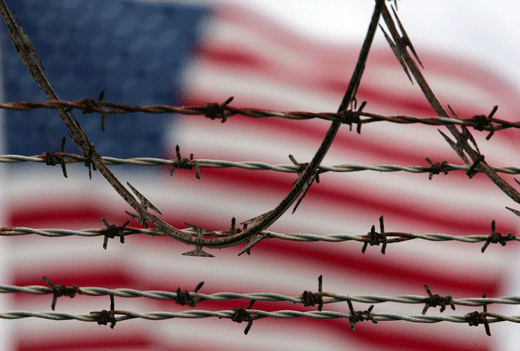 The government is rapidly moving to destroy human rights and the basic fundamental freedoms we hold dear in the name of fighting the coronavirus. This is far more severe than an outbreak. Enslaving humanity should never be the solution to a problem. However, the justice department thinks this request is acceptable. They are asking Congress to allow the U.S. attorney general to ask courts to suspend court proceedings.
These include "any statutes or rules of procedure otherwise affecting pre-arrest, post-arrest, pre-trial, trial, and post-trial procedures in criminal and juvenile proceedings and all civil process and proceedings," reports Betsy Woodruff Swan, citing DOJ documents presented to Congress.
Basic human rights are in danger of being severely diminished if not outright destroyed. If Congress approves this power grab (and I wouldn't put it past them) totalitarianism is in our very near future.
The Justice Department would be able to postpone trials, hearings, and other procedural steps that follow an arrest. That represents a potentially huge violation of the constitutional right to a speedy trial.

Those powers would apply "whenever the district court is fully or partially closed by virtue of any natural disaster, civil disobedience, or other emergency situation," Woodruff Swan writes, and would remain in place for "one year following the end of the national emergency." –Reason
"If history is any indication, it's a near certainty that these powers will be abused and that DOJ will try to hide those abuses when they occur," says Clark Neily, the vice president for criminal justice at the Cato Institute. "This is simply not an agency that has earned the kind of trust implied by these requests for increased authority and discretion."
It's also unclear how allowing indefinite detention would help fight the coronavirus outbreak. It seems more likely that the DOJ is learning from members of Congress and the president that the crisis provides a convenient excuseto ask for things it already wanted in the first place. –Reason
Without Trial–deeply disturbing, Entering the Great Tribulation…
This Pestilent Is Revealing to All What Many of Us Have Known for a Long Time: This Godless Nation Was Designed by the Un-Godly to Fail and so Its Failure Was Not Just Predictable but Inevitable
Source: HNewsWire CensoredNews ZeroHedge
StevieRay Hansen
Editor, HNewsWire.com
Watchmen does not confuse truth with consensus The Watchmen does not confuse God's word with the word of those in power…
All the official reassurances won't be worth a bucket of warm spit. The Globals are behind the CoronaVirus, It Is a Man-Made Bioweapon.
The Bill and Melinda Gates Foundation Have NOT Got The Memo Yet, "Pestilences" Has No Cure
The Coronavirus Was Most Certainly Produced by Crazy (Un-Godly) Men in Laboratories, WGO and CDC Knew All Along That the Coronavirus Was a Bioweapon, There're in Charge?
Well-known medical expert Bill Gates did an AMA on Reddit (transcribed here), in which he casually drops some chilling ideas into the conversation:
Eventually, we will have some digital certificates to show who has recovered or been tested recently or when we have a vaccine who has received it.
All in all, our freedoms are being swamped. Big corporations and states alike are setting boundaries on individual rights on a flimsy pretext.
Is anyone in the media reporting that? Of course not. Instead, we're getting fawning celebrity-based drivel like this in the Independent, trying to convince us "we're all in this together", or weasel-worded nonsense like this from Jonathan Freedland in The Guardian where he mourns Johnson's "libertarian" spirit and reluctance to impose social control. That would be the mass-surveilling, drone executing, war-supporting type of libertarian. A crass and obvious example of narrative management.
Even members of the alt-media are falling for this, with prominent voices hailing the measures as necessary or demanding "further action" (one usually sane analyst is advocating locking all of those "probably infected" inside empty sports stadiums to be "medically monitored"). Somehow former Goldman Sachs banker and Hedge Fund manager Rishi Sunak is being praised as some kind of Nye Bevan figure. It's almost literally insane.
If a mandatory vaccination program were to be implemented again in the U.S. for ("Chinese virus") COVID-19, the government would have to reassure the public its previous negligence of such side effects would not be repeated, an unlikely scenario after the corporate breach of trust exposed on Wall Street in recent years involving large pharmaceutical firms. Regardless, Big Pharma is already partnering with the U.S. Army to develop a vaccine for the coronavirus which would have to be tested and evaluated before licensing by the Food and Drug Administration (FDA) and recommended for use by the Centers for Disease Control and Prevention (CDC), both of which partner with the WHO whose largest financial contributor is the U.S. government.
One of the WHO's other largest benefactors is the Bill and Melinda Gates Foundation with whom it has a partnership on vaccinations. The billionaire Microsoft Corporation founder has used his enormous wealth to dodge paying taxes under the guise of philanthropy and his 'charitable' private ventures have mostly focused on producing vaccines for developing countries and purportedly tackling global poverty, especially in Africa. On the surface, this may appear to be benevolent work, but like many so-called altruistic projects, it is a scheme which allows ultra-wealthy plutocrats like Gates to influence global policy and obtain political power with no accountability by investing in "fixing" the social problems caused by the very system which made them rich, with the expansion of neoliberalism as their real agenda. The consequences of this can be seen with charitable projects involving Gates in the Congo which forced its local agribusiness into using GMO seeds which only benefited private companies like Monsanto.
More disturbing is that in regard to environmental concerns about man-made climate change, Gates has made public his views on curbing human population growth as a solution. At a 2010 TED Conference, Gates stated:
"First we got population. The world today has 6.8 billion people. That's headed up to about 9 billion. Now if we do a really great job on new vaccines, health care, reproductive health services, we lower that by perhaps 10 or 15 percent."
To put it another way, one of the world's wealthiest men admitted in public he believes vaccines should be used for depopulation, just as he is financially investing in both developing and delivering them to countries in the global south. The misanthropic myth of 'overpopulation' pushed by Gates and the elite not only suggests that depopulation is a solution for slowing the warming of the climate but retains the logic of an essential component of eugenics with the implicit idea that the quality of life for the human species can be improved by discouraging human reproduction. Since developing countries have the highest child mortality rates, families are more likely to be larger because children are less likely to survive. Hence, the inherent racism and classism in such a misconception.
tribulation, antichrist, Christianity, Christians, end times, First Amendment, hate groups, Electronic Prison, Birth Pains, Censorship, Collapse, content publishers, digital tyranny, Donald Trump, election fraud, evil, freedom of speech, Google, impotence, meddling, oppressed, President Trump, speech police, tech giants, Trump, Tyranny
Give GOD" Thanks for Pres. TRUMP Dear Father in heaven, forgive me for my pedestrian dreams, my selfish prayers, and my short-sighted goals. Awaken my heart…
Read More