Advisory: Be careful of what you read on social media. The algorithms used by these platforms have no regard for Biblical truth. They target your emotions to keep you engaged on their site so their advertisers can drop more ads. These platforms exist to enrich their stockholders. Consider God's promise to Believers in James 1:5, "If any of you lacks wisdom, you should ask God, who gives generously to all without finding fault, and it will be given to you."
Alan Jones blasts major sponsor of Rugby Australia: 'They have contracts with organisations whose treatment of women and homosexuals is repugnant'
"Hypocrisy" refers to the act of claiming to believe something but acting in a different manner. The word is derived from the Greek term for "actor"—literally, "one who wears a mask"—in other words, someone who pretends to be what he is not.
The Bible calls hypocrisy a sin. There are two forms hypocrisy can take: that of professing belief in something and then acting in a manner contrary to that belief, and that of looking down on others when we ourselves are flawed.
Alan Jones has blasted Qantas, suggesting the major sponsor for
Rugby Australia
Speaking to 2GB's Ben Fordham, Jones said: "This is the same sponsor who has a contract with Middle Eastern airline companies whose treatment of women and homosexuals is repugnant.
"We're talking money from an entity which has a corporate engagement with international organisations whose treatment of women and homosexuals is totally unacceptable to the moral standards of Australians, but that's OK. That seems to be OK.
"It's OK to punch someone and you get six weeks. It's OK to be on drugs and you get reinstated, but if the boy dares to proclaim his commitment to Christianity he's banned for life," Jones said.Source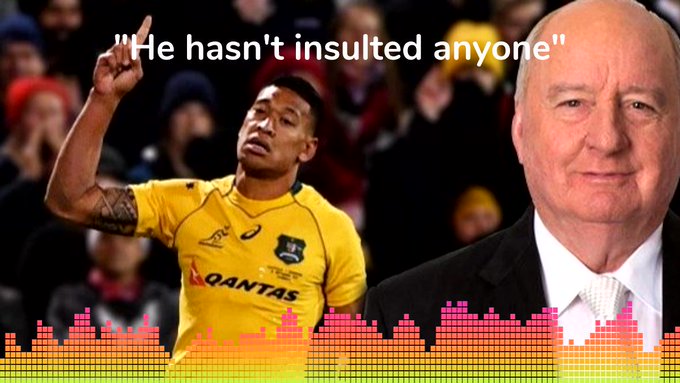 Ben Fordham Show✔@SydneyLive2GB
Rugby Australia has torn up Israel Folau's $4 million dollar contract.@2GB873's @AlanJones predicts Folau will appeal the decision
The prophet Isaiah condemned the hypocrisy of his day: "The Lord says, 'These people come near to me with their mouth and honor me with their lips, but their hearts are far from me. Their worship of me is made up only of rules taught by men'" (Isaiah 29:13). Centuries later, Jesus quoted this verse, aiming the same condemnation at the religious leaders of His day (Matthew 15:8-9). John the Baptist refused to give hypocrites a pass, telling them to produce "fruits worthy of repentance" (Luke 3:8). Jesus took an equally staunch stand against sanctimony—He called hypocrites "wolves in sheep's clothing" (Matthew 7:15), "whitewashed tombs" (Matthew 23:27), "snakes," and "brood of vipers" (Matthew 23:33).
We cannot say we love God if we do not love our brothers (1 John 2:9). Love must be "without hypocrisy" (Romans 12:9, NKJV). A hypocrite may look righteous on the outside, but it is a façade. True righteousness comes from the inner transformation of the Holy Spirit not an external conformity to a set of rules (Matthew 23:5; 2 Corinthians 3:8).
Jesus addressed the other form of hypocrisy in the Sermon on the Mount: "Why do you look at the speck of sawdust in your brother's eye and pay no attention to the plank in your own eye? How can you say to your brother, 'Let me take the speck out of your eye,' when all the time there is a plank in your own eye? You hypocrite, first take the plank out of your own eye, and then you will see clearly to remove the speck from your brother's eye" (Matthew 7:3-5). Jesus is not teaching against discernment or helping others overcome sin; instead, He is telling us not be so prideful and convinced of our own goodness that we criticize others from a position of self-righteousness. We should do some introspection first and correct our own shortcomings before we go after the "specks" in others (cf. Romans 2:1).
During Jesus' earthly ministry, He had many run-ins with the religious leaders of the day, the Pharisees. These men were well versed in the Scriptures and zealous about following every letter of the Law (Acts 26:5). However, in adhering to the letter of the Law, they actively sought loopholes that allowed them to violate the spirit of the Law. Also, they displayed a lack of compassion toward their fellow man and were often overly demonstrative of their so-called spirituality in order to garner praise (Matthew 23:5–7; Luke 18:11). Jesus denounced their behavior in no uncertain terms, pointing out that "justice, mercy, and faithfulness" are more important than pursuing a perfection based on faulty standards (Matthew 23:23). Jesus made it clear that the problem was not with the Law but the way in which the Pharisees implemented it (Matthew 23:2-3). Today, the word pharisee has become synonymous with hypocrite.
It must be noted that hypocrisy is not the same as taking a stand against sin. For example, it is not hypocrisy to teach that drunkenness is a sin, unless the one teaching against drunkenness gets drunk every weekend—that would be hypocrisy.
As children of God, we are called to strive for holiness (1 Peter 1:16). We are to "hate what is evil" and "cling to what is good" (Romans 12:9). We should never imply an acceptance of sin, especially in our own lives. All we do should be consistent with what we believe and who we are in Christ. Play-acting is meant for the stage, not for real life.
Recommended Resource: The Choice: Hypocrisy or Real Christianity? by Chuck & Nancy Missler
StevieRay Hansen
Editor, HNewsWire.com
It is impossible to find anyone in the Bible who was a power for God who did not have enemies and was not hated.
Like Joseph and Daniel of the Old Testament who served secular kings, we are called to serve everyone and help them fulfill their divine destiny. Jesus made it clear that people who want to lead or be great must be the servants of all. Serving is the way of leadership in the kingdom.
Forcing our way onto the world is not great leadership. Some accuse us of doing this very thing because we speak up on moral issues. It is important that we speak up on issues, but it's also equally important that we love everyone no matter their persuasions.
Someday Jesus will rule the world; in the meantime, we should just serve well and let our good works speak of our Father who loves everyone.
Evil Exists So Spiritual Warfare Becomes Necessary!
MY MISSION IS NOT TO CONVINCE YOU, ONLY TO INFORM…
Evil men don't understand the importance of justice, but those who follow the Lord are much concerned about it. ~ Proverbs 28:5
Jesus come quick, there is nothing left in society that's sacred….
HNewsWire-Lone star ticks harboring a virus that might be lethal to humans have been detected in Georgia, according to a new research published Wednesday. According…
Read More
We make every effort to acknowledge sources used in our news articles. In a few cases, the sources were lost due to a technological glitch. If you believe we have not given sufficient credit for your source material, please contact us, and we will be more than happy to link to your article.