Advisory: Be careful of what you read on social media. The algorithms used by these platforms have no regard for Biblical truth. They target your emotions to keep you engaged on their site so their advertisers can drop more ads. These platforms exist to enrich their stockholders. Consider God's promise to Believers in James 1:5, "If any of you lacks wisdom, you should ask God, who gives generously to all without finding fault, and it will be given to you."
Heatwave, And 'Fire-nados'…
San Francisco Bay Area Has The Worst Air Quality In The World As Wildfires Rage
Amid a record-breaking heatwave, air quality in the San Francisco Bay Area was the worst in the world, as smoke from wildfires blows over the region.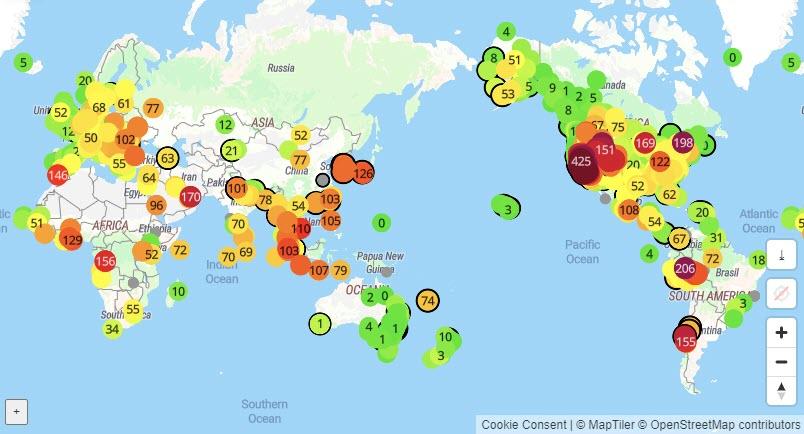 As ABC7 reports, more than 10,800 lightning strikes started 367 new fires according to CAL FIRE division chief Jeremy Rahn.
"Over the past 72 hours, California has experienced a historic lightning siege."
Three major wildfire complexes in the East Bay, North Bay and southern Peninsula continue to blow smoky air over nearly the entire region.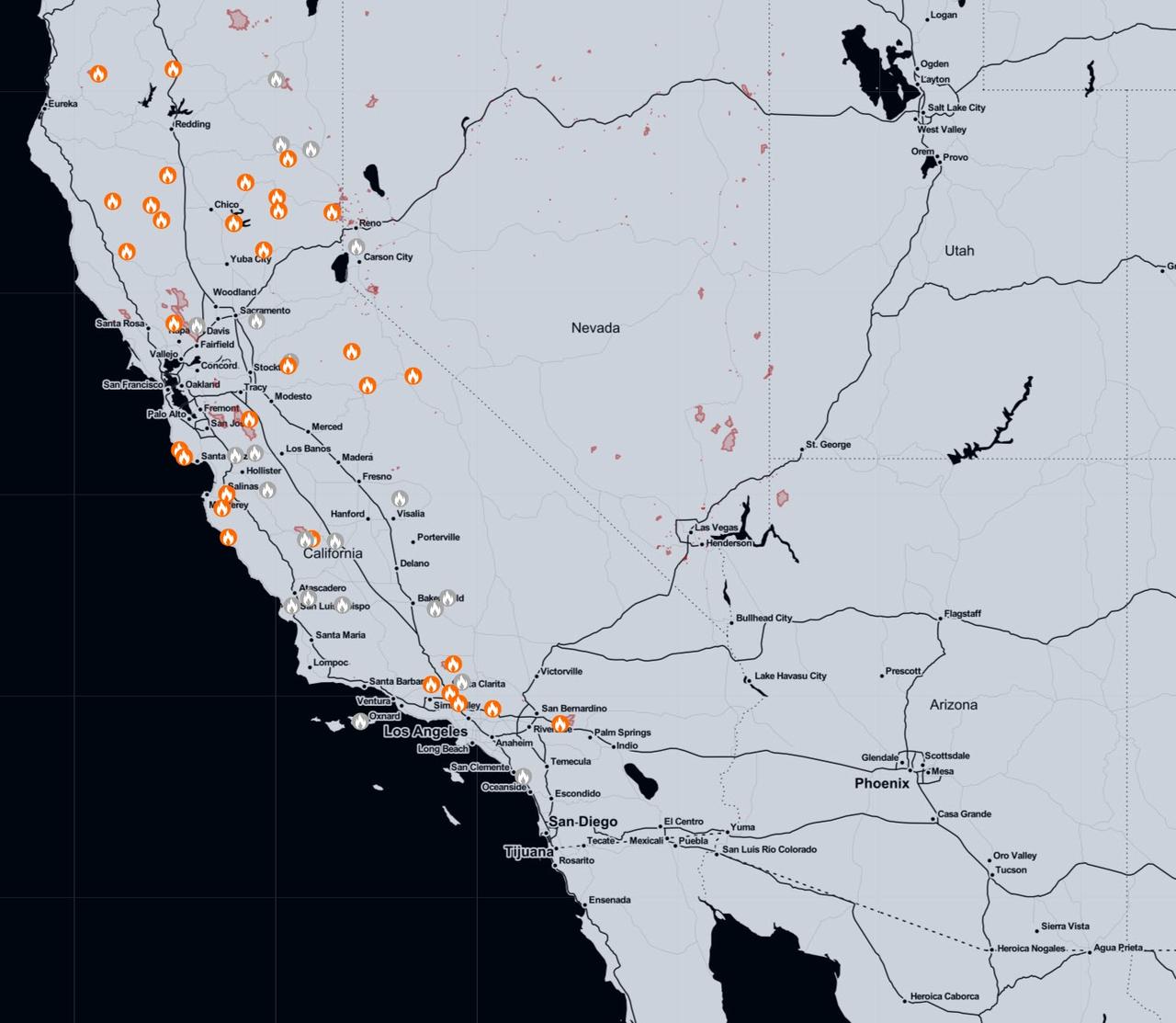 "It's going to get worse in a lot of areas," said ABC7 News Meteorologist Mike Nicco Thursday.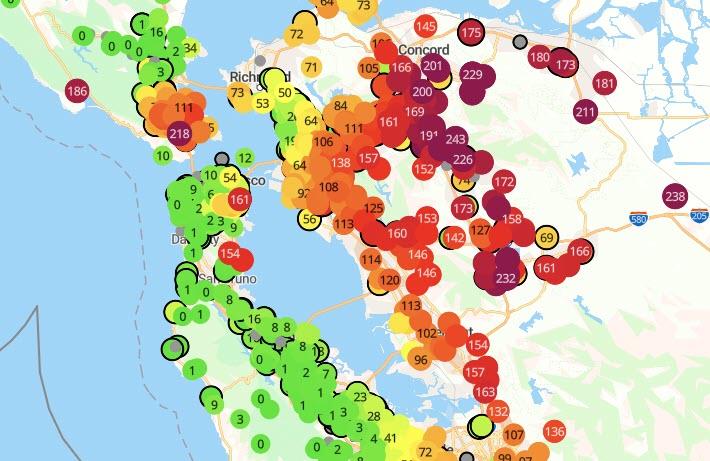 San Francisco Mayor London Breed warned residents:
"The best thing you can do is avoid exposure to outdoor air by staying indoors with the windows and doors closed."
And ironically, the 'lockdown' is being suggested as California Governor Gavin Newsom urges residnts to turn off A?C units to preserve electricity and the state also deals with rolling blackoust.
Seems like another good reason to start considering joining the 'mass exodus'.
Sends California To The Brink Californians flocked to beaches, recreation areas, and lakes this past weekend to seek relief from one of the most extreme heat waves in a generation, straining the state's power grid to the brink of collapse, reported Bloomberg.
Gov. Gavin Newsom Blamed on "Extraordinary Weather" and "All of These Lightning Strikes." He Said the State Has Recorded Nearly 11,000 Lightning Strikes in 72 Hours and Knows of 367 Fires, With Newson It Always Someone Else's Fault…

He Said the State Has Recorded Nearly 11,000 Lightning Strikes in 72 Hours and Knows of 367 Fires, With Gov. Newson It Always Someone Else's Fault…
Five to seven people were injured in a fire in Stanislaus County, southeast of San Francisco, Sheriff Jeff Dirkse told the Sacramento Bee.
One had major burn injuries and all were taken by ambulance for treatment, he said.
Someone evacuating on Monday had reported that workers at an illegal marijuana farm were still at the ranch but he couldn't confirm if any were among the patients.
Two fires in Solano County prompted evacuation orders for 8,000 residents near the Russian River. In Healdsburg, with a population of about 12,000, people were warned late Wednesday to be ready to flee.
Ash and smoke filled the air in San Francisco, which is surrounded by wildfires to the north, east and south. The LNU Lightning Complex is made up of several fires in five counties north of San Francisco, including in Vacaville, a city of about 100,000 people between San Francisco and Sacramento.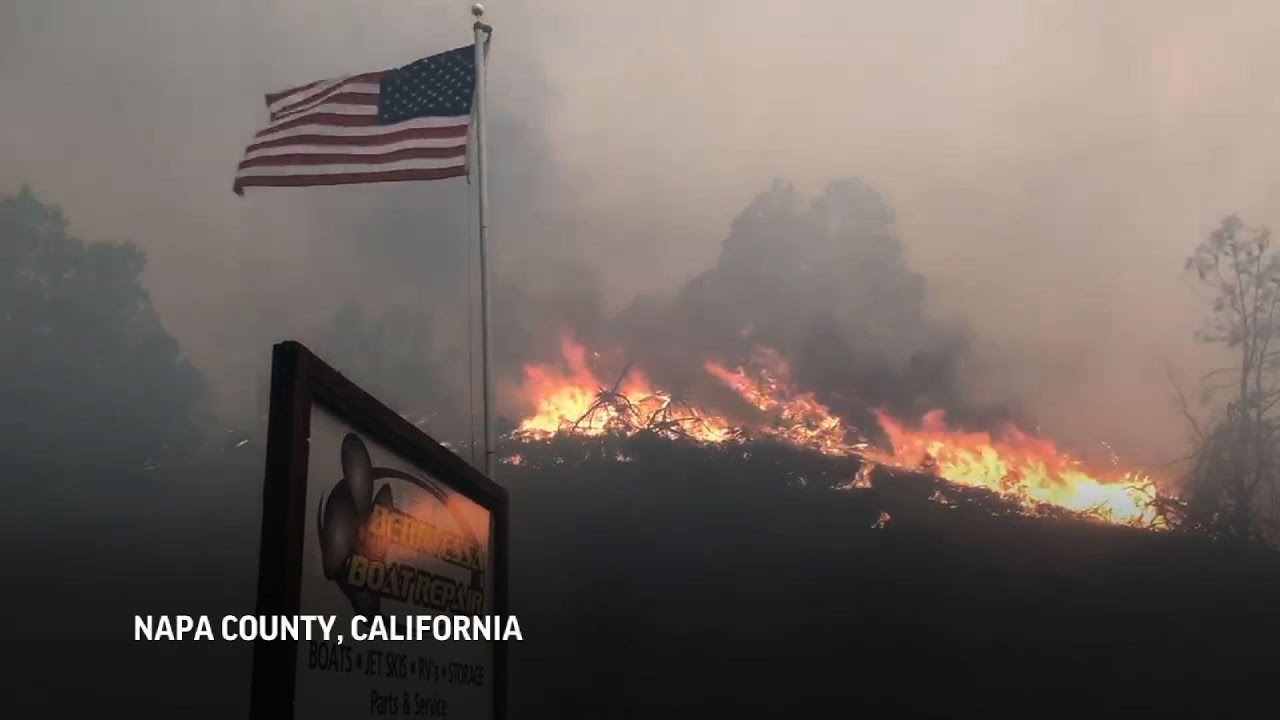 Nearby Travis Air Force Base ordered non-mission essential personnel to evacuate, officials said.
The fire had consumed nearly 194 square miles (502 square kilometers) Wednesday night, an area larger than the size of San Jose.
It jumped Interstate 80 Wednesday afternoon, briefly blocking traffic in both directions.
Several thousand people in the small communities of Angwin and Deer Park were ordered evacuated.
Police and firefighters warned residents before dawn to evacuate as flames encroached on Vacaville. At least 50 structures were destroyed, including some homes, and 50 were damaged.
"The whole sky was red orange and it was coming over the hill there and it was massive. I've never seen anything like it and it only took a few minutes to get here," said Karen Hansen.
She evacuated her Vacaville home late Tuesday as flames rushed toward their small farm, packing up her smaller animals but unable to bring along two beloved horses. They returned Wednesday to find the house and barn destroyed, but Hansen was thrilled to see that her horses survived.
"I'm not upset about the house. I'm just happy that my horses and animals are alive and my daughter," she said.
In eastern San Francisco Bay, a cluster of 20 separate lightning-sparked fires called the SCU Lightning complex was threatening about 1,400 structures in rugged terrain with dense brush. The fires have torched 133 square miles (344 square kilometers).
To the south of San Francisco in San Mateo and Santa Cruz counties, about 22,000 people were ordered to evacuate because of a fire in dense wooded parkland, Cal Fire spokesman Jonathan Cox said.
At least 20 homes had burned, fire officials said.
About 22 fires are part of the complex and most were in relatively remote, dense brush until strong winds overnight Tuesday pushed them into more populated areas, merging some of the fires together.https://interactives.ap.org/wildfire-trackerADVERTISEMENTMORE STORIES:
Resources are strapped, he said, given the number of fires.
"We're in the unfortunate position where firefighters are going to be spending several days out on the fire line," he said. "It's grueling, it's exhausting."
In central California, a pilot on a water dropping mission in western Fresno County crashed his helicopter about an hour from New Coalinga Municipal Airport right after 8:45 a.m. Wednesday.
The pilot, whose name has not been released, was working with Guardian Helicopters, based in Fillmore, which had a contract with CalFire to provide emergency services as needed, said Zoe Keliher, an investigator with the National Transportation Safety Board.
Robert Satz, a pilot and safety manager at the company, said he received word about the crash around 10:30 a.m. He said he had no further details and declined to identify the pilot.
The Fresno County Sheriff's search-and-rescue team was summoned shortly after 11 a.m. to recover the body of the pilot, but it has not reached the crash site because it is in the fire zone, said department spokesman Tony Botti said.
"They're trying to methodically and safely get them in and hopefully not get exposed to the fire," he said.
The cluster of wine country fires threaten an area that only last year grappled with another massive blaze that forced 200,000 to flee — a task made more complicated this year because of the pandemic.
"This is an incredibly emotional and stressful time for most of us who've endured a number of wildfires over the last few years," said Sonoma County Sheriff Mark Essick.
In Solano County's Vacaville, John Gardiner, 60, stayed up overnight after receiving a neighbor's alert of oncoming fire just before midnight. His house and neighbors' homes were safe, but he worried that could change with crews anticipating hot winds.
"It was incredible — things swirling, winds just whipping through like a howling, ripping sound and then you could hear explosions going off," he said. "You can taste smoke in your mouth."
Victoria Gregorich, 54, said her family loaded the car and left their Vacaville home after deputies told them to evacuate around 12:30 a.m. The fire destroyed her greenhouse, but the house was spared. Her neighbors were not so lucky.
"It's devastating," she said. "I just thank God we have our home."Full Coverage: Wildfires
Elvis Castaneda, 28, and his father, Silverio, spent the night moving ranching equipment to a safer location, removing vegetation and making firebreaks with their tractor around friends' properties.
"We couldn't see the flames, but the sky was pretty orange, and we knew it was coming our way," Elvis Castaneda said.
He said he drove home at 3 a.m. and started packing documents, photos, passports and his guns after hearing that his girlfriend's family, who live 2 miles (3 kilometers) away, were told to evacuate and move all their farm animals to safety. He got the order to leave after dawn Wednesday.
South of Carmel, nearly 50 miles (80 kilometers) of scenic Highway 1 along the coast was closed due to fires.
In Southern California, an 8-day-old blaze grew to nearly 50 square miles (106 square kilometers) near Lake Hughes in northern Los Angeles County mountains.
Chewing through century-old fir, oak and pine, the fire continued to be a threat to 4,570 structures after destroying a dozen. Dangerously hot weather and rough terrain challenged firefighters' efforts to increase containment, currently estimated at 36%.
AP Har reported from San Francisco. Associated Press writer Juliet Williams, Olga R. Rodriguez and Daisy Nguyen in San Francisco contributed to this report.
Wildfires Rage In California As Emergency Crews 'Stretched Thin', Grid Faces Further Rolling Outages
At least two dozen fast-moving wildfires have forced thousands of people in Northern California to flee their homes Wednesday amid the second week of record-setting temperatures.
California is under a state of emergency following a two-week heatwave, wildfires, and widespread power outages.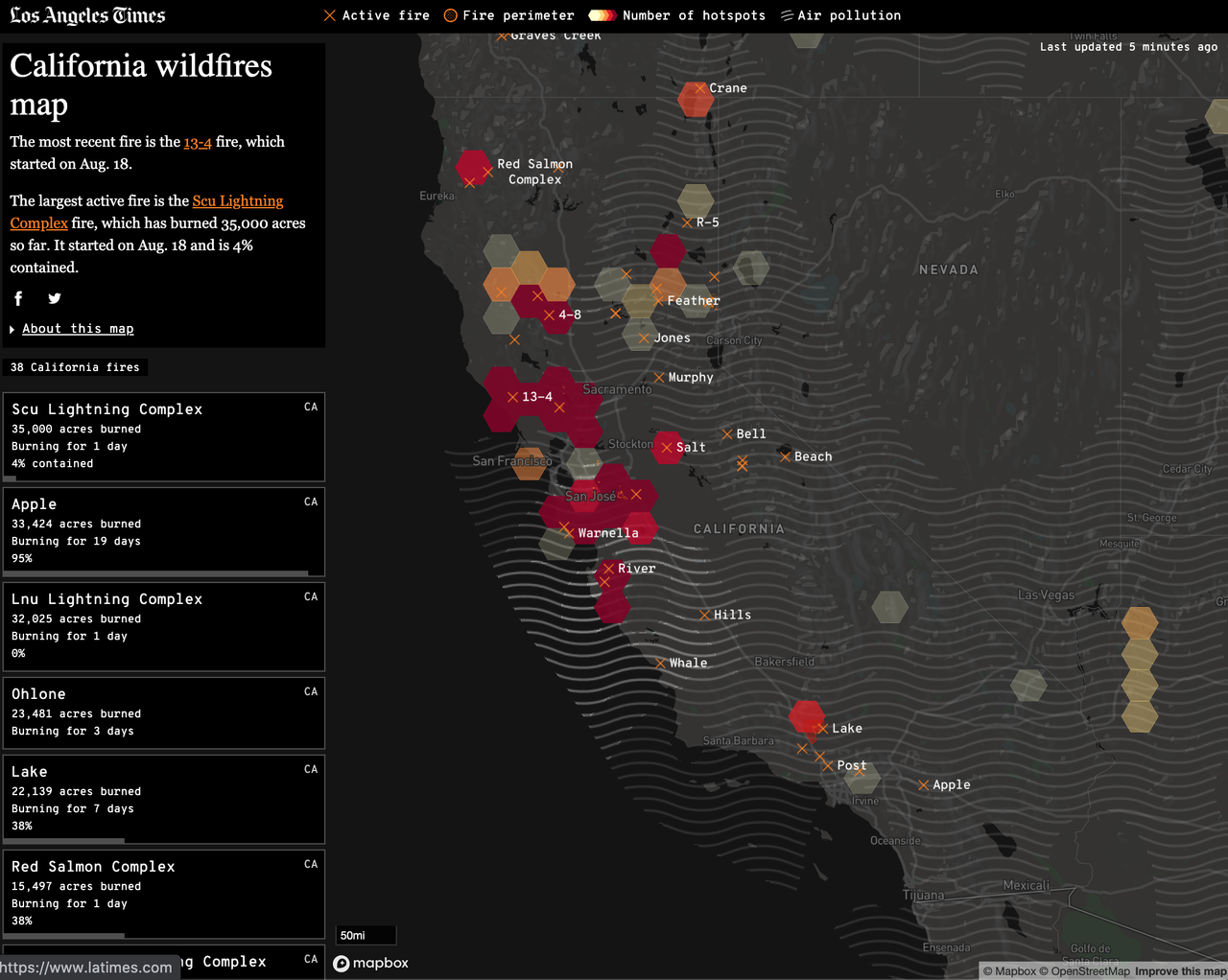 About 20 fires are burning in five counties, including Alameda, Contra Costa, Santa Clara, Stanislaus, and San Joaquin.
Firefighters have been battling flames in a two-week heatwave. The National Weather Service said temperatures in Death Valley reached over 130 degrees this week, possibly the highest temperature ever reliably recorded on Earth.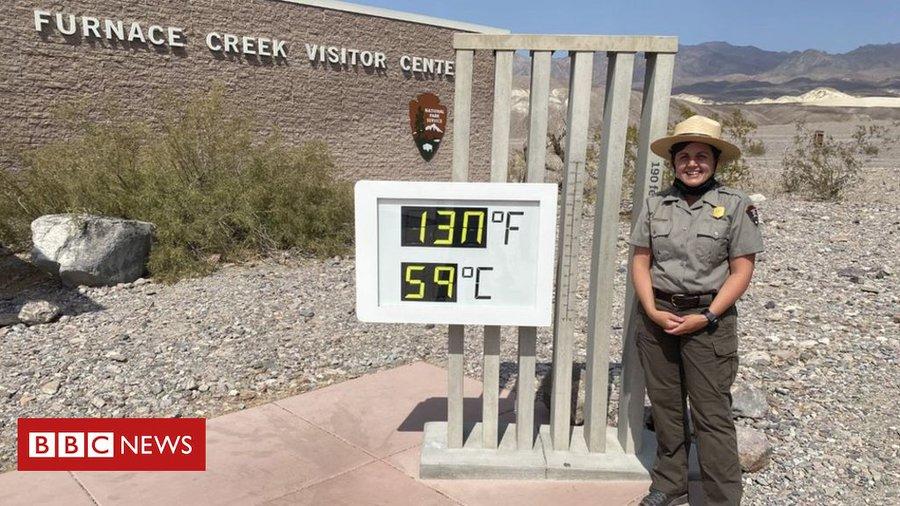 There is a sign of relief.
Western Cooling degree days (CDD) appears to have peaked this week and is set for a 45-day slide. What this means is that the amount of energy it takes to cool a structure in California could decline, an indication temperatures are set to fade from triple-digit levels.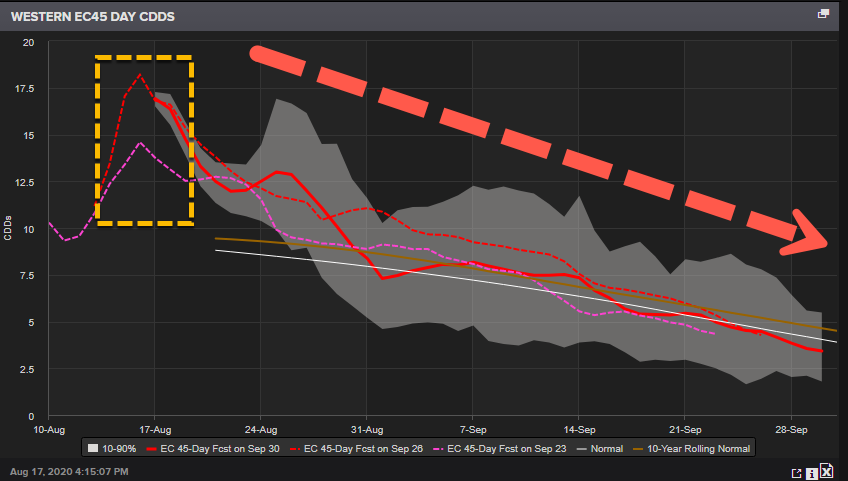 NEVER MISS THE NEWS THAT MATTERS MOST
ZEROHEDGE DIRECTLY TO YOUR INBOX
Receive a daily recap featuring a curated list of must-read stories.
The California Independent System Operator (California ISO), which operates the state power grid, announced a Flex Alert on Tuesday afternoon and didn't trigger rolling blackouts later in the day. The Flex Alert remains in place for Wednesday.
Readers may recall, just days ago, nearly 3.3 million customers in the state experienced rolling blackouts. Residents have been asked by California ISO to conserve electricity.
Excessive heat warnings are expected for many parts of Northern California through Thursday.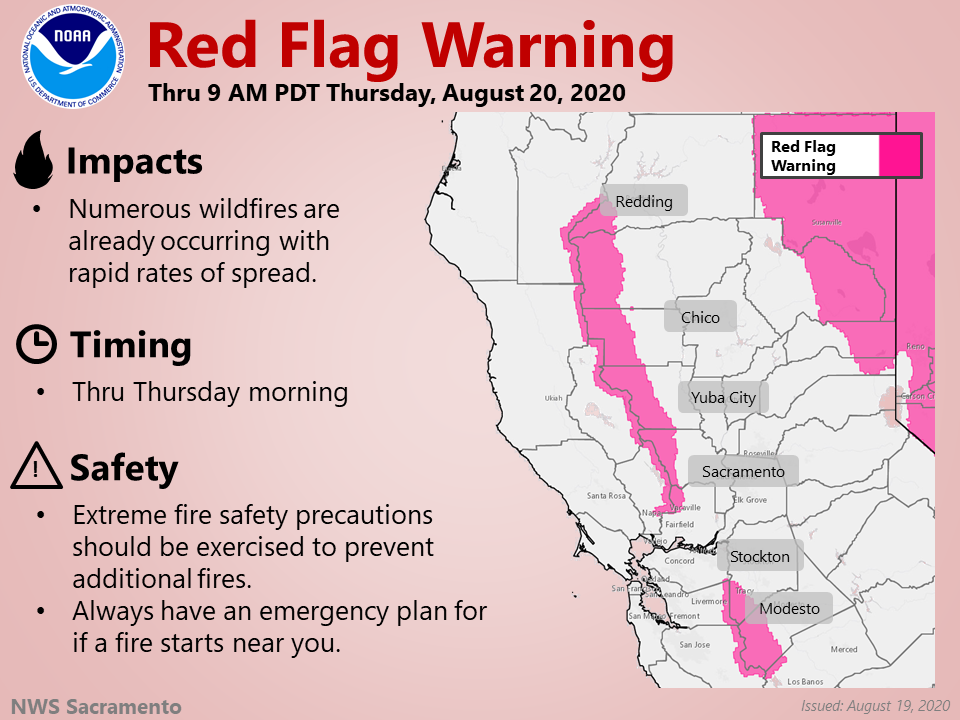 The latest heatwave to strike the US appears to be unprecedented (see: America Has Never Experienced A Heatwave Quite Like This).
The heatwave brought triple-digit temperatures to parts of California over the last three days and sparked concerns of fiery tornados on Saturday.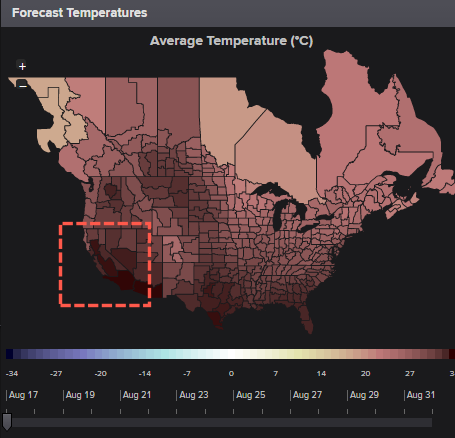 On Sunday, the National Weather Service's (NWS) Weather Prediction Center (WPC) tweeted temperatures from Death Valley, a desert valley in Eastern California, in the northern Mojave Desert, reached 130F, the first time since 1913.
Per the climate data in xmACIS2, this is the first time since 1913 that Death Valley has reached 130F. In July 2013, it last reached 129F. If valid, it would be the hottest August temperature at the site by 3F. @NWSVegas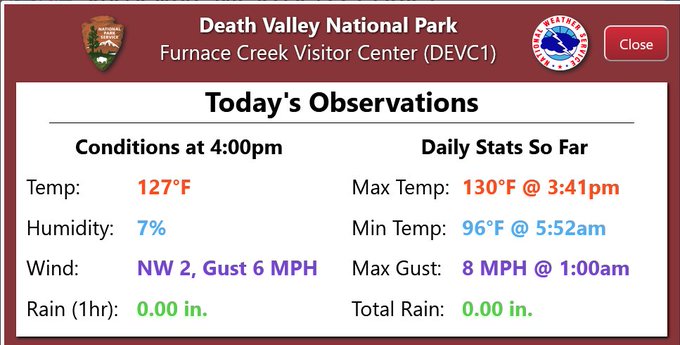 California was transformed into a nightmarish hellscape over the weekend, with powerful lightning storms triggering new wildfires – some of which became fire tornados – as Death Valley temperatures hit a possible world record.
Ferocious storms lashed vast swaths of California, with thousands of bolts of lightning triggering localized wildfires and causing major power outages
Scorching temperatures were so intense, the state's electrical grid warned of a continuous electricity supply shortage for Sunday into Monday and Tuesday.
California Independent System Operator (California ISO) had purchased additional power to prevent another rolling blackout and issued a Flex Alert, urging customers to reduce energy in the afternoons.
Severin Borenstein, a board member of the ISO and energy economist at the University of California, Berkeley, told SFGate that rolling outages are expected to continue early this week:
"There is a real concern that they would have to do it again tomorrow and Tuesday," he said Sunday about the rolling outages.
We noted Saturday that rolling blackouts started Friday when the state's power reserves had fallen below a critical threshold due to elevated temperatures increased demand for power. The grid issued a "Stage 3 Grid Emergency," which triggered the "load interruption."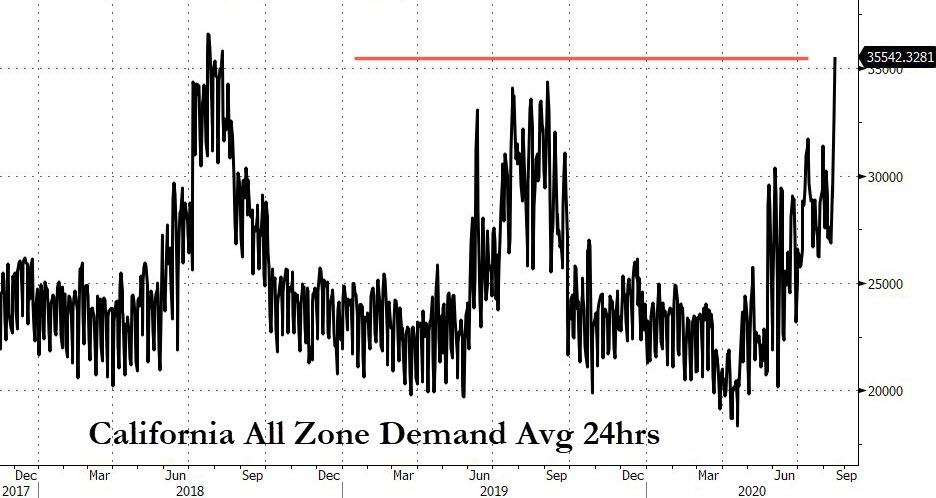 According to ABC News, this is the first round of "Stage 3" blackouts facing the state since the 2000-2001 energy crisis that forced the state's largest utility – PG&E – into bankruptcy and led to the ouster of former Gov Gray Davis.
The blistering heat was also a major concern for firefighters battling several wildfires in Northern California.
Wendell Hohmann, an NWS forecaster, said a large, fast-moving wildfire in the Sierra area resulted in the weather service to warn local residences about fiery tornados.
The World Is In Big Trouble, for Those That Believe We Will Go Back to Some Sense of Normal Life Here on Earth, You Will Be Sadly Disappointed, Seven and Half Years of Hell on Earth Which Began January 1, 2020
"Our courts oppose the righteous, and justice is nowhere to be found. Truth stumbles in the streets, and honesty has been outlawed" (Isa. 59:14, NLT)…We Turned Our Backs On GOD, Now We Have Been Left To Our Own Devices, Enjoy…
While Mainstream Media Continues to Push a False Narrative, Big Tech Has Keep the Truth From Coming out by Shadow Banning Conservatives, Christians, and Like-Minded People, Those Death Attributed to the Coronavirus Is a Result of Those Mentioned, They Truly Are Evil…
Source: HNewsWire ZeroHedge ZeroHedge HNewsWire ZeroHedge
StevieRay Hansen
Editor, HNewsWire.com
Watchmen does not confuse truth with consensus The Watchmen does not confuse God's word with the word of those in power…
In police-state fashion, Big Tech took the list of accused (including this site), declared all those named guilty and promptly shadow-banned, de-platformed or de-monetized us all without coming clean about how they engineered the crushing of dissent, Now more than ever big Tech has exposed there hand engaging in devious underhanded tactics to make the sinister look saintly, one of Satan's greatest weapons happens to be deceit…
The accumulating death toll from Covid-19 can be seen minute-by-minute on cable news channels. But there's another death toll few seem to care much about: the number of poverty-related deaths being set in motion by deliberately plunging millions of Americans into poverty and despair.
American health care, as we call it today, and for all its high-tech miracles, has evolved into one of the most atrocious rackets the world has ever seen. By racket, I mean an enterprise organized explicitly to make money dishonestly.
All the official reassurances won't be worth a bucket of warm spit. The Globals are behind the CoronaVirus, It Is a Man-Made Bioweapon.
You do recall, don't you, that the governors and mayors who imposed the lockdowns never asked their citizens about their views about instantly getting rid of all rights and freedoms. They didn't consult legislatures. They didn't consult a range of expert opinion or pay attention to any serious demographic data that showed how utterly preposterous it was to force non-vulnerable populations into house arrest while trapping vulnerable populations in nursing homes that became Covid-soaked killing fields. Google that and see what response you get, I can tell you Google hides the truth, as they do on their YouTube platform…
They thought nothing of shattering business confidence, violating contractual rights, wrecking tens of millions of lives, prohibiting freedom in the association, tanking the stock market, blowing all budgets, shutting down international travel, and even closing the churches. Amazing. Every government executive except a few became a tin-pot dictator and so we will give credit where credit is due, mainstream media, and especially high tech, Twitter, Facebook, you know the list of tyrants that are turning this country into hell on earth. Enjoy…
                                       Verse of the Day Dear friends, since God so loved us, we also ought to love one another. — 1 John 4:11 We are…
Read More
We make every effort to acknowledge sources used in our news articles. In a few cases, the sources were lost due to a technological glitch. If you believe we have not given sufficient credit for your source material, please contact us, and we will be more than happy to link to your article.