THE TRUTH IS BEING KEPT FROM THE AMERICAN PEOPLE, THERE'S GOING TO BE A HARD LANDING AND THOSE THAT SUPPRESS THE TRUTH ARE RESPONSIBLE…
As we noted earlier, the death of Dr. Li Wenliang, which was confirmed early Friday by Wuhan City Central Hospital, the same hospital where Dr. Li worked, and where he was punished for warning medical students about the novel coronavirus in a private chatroom.
Li and seven others were punished for their early warnings about the virus. Now, Li has joined the more than 600 other Chinese who have succumbed to the virus's pneumonia-like symptoms and his death has ignited nationwide morning and demands for more free speech.
1/ Portrait collection of Dr #LiWenliang whistleblower of #Cononavirus from #Wuhan
搜集关于 #李文亮 大夫画像,包括我自己,应该都是一夜间赶出来。大家不约而同取了这张带口罩照片,或多或少在口罩上下了功夫,大家都明口罩阻挡的是病毒,阻挡不了言说。

可我担心明天还有人说话么?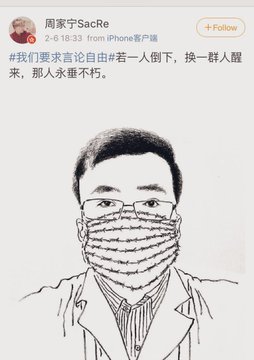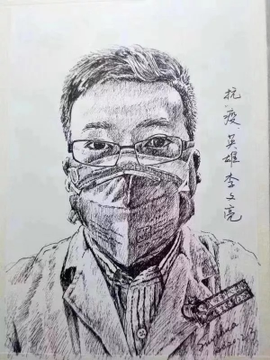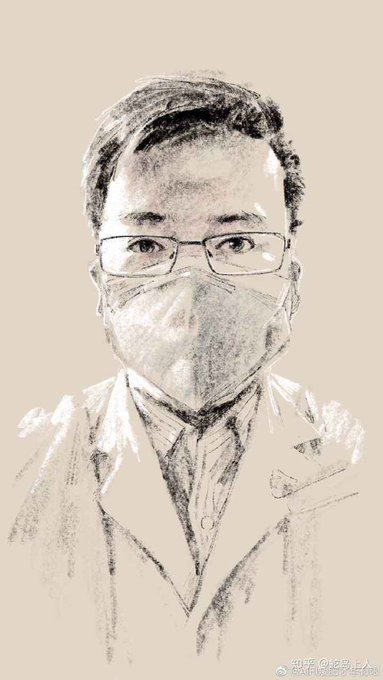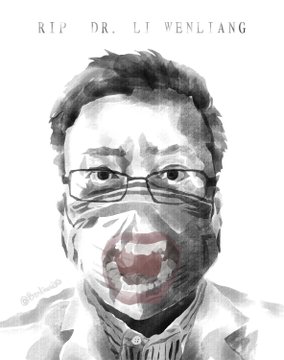 9818:01 PM – Feb 6, 2020Twitter Ads info and privacy365 people are talking about this
Lists of heroes who have been censored or punished for speaking the truth about the virus are circulating on Twitter.
曾錚 Jennifer Zeng@jenniferatntd
A list of 203 people who got punished for spreading information about #coronavirus in China. #CoronavirusOutbreak #coronaviruschina #武汉 #新型冠状病毒 #肺炎 事件相关因言获罪案例(持续更新)http://bit.ly/37e8xWU 1482:49 PM – Feb 7, 2020Twitter Ads info and privacy83 people are talking about this
Amnesty International weighed in on Dr. Li Wenliang's death, calling it a "tragic reminder" of how Beijing's "preoccupation with stability" inspired it to suppress vital information.
Over the last two days, Beijing has made a big show of opening two new hospitals in Wuhan that were built in under two weeks. Videos like this one have circulated widely in the western press – China's target audience.
We've already reported how the hospitals look more like prisons with medical equipment. But come to find out that most of the hospitals are actually being run by their patients. Dr. Feigl-Ding, the Harvard epidemiologist who is one of many academics slammed as an alarmist for telling the truth, tweeted that nearly one-third of the patients in one hospital in Wuhan are also medical staff. There's a common trope to describe this: something about lunatics running the asylum?
29% — that's the % of the 138 #coronavirus infected patients who are actually infected medical staff in one Wuhan hospital. Almost 1 in 3 patients being hospital healthcare workers is just insane. New case series report in JAMA: https://jamanetwork.com/journals/jama/fullarticle/2761044 …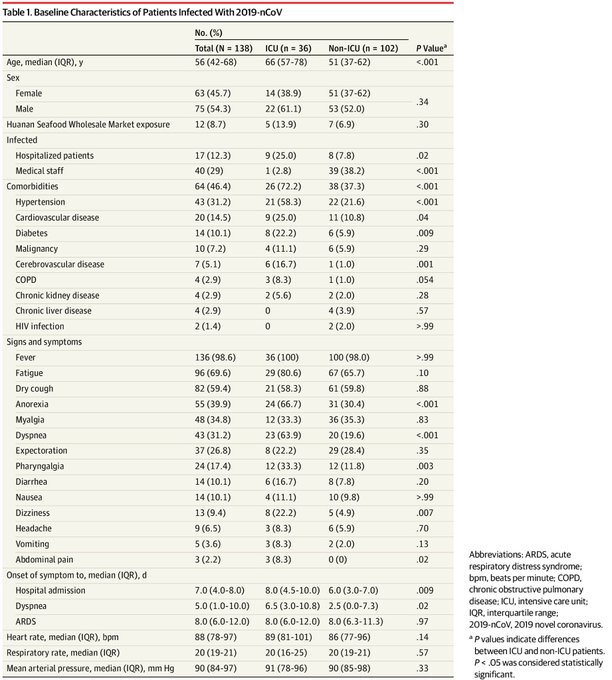 72612:05 PM – Feb 7, 2020Twitter Ads info and privacy508 people are talking about this
Eric Feigl-Ding@DrEricDingReplying to @DrEricDing

2) In addition to 29% of medical staff, 12% of patients had gotten #coronavirus as hospital-acquired. Quote: "hospital-associated transmission was suspected as the presumed mechanism of infection for affected health professionals (40 [29%]) and hospitalized patients (17 [12.3%])."16612:15 PM – Feb 7, 2020Twitter Ads info and privacy87 people are talking about this
Eric Feigl-Ding@DrEricDingReplying to @DrEricDing

3) Astute readers added 29%+12% and asked if it means 41% of the 138 patients got as a hospital-acquired infection… yes but maybe not one's personal risk walking into a hospital. 12% maybe weak/susceptible, and 29% of medical staff have much closer contact than normal patients.9712:46 PM – Feb 7, 2020Twitter Ads info and privacy48 people are talking about this
Do we wonder how many more doctors will need to die before the mainland really does 'import Hong Kong's sickness'?
In its latest video on the Wuhan coronavirus outbreak, the New York Times managed to fly a drone over the city of Wuhan, which has been under quarantine/lockdown orders from Beijing for more than a week.
blob:https://www.nytimes.com/95a715a5-15b4-477a-969b-e036722d34e5
The footage is haunting – like something out of an apocalyptic horror movie.
Roughly 80% of virus-related deaths have occurred in Wuhan since the outbreak began. But there's reason to believe the death toll – particularly in Wuhan – might be much higher.
StevieRay Hansen
Editor, HNewsWire.com
No More Electronic Prison
The World leaders Are Having Trouble With The Truth, and The World Has been "Quarantined" Tribulation Is Here…
Question — Why Are These High-Tech Conglomerates Afraid of the Truth? The answer, Because They Know the American People Have Become Lazy, Like Sheep They Need a Leader and They Chose High-Tech, It Will Be the Downfall of This Country Unless the People Change Course or the Mindset of These High-Tech Elitists stop suppressing the truth. If the people don't wake-up, they will begin to live in the worst nightmare of their lives, "Lost Social Media Reality"…
Demon Virus
Asked about the virus while traveling abroad last week, Trump said: "we have it totally under control". In a separate Twitter posting, he offered reassurance but scant detail for his confidence.
By Associated Press Updated On : 05:53 PST, Jan 31, 2020
Yes, are we seeing a slowdown in new virus cases reported this morning. We now have 31,481, which does show a day-to-day decline away from an exponential rate of growth if accurate. Yet for those market participants merrily saying this is "just the flu" (there are some) we also have 4,824, 15% of the total, in critical condition and 638 deaths. Further, one arguably cannot measure the death-rate of any virus against the number of currently sick people: you surely measure it against those who eventually recover vs. those who don't. Given we have 1,563 who have recovered vs. 638 dead (and 4,824 critical) that is a worrying ratio of 29% dead as an end-outcome, which is right up there with the MERS virus from a few years ago – although, yes, there is real reason for us all to hope that number will decline sharply as milder cases will be fully curable. But the simple flu this is not.
WASHINGTON: Wuhan coronavirus: Donald Trump says deadly outbreak 'very well under control' as WHO declares global emergency. President Donald Trump regaled a friendly New Jersey campaign crowd with his thoughts about impeachment, the economy, the border wall, local politics and much more.
But he was conspicuously quiet on January 28 about one big issue keeping much of the globe on pins and needles: the spread of a deadly new type of coronavirus. It has killed more than 170 people in China, sickened thousands more there and led to a handful of confirmed cases in the US, including the first US case of person-to-person transmission reported on by health officials. The State Department on January 30 advised all US citizens against traveling to China.
Trump, a self-described germaphobe, generally has discussed the virus in broad terms, but he offered some of his most extensive comments on the issue to date during an appearance on Janaury 30 at a Michigan manufacturing plant. "Hopefully, it won't be as bad as some people think it could be, but we're working very closely with them (Chinese) and with a lot of other people and a lot of other countries, he said. "We think we have it very well under control."
The Birth Pains Are Growing Stronger….
One of the signs of ruling class collapse is when they can no longer enforce the rules that maintain them as a ruling class. When the Romans started making exceptions to republican governance, it was a matter of time before someone simply decided the rules no longer applied to them. Perhaps the robot historians will consider Obama our Marius or Sulla. Maybe that person is in the near future. Either way, the rule of law is over and what comes next is the rule of men.
"Man will ultimately be governed by God or by tyrants." as in Nancy Pelosi (D-San Fran-feces)
Our government has been overthrown. As evidenced by Trump's capitulation on the border, his recent servitude to the GMO industry and his acquiescence to the warmongers, our President has been compromised. Our liberties are being eliminated one by one. Gun confiscation is next. The Constitution is gasping its last breaths. Our borders are destroyed and our culture has been turned upside down by every perversion known to man.
The watchman does not confuse truth with consensus. The Watchman does not confuse God's word with the word of those who happen to hold power at present, or with the opinion of the majority. This is because powerholders and the majority can fall victim to a lying spirit-and this means a power that actually seizes the majority of experts, the political leadership, and the public.
Everything is right on schedule and, now, the time is come to remove one of the final obstacles standing in the way of a New World Order: The United States Constitution – even if, over the course of many decades, it has already been greatly diminished by the B.E.A.S.T. system; or, more specifically, Bullshit Emerging As Strategic Totalitarianism (B.E.A.S.T.).
They are tolerant of everything except dissenting values and opinions — meaning, of course, they are tolerant of nothing that matters, only themselves."
Let Me Make This Abundantly Clear. (I Am Apolitical) While I Have a General Distaste for Electric Cars and Politicians No Matter the Party They Belong To, I Am Unashamedly Politically a Bible Believing Conservative Christian. I Have a Severe Distrust of Government. I Believe It Is the Most Inefficient and Ineffective Way to Accomplish Most Things. While I Strongly Disagree with Liberals/Progressives and Conservative on Most Political Issues, and While I Believe Liberals/Progressives and Most Politicians Are Misguided and Naive About What Big Government Will Eventually Result In, I Strive to Not Question Their Motives. At the Same Time, I Find Myself in Agreement with Conservative on Some Issues, and I Do Not Believe Electing Republicans Is the Answer to Everything. Sadly, the Main Difference Between Republicans and Democrats Is How Quickly They Want to Drive the Car Towards the Cliff. Put, I Do Not Believe the Government Is the Solution for Everything. I Do Not Place Any Faith, Trust, or Hope in Any Politicians to Fix What Is Wrong with the World. "Come Lord Jesus!" (Revelation 22:20) SRH…
The Watchman does not confuse truth with consensus. The watchman does not confuse God's word with the word of those who happen to hold power at present, or with the opinion of the majority. This is because powerholders and the majority can fall victim to a lying spirit-and; this means a power that seizes the majority of experts, the political leadership, and the public.StevieRay Hansen
If you have a news scoop or an interesting story for us, please reach out at info@HNewsWire.com
Coronavirus, Falsifying Death Toll From Coronavirus, biblical truth, Prophecy, tribulation, antichrist, United Nations Revelation 17 the BEAST+ B.E.A.S.T, US Coronavirus, demon virus, CDC, WHO, end times, No More Electronic Prison, Birth Pains, MSM, High-Tech & Reddit Engaged in Heavy Censorship of Truthful News Sources
The number of Orphans aging out of Child Protective Custody has grown at an alarming rate. The 127 Faith Foundation receives many requests each week to house them at our ranch. Our prayer is that the good people of our country will step up to the challenge and offer financial support for "the least among us." We need your help! StevieRay Hansen, Founder, The 127 Faith Foundation
We make every effort to acknowledge sources used in our news articles. In a few cases, the sources were lost due to a technological glitch. If you believe we have not given sufficient credit for your source material, please contact us, and we will be more than happy to link to your article.
Will of the People in the Long Star State… HNewsWire Will No Longer Use Articles From Twatter or Fake Book as a Source for Our…
Read More