Advisory: Be careful of what you read on social media. The algorithms used by these platforms have no regard for Biblical truth. They target your emotions to keep you engaged on their site so their advertisers can drop more ads. These platforms exist to enrich their stockholders. Consider God's promise to Believers in James 1:5, "If any of you lacks wisdom, you should ask God, who gives generously to all without finding fault, and it will be given to you."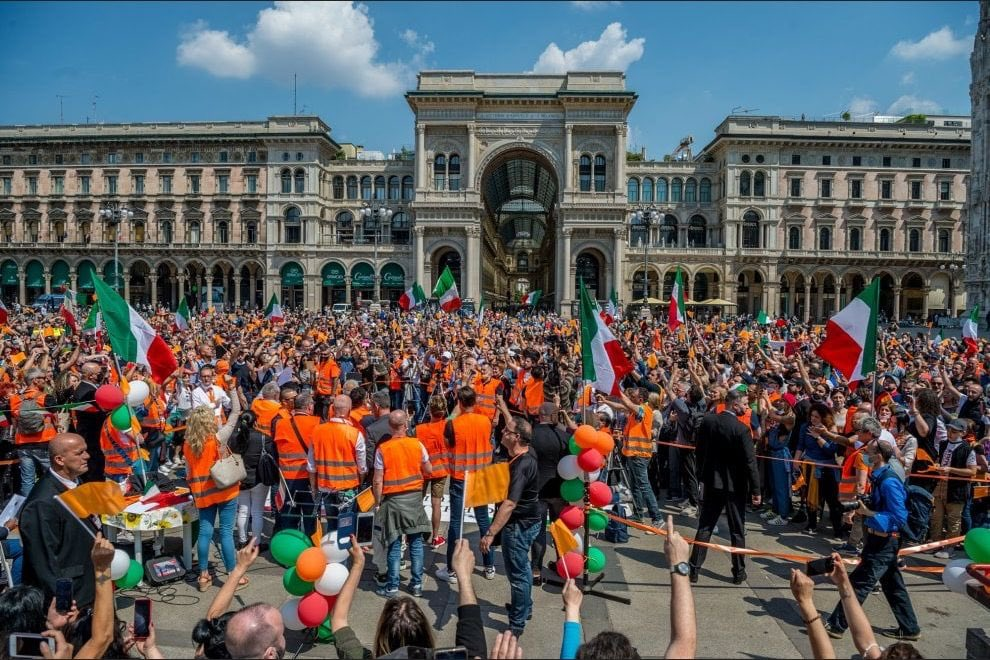 Italy's health ministry has suggested that persons with a severely impaired immune system have a fourth mRNA vaccination shot against COVID-19, provided that at least 120 days have passed after their previous booster, it said on Sunday.
The special commissioner appointed by the government for the COVID-19 emergency will select the date for the recommendation to come into force based on the demands of the vaccine campaign, the ministry said.
The decision is based on the virus's continued high circulation and the effectiveness of booster doses in reducing COVID-related deaths and, more broadly, symptoms that would necessitate hospitalization, according to the ministry.
Since the outbreak in February 2020, Italy has recorded 152,848 deaths due to COVID-19, the second worst toll in Europe behind the United Kingdom and the eighth highest in the world. To date, the country has registered 12.4 million cases.
Vaccine booster doses, according to former President Donald Trump, aren't medically essential and are instead being pushed by pharmaceutical firms solely for profit.
Trump, who was surreptitiously vaccinated in the White House last January, told Fox Business host Maria Bartiromo, "That sounds to me like a money-making operation for Pfizer." "Think of the money involved. An extra shot … How good a business is that? If you're a pure businessman, you'd say, 'you know what, let's give them another shot,' that's another $10 billion of money coming in – the whole thing is crazy."
"You wouldn't think you would need a booster," Trump said. "You know, when these first came out, they were good for life. Then they were good for a year or two. And I could see the writing on the wall, I could see the dollar signs in their eyes of that guy that runs Pfizer. You know, the guy that announced the day after the election that he had the vaccine."
The ex-president and his administration took credit for developing the COVID-19 vaccines through its "Operation Warp Speed," which helped fund the development of the vaccines. But Pfizer didn't participate in Operation Warp Speed and only took government funding for the delivery of its vaccine after it was developed.
Trump and former first lady Melania Trump didn't inform the public when they were vaccinated before leaving the White House last January. The news of their vaccinations was first reported by The New York Times in March.
The Centers for Disease Control and Prevention recommend some moderately and severely immunocompromised people 12 and older should get three primary shots of an mRNA vaccine (either Pfizer or Moderna) plus a fourth shot as their booster.
As im sure the public is afraid to admit, it's become obvious that the pharmaceutical industry seeks to further profit off of the backs of the immunocompromised on a global scale. After having been given the green light from governments around the world, the "subject matter experts" are free to tweak their guidance as they see fit. If that means suggesting the global population receive an additional booster, well you can expect they'll have their eyes on profit.
There seems to be a common trend among those who haven't begun their walk with God, and that is they find exactly what is broken about them, slap a label on it and carry the baggage. Yet nobody wants to hear the message God intended for us to hear. That by faith in Jesus, your baggage can be turned to dust just like everything around us. People can no longer fit in our current socioeconomic systems anymore. The individual mind has more access to information than ever before and many don't trust professionals because they've got all the answers in the palm of their hand. Why would you let some bozo tell you what to do if you've got an infinite amount of ways to prove them wrong?
Pride, is what is keeping secular society at bay and far from salvation. The American people have practically been programmed to believe that people of Christian faith are anti-science, and lack proper understanding of the nature of our world. When the obvious truth is, science is simply the study of God's work. And when we see man utilizing MRNA technology to exploit the masses, you'll know for sure that man wants to create his own universes. And to play the role of God. This is merely a facet to what i believe is a mass awakening of anti-Christ spirits.
And every spirit that confesseth not that Jesus Christ is come in the flesh, is not of God; and such is the spirit of Antichrist, whereof ye have heard that it should come, and even now already it is in the world.
The publishing of COVID-19 data in Scotland has been halted due to concerns that the data is being exploited to create false narratives.
COVID-19 cases, hospitalizations, and deaths are normally reported weekly by Public Health Scotland (PHS). Each measure is split into two groups: those who have never been vaccinated and those who have received the COVID-19 vaccination.
More vaccinated persons are testing positive for COVID-19 and being hospitalized with the disease, according to recent reports.
According to the findings, 367 people who received one or more doses of the COVID-19 vaccine were hospitalized, compared to only 64 people who were not immunized. Vaccinated people also had a higher death rate.
Some experts and websites have taken notice of the data, including journalist Alex Berenson, who wrote in a blog post in January that it demonstrated how vaccines have failed to protect recipients.
According to a PHS spokeswoman, the report released on Feb. 16 will be the final one.
"Due to the increased risk of data being misinterpreted," the spokeswoman wrote in an email, "Public Health Scotland will no longer post a weekly summary of COVID-19 cases, hospitalizations, and deaths by vaccination status."
"Public Health Scotland is examining the content and frequency with which this data is reported. She continued, "Public Health Scotland is committed to providing high-quality public health science, communication, and transparency, and will continue to publish up-to-date research on COVID-19 vaccinations."
In addition, the government has stated in its publications that the data "should not be utilized to gauge vaccine effectiveness."
There are "systematic variations and biases between the vaccinated and unvaccinated groups, including as behavior, vulnerability, and past infection, that are unaccounted for when comparing rates," according to officials. They cited a non-peer reviewed Australian study that suggested that those who had been vaccinated were more inclined to get checked if they had a sore throat.
According to a slew of research and real-world evidence, vaccine effectiveness has been dwindling as new variants arise. The COVID-19 vaccines worked poorly against Omicron, with protection against infection reducing rapidly and protection against severe disease dropping to a lesser level. As a result, at least one booster dose is recommended, with some countries recommending two boosters for certain populations.
The action by Scotland authorities, according to Dr. Paul Alexander, who studied evidence-based medicine and now works for a group called the Early COVID Care Experts, will make it more difficult to assess vaccine effectiveness.
"The detailed data from Scotland has helped us understand why vaccines fail while our own countries, the United States and Canada, suppress and misrepresent the data." This is health-care corruption, and we've been told that this may be the final report of its kind in Scotland. Why?" In an email to The Epoch Times, Alexander stated.
"Their position now is laughable and horrible all at once. We are now called 'anti-vaxxers' by reporting the ACTUAL data. We call on Scotland and others to reverse this and continue to make the data available, especially as it relates to harm post vaccine as we need this for informed decision-making," he added.
The moment that the data begins to illustrate a dangerous situation for those who choose to participate in this global biological experiment, Scotland decides to stop reporting the data. This is a clear demonstration of the malicious intent behind the COVID-19 plandemic. They're electing to withhold the data because they can no longer remain transparent due to their citizens taking notice. The "narratives" attained by the public are black and white; the results are clear, these MRNA inoculations are not effective at preventing contraction of COVID-19 and severe illness. That's not to mention the common reoccurrence of myocarditis in vaccinated individuals. Those who choose to hang on every whim of these politicians are willfully ignorant, and don't want to believe that they've been misled. Please stay inquisitive in the word of God, and the world around you.
My people are destroyed for lack of knowledge; because you have rejected knowledge, I reject you from being a priest to me. And since you have forgotten the law of your God, I also will forget your children.

Hosea 4:6
Melissa Klein, pictured here with husband Aaron in an earlier interview with The Daily Signal, broke down March 2 while giving a statement to reporters…
Read More
We make every effort to acknowledge sources used in our news articles. In a few cases, the sources were lost due to a technological glitch. If you believe we have not given sufficient credit for your source material, please contact us, and we will be more than happy to link to your article.