Advisory: Be careful of what you read on social media. The algorithms used by these platforms have no regard for Biblical truth. They target your emotions to keep you engaged on their site so their advertisers can drop more ads. These platforms exist to enrich their stockholders. Consider God's promise to Believers in James 1:5, "If any of you lacks wisdom, you should ask God, who gives generously to all without finding fault, and it will be given to you."
Country in the World"…
James 1:27 King James Version (KJV)
1:27 Pure religion and undefiled before God and the Father is this, To visit the fatherless and widows in their affliction, and to keep himself unspotted from the world.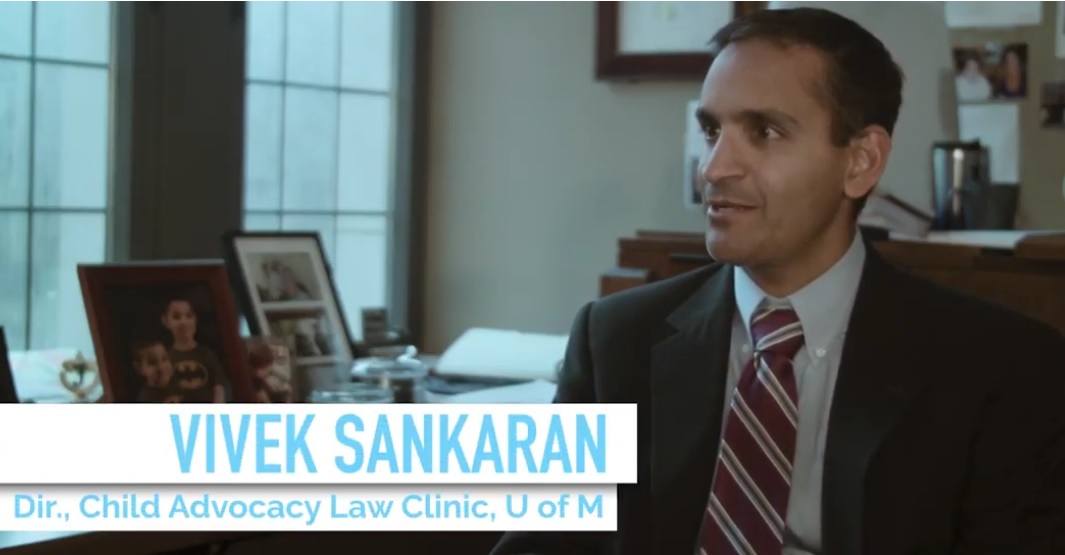 Vivek Sankaran is a clinical professor of law at the University of Michigan Law School, and he directs both the Child Advocacy Law Clinic and the Child Welfare Appellate Clinic, through which law students represent children and parents in trial and appellate proceedings.
Professor Sankaran understands the failures of today's foster care system better than most people in the U.S. do, and he has written:
The United States destroys more families than any other country in the world. While our Supreme Court has recognized that a parent's right to care for her child is one of the oldest and most fundamental rights recognized by our Constitution, our federal child welfare policy is centered on the destruction of families.

Once a child enters foster care, federal law places strict time frames of how much time a court can give a parent to reunify with their child. If that time elapses, the law prioritizes terminating that parent's rights so that the child may be freed for adoption.

In fact, states are given financial incentives to make that happen. The more adoptions they process, the more federal funds they receive. Other options can only be pursued after the child welfare agency rules out destroying the family.

But what are the hidden costs created by this sprint to termination? Are we unnecessarily depriving children of important relationships with their parents? Are we orphaning children for the hopes of something that might never be achieved?

Even when a child is adopted, are we assuming a legal fiction of "permanency" when the changing nature of families is far more complicated and nuanced? Do we even know that adoptions create permanent homes for children? And in taking these steps, are we inflicting great pain on children that will remain with them forever? (Source.)
In a recent blog post (August 2019), Professor Sankaran addressed an issue where judges in the Juvenile Court often do not follow the law.
Some excerpts:
A System In Need Of Umpires
A few weeks ago, a retired judge shared with me how he'd reform juvenile court. He remarked, "I'd tell judges they shouldn't be umpires. They need to do more than call balls and strikes. They need to go out there and help kids."
I get that sentiment. We all entered this field to help kids and their families. We all want to ease the suffering of those in pain. We all feel the urge to do more. But I disagree with him.
Perhaps what our families need more than anything else are umpires, with juvenile court judges using the law as their strike zone. As a lawyer for children and parents over the last 18 years, I've been struck by how little the law factors in at everyday court hearings. Judges don't demand citations to statutes. Attorneys don't file motions. As a result, hearings don't revolve around the governing legal standards.
In fact, throughout my career, I've heard judges chide lawyers and parents when they emphasize the law. One frustrated judge said to a colleague, "I see you're going down the statutory road again." Another said to a parent, "I know there's a legal right to ask for more visits. But if I gave it to you, then I'd have to give it to every parent." A third said, "I know the law says that corporal punishment is allowed. But in my courtroom, this is what we do."
Emblematic of this, a Michigan survey of judges found that 40 percent of judges refused to enforce the legal requirement that the agency makes "reasonable efforts" to reunify a family because they were concerned that the finding would decrease funding for the child. Health Impact News

HNewsWire-God is the backbone of the family unit. Put another way, without God evil, takes root and destroys everything it touches including the family, it should be obvious by now that when we take God out of the equation the equation becomes sinister.
Members of Congress (Pharisees) and state legislators (hypocrites) cannot understand why whole sectors of society, particularly in urban areas, are being torn apart by crime. And without that knowledge, sound policymaking is impossible.
A review of the empirical evidence in the professional literature of the social sciences gives policymakers insight into the root causes of crime. Consider, for instance:
Over the past thirty years, the rise in violent crime parallels the rise in families abandoned by fathers.
High-crime neighborhoods are characterized by high concentrations of families abandoned by fathers.
State-by-state analysis by scholars indicates that a 10 percent increase in the percentage of children living in single-parent homes leads typically to a 17 percent increase in juvenile crime.
The rate of violent teenage crime corresponds with the number of families abandoned by fathers.
The type of aggression and hostility demonstrated by a future criminal often is foreshadowed in unusual aggressiveness as early as age five or six.
The future criminal tends to be an individual rejected by other children as early as the first grade who goes on to form his own group of friends, often the future delinquent gang.
On the other hand:
Neighborhoods with a high degree of religious practice are not high-crime neighborhoods.
Even in high-crime inner-city neighborhoods, well over 90 percent of children from safe, stable homes do not become delinquents. By contrast, only 10 percent of children from unsafe, unstable homes in these neighborhoods avoid crime.
Criminals capable of sustaining marriage gradually move away from a life of crime after they get married.
The mother's strong affectionate attachment to her child is the child's best buffer against a life of crime.
The dad's authority and involvement in raising his children are also a great buffer against a life of crime.
The scholarly evidence, in short, suggests that at the heart of the explosion of crime in America is the loss of the capacity of dad's and mothers to be responsible in caring for the children they bring into the world. This loss of love and guidance at the intimate levels of marriage and family has broad social consequences for children and for the wider community. The empirical evidence shows that too many young men and women from broken families tend to have a much weaker sense of connection with their neighborhood and are prone to exploit its members to satisfy their unmet needs or desires. This contributes to a loss of a sense of community and to the disintegration of neighborhoods into social chaos and violent crime. If policymakers are to deal with the root causes of crime, therefore, they must deal with the rapid rise of illegitimacy.
OFFICIAL WASHINGTON'S VIEW OF Crime, Tons of BS…
The professional literature in criminology is quite at odds with orthodox thinking in official Washington. Many lawmakers in Congress and in the states assume that the high level of crime in America must have its roots in material conditions, such as poor employment opportunities and a shortage of adequately funded social programs. But Members of Congress and other policymakers cannot understand the root causes of the crime if they insist on viewing it purely in material terms. This view blinds policymakers to the personal aspects of crime, including moral failure, the refusal to exercise personal responsibility, and the inability or refusal to enter into family and community relationships based on love, respect, and attachment both to the broader community and to a common code of conduct.
The Violent Crime Control and Law Enforcement Act of 1994, supported by the Clinton Administration and enacted last year, perfectly embodies official Washington's thinking about crime. It provides for billions of dollars in new spending, adding 15 new social programs on top of a welfare system that has cost taxpayers $5 trillion since the "War on Poverty" was declared in 1965. There is no reason to suppose the programs will have any significant effect. Since 1965, welfare spending has increased 800 percent in real terms, while the number of major felonies per capita today is roughly three times the rate before 1960. As Senator Phil Gramm (R-TX) says, "If social spending stopped crime we would be the safest country in the world."
Senator Joseph Biden (D-DE), former chairman of the Senate Judiciary Committee and a major sponsor of the recent crime bill, summed up the predominant view of crime prevention: "These [social services] are all good programs. They are all designed to do the same thing — give these kids something to say yes to." Likewise, the Department of Justice's report, "Comprehensive Strategy for Serious, Violent and Chronic Juvenile Offenders," accurately diagnoses the roots of the problem (in terms of family, religion, and moral formation), but then recommends a long list of new federal social programs on top of the current programs.
But the conventional assumptions about the root causes of crime — and thus the solutions — are wide of the mark:
poverty and Unemployment
The central proposition in official Washington's thinking about crime is that poverty is the primary cause of crime. In its simplest form, this contention is absurd; if it were true, there would have been more crime in the past, when more people were poorer. And in poorer nations, the crime rates would be higher than in the United States. More significantly, history defies the assumption that deteriorating economic circumstances breed crime (and improving conditions reduce it). Instead, America's crime rate gradually rose during the long period of real economic growth: 1905 to 1933. As the Great Depression set in and incomes dropped, the crime rate also dropped. It rose again between 1965 and 1974 when incomes rose steadily. Most recently, during the recession of 1982, there was a slight dip in crime, not an increase.
What is true of the general population is also true of black Americans. For example, between 1950 and 1974 black income in Philadelphia almost doubled, and homicides more than doubled. Even the Reverend Jesse Jackson, whose prescriptions for social reform mirror conventional liberal ideology, admits that black-on-black homicide is not an issue of poverty. The crime rate in other communities also shows no link between low incomes and crime. The Chinese in San Francisco in the mid- 1960s, for instance, had the lowest family income of any ethnic group (less than $4,000 per year) but next to no crime: only 5 Chinese in all of California was then in prison.
Race and crime, More BS…
There is a widespread belief that race is a major explanatory cause of crime. This belief is anchored in the large disparity in crime rates between whites and blacks. However, a closer look at the data shows that the real variable is not a race but the family structure and all that it implies in commitment and love between adults. The incidence of broken families is much higher in the black community. Douglas Smith and G. Roger Jarjoura, in a major 1988 study of 11,000 individuals, found that "the percentage of single-parent households with children between the ages of 12 and 20 is significantly associated with rates of violent crime and burglary." The same study makes clear that the widespread popular assumption that there is an association between race and crime is false. Illegitimacy is the key factor. It is the absence of marriage, and the failure to form and maintain intact families, that explains the incidence of high crime in a neighborhood among whites as well as blacks. This contradicts conventional wisdom.
Bolstering the Smith-Jarjoura study, University of Illinois sociologist Robert J. Sampson, in a study on the differential effects of poverty and family disruption on crime, states:
Overall the analysis shows that rates of black violent offending, especially by juveniles, are strongly influenced by variations in family structure. Independent of the major candidates supplied by prior criminological theory (e.g. income, region, size, density, age, and race composition) black family disruption has the largest effects on black juvenile robbery and homicide…. The effects of family structure are strong and cannot be easily dismissed by reference to other structural and cultural features of urban environments…. The effect of family disruption on black violence is not due to the effect of black violence on family structure.
The predictors of white robbery are in large part identical in sign and magnitude to those for blacks."
You just spent three minutes reading about the worldview and connection between crime and children. Do you feel like you've wasted your time? Well, you have- any time you get politicians trying to fix a serious problem, the problem undoubtedly becomes a major train wreck with casualties. In this case children, it should be obvious by now politicians are humanities worst enemy(Pharisees) hypocrites, they'll lie, they'll manipulate, until the real issue is forgotten, a child is not safe in this environment, God commands his people to look after orphans and widows in their time of trouble, not some government bureaucrat do-gooder from Washington DC, he's called on his followers, it's time to stand up and be counted for the least among us. Source
"Pedophile" has reverberated throughout America. But beneath our anger and revulsion, a fundamental question pulsates: Are those who abuse their positions of trust to prey upon children—a category certainly not limited to those in religious orders—sick … or are they evil? We need the answer to that fundamental question. Because, without the truth, we cannot act. And until we act, nothing will change.
My job is protecting children. It has taken me from big cities to rural outposts, from ghettos to penthouses, and from courtrooms, into demonic battlefields. But whatever the venue, the truth remains constant: Some humans intentionally hurt children. They commit unspeakable acts—for their pleasure, their profit, or both.
StevieRay Hansen
Editor, HNewsWire.com
Let Me Make This Abundantly Clear. (I Am Apolitical) While I Have a General Distaste for Politicians No Matter the Party They Belong To, I Am Unashamedly Politically a Bible Believing Conservative Christian. I Have a Severe Distrust of Government. I Believe It Is the Most Inefficient and Ineffective Way to Accomplish Most Things. While I Strongly Disagree with Liberals/Progressives and Conservative on Most Political Issues, and While I Believe Liberals/Progressives and Most Politicians Are Terribly Misguided and Naive About What Big Government Will Eventually Result In, I Strive to Not Question Their Motives. at the Same Time, While I Find Myself in Agreement with Conservative Politicians on Some Issues, I Do Not Believe Electing Republicans Is the Answer to Everything. for Me, Very Sadly, the Main Difference Between Republicans and Democrats Is How Quickly They Want to Drive the Car Towards the Cliff. Simply Put, I Do Not Believe the Government Is the Solution for Everything. I Do Not Place Any Faith, Trust, or Hope in Any Politicians to Fix What Is Wrong with the World. "Come Lord Jesus!" (Revelation 22:20)
Education is useless without the bible (Daniel Webster)
Usually, the Lord doth no great thing for or against his people, without giving warning of it before it comes.
John Wesley who said that what we tolerate in our generation, will be embraced by the next. Wesley is 100% correct! We are living in sick times.
Evil Exists So Spiritual Warfare Becomes Necessary!
Corinthians 4:8-11 New King James Version (NKJV)
We are hard-pressed on every side, yet not crushed; we are perplexed, but not in despair; 9. persecuted, but not forsaken; struck down, but not destroyed— 10. always carrying about in the body the dying of the Lord Jesus, that the life of Jesus also may be manifested in our body. 11. For we who live are always delivered to death for Jesus' sake, that the life of Jesus also may be manifested in our mortal flesh.
Satan has power over (LGBTQE-TRANS PEOPLE). The "sons of disobedience" referred to in Ephesians 2:2 are those who have not trusted Christ as Lord and Savior (cf. Acts 26:18; 2 Corinthians 4:4; Revelation 13:12). The demons are also under the rule of Satan (Matthew 12:24), and one of his titles is "prince of demons" (Matthew 9:34). Satan has a kingdom (Matthew 12:26) and a throne (Revelation 2:13). Satan is called a prince because he is a ruler and possesses the power to manifest evil in the world through influencing people and commanding demons.
HNewsWire- "All political language is designed to make lies sound truthful and murder respectable." Just look at some of our modern-day examples: torture is "enhanced interrogation techniques"; murder is "collateral damage"; the aggression initiation of war is a "pre-emptive strike"; the theft of taxpayers' money is a "bailout", and the theft of depositors' money in a bank is a "haircut" or "bail-in".In a blatant example of Newspeak, the New World Order controllers (through the psychiatric DSM V) have tried to rename pedophiles as "minor-attracted persons" and redefine pedophilia as "sexual orientation". This makes no sense since sexual orientation has to do with gender, not age, with whether you are attracted to males or females, not how old they are. There are even organizations (like B4UAct.org) which are claiming that pedophiles are being unfairly stigmatized for their feelings!
The Cult of LGBTQ is often a cover for child-molesting perverts
  ![](https://i2.wp.com/dailysignal.com/wp-content/uploads/170117_Obama_Lee-1250×650.jpg?resize=720%2C374) Rather than listening to and trying to work with Republicans, President Barack Obama governed through brute force. (Photo: Amanda Lucidon/The White House) ##…
Read More
We make every effort to acknowledge sources used in our news articles. In a few cases, the sources were lost due to a technological glitch. If you believe we have not given sufficient credit for your source material, please contact us, and we will be more than happy to link to your article.