Advisory: Be careful of what you read on social media. The algorithms used by these platforms have no regard for Biblical truth. They target your emotions to keep you engaged on their site so their advertisers can drop more ads. These platforms exist to enrich their stockholders. Consider God's promise to Believers in James 1:5, "If any of you lacks wisdom, you should ask God, who gives generously to all without finding fault, and it will be given to you."
Tribulation Brought to You by the New World Order…
Readers may recall as early as April we outlined how mortgage lenders were preparing for the most significant wave of delinquencies in history as tens of millions of people lost their jobs because of the virus-induced recession.
Mortgage lending standards have since tightened as mass foreclosures and mortgage market mayhem appears to be ahead.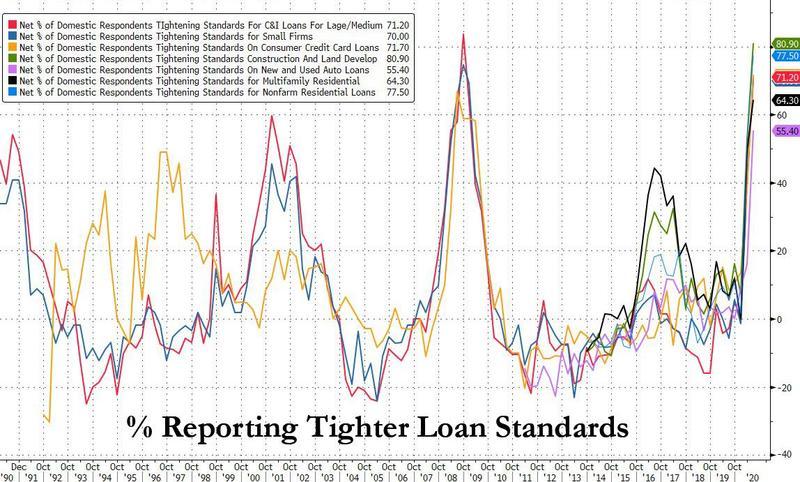 The Trump administration has found creative ways to prevent the foreclosure wave during the election year – which has placed millions of homeowners in forbearance programs to shift the mortgage crisis until after November.
Property data and analytics firm CoreLogic published a new report Tuesday warning about early-stage delinquency rates are starting to rise.
CoreLogic said on a national level, 7.3% of mortgages were 30+ days or more overdue (in May). This is a 3.7-percentage point increase in the overall delinquency rate compared to 3.6% in May 2019.
Stages of delinquency:
Early-Stage Delinquencies (30 to 59 days past due): 3%, up from 1.7% in May 2019.
Adverse Delinquency (60 to 89 days past due): 2.8%, up from 0.6% in May 2019.
Serious Delinquency (90 days or more past due, including loans in foreclosure): 1.5%, up from 1.3% in May 2019. This is the first year-over-year increase in the serious delinquency rate since November 2010.
National Overview of Loan Performance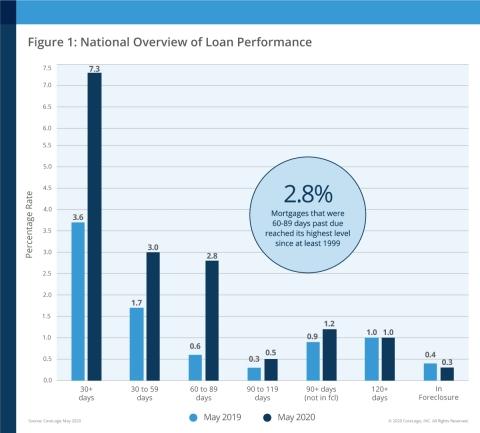 CoreLogic's chief economist Dr. Frank Nothaft said, "the national unemployment rate soared from a 50-year low in February 2020, to an 80-year high in April. With the sudden loss of income, many homeowners are struggling to stay on top of their mortgage loans, resulting in a jump in non-payment."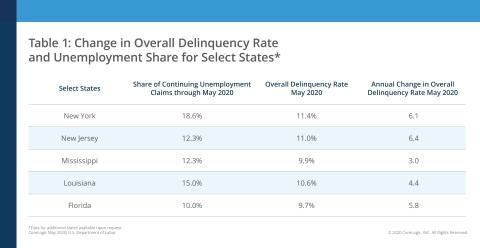 Government and industry relief programs have provided a temporary safety net for millions of homeowners unable to service their mortgage. The housing crisis is expected to begin after the election:
"U.S. serious delinquency rate to quadruple by the end of 2021, pushing 3 million homeowners into serious delinquency," said CoreLogic.
Frank Martell, president and CEO of CoreLogic, said, "barring additional intervention from the Federal and State governments, we are likely to see meaningful spikes in delinquencies over the short to medium term."
All states logged increases in overall delinquency rates in May from a year earlier. New Jersey and Nevada, both still hot spots for the virus, experienced the largest overall delinquency gains with 6.4 percentage-point increases each in May, compared to one year earlier. New York again remained atop the list with a 6.1 percentage-point increase, while Florida experienced a gain of 5.8 percentage points.
On the metro level, nearly every U.S. metropolitan area posted at least a small annual increase in their overall delinquency rate, with tourism destinations such as Miami, Florida (up 9.2 percentage points), and Kahului, Hawaii (up 8.8 percentage points), posting two of the largest increases. Odessa, Texas — which has a local economy strongly tied to the oil industry — also logged a considerable increase, posting an annual gain of 9 percentage points.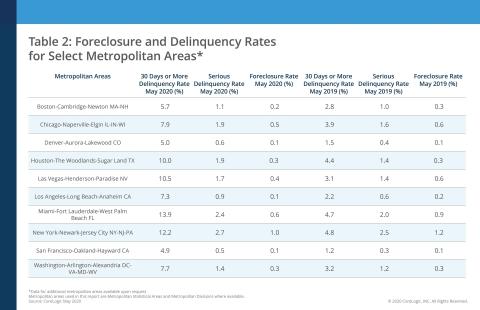 Meanwhile, over 75% of all metro areas logged at least a small increase in their serious delinquency rate. Odessa, Texas, and Laredo, Texas, tied for largest increase with gains of 1.1 percentage points each. McAllen, Texas; Midland, Texas and Hattiesburg, Mississippi all followed with gains of 0.7 percentage-points each. -CoreLogic
And while the Trump administration is now in "bailout everyone mode" – their ability to dissolve the financial crisis in its entirety will likely not succeed but only push off part two of the crisis until after the election. Source: ZeroHedge
"People who grew up with the Internet saw what a wonderful thing it was for free expression, giving everyone access to a global audience. That's been completely flipped on its head, and now it's one of the most tightly controlled, manipulated places to find information that you could imagine. It's a complete 180 from what it used to be, and that's incredibly sad, because it was, initially, this challenge to old information gatekeepers, this place of free expression, of democratized information, and now it's just controlled by a handful of increasingly authoritarian ideologically partisan tech companies that haven't been held to account by officials in D.C. and aren't bound by any regulation preventing them from who censoring people or interfering in elections."
Technology companies like Google, Facebook, and Twitter and growing increasingly sophisticated in anticipating, intercepting, and suppressing information with the likelihood of going viral
The World Is In Big Trouble, for Those That Believe We Will Go Back to Some Sense of Normal Life Here on Earth, You Will Be Sadly Disappointed, Seven Years of Hell on Earth Which Began January 1, 2020
"Our courts oppose the righteous, and justice is nowhere to be found. Truth stumbles in the streets, and honesty has been outlawed" (Isa. 59:14, NLT)…We Turned Our Backs On GOD, Now We Have Been Left To Our Own Devices, Enjoy…
While Mainstream Media Continues to Push a False Narrative, Big Tech Has Keep the Truth From Coming out by Shadow Banning Conservatives, Christians, and Like-Minded People, Those Death Attributed to the Coronavirus Is a Result of Those Mentioned, They Truly Are Evil…
Source: HNewsWire ZeroHedge HNewsWire ZeroHedge
Do Not Post HNewsWire Articles on Parler, Gab, Face Book, Reddit, Gettr or Twatter Social Media Platform, We Are Not Comfortable With Their Anti-Christian — Anti-American Nazi Philosophy…Stevieray Hansen
StevieRay Hansen
Editor,
HNewsWire.com
[email protected]
Watchmen does not confuse truth with consensus The Watchmen does not confuse God's word with the word of those in power…
In police-state fashion, Big Tech took the list of accused (including this site), declared all those named guilty and promptly shadow-banned, de-platformed or de-monetized us all without coming clean about how they engineered the crushing of dissent, Now more than ever big Tech has exposed there hand engaging in devious underhanded tactics to make the sinister look saintly, one of Satan's greatest weapons happens to be deceit…
The accumulating death toll from Covid-19 can be seen minute-by-minute on cable news channels. But there's another death toll few seem to care much about: the number of poverty-related deaths being set in motion by deliberately plunging millions of Americans into poverty and despair.
American health care, as we call it today, and for all its high-tech miracles, has evolved into one of the most atrocious rackets the world has ever seen. By racket, I mean an enterprise organized explicitly to make money dishonestly.
All the official reassurances won't be worth a bucket of warm spit. The Global s are behind the Corona-virus, It Is a Man-Made Bio-weapon.
Going through tribulation, even when it is appointed by God, is not contrary to Biblical teaching. See especially 1 Peter 4:17; 2 Thessalonians 1:3-10; Hebrews 12:3-11. But even so, Revelation 9:4 suggests that the saints will be in some measure protected in the time of distress by the seal of God.
Events of the Tribulation
In the Great Tribulation 2 ½ million die every day for 42 months. In Auschwitz, less than a thousand died each day. That means 2500x as many people die every day. Or to put it in Auschwitz terms—the number of people that died every day at Auschwitz will die every 30 seconds in the Great Tribulation! Or in other terms living on earth will be like living in an Auschwitz death camp—and in death toll there will be the equivalent of an Auschwitz Holocaust twice a day for 42 months!
A brief look through the pages of Revelation chapters six, eight, nine, and sixteen–describe the living hell you can avoid if you are saved this morning. Here are only a few of the dreadful disasters that take place during the Tribulation:
One out of every two people will die during the Tribulation (see Rev. 6:8 and onward), some through the ravages of war, others by starvation, and amazingly many others by the 'beasts of the earth'. So, whether by death that comes instantly and thus less dreaded or a slow and painful death that is lingering and agonizing-50 percent of all people will die. The world's population was 6,415,574,176 yesterday, so that means at least 3,207,500,000 will die. Does that amount to just about eleven times the current population of the United States-can you imagine that? And remember that the population of the world is doubling every 39.5 years. So every day the number of people who will die becomes larger and larger.
One-third of all vegetation will be burned up. All grass, every tree, everything green will be destroyed (see Rev. 8:7).
The sun and the moon will be darkened as nature goes into revolt (see Rev. 8:12).
The gates of hell will open and hordes of locusts, the size of horses, will come upon the earth. Those locusts will be allowed to sting men like scorpions and the pain will last for five months. The Bible says men will beg God to let them die but they will not die (see Rev. 9:3-6).
There will be worldwide famine, unlike anything the world has ever seen (see Rev. 18:8).
There will be a world war so bloody that the blood of those killed in battle will flow for two hundred miles up to the bridle of a horse in the valley of Jezreel. This will be the Battle of Armageddon (see Rev. 14:20).
All told, during the Great Tribulation, as many as half of all the people on the earth will be killed.
For those of you who care, Google and your favorite social media platforms have misled you, and now we all pay a heavy price for trusting the ungodly, Google and company, They knew exactly what they were doing, removing our history while preparing you to accept the New World Order playbook, Enjoy.
"When elected officials begin to feel the heat, they suddenly begin to see the light," meaning that growing public pressure on elected officials really works. You just need to have the courage (and faith in God) to take a stand, and hold that stand. Even a solitary stand, if need be.
Here are some common liberal tricks that many people fall for: When a liberal theory of pseudo-science is disproved or discredited, thay simply change the…
Read More
We make every effort to acknowledge sources used in our news articles. In a few cases, the sources were lost due to a technological glitch. If you believe we have not given sufficient credit for your source material, please contact us, and we will be more than happy to link to your article.