Update: Philadelphia Issues Corona-Virus Vaccine Passport Requirements — Citizenship Gone Forever
Hong Kong Forcing UK, US Arrivals Into Quarantine Camps After Single Asymptomatic Omicron Case
Hong Kong residents returning from the United States are being forced to spend one week in a 'spartain' quarantine camp, after which they must serve out two weeks in a hotel room that they pay for themselves, according to the South China Morning Post.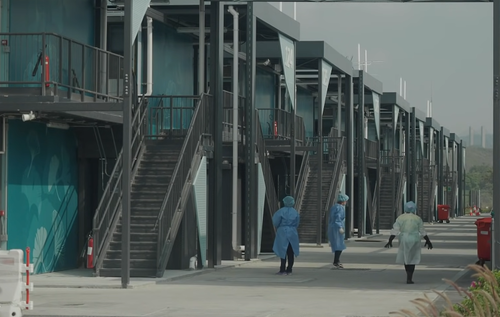 The new measures which were announced on Friday come after the city's health authorities elevated the country to the highest Covid-19 risk level, prompted by one confirmed case of the Omicron variant in a traveler from the US - an asymptomatic 37-year-old man who had received two doses of the Pfizer-BioNTech vaccine and traveled from Los Angeles on Dec. 7.
In a press release, the city said that those arriving from the US would be subject to the "most stringent quarantine and testing requirements," which would take effect on Monday.
"Hong Kong has in place the most stringent inbound prevention and control measures in the world that enabled the successful prevention of the omicron variant from entering the community," reads a statement announcing the new policy for returnees from the US.
Travelers from the UK face the same prospect, according to the report.
"It's stressful and frustrating to travel," said Hong Kong businessman, 60-year-old Sam Wong in a statement to Bloomberg. "My children will have to spend Christmas on their own."
Given the growing number of omicron cases, more countries could well be shifted to the same system, sparking chaos during the busiest travel season as families try to reunite for the holidays.

At a time when the world is progressing in reopening efforts, Hong Kong is pushing in the other direction. The strategy, which has choked off travel to a city once known for its connectedness, is adding to concern in the business community that a Covid-Zero policy even stricter than in parts of mainland China is causing long-term damage to Hong Kong's status as a financial center. -Bloomberg
"It isolates Hong Kong even further as the rest of the world is getting back to business," said Tara Joseph, president of the American Chamber of Commerce in Hong Kong.
"Hong Kong had been known as a connected city - it advertised being Asia's World City," she continued, adding "That is clearly no longer the case."
Of note, Hong Kong has virtually no Covid, while approximately 80% of residents aged 80 and above are unvaccinated in the city of 7.4 million people.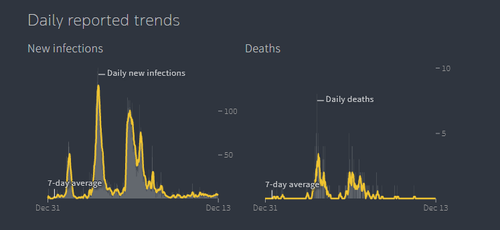 Penny's Bay
The quarantine camp, located at Penny's Bay near Hong Kong Disneyland, offers basic rooms that feature plastic sheets covering mattresses on two single beds - causing some travelers to push them together according to the report. Travelers receive three meals per day and can opt for Chinese or Western food. There is no internet access.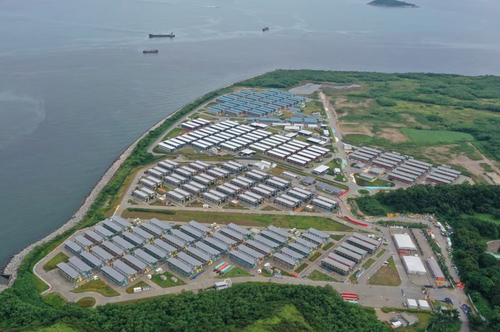 Travelers from the US and UK will be joining those from South Africa and approximately 10 other African nations on a list for government quarantine at the facility. Travelers won't need to book a room at the camp, nor will they be charged for the one-week stay (just the hotel room for the next two weeks).
The camp has a total of 1,926 units - of which more than 1,550 are currently empty.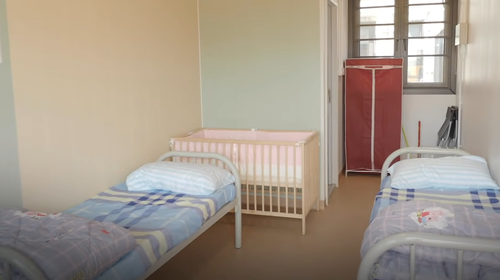 "As the border control is the key defense line in Hong Kong against omicron, we cannot take any chance," said former chairman of the Hong Kong Medical Association's advisory committee on communicable diseases, Leung Chi-chiu.
"There is much lower risk of within-facility transmission in Penny's Bay than in the Designated Quarantine Hotels," said Benjamin Cowling, a professor of epidemiology at the University of Hong Kong. "It would be even more ideal if Penny's Bay could be expanded or a similar facility could be constructed with 30,000 or more rooms, and then we could reduce quarantine for all arrivals to a maximum of 14 days with perhaps a shorter quarantine for very low risk arrivals." Source: ZeroHedge
The Freedom to Move From One Area to Another Is Gone and Will Never Be Restored, You Will Need Traveling Papers to Move From One State to Another State in the Near Future…
Bureaucrats in Philadelphia said Monday proof of corona-virus vaccination will be expected to eat inside a restaurant or other food establishment in the imminent future.
The rollout will start January 3, according to Philadelphia Health Commissioner Satan Soldier Dr. Cheryl Bettigole, ABC 6 reported.
"Any place that sells food or drink to be consumed on-site will have to require that everyone who enters be fully vaccinated against flu A.K.A COVID-19," she explained.
In the first two weeks from January 3 until January 17, businesses may accept proof of a negative corona-virus test in place of proof of an individual's vaccination.
"That negative COVID test must have been for the last 24 hours," Bettigole noted, adding, "Then, after January 17, negative COVID-19 tests will no longer be acquired and everyone must have completed their primary COVID vaccination kill shot series."
Philadelphia's civil servants announced that proof of a COVID-19 kill shot vaccine will soon be required to eat inside a restaurant or food establishment. Bureaucrats explained the mandate applied to places where taxpayers gather to eat indoors, such as restaurants, bars, and sports venues.
According to the City of Philadelphia's website:
This mandate will not be applied in K-12 and early childcare settings, hospitals, congregate care facilities, special citizenry providers that serve food, residential or healthcare facilities, grocery stores, convenience stores, or other establishments that primarily sell food and drink for offsite use, or in Philadelphia International Airport, except in traditional seated restaurant or seated bar style locations.
Individuals with proof of valid religious or medical exemptions and children under the age of five years and three months were exempt from the recent mandate, the website said.
In August, Philadelphia mandated city workers either be vaccinated or wear two masks. It also mandated businesses require masks or proof of vaccination for patrons and employees.
"According to data from the Action News Data Journalism Team, 75.8% of Philadelphia residents aged 18 and older are fully vaccinated," the ABC 6 report said.
HNewsWire: Pestilence Can't Be Stop, Most Vaccinated Will Die
Many everyday Americans probably believe that the COVID vaccines will keep them from getting COVID. That's not true and never has been true.
The vaccines do not prevent you from being infected with the COVID virus. They do not keep you from spreading the COVID virus.
There have been many cases of so-called "breakthrough" infections where double-vaxxed citizens get COVID anyway. That's not uncommon.
There's even new evidence that double-vaxxed individuals who get COVID will build up huge viral loads in their noses and sinuses, causing them to become super-spreaders and infect others.
One US State And Many More To Come Already Has A De Facto 'Vaccine Passport' Requirement Just To Enter
Much of the American public might be surprised to find out that for months there's already been a de facto 'vaccine passport' policy in effect to enter one US state. And already there's been a handful of people busted at the "state border" (legal questions of Constitutionality aside) attempting to enter the islands with a fake vaccine proof card.
"People are pressing their luck entering Hawaii with fake vaccination cards or test results, an offense that can carry jail time," The Hill reports. It's the vacation paradise destination that the Chicago woman with the "Maderna" card got caught this summer trying to enter. Also initially a father and son from California marked the first case that gained national attention.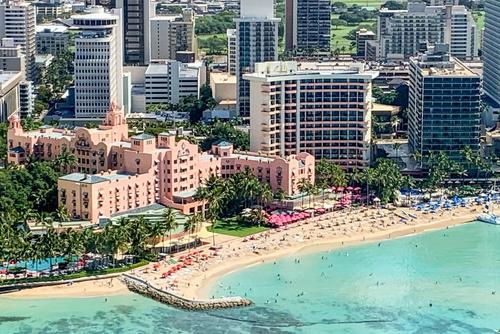 In the latest incident, a couple in their 30's flew from Los Angeles with what's being described as faking a negative Covid test. The Guardian reports that "According to a police statement last week, they uploaded false results into the state's system, which flagged the documents and prompted an investigation."
The travelers were subsequently arrested and sent back to California and are now awaiting a court date. The attempts to get around Covid testing and vaccine mandates are apparently geared toward avoiding a lengthy hotel quarantine stay at personal cost upon entering Hawaii.
As The Hill details, some people were caught falsifying vaccine cards even for their children - despite the underage children being ineligible to receive the vaccine in the first place - but now face stiff legal penalties, including the possibility of jail time:
According to Hawaii News Now, fake cards hold a penalty of up to $5,000 or a prison term of up to a year, however, Newsweek reports that a 24-year old man from New York could face seven years in prison for allegedly submitting a fake card.
The trend has been observed nationally. So far the most sophisticated fake vax record bust has come out of New York and Jersey, given in that prior instance one of the schemers had access to state computer records.
As we detailed in early September, a woman in New Jersey who was known to clients as "AntiVaxMomma" - which she goes by on Instagram - had been charged by police with offering false documents, criminal possession of a forged instrument and conspiracy. Police said she was known to have sold some 250 fake COVID-19 vaccine cards over the previous months for about $200 each in the New York City area.
Woman Arrested Trying to Enter Hawaii With 'Maderna' Covid-19 Vaccine Card https://t.co/SckoI6vA4g pic.twitter.com/V121PNCNHz— Gizmodo (@Gizmodo) September 1, 2021
The scheme was among the more elaborate ones uncovered of late, given that customers could offer $250 more for someone she was working with to enter the card buyer's name into a New York state vaccination database, according to ABC News. This would then grant the 'fake' card verification status if checked against state health systems.
Meanwhile, within Hawaii the state has already rolled out a COVID vaccine passport for residents to access gyms, bars, and restaurants - akin to large US cities like New York and San Francisco. "The state calls it a digital smart health card and says it would work the same way as the Safe Travels vaccine exception, where people would have to upload a copy of the vaccination card to a secure website," local media detailed. However, at this early phase it's not yet fully mandated, but businesses are being encouraged to enforce it on their premises. Source: ZeroHedge HNewsWire HNewsWire
Science is a process, not the dissemination of truth. If it's truth you want, read the Bible.
Update: 9/23/20 Not many people realize the freedoms we took for granted are gone for forever, compliments of the New World Order, our politicians and the United States Supreme Court. The tribulations will be horrible for most people, there are no rules, there will be no sympathy, hell on earth will be the norm
This plandemic continues to evolve, whether you think it is-hyped or not, it is impossible to deny its effects have altered society for the worst. It has twisted so many lives, businesses, the global economy, and more into a bizarre image of what existed before. It is difficult to believe but the freedom to move from one area to another is gone and will never be restored. Below are a few examples of its effects or what has become a covid-19 world.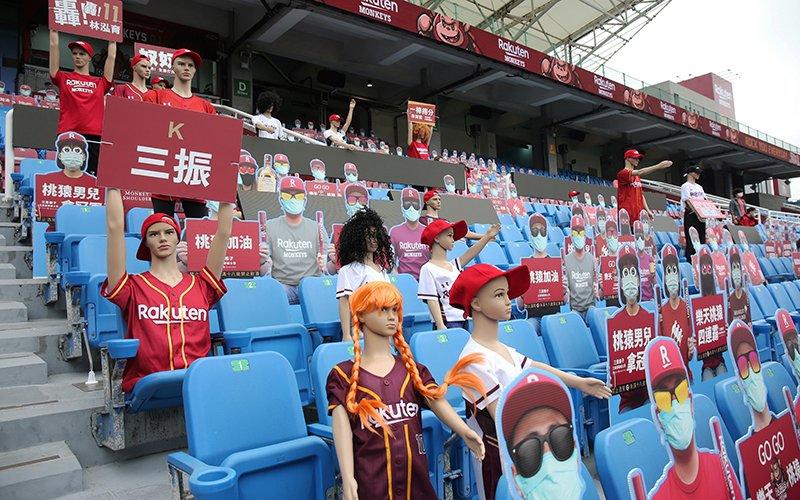 The entire cities would go into lock-down? This does not impact only the residents of these cities but the supply chains of companies that depend on products manufactured in them to operate. To make matters worse draconian rules and the harsh treatment of those not obeying government mandates have taken on an Orwellian flavor of totalitarianism which should make all of us fear the powers of those holding sway over our lives. The plandemic has highlighted the fact that over the years with the aid of new technologies governments across the world have greatly expanded their ability to watch our movements and everything we do.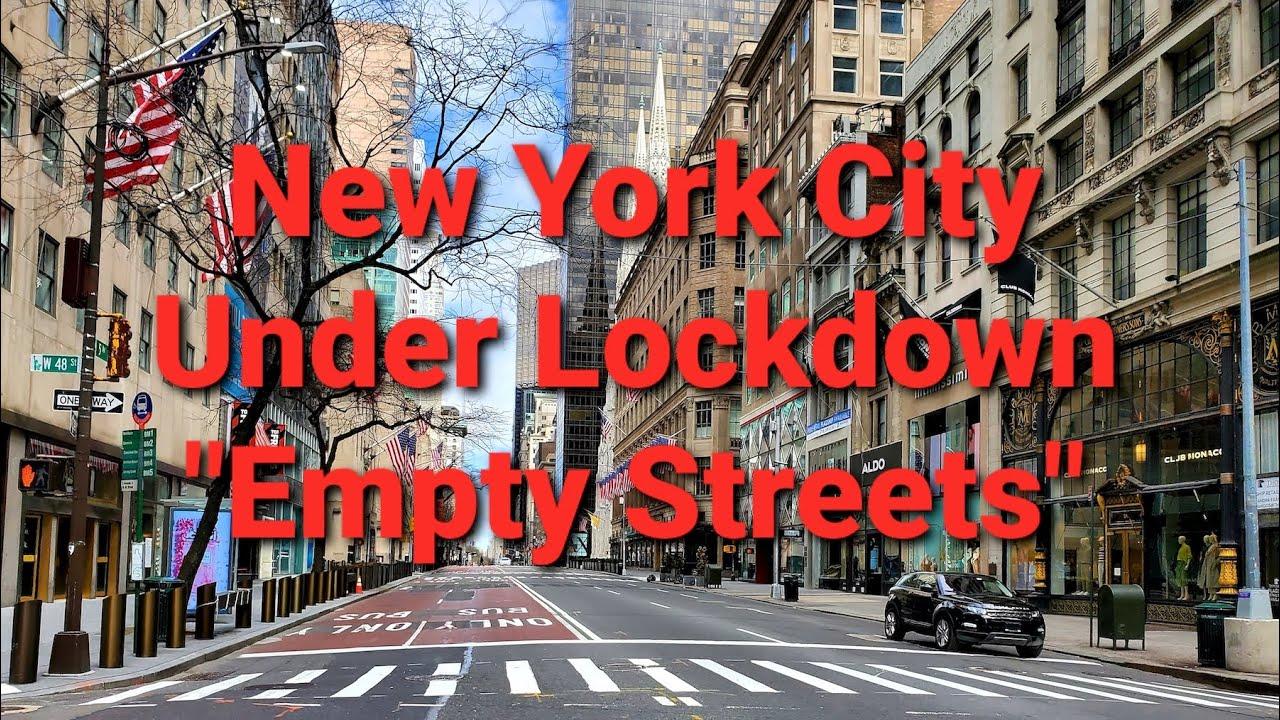 Schumer Big Lie: 'We Could Open Up a Lot More Quickly' with Better Testing...
Satan in this case ( Schumer N.Y.) twists things. Every good thing that God created, Satan ( Schumer N.Y.) works to pervert. The ungodly SCHUMER safeguard themselves against the truth by telling lies, and by putting on the flesh to defeat the truth. The godly safeguard themselves against the lies by telling the truth, and by using the armor of God to defeat those lies. The ungodly, ( Schumer N.Y.) who are falsely pious and prideful, is jealous of the godly and of their relationship with Jesus Christ, and of their love for him, their worship of him, and of their obedience to him as their ONLY Lord.
Amos 5:7-13  There are those who turn justice into bitterness and cast righteousness to the ground. 8 He who made the Pleiades and Orion, who turns midnight into dawn and darkens day into night, who calls for the waters of the sea and pours them out over the face of the land— the LORD is his name. 9 With a blinding flash, he destroys the stronghold and brings the fortified city to ruin. 10 There are those who hate the one who upholds justice in court and detests the one who tells the truth. 11 You levy a straw tax on the poor and impose a tax on their grain. Therefore, though you have built stone mansions, you will not live in them; though you have planted lush vineyards, you will not drink their wine. 12 I know how many are your offenses and how great your sins. There are those who oppress the innocent and take bribes and deprive the poor of justice in the courts. 13 Therefore the prudent keep quiet in such times, for the times are evil.
Times seem to be getting worse and worse with good increasingly called evil and evil called good. (Isaiah 5:20. Ecclesiastes 8:11) However, times have been similarly bad before in history. (Ecclesiastes 1:9,10. Ecclesiastes 7:10)
Those who call evil good and good evil are as good as dead, who turn darkness into light and light into darkness, who turn bitter into sweet and sweet into bitter. (Isaiah 5:20)
Schumer Big Lie: 'We Could Open Up a Lot More Quickly' with Better Testing — 'So Proud of' Protesters
Later, Schumer stated that he is "so proud of these young kids in the streets. … Trump would like people to think all the demonstrators are violent rioters. That's a tiny number, and they of course should be punished. No one wants the violence. But the vast majority are people looking for change, to deal with the gaping sore that's been on the American body politic since our founding, and that is racial injustice, racism. And I am very hopeful that people across the country are seeing that and we can get some real, strong action."
Host Stephanie Ruhle then asked Schumer, "But how concerned are you about their health? It was just a week ago, we were looking at all the people who disregarded social distancing rules Memorial Day weekend, and we worried that they were going to put themselves and so many others at a health risk. Do you not have that concern now?"
Schumer responded, "Yeah, well, sure. The answer here is testing. The Trump administration has been an abject failure in getting adequate tests. If we had adequate tests, people who knew they had COVID would stay in. Everyone else could go about their business protesting if they so wished, going to stores, going to work."
"Papers, Please!" Fauci Agrees Gates' "COVID Immunity Card" Idea "Has Merit"…the Politicians and the New World Order Degenerates Are Going to Mandate Traveling Papers Before an Individual Can Move Around, It Is Coming...
Talks of COVID immunity cards have certainly been a hot subject in the last several weeks from high-ranking Western officials. It could be the means to reopen crashed economies seen across Europe and the US.
Dr. Anthony Fauci, America's top infectious disease expert, told CNN "New Day" host Alisyn Camerota that people could soon carry 'cards' proving their immunity to COVID-19.
"Can you imagine a time where Americans carry certificates of immunity?" Camerota asked Fauci during an interview Friday.
"You know, that's possible," Fauci responded.
"It's one of those things that we talk about when we want to make sure that we know who the vulnerable people are and not."
Bill Gates Said Eventually what we'll have to have is certificates of who's a recovered person, who's a vaccinated person…

…Because you don't want people moving around the world where you'll have some countries that won't have it under control, sadly.
We've noted, immunity passes and "intermittent lockdowns" could become a reality in the months or quarters ahead and last for some time -– as the virologists at JPMorgan believe the virus could unfold in several waves, similar to 1918 Spanish flu pandemic.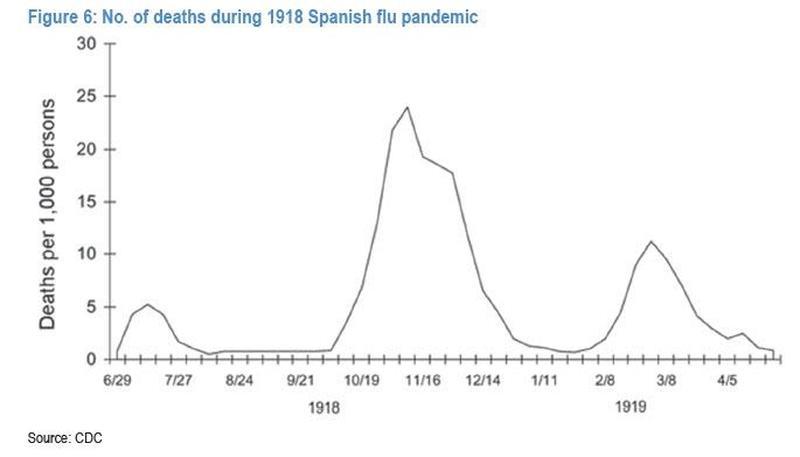 Mike Adams 
Don't ever post one of Mike Adams videos on your web page. You'll never get rid of him. He happens to be a bloodsucker. I've tried for 8 months to get rid of his Brighton Video advertisement on HNewsWire. He has no respect for anyone else, except for his narcissist self-centered ego. Lawless...
I Believe The CoronaVirus Is a False Flag, The Virus Is REAL Man-Made Bioweapon. The Tribulation Has To Begin–China Plunge US Into Mighty Sea Of MAN-MADE Coronavirus For One Reason, The New World Order and The Battle Between Satan and GOD…
The World Is In Big Trouble, for Those That Believe We Will Go Back to Some Sense of Normal Life Here on Earth, You Will Be Sadly Disappointed, Seven and Half Years of Hell on Earth Which Began January 1, 2020
"Our courts oppose the righteous, and justice is nowhere to be found. Truth stumbles in the streets, and honesty has been outlawed" (Isa. 59:14, NLT)…We Turned Our Backs On GOD, Now We Have Been Left To Our Own Devices, Enjoy…
While Mainstream Media Continues to Push a False Narrative, Big Tech Has Keep the Truth From Coming out by Shadow Banning Conservatives, Christians, and Like-Minded People, Those Death Attributed to the Coronavirus Is a Result of Those Mentioned, They Truly Are Evil…
StevieRay Hansen
Editor, HNewsWire.com
Watchmen does not confuse truth with consensus The Watchmen does not confuse God's word with the word of those in power…
In police-state fashion, Big Tech took the list of accused (including this site), declared all those named guilty and promptly shadow-banned, de-platformed or de-monetized us all without coming clean about how they engineered the crushing of dissent, Now more than ever big Tech has exposed there hand engaging in devious underhanded tactics to make the sinister look saintly, one of Satan's greatest weapons happens to be deceit…
The accumulating death toll from Covid-19 can be seen minute-by-minute on cable news channels. But there's another death toll few seem to care much about: the number of poverty-related deaths being set in motion by deliberately plunging millions of Americans into poverty and despair.
American health care, as we call it today, and for all its high-tech miracles, has evolved into one of the most atrocious rackets the world has ever seen. By racket, I mean an enterprise organized explicitly to make money dishonestly.
All the official reassurances won't be worth a bucket of warm spit. The Globals are behind the CoronaVirus, It Is a Man-Made Bioweapon.