OF TRUMP IMPEACHMENT…
One of Satan's most trusted lieutenants Mitch McConnell "Pleased" About Impeachment, Wants Trump and MAGA Movement Purged from GOP…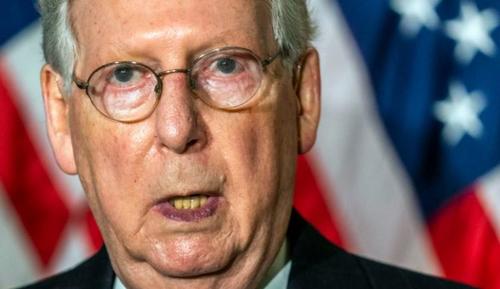 We are doomed as a nation if we continue to obey Satan Soldiers .
Republican leader Senator Mitch McConnell is reportedly "pleased" about the idea of a second Trump impeachment, telling sources that he believes President Trump  "committed impeachable offenses", according to a late Tuesday New York Times report.
McConnell believes impeachment will make it easier to "purge [Trump] from the party" ahead of a Wednesday House vote to formally charge Trump with inciting violence against the country.
Meanwhile, Trump ally and minority leader Kevin McCarthy of California has asked other Republicans whether he should call for Trump to resign in the aftermath of the events at the Capitol last week. McCarthy and others have decided not to formally lobby Republicans to vote against the impeachment. He is said to have reached out to Nancy Pelosi to gauge interest in pursing a censure vote, though Pelosi has reportedly ruled it out.
This is not surprising news per se, but it's still somewhat shocking to hear them be so open about it. And make no mistake, purging Trump implicitly means purging the base's nationalism and populism. The battle lines have been drawn. Whose side are you on?
McConnell has indicated that he "wants to see the specific article of impeachment that the House is set to approve on Wednesday," the Times wrote. President-elect Biden even spoke to McConnell on Tuesday to ask about the possibility of "a dual track that would allow the Senate to confirm Mr. Biden's cabinet nominees and hold a Senate trial at the same time".
The article is expected to draw support from "as many as a dozen" Republicans.
McConnell was outspoken after the Senate reconvened on Wednesday last week, stating "This failed attempt to obstruct the Congress, this failed insurrection, only underscores how crucial the task before us is for our Republic. Our nation was founded precisely so that the free choice of the American people is what shapes our self-government and determines the destiny of our nation."
Taken together, McConnell and McCarthy's respective stances represent a shift in sentiment and a break from Trump within the Republican party heading into the last days of the President's term.
Trump, on the other hand, has remained steadfast, stating on Tuesday that his remarks to his supporters were "totally appropriate," and that the idea of impeachment was "causing tremendous anger". 
This unique video platform brings the world's best viral videos to keep you entertained, while making real money, The Best Video Platform Rumble
Source: HNewsWire ZeroHedge HNewsWire HNewsWire HNewsWire HNewsWire
PLEASE DO NOT POST HNEWSWIRE ARTICLES ON PARLER, FACE BOOK, REDDIT OR TWATTER SOCIAL MEDIA PLATFORM, WE ARE NOT COMFORTABLE WITH THEIR ANTI-CHRISTIAN — ANTI-AMERICAN NAZI PHILOSOPHY…STEVIERAY HANSEN
"IF THIS ENDED YOUR FIGHT, THEN YOU WERE FIGHTING THE WRONG FIGHT. DID I NOT CALL YOU INTO MINISTRY? DID I NOT DELIVER YOU UP TO FEED MY PEOPLE? YOUR WORK IS NOT DONE HERE UNTIL I SNATCH YOU UP."
StevieRay Hansen
Editor, HNewsWire.com
Watchmen does not confuse truth with consensus The Watchmen does not confuse God's word with the word of those in power…
The 127 Faith Foundation Thanks You
The 127 Faith Foundation: We do not want donations from "those on disability, on a fixed income, those that cannot afford to give" Please Pray!
God is the backbone of the family unit. Put another way, without God evil takes root and destroys everything it touches including the family, it should be obvious by now that when we take God out of the equation the equation becomes sinister….
This is what their New World Order looks like, Democrats Lawmaker in California: 'legalize child prostitution' SACRAMENTO – Beginning on Jan. 1, police cannot arrest child prostitutes in the streets of California, except under limited circumstances. And dumb down people wonder why California is burning to the ground, poke God in the eyes enough times and his anger will start to show…
PayPal.Me/the127faithfoundatio
Amazon Wish List For The 127 Faith Foundation
The number of Orphans aging out of Child Protective Custody has grown at an alarming rate. The 127 Faith Foundation receives many requests each week to house them at our ranch. Our prayer is that the good people of our country will step up to the challenge and offer financial support for "the least among us." We need your help! StevieRay Hansen, Founder, The 127 Faith Foundation
Linda Harvey on Oregon's 'Gender-Obliterating Nonsense' – The Worst State to Raise Children LGBTQ Liberalism Is Destroying Young Women's Bodies: Alex Matheny, 20, shows off…
Read More