Advisory: The editorial board of HNewsWire adopted the official policy to bypass many social media platforms. Some of these include: Facebook, Instagram, Twitter, Parler, and YouTube. We believe these companies are responsible for many of the spiritual ills our world faces today. In some cases, however, we have allowed our guest contributors to include content from their YouTube channel while we search for alternatives.
Pestilence is a deadly disaster, In the Bible, pestilence is usually a sign of God's judgment on a nation or people group (Deuteronomy 32:24; 1 Chronicles 21:12; Ezekiel 7:14–15). The God who protects and blesses is also the God who sends disaster and pestilence when it accomplishes His righteous purposes on earth (Isaiah 45:7; Ezekiel 5:16–17; Amos 4:10). Pestilence is promised as part of God's final judgment on the world in Revelation 18:8.
A seven-day state of emergency has been called in the Australian state of New South Wales amid raging wildfires that have killed eight people in the region since Monday, including volunteer firefighters, according to officials.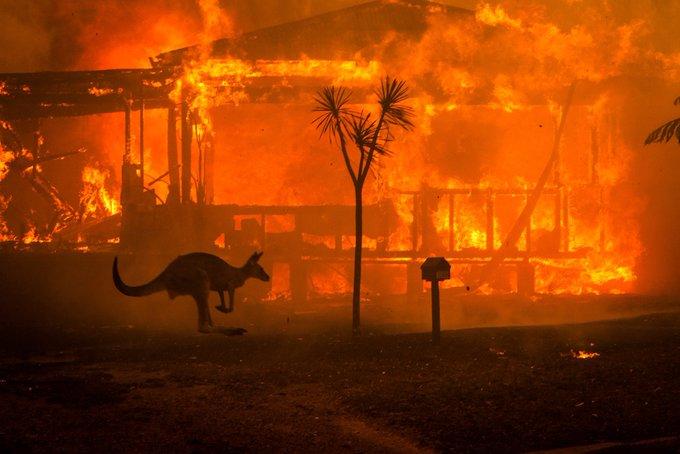 Military helicopters and naval vessels have been deployed to deliver water, food, and fuel to remote areas that are difficult to reach by road. The Australian Defense Force has sent navy ships to Mallacoota on a two-week supply mission, according to Victoria Emergency Commissioner Andrew Crisp, who added that firefighters would be flown in via helicopter do the lack of access.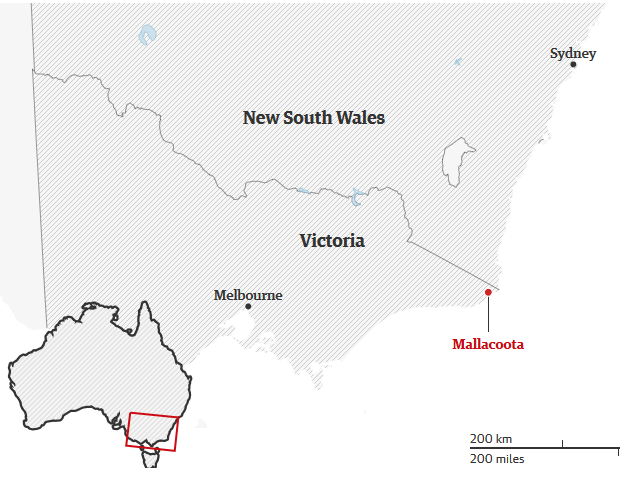 Conditions are expected to worsen in the coming days, with Australia's Bureau of Meteorology predicting temperatures to soar above 104 degrees in NSW, Victoria and western parts of the country.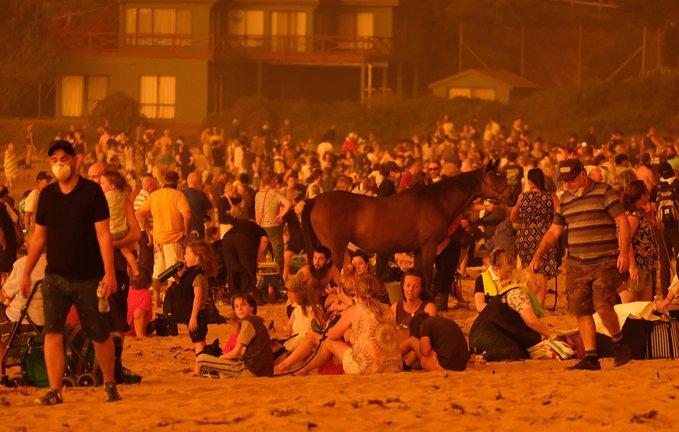 Andrew Miskelly@andrewmiskelly
Imagery from Sentinel-2A showing the Clyde Mountain Fire (near Batemans Bay, NSW) and associated cumulus flammagenitus (pyrocumulus) at around 11:07 AEDT. https://apps.sentinel-hub.com/eo-browser/?lat=-35.7961&lng=150.2099&zoom=11&time=2019-12-31&preset=4-FALSE-COLOR-URBAN&gainOverride=0.4&gammaOverride=0.4&redRangeOverride=[0.117,1]&greenRangeOverride=[0.117,1]&blueRangeOverride=[0.117,1]&datasource=Sentinel-2%20L1C …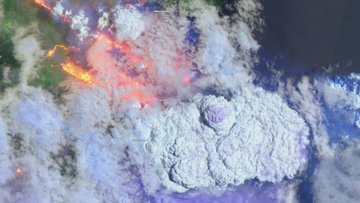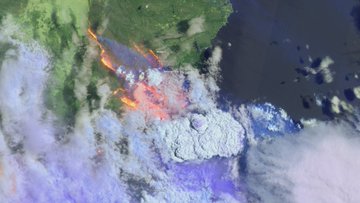 2303:37 AM – Dec 31, 2019Twitter Ads info and privacy202 people are talking about this
"We don't take these decisions lightly but we also want to make sure we're taking every single precaution to be prepared for what could be a horrible day on Saturday," said state governor Gladys Berejiklia in a press conference. This marks the third time such a declaration was made since the fires began in November, reports NBC News.
Rescue teams are struggling to reach some rural areas, a New South Wales fire information spokesperson told NBC News.

In the coastal town of Mallacoota, Victoria, where roughly 4,000 people were stranded on the beach while trying to escape the flames earlier this week were finally being relocated by the country's Defence Force on Thursday.

An emergency declaration was also made in the Australian Capital Territory, which includes Canberra, in response to thick smoke and dangerously poor air quality. The smog resulted in the cancellation of Canberra's New Year's Eve celebration and national parks and public libraries in the region have been closed to encourage people to stay indoors. –NBC News
More than 10 million acres have been burned by the fires since the fires began in early October, and over 1,000 homes destroyed following the country's second-driest period on record since 1902. Average rainfall has also been down the most months nationwide in three years.
the 2019 california fires burnt 253000 acres
the 2019 amazon fires burnt 2.2m acres

meanwhile

the 2019 nsw fires burnt 9.9m acres and rising

the 2019 australia wide fires have burnt over 12.3m acres and is rising

it's only just begun. #bushfiresAustralia #ausfires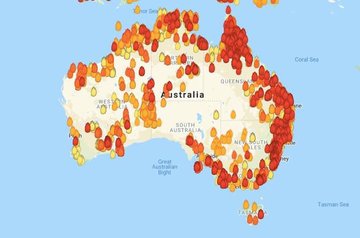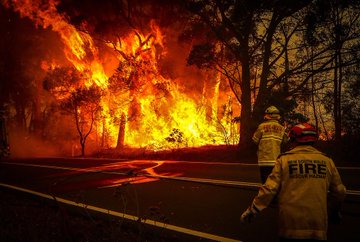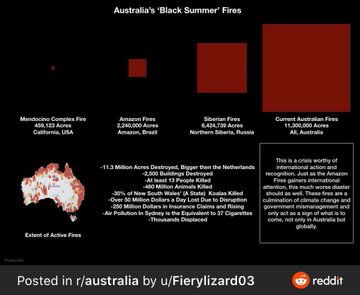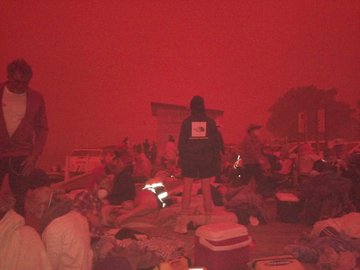 5651:04 AM – Jan 2, 2020Twitter Ads info and privacy500 people are talking about this
The drought and now the fires have depleted the country's drinking water supplies – with storage sitting at 45.8 percent as of Wednesday, down 8% from last year according to the report. New South Wales was affected the most, with their water storage down to 24.5% of normal.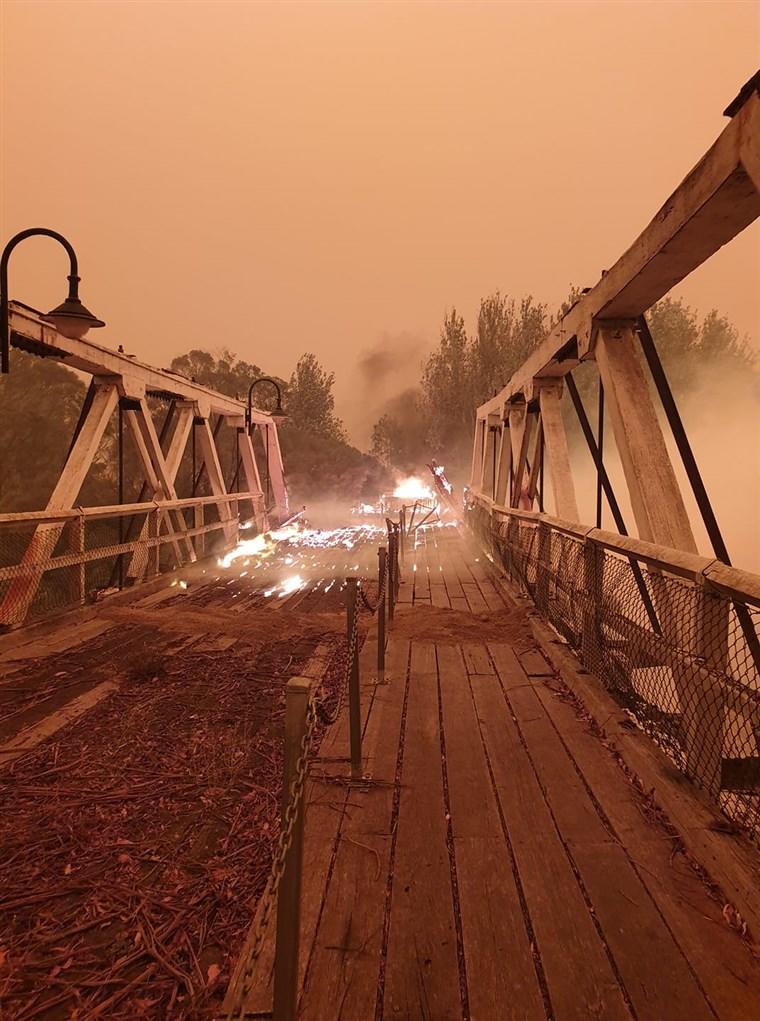 The Australian public, meanwhile, has begun to blame Prime Minister Scott Morrison over a poor government response – with the hashtags #NotMyPrimeMinister and #ScotMoResign trending.
On Thursday, an angry group of residents in New South Wales confronted Morrison yelling expletives over their frustration of rural fire crews not receiving enough funding and resources.

"No, you're an idiot mate. You really are," one man was heard shouting in the town of Cobargo, captured in video by the Australian Broadcasting Corporation. "You won't be getting any votes around here buddy," another man said.

Morrison responded saying he understood the "very strong feelings that people have, they've lost everything." –NBC News
Meanwhile, 39 firefighters and two liaison officers from the United States arrived in Melbourne Thursday to support over 1,000 local crew, and another 71 firefighters from the US and Canada will arrive next week. Source ZeroHedge
Life as You Have Known It Will Never Be the Same Again
Resilient "superbug" pathogens are seeing a boom in the United States, with lethal infections on the rise even as health officials take "aggressive" steps to rein them in, the Center for Disease Control (CDC) said in a new report. In its latest "Antibiotic Resistance Threats" assessment, the CDC found an alarming rise in drug-resilient infections, surging from 2 to nearly 3 million per year since its last report in 2013. Those infections now kill 35,000 people each year, adding 12,000 annual fatalities to the CDC's previous assessment.
The word translated "pestilence" is often translated as "plague" or "disaster" in new versions of the English Bible. However, because the word is often paired with both of those, it may imply greater devastation than a mere physical disease. Pestilence incorporates any and all forms of public and mass destruction and often accompanies famine (Ezekiel 7:15) or war (Jeremiah 21:9). Jesus forewarned of pestilence when He described the end times (Luke 21:11). PESTILENCE IS CONTAGIOUS, VIRULENT, AND DEVASTATING…… The torrential rain of Biblical proportions in the Midwest " pestilence in history have been a punishment for sin MY MISSION IS NOT TO CONVINCE YOU, ONLY TO INFORM YOU… Midwestern bankers are tightening the purse strings on farm credit lines amid some of the toughest financial times for farmers …
'We're Losing This Battle': CDC Warns of Growing Infestation of Potentially Deadly Tick Across Us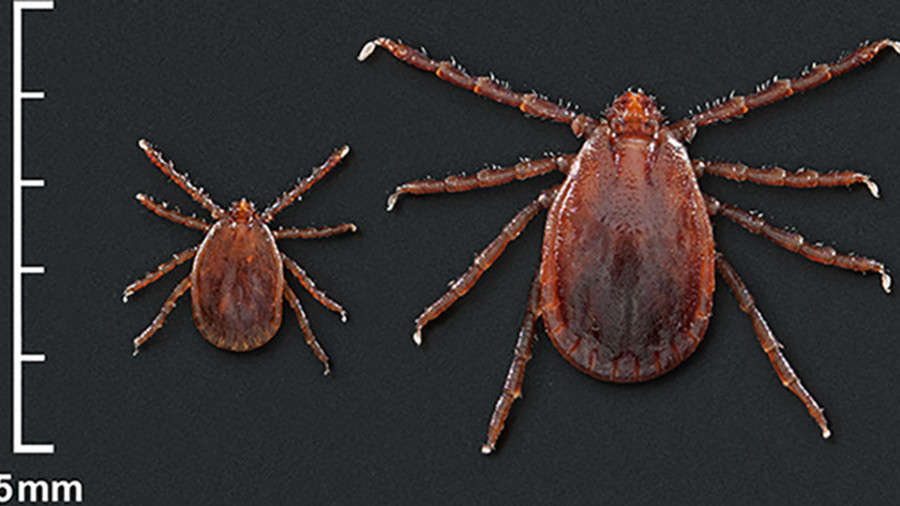 An Asian tick species capable of transmitting deadly diseases to humans is exploding in population and has already spread to eight states in just a year after its first appearance in the US, warns the Centers for Disease Control.
The Asian long-horned tick was only seen in laboratories and in quarantine in the US until "thousands of them" turned up on a pet sheep in New Jersey last year. Because females can generate progeny without mating –up to 2,000 eggs at a time– a single Asian long-horned tick can quickly turn into an infestation
The ticks have already been found twice on humans this year, as well as on six domestic species and six species of wildlife. While none of the known hosts are believed to have been infected by dangerous pathogens as a result, the CDC admits that new lab tests may be needed to detect all the diseases the species is capable of spreading. Asian long-horned ticks are notorious as a vector for dangerous diseases in their native Asia, including Japanese spotted fever and one virus that causes a hemorrhagic fever that kills 30 percent of its victims.
"The full public health and agricultural impact of this tick discovery and spread is unknown," warned the CDC's Ben Beard, deputy director of the Division of Vector-Borne Diseases. Tick-borne diseases are already underreported, and it is unknown how long this species has been in the country before it was spotted on the sheep – or how it got here.
The CDC hopes to stop the invasion from getting out of control with a "broad range of interventions," and states have already begun submitting specimens for testing to see if they are members of the new species. This is the first time an invasive species of tick has breached quarantine to enter the US in nearly 80 years – before 2017, Asian long-horned ticks were successfully intercepted at ports of entry at least 15 times, hitching rides on imported animals and materials.
Tick-borne illness has increased threefold since 2004, according to another CDC report released earlier this year, and the agency is networking with agricultural and veterinary scientists as well as federal, state, and local experts in an effort to contain the menace. CDC officials plan to meet next week with representatives of other federal agencies to attempt to develop a national strategy to fight these illnesses.
"The problems are getting worse and worse," Lyle Petersen, director of the CDC's Division of Vector-Borne Diseases, told the Washington Post. "We're losing this battle." Source
CDC Raises Alarm over Surge of Drug-Resistant Superbugs Infecting 3 Million Americans Annually & Killing 4 People Every Hour
Resilient "superbug" pathogens are seeing a boom in the United States, with lethal infections on the rise even as health officials take "aggressive" steps to rein them in, the Center for Disease Control (CDC) said in a new report. In its latest "Antibiotic Resistance Threats" assessment, the CDC found an alarming rise in drug-resilient infections, surging from 2 to nearly 3 million per year since its last report in 2013. Those infections now kill 35,000 people each year, adding 12,000 annual fatalities to the CDC's previous assessment.
"Germs continue to spread and develop new types of resistance, and progress may be undermined by some community-associated infections that are on the rise," the report says, adding that "more action is needed to address antibiotic resistance."
'A growing threat': CDC sounds alarmed over sexual infections in the US
Covering 18 of the deadliest pathogens, the report classifies them under "urgent," serious" and "concerning" threats, and lists three additional bugs on a "watch list" that require further observation. The most dangerous organisms identified in the report include antibiotic-resistant bacteria such as Enterobacteriaceae, Acinetobacter and Neisseria gonorrhoeae, as well as Candida Auris, a fungus. The report did not look at parasites or viruses, such as HIV, however, only assessing risks from bacteria and fungi.
Despite what the CDC called "aggressive" efforts in combating the drug-resistant microbes, the report also found "gaps slowing progress against the … the threat," such as shortcomings in gathering comprehensive infection data, as well as the need for "Greater implementation of programs for infection prevention."
'We're losing this battle': CDC warns of growing infestation of potentially deadly tick across the US
"This is not some mystical apocalypse or fear-mongering. It is a reality," Dr. Victoria Fraser from the Washington University School of Medicine told NBC News. "We are faced with trying to take care of patients who have drug-resistant infections that we have no treatment for."
While the CDC expressed concern that the superbugs are evolving even greater resistance to drugs, and will become more common among patients, the center noted several effective ways to avoid infection, including "good hygiene, routine vaccination, safer sex practices, and safe food preparation." Source
'A Growing Threat': CDC Sounds Alarmed over Sexual Infections in Us
The cases of sexually transmitted diseases in the US have reached "the highest number ever," as chlamydia, syphilis, and gonorrhea skyrocketed in 2016, says the new report from the US Centers for Disease Control and Prevention (CDC).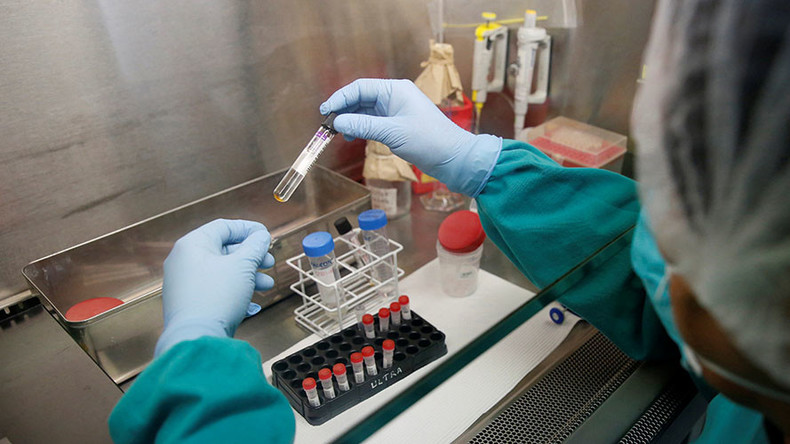 On Tuesday, the CDC released its annual Sexually Transmitted Disease Surveillance Report, which warned that infertility, stillbirth in infants, life-threatening ectopic pregnancy and increased risk for HIV transmission can emerge in people who leave their STDs untreated.
Most of the new cases involved chlamydia, with a total of 1.6 million cases in the US last year. This bacterial infection affects both men and women.
Gonorrhea infections reached 470,000, with a 22 percent increase among men. The CDC attributed the increase to men who have sex with other men. The trend was described as "particularly alarming" because of a growing threat that the infection could become resistant to the last recommended antibiotic treatment.
There were 28,000 more cases of syphilis in the US, a nearly 18 percent increase from 2015. Most of these infections occurred among men who have sex with other men. However, women also saw a 36 percent jump in syphilis cases.
The report also showed 600 cases of syphilis, or a 28 percent increase, among newborn babies. The disease affecting newborns is known as congenital syphilis. The disease led to "more than 40 deaths and severe health complications among newborns," according to the CDC.
"Every baby born with syphilis represents a tragic systems failure," said Gail Bolan, director of CDC's Division of STD Prevention, according to AFP. "All it takes is a simple STD test and antibiotic treatment to prevent this enormous heartache and help assure a healthy start for the next generation of Americans."
"Increases in STDs are a clear warning of a growing threat," said Jonathan Mermin, director of the CDC's National Center for HIV/AIDS, Viral Hepatitis, STD and TB Prevention. "STDs are a persistent enemy, growing in number, and outpacing our ability to respond."
The 2015 CDC report also showed concerns over a shocking rise in sexually transmitted infections. "We have reached a decisive moment for the nation," the agency's representatives said.
All three infections can still be cured with antibiotics, but there are growing concerns that resistant strains may appear at any point. Source
Patreon, Support HNewsWire programming

StevieRay Hansen
Editor, HNewsWire.com
God often uses men who are not of the best moral character. Pharaoh, Nebuchadnezzar, Cyrus, Herod, and Trump (amongst others), to accomplish His will in events He orchestrates during human history. We either trust the sovereignty of God or we don't. Nothing happens apart from Him…
The best index to a person's character is how he treats people who can't do him any good, and how he treats people who can't fight back…
The Birth Pains Are Growing Stronger….
One of the signs of ruling class collapse is when they can no longer enforce the rules that maintain them as a ruling class. When the Romans started making exceptions to republican governance, it was a matter of time before someone simply decided the rules no longer applied to them. Perhaps the robot historians will consider Obama our Marius or Sulla. Maybe that person is in the near future. Either way, the rule of law is over and what comes next is the rule of men.
"Don't piss down my back and tell me it's raining." Outlaw Josey Wales
"Man will ultimately be governed by God or by tyrants." as in Nancy Pelosi (D-San Fran-feces)
My name is Steve Meyers and I need to share a vision and warning that the Lord showed me back in April 2007….
Many of you will ask why I waited so long to share the warning. I didn't. I shared the story with everyone that would listen from pastors to friends to family to colleagues. Immediately following the initial vision, I called a close friend. I told him to sit down that I had something to tell him. I needed it documented as I knew this was supernatural and from God. As I witness events unfolding today, I need to share the vision again.
The risk of loss in trading futures and options on futures can be substantial. The author does not guarantee the accuracy of the above information, although it is believed that the sources are reliable and the information accurate. The author assumes no liability or responsibility for direct or indirect, special, consequential or incidental damages or for any other damages relating or arising out of any action taken as a result of any information or advice contained in this commentary. The author disclaims any express or implied liability or responsibility for any action taken, which is solely at the liability and responsibility of the user. Steve Meyers, StevieRay Hansen
The Un-Godly — Those That Suppress the Truth, the social media giants built multi-billion dollar empires by giving everyone a voice, but now that they have such a dominant position on the Internet they have decided that many prominent conservative voices should be completely silenced.
Our government has been overthrown. As evidenced by Trump's capitulation on the border, his recent servitude to the GMO industry and his acquiescence to the warmongers, our President has been compromised. Our liberties are being eliminated one by one. Gun confiscation is next. The Constitution is gasping its last breaths. Our borders are destroyed and our culture has been turned upside down by every perversion known to man.
They are everyone you can't stand, from gun prohibitionists and Socialists to the corrupt mainstream media, large social media outlets, Hollywood, and our institutions of higher education, to name but a few. They are anyone working against our GOD Given freedoms, rights, constitution, etc.
It's interesting when you connect the dots, the masses are opposed to God's blueprint and therefore will bring destruction upon the earth intentionally. Me, I, mine, narcissists generation will bring total destruction upon God's people, only the chosen will survive, we live in evil times, dress appropriately, put on the full armor of God!….
Force is now the only rule remaining in deep state-controlled America. Everything else has collapsed. There is no free speech, no fair trial, no system of justice, no reasonable expectation of human rights anywhere, no fair elections, no honest news, no honest Wall Street operations, no real public education, no clean food, and threats from the elitist, the power structure that is hell-bent on bringing the New World order into the reality of the sleeping masses, get woke or get yoked, the choice still lives in the people's hands. Next, the AntiChrist will appear with many empty promises, peace, and security, in reality, it's the yoking of mankind, We are on the Doorstep of the Great Tribulations…
The watchman does not confuse truth with consensus. The watchman does not confuse God's word with the word of those who happen to hold power at present, or with the opinion of the majority. This is because powerholders and the majority can fall victim to a lying spirit-and this means a power that actually seizes the majority of experts, the political leadership, and the public.
I just saw the best news site I ever saw in my life. I never saw so much news and videos and links in my life. You have to go to Whatfinger News. , here – https://www.whatfinger.com – click this I bet you found your go-to news site from here on.
'PORTA DOS FONDOS' (TRANSLATES TO "BACK DOOR") HYPER-REPROBATES…
Thanks to people like Pastor Steven Anderson and the choir of preachers he has assembled within the New Independent Fundamentalist Baptist movement there has been a resurgence in what is called the Reprobate Doctrine. A Biblical doctrine that demonstrates in scripture, that God will turn people over to their vile lifestyles as a curse, blinding them to salvation in Jesus, giving them over to a devil's hell for eternity. A doctrine that I believe is completely Biblical and defined by the Apostle Paul in Romans 1 is unmistakably visceral language.
Let Me Make This Abundantly Clear. (I Am Apolitical) While I Have a General Distaste for Electric Cars and Politicians No Matter the Party They Belong To, I Am Unashamedly Politically a Bible Believing Conservative Christian. I Have a Severe Distrust of Government. I Believe It Is the Most Inefficient and Ineffective Way to Accomplish Most Things. While I Strongly Disagree with Liberals/Progressives and Conservative on Most Political Issues, and While I Believe Liberals/Progressives and Most Politicians Are Terribly Misguided and Naive About What Big Government Will Eventually Result In, I Strive to Not Question Their Motives. at the Same Time, While I Find Myself in Agreement with Conservative Politicians on Some Issues, I Do Not Believe Electing Republicans Is the Answer to Everything. for Me, Very Sadly, the Main Difference Between Republicans and Democrats Is How Quickly They Want to Drive the Car Towards the Cliff. Simply Put, I Do Not Believe the Government Is the Solution for Everything. I Do Not Place Any Faith, Trust, or Hope in Any Politicians to Fix What Is Wrong with the World. "Come Lord Jesus!" (Revelation 22:20) The prophet does not confuse truth with consensus. The watchman does not confuse God's word with the word of those who happen to hold power at present, or with the opinion of the majority. This is because powerholders and the majority can fall victim to a lying spirit-and this means a power that actually seizes the majority of experts, the political leadership, and the public.StevieRay Hansen
Tagged Under: Banks, tribulation, hnewswire StevieRay Hansen, HNewsWire, antichrist, digital gulag, antichrists, Apple, Bible, Big Tech, bigotry, Christian baker, Christianity, Christians, Colorado, Colorado Civil Rights Commission, conservatives, deep state, demonic assault, end of days, end times, Facebook, First Amendment, free speech, Google, hate groups, Hate speech, Electronic Prison, Birth Pains, banned, bias, Big Tech, Censorship, Collapse, content publishers, digital tyranny, Donald Trump, election fraud, evil, freedom of speech, Google, impotence, meddling, oppressed, President Trump, speech police, tech giants, technocrats, thought control, Trump, Tyranny
The 127 Faith Foundation: We do not solicit donations from "those on disability, on a fixed income, or those who cannot afford to give." Please Pray!
Or, make checks payable to:
The 127 Faith Foundation
PO Box 127
Pontotoc, TX 76869
The number of Orphans aging out of Child Protective Custody has grown at an alarming rate. The 127 Faith Foundation receives many requests each week to house them at our ranch. Our prayer is that the good people of our country will step up to the challenge and offer financial support for "the least among us." We need your help! StevieRay Hansen, Founder, The 127 Faith Foundation
Linda Harvey on Oregon's 'Gender-Obliterating Nonsense' – The Worst State to Raise Children LGBTQ Liberalism Is Destroying Young Women's Bodies: Alex Matheny, 20, shows off…
Read More
We make every effort to acknowledge sources used in our news articles. In a few cases, the sources were lost due to a technological glitch. If you believe we have not given sufficient credit for your source material, please contact us, and we will be more than happy to link to your article.