If you subscribed to HNewsWire notifications in the past, please know that we have changed the technology platform to align with our values. To continue receiving notifications when we publish news articles, please subscribe again by clicking the "OK" button in the upper left-hand corner.
Part of The Plandemic-DHS Creating New Intelligence Unit to Focus on Domestic Terrorism…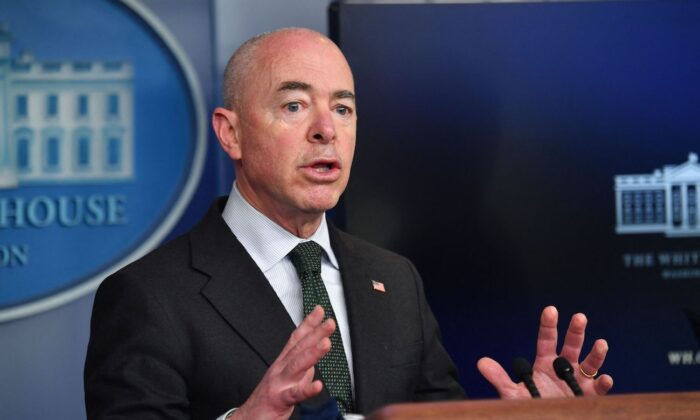 The Department of Homeland Security (DHS) is establishing a new dedicated intelligence team to focus on domestic terrorism, Secretary Alejandro Mayorkas announced on May 11.
The new, dedicated domestic terrorism branch within the department's Office of Intelligence and Analysis (I&A) is designed to "ensure DHS develops the expertise necessary to produce the sound, timely intelligence needed to  combat threats posed by domestic terrorism and targeted violence," the agency said in a press release.
WASHINGTON — The Department of Homeland Security has begun implementing a strategy to gather and analyze intelligence about security threats from public social media posts, DHS officials said.
The goal is to build a warning system to detect the sort of posts that appeared to predict an attack on the U.S. Capitol on Jan. 6 but were missed or ignored by law enforcement and intelligence agencies, the officials said.
The focus is not on the identity of the posters but rather on gleaning insights about potential security threats based on emerging narratives and grievances. So far, DHS is using human beings, not computer algorithms, to make sense of the data, the officials said.
"We're not looking at who are the individual posters," said a senior official involved in the effort. "We are looking at what narratives are resonating and spreading across platforms. From there you may be able to determine what are the potential targets you need to protect."
"I&A will also continue leveraging the National Network of Fusion Centers and our deployed intelligence professionals who collect and analyze threat information alongside our state, local, tribal, territorial, and private sector partners to increase timely and actionable information sharing in a dynamic threat environment," it continued.
In addition, DHS's recently initiated Center for Prevention Programs and Partnerships (CP3) to address domestic violent extremism will replace the Office for Targeted Violence and Terrorism Prevention.
Mayorkas said CP3 will improve the department's ability to combat terrorism and targeted violence, consistent with privacy protections, civil rights and civil liberties, and other applicable laws.
It will also "help build local prevention frameworks to provide communities with the tools they need to combat terrorism and targeted violence," Mayorkas said.
Federal law enforcement has been widely criticized for its response to the Jan. 6 storming of the U.S. Capitol building, which left five people dead.
Mayorkas's announcement came one day before he appeared before the U.S. Senate Appropriations Committee to testify in a hearing about the current threat posed by domestic extremists, titled, "Domestic Violent Extremism in America."
Mayorkas told lawmakers that the threat to the United States is now "more complex, more dynamic, and more diversified," and often fueled by "false narratives, conspiracy theories, and extremist rhetoric spread throughout social media and other online platforms."
"Today, Racially-or Ethnically-Motivated Violent Extremists are the most likely to conduct mass-casualty attacks against civilians, and Anti-Government or Anti-Authority Violent Extremists, specifically Militia Violent Extremists, are the most likely to target law enforcement, government personnel, and government facilities," Mayorkas said.
Mayorkas said the department is taking a new approach to addressing domestic violent extremism, both internally and externally, and will focus more on how extremists exploit and leverage social media and other online platforms.
In March, a report released by the Office of the Director of National Intelligence, warned that racially motivated extremists and militia violent extremists pose the most lethal domestic terrorism threats to the United States.
The report noted that recent political and social developments, including claims by former President Donald Trump and his supporters about fraud in November's U.S. presidential election, restrictions related to COVID-19, fallout from the Jan. 6 U.S. Capitol riot, and conspiracy theories "will almost certainly spur" some domestic extremists "to try to engage in violence this year."
Reuters contributed to this report.
We're at the Point in This Country Where Our Government (Satan Soldiers) Puts Out the Memo to Inform Those That Go Against the State Narrative — "They Will Be Shut Down", Welcome to Hell on Earth, a.k.a. The Great Tribulations, Brought to You by Satan Soldiers…
StevieRay Hansen WatchMan
As part of an investigation into former President Donald Trump's personal attorney Rudy Giuliani, the Biden Justice Department is seizing communications between the former mayor and a journalist investigating President Joe Biden's business dealings with Ukraine.
Agents from the Manhattan U.S. attorney's office and the FBI raided the New York residence of Giuliani early Wednesday morning. The investigation stems from at least a two-year-old probe into potential crimes of federal lobbying laws. Federal investigators seized Giuliani's electronic devices.
The warrant presented, however, according to Giuliani's lawyer, Robert Costello, raises questions surrounding the scope and motivation behind the investigation, where prosecutors began issuing subpoenas around the same time of Trump's first impeachment inquiry launched by Democrats centered on conduct in Ukraine in 2019.
According to the Wall Street Journal, "Costello said the warrant sought communications between Mr. Giuliani and individuals including John Solomon, a columnist who was in communication with Mr. Giuliani about his effort to push for Ukrainian investigations of President Biden before he was elected."
Giuliani began to probe the Biden's family's business ventures in the same country, where then-presidential candidate Joe Biden's son, Hunter, served in a lucrative board role of a notoriously corrupt energy company despite no prior experience in the industry.
Solomon, an investigative journalist, did not immediately respond to The Federalist's request for comment.
The FBI has been particularly prone to politically motivated investigations in recent years following its deep-state operation to oust Trump before the Republican executive even took office. Operation Crossfire Hurricane peeled back the curtain on a primary intelligence agency run at the behest of its former Director James Comey compromised by Democrat interests. The operation promoted the conspiracy theory Trump was a covert Russian agent for years – a narrative that ultimately took deep roots among a polarized population where one-half remains convinced of its truth.
A two-year special counsel investigation, however, exonerated Trump of the charges. Source: thefederalist
British and American state intelligence agencies are "weaponizing truth" to quash vaccine hesitancy as both nations prepare for mass inoculations, in a recently announced "cyber war" to be commanded by AI-powered arbiters of truth against information sources that challenge official narratives.
The razor-wire fence around the Capitol in Washington D.C. is a sobering reminder of what's happening to our freedom in America. Big government is separating from we the people.
Source: HNewsWire HNewsWire HNewsWire CVine
Please Do Not Post HNewsWire Articles on Parler, Face Book, Reddit or Twatter Social Media Platform, We Are Not Comfortable With Their Anti-Christian — Anti-American Nazi Philosophy.
It is impossible to find anyone in the Bible who was a power for God who did not have enemies and was not hated.
StevieRay Hansen
Editor,
HNewsWire.com
Bow down to satan soldiers, comply, submit!
If you haven't noticed, those in power accuse others of the nefarious things they are doing themselves. This is likely the directive at the Ministry of Truth—take the script, and flip it.
The 127 Faith Foundation: We do not want donations from "those on disability, on a fixed income, those that cannot afford to give" Please Pray!
The 127 Faith Foundation: We do not solicit donations from "those on disability, on a fixed income, or those who cannot afford to give." Please Pray!
Or, make checks payable to:
The 127 Faith Foundation
PO Box 127
Pontotoc, TX 76869
The number of Orphans aging out of Child Protective Custody has grown at an alarming rate. The 127 Faith Foundation receives many requests each week to house them at our ranch. Our prayer is that the good people of our country will step up to the challenge and offer financial support for "the least among us." We need your help! StevieRay Hansen, Founder, The 127 Faith Foundation
The mainstream media will stop at nothing when it comes to stopping Trump from getting anything done while he's in office. But with allies like…
Read More
We make every effort to acknowledge sources used in our news articles. In a few cases, the sources were lost due to a technological glitch. If you believe we have not given sufficient credit for your source material, please contact us, and we will be more than happy to link to your article.