Advisory: Be careful of what you read on social media. The algorithms used by these platforms have no regard for Biblical truth. They target your emotions to keep you engaged on their site so their advertisers can drop more ads. These platforms exist to enrich their stockholders. Consider God's promise to Believers in James 1:5, "If any of you lacks wisdom, you should ask God, who gives generously to all without finding fault, and it will be given to you."
You Next, You're Wrong…
Parler, Face Book, Reddit or Twatter Is Not About Free Speech They Are All About Promoting a Radical Left Platform, Where Some of the Most Vicious People in the World Are Allowed to Speak Freely…
As a Reminder Please Do Not Post HNewsWire Articles on Christian News Network, Now the End Begins ,Shoebat, Parler, Brighteon, Mike Adams , Face Book, Reddit or Twatter Social Media Platform, We Are Not Comfortable With Their Anti-Christian — Anti-American Nazi Philosophy…Stevieray Hansen
A tiny handful of tech oligarchs are more powerful than any nation-state. They determine what we can hear, what we can speak, what is true & what is false with zero accountability & zero transparency.
Disgusting. Big Tech wants to cancel all 75M @realDonaldTrump supporters.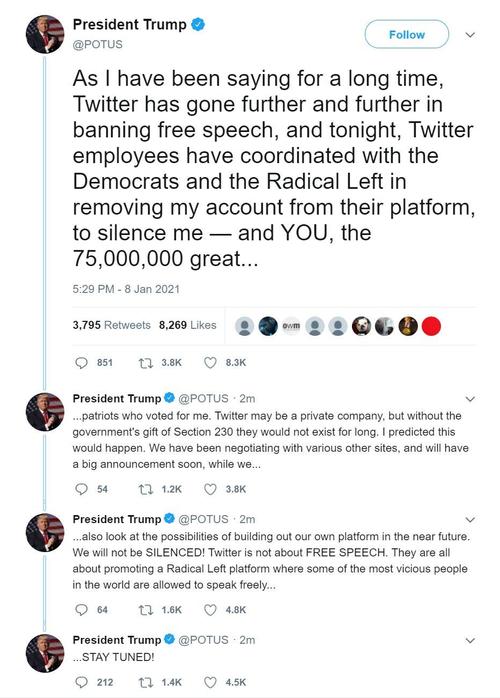 We are living Orwell's 1984. Free-speech no longer exists in America. It died with big tech and what's left is only there for a chosen few.
And with a post published to the blog, accompanied by a tweet from Twitter's "Twitter Safety" account, the social media company has officially caved to pressure from a growing chorus of leftists, and agreed to permanently ban President Trump from twitter.
It's the capstone of a long day of growing censorship of Trump and conservative voices across the web, from Shopify to Apple (which as we noted below is trying to shadowban Parler).
Here's part of the statement from Twitter:
On January 8, 2021, President Donald J. Trump tweeted:
"The 75,000,000 great American Patriots who voted for me, AMERICA FIRST, and MAKE AMERICA GREAT AGAIN, will have a GIANT VOICE long into the future. They will not be disrespected or treated unfairly in any way, shape or form!!!"
Shortly thereafter, the President tweeted:
To all of those who have asked, I will not be going to the Inauguration on January 20th."

Due to the ongoing tensions in the United States, and an uptick in the global conversation in regards to the people who violently stormed the Capitol on January 6, 2021, these two Tweets must be read in the context of broader events in the country and the ways in which the President's statements can be mobilized by different audiences, including to incite violence, as well as in the context of the pattern of behavior from this account in recent weeks. After assessing the language in these Tweets against our Glorification of Violence policy, we have determined that these Tweets are in violation of the Glorification of Violence Policy and the user @realDonaldTrump should be immediately permanently suspended from the service.
Assessment
We assessed the two Tweets referenced above under our Glorification of Violence policy, which aims to prevent the glorification of violence that could inspire others to replicate violent acts and determined that they were highly likely to encourage and inspire people to replicate the criminal acts that took place at the U.S. Capitol on January 6, 2021
Twitter shares tumbled 1.3% in after-hours trading on the news.
Trump Campaign Adviser Stephen Miller tweeted immediately after (and we suspect will not be long before he is also suspended indefinitely) that "Big Tech wants to cancel; all Trump supporters."
Big tech is on a cancel crusade today – with Twitter suspending General Michael Flynn, attorney Sidney Powell and various other pro-Trump accounts (see below).
Meanwhile, Apple is set to remove Twitter competitor Parler from its app store unless they enact a series of draconian crackdowns on free speech.
Via BuzzFeed:
Apple has given Parler, the social network favored by conservatives and extremists, an ultimatum to implement a full moderation plan of its platform within the next 24 hours or face expulsion from the App store.

In an email sent this morning and obtained by BuzzFeed News, Apple wrote to Parler's executives that there had been complaints that the service had been used to plan and coordinate the storming of the US Capitol by President Donald Trump's supporters on Wednesday. The insurrection left five people dead, including a police officer.

"We have received numerous complaints regarding objectionable content in your Parler service, accusations that the Parler app was used to plan, coordinate, and facilitate the illegal activities in Washington D.C. on January 6, 2021 that led (among other things) to loss of life, numerous injuries, and the destruction of property," Apple wrote to Parler. "The app also appears to continue to be used to plan and facilitate yet further illegal and dangerous activities."

…

Apple said that "to ensure there is no interruption of the availability of your app on the App Store," Parler was required to submit an update and a "requested moderation improvement plan within 24 hours of the date of the message," which was sent on Friday morning. Apple said if it did not receive an update from the company within that time frame, the app would be removed from the App store.

An Apple spokesperson declined to comment.
Absolutely bizarre, @techno_fog was not involved in any of the Q/Kraken shenanigans, 95% of his work was legal analysis of the Flynn prosecution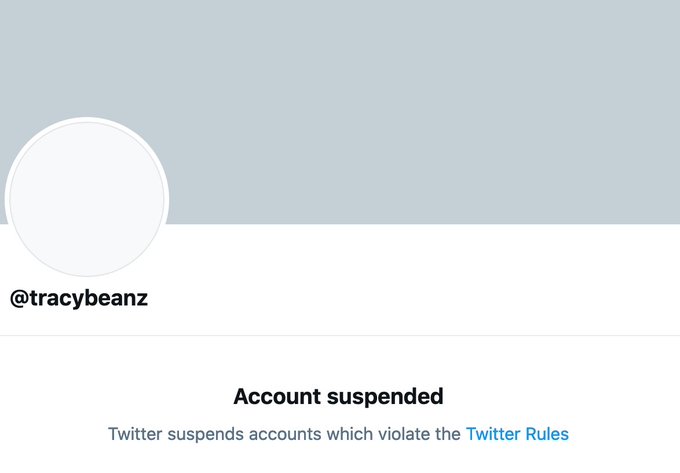 Now, the Washington Post reports that hundreds of Twitter employees demanded in a Friday letter that the company permanently suspend President Trump's account over Wednesday's 'storming' of the US Capitol, after police simply let protesters into the building.
"In an internal letter addressed to chief executive Jack Dorsey and his top executives viewed by The Washington Post, roughly 350 Twitter employees asked for a clear account of the company's decision-making process regarding the President's tweets the day that a pro-Trump mob breached the U.S. Capitol. Employees also requested an investigation into the past several years of corporate actions that led to Twitter's role in the insurrection," writes the Post.
"Despite our efforts to serve the public conversation, as Trump's megaphone, we helped fuel the deadly events of January 6th," reads the letter. "We request an investigation into how our public policy decisions led to the amplification of serious anti-democratic threats. We must learn from our mistakes in order to avoid causing future harm."
* * *
Twitter has suspended both General Michael Flynn, President Trump's first National Security Adviser, and attorney Sidney Powell, as part of a crackdown on accounts engaging in 'harmful activity.'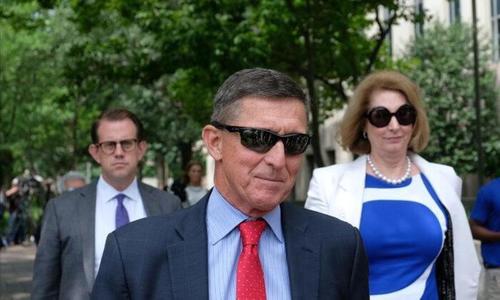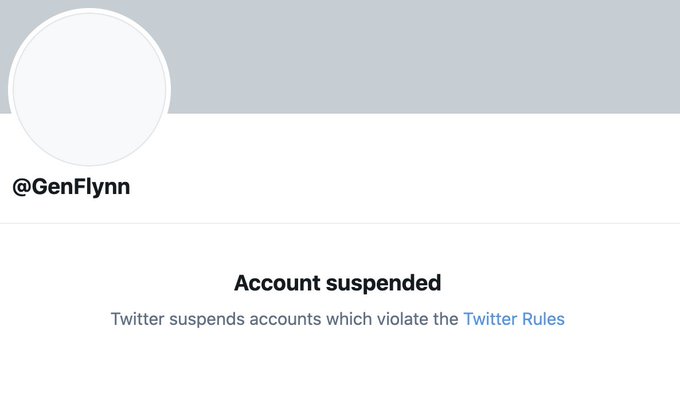 And in what's got to be the icing on the cancel cake, Lehigh University just revoked a 33-year-old honorary degree given to President Trump in 1988, after the school's board of trustees voted to do so on Thursday following the violence in the Capitol.
It seems like these institutions were just waiting for the right excuse…
Most of These Big Tech Social Media Platforms Are Demonic, They Hate Conservatives and Christians
It's Time People Wake up Stop Using, Google, Twitter and Reddit…
These are people whom God designates as worthless because they continually resist His will and disrupt the activities of His people. Over time, the term Belial became a name for Satan (2 Cor. 6:15), who embodies wickedness, worthlessness and trouble, always resisting God and seeking to harm those who walk with Him (1 Pet. 5:8)
Reddit Bans Forum Dedicated To Exposing Hate Crime Hoaxes
The same day Reddit removed the site's largest pro-Trump forum, the liberal platform also banned a popular subreddit dedicated to exposing hate crime hoaxes, according to the Daily Caller.
Apparently calling out people who stoke racial division by faking hate crimes is considered to be "promoting hate" by Reddit's overlords.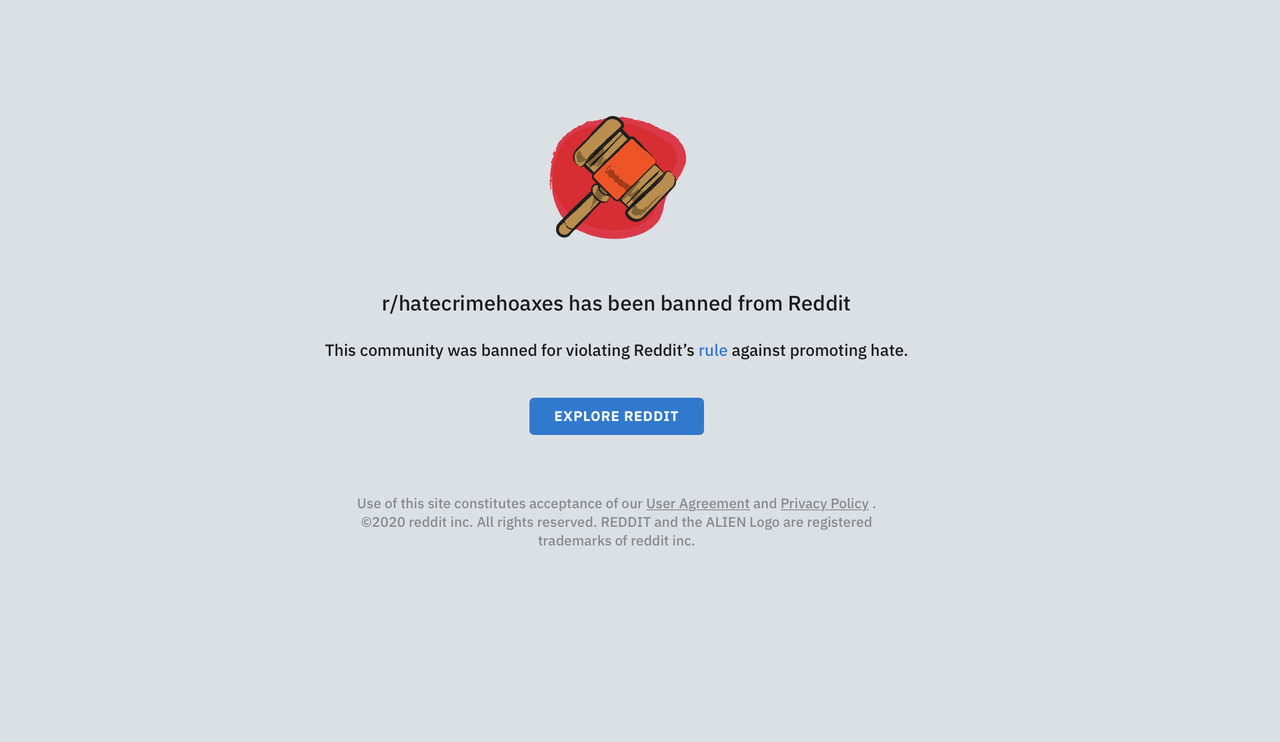 Reddit users who keep tabs on potential hate crime hoaxes via the popular subreddit are met with a label notifying them that "r/hatecrimehoaxes has been banned from Reddit." The page also notes that the page was banned for "violating Reddit's rule against promoting hate."

An archived version of the page from July 2 indicates the subreddit was banned June 30, the same day Reddit blocked "The_Donald" subreddit as the platform began enforcing its recent rules against promoting hate. –Daily Caller
Here's an example from a February archive of the forum, which gained prominence during the Jussie Smollett saga.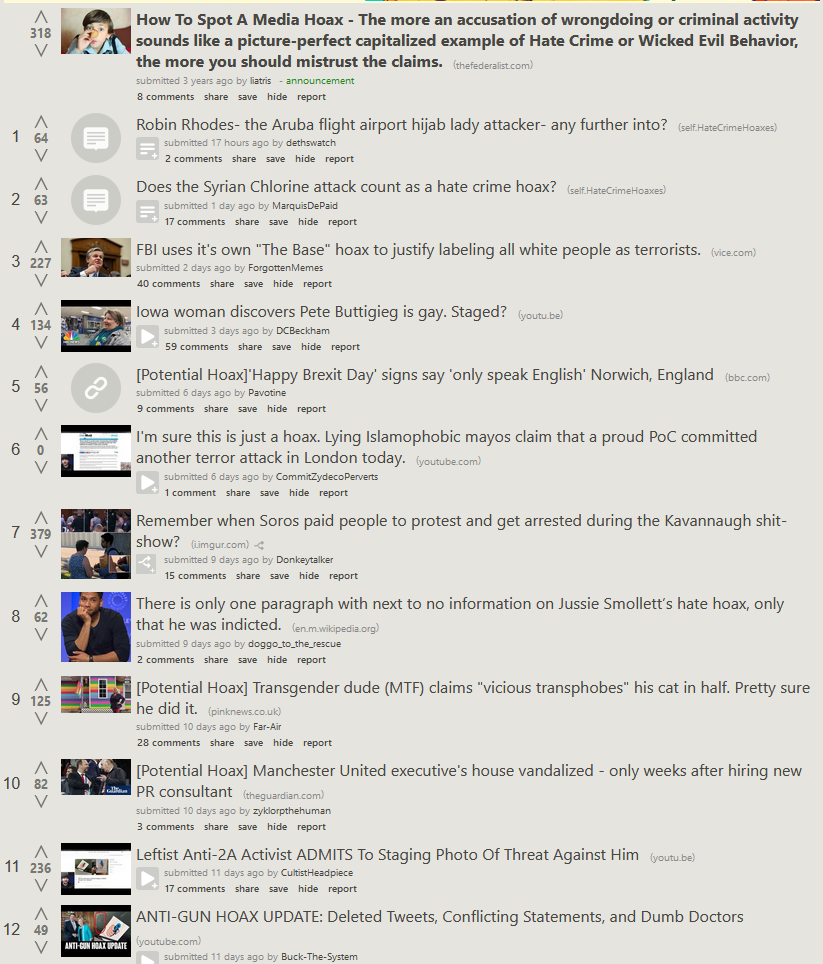 Meanwhile, forums dedicated to Antifa, deemed a domestic terrorist organization by Trump in late May, are just fine.
In place of "/r/hatecrimehoaxes," Redditors have launched /r/hoaxhatecrimes which sports just 2,871 users as of this writing and has yet to be banished.
As the Caller notes:
There have been several instances of hate crime hoaxes going viral during Trump's first term in office, including one in which liberal actor Jussie Smollett allegedly staged a racist and anti-gay attack on himself in 2019 to create the impression that Trump supporters assaulted him because of his sexual orientation and skin color.

The platform also removed "The_Donald," a subreddit where posted memes and viral videos expressing support for Trump. More than 790,000 Reddit accounts used that subreddit.

A Reddit executive told reporters in June that the group's decision to allow people to target and harass others prompted the ban.

The company restricted the pro-Trump forum in 2019, citing months of "rule-breaking behavior" and language supposedly inciting violence.
Heaven forbid a place exists to expose hoaxers or express support for a sitting president. Read The Rest Of The Story
We do not need companies to protect us from harmful or "misleading" thoughts. The solution to bad speech is more speech, not approved speech.
If Pelosi demanded that Verizon or Sprint interrupt calls to stop people saying false or misleading things, the public would be outraged. Twitter, Screwyoutube, Free Speech BS Parler, and FakeBook serves the same communicative function between consenting parties; it simply allows thousands of people to participate in such digital exchanges. Those people do not sign up to exchange thoughts only to have Dorsey or some other internet overlord monitor their conversations and "protect" them from errant or harmful thoughts.
It has been a long time since a bunch of geniuses came up with a new form of communication on Twitter Screwyoutube, Free Speech BS Parler, and FakeBook. Back then, the platform was neutral. Its appeal was its convenience, not its supervision. Dorsey himself said the success of Twitter is based on the principle that you "make every detail perfect and limit the number of details to the perfect."
A free and open forum for communication was the original and perfect design. And here, once again, the Constitution could offer the clarity of that original meaning to limit the detail to the perfect. To paraphrase the First Amendment, Twitter, Screwyoutube, Free Speech BS Parler, and FakeBook should return to a simple static, "originalist" position: It should "make no policy abridging the freedom of speech or the press."
Source: HNewsWire ZeroHedge HNewsWire HNewsWire HNewsWire HNewsWire HNewsWire
PLEASE DO NOT POST HNEWSWIRE ARTICLES ON PARLER, FACE BOOK, REDDIT OR TWATTER SOCIAL MEDIA PLATFORM, WE ARE NOT COMFORTABLE WITH THEIR ANTI-CHRISTIAN — ANTI-AMERICAN NAZI PHILOSOPHY…STEVIERAY HANSEN
StevieRay Hansen
Editor, HNewsWire.com

Watchmen does not confuse truth with consensus The Watchmen does not confuse God's word with the word of those in power…
This is what their New World Order looks like, Democrats Lawmaker in California: 'legalize child prostitution' SACRAMENTO – Beginning on Jan. 1, police cannot arrest child prostitutes in the streets of California, except under limited circumstances. And dumb down people wonder why California is burning to the ground, poke God in the eyes enough times and his anger will start to show…
Matthew 17:2, 4-5 (NIV) 2There he was transfigured before them. His face shone like the sun, and his clothes became as white as the light.…
Read More
We make every effort to acknowledge sources used in our news articles. In a few cases, the sources were lost due to a technological glitch. If you believe we have not given sufficient credit for your source material, please contact us, and we will be more than happy to link to your article.