Advisory: Be careful of what you read on social media. The algorithms used by these platforms have no regard for Biblical truth. They target your emotions to keep you engaged on their site so their advertisers can drop more ads. These platforms exist to enrich their stockholders. Consider God's promise to Believers in James 1:5, "If any of you lacks wisdom, you should ask God, who gives generously to all without finding fault, and it will be given to you."
Trannies the New "Untouchables" Who Can Never Be Questioned….
Once again, the social media and tech behemoths, now that they've made it to the top of the heap, continue to exercise their Stalin-like control over what users can and, importantly, cannot, post on their platforms.
YouTube is in the hot seat this time for censoring a medical doctor because she dared to question the current cultural holy grail for the Left: Transgenderism.
"See, if you want to cut off a leg or an arm, you're mentally ill, but if you want to cut off healthy breasts or a penis, you're transgender."
Those are the words of Dr. Michelle Cretella, a pediatrician with many years' experience and the executive director of the American Academy of Pediatricians, in a Daily Signal video published in 2017.
It's a sentence YouTube will not allow the doctor to say about children and gender identity issues.
Talk about rational; Cretella is spot-on. But no; the Left-wing speech Nazis at YouTube will not allow anyone to question the wisdom of self-mutilation over what really only amounts to gender confusion.
The Daily Signal only recently learned that the video of Cretella was taken offline and replaced instead with an incredulous message: "This video has been removed for violating YouTube's policy on hate speech."
'Hate speech.' See how that works? One person's rational thought and sound reasoning are defined by others as somehow being "hateful," thus, not allowed.
Our founding fathers never thought that the Legislative and Judicial Branches would tolerate limitations on free speech, contained in the very first amendment to the Constitution for a reason (it, and the other basic freedom guarantees of freedom of the press, religion, assembly, and petitioning of government were that important).
Get more news like this without being censored: Get the Natural News app for your mobile devices. Enjoy uncensored news, lab test results, videos, podcasts and more. Bypass all the unfair censorship by Google, Facebook, YouTube, and Twitter. Get your daily news and videos directly from the source! Download here.
After all, free speech was acknowledged to be a pillar of a free society; if citizens were not permitted by fiat or law to freely speak, then competing ideas would never be aired and policies debated so that the best solutions could be found.
Hate speech was not 'disallowed' by our founders
But then, free speech was never intended to be just for political debate; it was always supposed to also serve as a platform for free expression — of thought, impression, and opinion.
The ability to convey one's thoughts and ideas freely, without persecution or punishment, comes with risks — the main one being that not everyone will agree. That's fine; the First Amendment does not require that all speech be agreed upon, only that it be permitted. Feelings aren't a factor. Disagreement isn't supposed to be a disqualification. Being uncomfortable with what someone else is saying also isn't grounds for limiting someone's speech.
And yet, as we see again, the social media giants use that excuse all the time to censor differences of opinion and thought. They, like other Leftists, justify it by calling uncomfortable speech they disagree with "hate speech," which is actionable and, thus, not permitted.
As for the Daily Signal, officials with the publication attempted to work with YouTube in order to find some resolution that would permit the video to remain online. But the only way to get the video reinstated was to compromise on that one golden principle contained in the First Amendment: Cut out the 'offending' sentence. (Related: New study angers transgenders for claiming they have at least ONE mental disorder.)
"Cretella is a doctor. She is making a point in that sentence that may not be popular but remains true: There is no society-wide push right now to allow patients suffering from Body Integrity Identity Disorder to amputate limbs," The Daily Signal notes.
No matter. Facts are…disallowable now if they are inconvenient and offensive to closed minds.
Fortunately for The Daily Signal and others who are suffering this insufferable censorship, there is an alternative: Brighteon.
Check out the one true video free speech platform where opposing viewpoints are not only welcomed on the platform but encouraged. Source NewsTarget
Sources include: LifeSiteNews.com NaturalNews.comFacebookTwitterShare
Transvestitism (Deuteronomy 22:5). The Greek word often translated "homosexual offenders" or "male prostitutes" in 1 Corinthians 6:9 literally means "effeminate men."
Argues that doctors are doing treatment without evidence…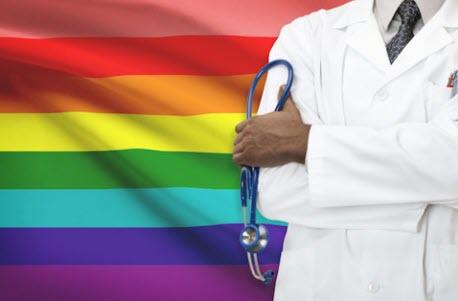 A psychiatrist from Johns Hopkins University has slammed the medical and psychiatric industries for what he says is the reckless and irresponsible treatment of patients who claim to be transgender.
Paul McHugh, a renowned psychiatrist from Johns Hopkins University, told The College Fix he believes transgender people are being experimented on because the doctors treating transgender patients with hormones "don't have evidence that (the treatment) will be the right one." He also criticized the manner of treatment given to many children who claim to be transgender.
"Many people are doing what amounts to an experiment on these young people without telling them it's an experiment," he told The Fix via phone.

"You need evidence for that and this is a very serious treatment. It is comparable to doing frontal lobotomies."
The vast majority of gender minorities report mental health issues
A recent study published in the American Journal of Preventive Medicine found that 80 percent of gender minority students report having mental health problems, nearly double the rate of "cisgender" students. McHugh believes that in many cases the patient's gender dysphoria is precipitated by mental illness.
"I think their mental problems, often depression, discouragement are the things that need treatment," not gender dysphoria, he argued.

"I'm not positive about this. It's a hypothesis, but it is a very plausible hypothesis, and it would explain why many of the people who go on to have treatment of their body discover they are just as depressed, discouraged and live just as problematic lives as they did before because they did not address the primary problem," he added.
Possible 'contagion effect'
"I believe that these gender confusions are mostly being driven by psychological and psychosocial problems these people have. That explains the rapid onset gender dysphoria Lisa Littman has spelled out," McHugh said.
The Lisa Littman to whom the professor referred is a researcher at Brown University, who last year published a bombshell report suggesting that some transgender-identified children might suffer from "rapid-onset gender dysphoria," a phenomenon in which "one, multiple, or even all of the friends [in a group] have become gender dysphoric and transgender-identified during the same timeframe."
There was significant backlash following Littman's publication of the study, after which Brown censored the report. The study was eventually validated with its results unchanged.
Long-term effects of child transgender treatment
Asked about the possible long-term consequences of the growing practice of helping children develop transgender identities, including with hormones, McHugh expressed pessimism.
"They're going to be in the hands of doctors for the rest of their lives, many of them are going to be sterilized not able to have their own children, and many will regret this," McHugh said.

"Can you imagine having a life where you need to seek doctors all the time, for everything, just to live? Getting your hormones checked, getting everything checked. That is something doctors should like to spare people of," he added.
McHugh thinks that eventually, our society will look back on this craze as something of a historical shame. "I believe it will be something like how we think of eugenics now. We will come to regret it when we discover how many of the young people that were injured regret it themselves," he told The Fix.
The doctor stressed that medical professionals should stick to a higher standard of evidence when considering treatment for individuals who claim a transgender identity.
"You can think whatever you want without proof. Be my guest. You can think anything you want if you like it that way. But don't ask me as a doctor to prescribe hormones or operate on you when I try to do things which are for your benefit," he said.
"My aim isn't to stop people. It's when they draw medical people in. That's when I insist on evidence and what makes more sense." Source
Satan cannot create; that power belongs to God alone. So he perverts what God has created. If he can entice God's most cherished creations to follow him in his twisted ideas, he succeeds in perverting the image of God we were designed to magnify (1 Corinthians 11:7). It is Satan who introduced the idea that perversion equals
StevieRay Hansen
Editor, HNewsWire.com
The Birth Pains Are Growing Stronger….
"Unless God has raised you up for this very thing, you will be worn out by the opposition of man and devils"…
My name is Steve Meyers and I need to share a vision and warning that the Lord showed me back in April 2007….
Many of you will ask why I waited so long to share the warning. I didn't. I shared the story with everyone that would listen from pastors to friends to family to colleagues. Immediately following the initial vision, I called a close friend. I told him to sit down that I had something to tell him. I needed it documented as I knew this was supernatural and from God. As I witness events unfolding today, I need to share the vision again.
The risk of loss in trading futures and options on futures can be substantial. The author does not guarantee the accuracy of the above information, although it is believed that the sources are reliable and the information accurate. The author assumes no liability or responsibility for direct or indirect, special, consequential or incidental damages or for any other damages relating or arising out of any action taken as a result of any information or advice contained in this commentary. The author disclaims any express or implied liability or responsibility for any action taken, which is solely at the liability and responsibility of the user. Steve Meyers
The silencing of the American people before 2020?
"The human heart is an idol factory."
The Un-Godly — Those That Suppress the Truth, the social media giants built multi-billion dollar empires by giving everyone a voice, but now that they have such a dominant position on the Internet they have decided that many prominent conservative voices should be completely silenced.
The Left, a broad term for Liberal Socialist Democrats that can only be explained fully by using the Bible explanation of the human race is as follows. A servant of Satan, because you are either saved or lost. This election has brought out the true nature of who you serve. Simply put, it's Donald Trump, Conservatives, and Christians against the rest of the world. The Left's Love applies only to those who believe as they do. They Love evil and commit Anarchy against those who love good. They are governed by lies and never tell the truth. On this Friday, Inaugural Day for the swearing-in of Donald Trump as the 45th President of the United States the Left wants to commit widespread Anarchy to shut down the swearing-in ceremony. Their goal of transforming America, which was founded in Judea Christian values into a Pagan Nation is almost complete. Their goal has always been the total removal of God from American society and the downfall of America. Donald Trump says he is a Presbyterian, but he left off the USA, an apostate church.
Everything done in dark will be brought to light, being biblically bankrupt will not exclude the elitist.
Tagged Under: Banks, hnewswire StevieRay Hansen, HNewsWire, antichrist,digital gulag, antichrists, Apple, Bible, Big Tech, bigotry, Christian baker, Christianity, Christians, Colorado, Colorado Civil Rights Commission, conservatives, deep state, demonic assault, end of days, end times, Facebook, First Amendment, free speech, Google, hate groups, Hate speech,Electronic Prison
And now thankfully because of His death He is Lord of a "better covenant with better promises". A covenant where grace, God's love in action…
Read More
We make every effort to acknowledge sources used in our news articles. In a few cases, the sources were lost due to a technological glitch. If you believe we have not given sufficient credit for your source material, please contact us, and we will be more than happy to link to your article.