Dr. Fauci: America's Symbol Of Anti-Christ — EVIL Intellectualism
Fauci on Wednesday suggested that the definition of "fully vaccinated" could change, only applying to individuals who received a coronavirus booster shot as well.
The White House chief medical adviser made the admission during Wednesday's press briefing, where he announced the first case of the Omicron variant in the United States. Notably, the individual who contracted the virus is in California and is, under the current definition, "fully vaccinated."
During the press conference, a reporter asked Fauci if the booster shots will eventually become part of the vaccine mandate, which President Biden and his administration are attempting to force on American workers via the Occupational Safety and Health Administration (OSHA).
"At what point does the booster become part of the mandate?" the reporter asked.
"I can't answer that right now. For the time being, the definition of fully vaccinated is two [shots]," Fauci responded.
When asked if he sees that changing down the road, Fauci admitted that "it could change."
Tony Fauci does not do public health; he is a businessman, who has used his office to enrich his pharmaceutical partners and expand the reach of influence that has made him the most powerful – and despotic – doctor in human history."
When John writes and tells the Christian "do not love the world", he's not talking about the physical planet.  The Greek word kosmos as it is used by the apostle John and others most often refers to "that which is hostile to God…lost in sin, wholly at odds with anything divine, ruined and depraved."  The world, or world-system, originated with Satan and consists of those philosophies and values that perpetually influence humanity to think and behave contrary to God and His Word.  The world-system is mankind and society functioning without God.  It is first and foremost "a way of thinking about life that is contrary to the biblical way or divine viewpoint.
Dr. Fauci is hostile to God
Listen to what is said about Dr Fauci, you'd think he was some kind of combination of Mother Theresa, Saint Peter, and Dr. Quinn, Medicine Woman all rolled up into one. He's talked about constantly, he's on TV shows, he has even been made into a Christmas ornament.
Happy Birthday Dr. Fauci! Thank you for your strength & perseverance in leading our country, during one of the darkest times. No matter how hard things got, you were there. In Fauci we trust! #DrFauciDay#WearAMask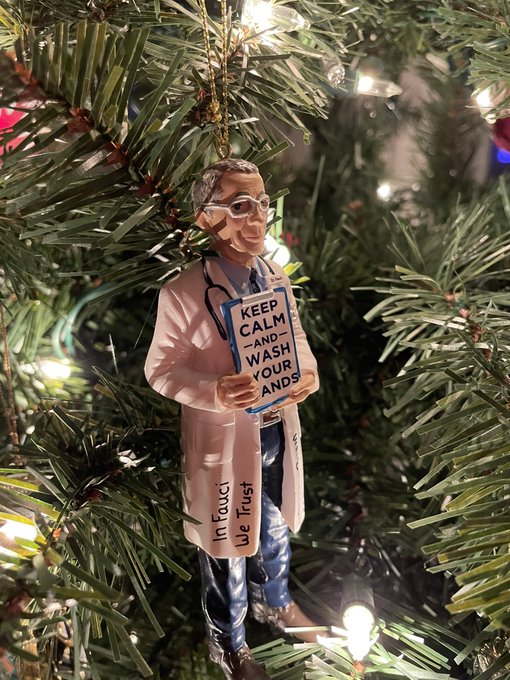 This is all despite the fact that Anthony Fauci has been a spectacular failure at his job. Back in February, Fauci was saying that the risk of COVID-19 in the United States was minuscule.
He was wrong. Early on, he told people they didn't need masks. Although at this late date, there is little real-world evidence that masks are effective at stopping the coronavirus, so he may have been right about that, he later admitted he lied to the public so first responders could get the masks first.
Back in March, he was promoting the idea of a "14-day national shutdown" to stop the coronavirus. Not only was that a complete failure, but it's also still going on in parts of the country, which is destroying small businesses and impoverishing Americans while doing little to stop the virus.
At the same time, people are bemoaning the fact that over 300,000 Americans have died because of the coronavirus, the figurehead of the Coronavirus Task Force is being hailed as a hero despite the fact that it's not clear that anything he has done since the start of the pandemic has saved lives, helped control the virus, or has done anything other than make people's lives worse.
If you judge Fauci on his actual success at dealing with the coronavirus, he's a low "F." If you judge him on how well he plays the role of coming across as a well-known, slightly nerdy, grandfatherly scientist, he gets an "A+." Guess which one gets you made into a Christmas ornament in modern America?
Of course, that's just the problem. Intellectuals in America are rewarded for being original, noteworthy, and sounding good, but they're not punished for being wrong or making people's lives worse. It's great that someone went to a prestigious college and has a high IQ, but what matters is what they do with it.
One Elon Musk or Steve Jobs is worth 10,000 intellectuals like Anthony Fauci, Noam Chomsky, Bill Nye, Howard Zinn, Neil deGrasse Tyson, or other windbags that primarily seem to push bad ideas. When "intellectualism" becomes nothing more than a way to get likes on social media or to champion the same old, failed philosophies in new and exciting ways, it's essentially worthless.
Just look at the mediocrity, impracticality, and arrogance of our unimpressive intellectual class and you will understand why Americans have become increasingly hostile to "intellectuals."
Hey Dr. Fauci Kiss Our American A**…
Americans Will Not Surrender Willingly to The (NWO) Hell on Earth Plandemic, We Have a Right to Worship Freely, Speak Freely, and Live in a Free Republic, It's Our God-Given Birth Right, StevieRay Hansen…
During a recent episode of the Thomas Paine Podcast, Robert F. Kennedy Jr. blew the lid on Dr. Anthony Fauci's extensive legacy of fraud and coverups throughout his lengthy medical career in the federal government.
Kennedy explained that Fauci has been a problematic character all throughout his more than 50-year tenure in public health, during which he operated as a workplace tyrant and ruined the careers of countless physicians and researchers who, unlike himself, were upstanding and honorable individuals.
Fauci has been with the National Institute of Allergy and Infectious Diseases (NIAID) since 1984 – can you say deep state? – and he's known among those on the inside as the guy who "poisoned an entire generation of Americans," according to Kennedy.
In at least one instance, Fauci targeted a whistleblower who was trying to expose the fact that America's blood supply is tainted with deadly disease strains. Fauci ruined the career of this physician and proceeded to cover up his crucial research on the subject.
Kennedy also warned during the program that Fauci has attacked many other good guys who've tried to actually serve the public rather than shill for Big Pharma, Bill Gates, the mainstream media and other deep state assets and mouthpieces of deception and lies.
Anthony Fauci owns "many, many" patents on vaccines, warns Kennedy
Fauci is also guilty of abusing his post for financial gain in the form of obtaining lucrative vaccine patents. Doctors and researchers underneath him who developed breakthrough technologies have been fired so that Fauci could assume ownership of their work in order to enrich himself.
"Tony Fauci has many, many vaccine patents," Kennedy contends, noting that Fauci now owns a patent on a special protein sheet made from HIV that helps to more efficiently deliver vaccine material throughout the body. Fauci didn't develop this protein sheet himself, of course, but rather stole it from someone else who was relieved from duty after creating it.
"Tony Fauci fired [this person] and he somehow ended up owning that patent," Kennedy says. "And that patent is now being used by some of these companies … to make vaccines for the coronavirus … that company has a 50/50 split with Tony Fauci's agency … so Fauci's agency will collect half the royalties on that vaccine and there's no limit for how much the agency can collect."
In other words, this is nothing but a business for people like Fauci, who are profiting off of pandemics like the Wuhan coronavirus (COVID-19) while claiming to be "regulating" the drug and vaccine industries that respond to them on behalf of the American people.
"This isn't a captured industry; it's a subsidiary of the pharmaceutical industry," Kennedy further warns about how the NIAID, the CDC, and other supposed federal agencies are really just corporations in disguise that work on behalf of Big Pharma to generate massive profits on the backs of sick and dying people.
This Battle Must Be Fought, It's Good Versus Evil ,Choose Your Side Carefully…
Following AstraZeneca's weekend announcement that it had received the go-ahead to restart Phase 3 testing for its COVID-19 vaccine being developed in partnership with Oxford, Reuters has just reported that the trial remains on hold in the US pending an investigation into a serious side effect in the UK trials -even as other trials elsewhere have already resumed.
It's the latest blow to confidence in the company' s vaccine effort, which until now had until recently been considered one of the world's most promising partnerships, being among an elite group that was the first to make it to Phase 3 trials.
In its report, Reuters said a "serious side-effect" had piqued regulators interest. AZ caused a stir last week when it revealed that its trials had been put on hold after one patient came down with symptoms of a rare spinal inflammatory disorder called transverse myelitis, but on Saturday the company announced that trials would continue.
Here's more from Reuters:
CHICAGO, Sept 14 (Reuters) – AstraZeneca's AZN.L COVID-19 vaccine trial remains on hold in the United States pending a U.S. investigation into a serious side effect in Britain even as other trials of the vaccine resume, sources familiar with the details told Reuters.

AstraZeneca on Saturday said it had restarted its trial in Britain after regulators completed their review of a serious side effect in one trial participant there.

This was the first indication that the U.S. trial will remain on hold until the U.S. Food and Drug Administration and a safety panel investigate the case.

Enrollment in the company's global trials of the vaccine, which it is developing with researchers at Oxford University, was put on pause on Sept. 6.

Sources told Reuters that enrollment of new patients and other trial procedures for the pivotal U.S. trial were being rescheduled until at least midweek and that it was not clear how long it would take for the FDA to complete its probe.

Governments around the world are desperate for a vaccine to help end the pandemic, which has caused more than 900,000 deaths and global economic turmoil. The World Health Organization (WHO) had flagged AstraZeneca's as the most promising. A prolonged delay in the U.S. trial could slow access to the vaccine in the United States.

The British adverse event involved a study patient thought to be suffering a rare spinal inflammatory disorder called transverse myelitis.
The reaction in the market was surprisingly muted, considering that the "prolonged delay" – as Reuters put it – "could slow access to the vaccine in the United States."
An AZ spokeswoman declined to comment on the news, but said it "will continue to work with health authorities across the world, including the FDA, and be guided as to when other clinical trials can resume." Trials in Brazil, South Africa and India appear to be continuing on, which means they may still produce experimental data that the FDA could use toward an eventual emergency approval. But at this point, with the coronavirus global death toll now topping 900,000, the urgency is intensifying, and any delays for the top candidates are deeply problematic.
The kosmos is a vast order or system that Satan has promoted which conforms to his ideals, aims, and methods. It is civilization now functioning apart from God-a civilization in which none of its promoters really expect God to share; who assign to God no consideration in respect to their projects, nor do they ascribe any causality to Him. This system embraces its godless governments, conflicts, armaments, jealousies; its education, culture, religions of morality, and pride. It is that sphere in which man lives. It is what he sees, what he employs. To the uncounted multitude it is all they ever know so long as they live on this earth. It is properly styled "The Satanic System" which phrase is in many instances a justified interpretation of the so-meaningful word, kosmos.
Satan's world system is a spiritual darkness that envelopes and permeates the human race, influencing every aspect of thought and behavior in such a way that the depraved nature of man is magnified while God is excluded.  We should be careful to understand that Satan's system is a buffet that offers something for everyone who rejects God, whether he is moral or immoral, religious or irreligious, educated or simple, rich or poor.  Satan is careful to make sure there's even something for the Christian in his world-system, which is why the Bible repeatedly warns the believer not to love the world or the things in the world. We are to be set apart (Col. 2:8; Jas. 1:27; 4:4; 1 John 2:15-16).
The world is the Christian's enemy because it represents an anti-God system, a philosophy that is diametrically opposed to the will and plan of God.  It is a system headed by the devil and therefore at odds with God (2 Cor. 4:4).  Likewise, the world hates the believer who lives for Christ (John 17:14).  The Lord never kept this a secret from his own.  He told them often of the coming conflict with the world (e.g., John 15:18-20; 16:1-3; 32-33; cf. 2 Tim. 3:1-12).  It is in this wicked world we must rear our families and earn our livelihoods.  We are in it, yet are not to be a part of it.
Source: HNewsWire principia-scientific HNewsWire HNewsWire HNewsWire HNewsWire
StevieRay Hansen
Editor, HNewsWire.com
Watchmen does not confuse truth with consensus The Watchmen does not confuse God's word with the word of those in power…