Advisory: The editorial board of HNewsWire adopted the official policy to bypass many social media platforms. Some of these include: Facebook, Instagram, Twitter, Parler, and YouTube. We believe these companies are responsible for many of the spiritual ills our world faces today. In some cases, however, we have allowed our guest contributors to include content from their YouTube channel while we search for alternatives.
| By
Edward O'Hara In Mat.18 Jesus says "Verily I say unto you, Whatsoever ye shall bind on earth shall be ...
Read More

→
 Mike Adams 
Don't ever post one of Mike Adams videos on your web page. You'll never get rid of him. He happens to be a bloodsucker. I've tried for 8 months to get rid of his Brighton Video advertisement on HNewsWire. He has no respect for anyone else, except for his narcissist self-centered ego. Lawless...
SRH,Investigative Editor: Banned in Parts of Europe and America, Wanted by Islamic Countries, Threatened by Terror Groups, Hunted by Left-Wing Media, Smeared by Hollywood Elites and Fake Cult Religious Leaders.
COVID-19 has killed more people in 2021 than 2020.
The virus was reported as the underlying cause of death (or a contributing cause of death) for an estimated 377,883 people in 2020, accounting for 11.3% of deaths, according to the CDC. As of Monday, more than 770,000 people have died from the coronavirus, according to Johns Hopkins University data. That means over 15,000 more people have died in 2021 than last year from COVID-19 – and there's still more than a month left.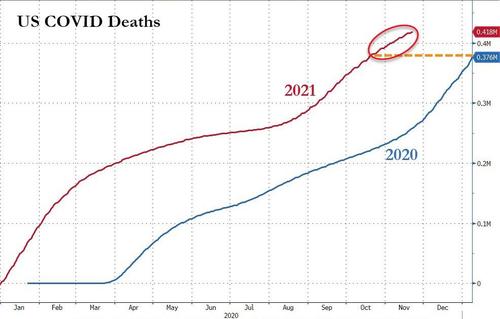 This has happened despite the fact that last year no Americans were vaccinated (now 59% of all eligible Americans have had the "life-saving" jab) and some 17% have received booster shots...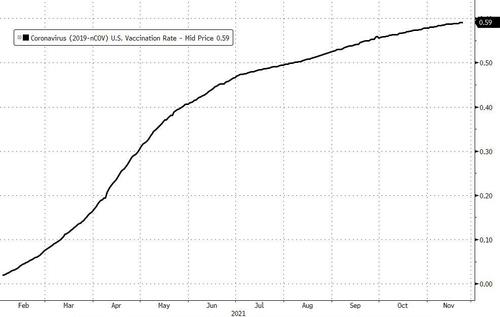 The 2021 U.S. death toll caught some doctors by surprise. They had expected vaccinations and precautionary measures like social distancing and scaled-down public events to curb the spread of infections and minimize severe cases. But, The Wall Street Journal has its own explanation, suggesting lower-than-expected immunization rates as well as fatigue with precautionary measures like masks allowed the highly contagious Delta variant to spread, largely among the unvaccinated, epidemiologists say.
Among missteps, Dr. Abraar Karan, an infectious-diseases doctor at Stanford University, said, public-health officials failed to effectively communicate that the purpose of vaccines is to protect against severe cases of Covid-19 rather than to prevent the spread of infection entirely, which may have led some to doubt the effectiveness of the shots.
CDC has an excuse too, claiming that there was a larger undercount of Covid-19 deaths in 2020, when the disease was newer and a scarcity of tests made confirming some infections difficult.
Deaths remain concentrated in older people (81% of 2020 deaths were among people aged 65 and above, and 69% of the same cohort in 2021).
Still could be worse (and still could be if this latest trend continues in the US)...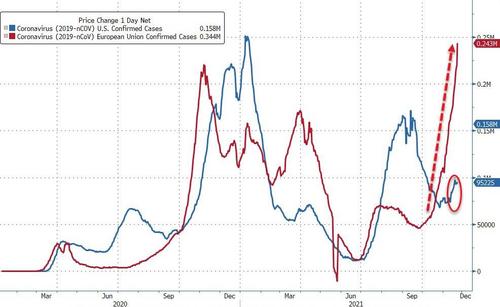 "The vaccine is not a panacea," said Ana Bento, an epidemiologist at Indiana University-Bloomington.
Well that's pretty clear now, eh!?  Source: ZeroHedge
The latest data dump into the U.S. Government's Vaccine Adverse Events Reporting System (VAERS) happened late yesterday afternoon (11/29/21) and covers data through 11/19/21. The VAERS database was mandated by Congress over 30 years ago, beginning in 1990, and is maintained by the U.S. CDC and FDA. As of yesterday's update, there are now a total of 1,765,262 cases of adverse events following all vaccines for the past 30+ years, including the experimental COVID-19 shots that have been issued emergency use authorization and are not yet approved by the FDA. Of those 1,765,262 cases of adverse events following all vaccines for the past 30+ years, 913,268 of them (52%) have been reported during the past 11 months following COVID-19 shots.
For the past 30+ years there have been 28,379 deaths recorded in VAERS following all vaccines, including the COVID-19 EUA shots. 68% of those deaths, 19,249, have followed COVID-19 shots in the past 11 months. For the past 30+ years there have been 35,524 life threatening events recorded in VAERS following all vaccines, including the COVID-19 EUA shots. 61% of those life threatening events, 21,582, have followed COVID-19 shots in the past 11 months. For the past 30+ years there have been 51,231 permanent disabilities recorded in VAERS following all vaccines, including the COVID-19 EUA shots. 60% of those permanent disabilities, 30,967, have followed COVID-19 shots in the past 11 months. For the past 30+ years there have been 178,383 hospitalizations recorded in VAERS following all vaccines, including the COVID-19 EUA shots. 55% of those hospitalizations, 97,561, have followed COVID-19 shots in the past 11 months. From the data released into VAERS yesterday, we have found 2,732 fetal deaths following COVID-19 shots for the past 11 months, while there have been 2,163 fetal deaths following ALL vaccines for the past 30+ years. After reviewing this data supplied by the U.S. Government, how can anyone conclude that the experimental COVID-19 shots are safe? Now that we are almost 1 year into the experimental COVID-19 "vaccines," and we have all this data to show that they are neither safe nor effective, if you present this data to those who are still pro-COVID-19 "vaccines," it will not convince most of them. It is a political and ideological issue to them, the facts be damned. This is the classic definition of a "cult."
HNewsWire: "In October, November and December, There Will Be a Terrible Death Rate, Globally" Will Occur "Exclusively" With Vaccinated People. "Those Deaths Will Be Labeled Swiftly as a New Variant Strain of Covid,Tribulation Has Moved Into Its Second Year, It's Going to Get Ugly...
Here is a Centers for Disease Control and Prevention database of adverse effects. As of November 7, 2021, there were 2,725,582 adverse events in 634,609 adverse event reports, including 8,284 deaths, 9,726 life-threatening events, 9,580 permanent disabilities, 363 congenital anomalies or birth defects, 38,818 hospitalizations, 79,615 ER visits, and 121,100 doctor's office visits attributed to the covid vaccines. These are only the risks we know about so far. Nobody knows what the adverse effects will be one, five, or ten years from now.
Data released today show that between Dec. 14, 2020 and July 2, 2021, a total of 438,441 total adverse events were reported to VAERS, including 9,048 deaths — an increase of 2,063 over the previous week. There were 41,015 serious injury reported during the same time period — up 6,950 compared with last week.
Dr. Jessica Rose, a PhD computational biologist, molecular biologist and immunologist, conservatively calculates that over 150,000 people have died from the Covid vaccine in America as of August 28, 2021. (Click here for her website and numerous articles & presentations.)
Using the VAERS [Vaccine Adverse Event Reporting System] database and independent rates of anaphylaxis events from a Mass. General [Hospital] study, we computed a 41x under-reporting factor for serious adverse events in VAERS, leading to an estimate of over 150,000 excess deaths caused by the vaccine. The estimates were validated multiple independent ways.[1]
COVID-19 CORONA-VIRUS PLANDEMIC DEATH COUNT
Global Predators Satan Soldiers Tedros Adhanom, Fauci, Gates, and Schwab Behind The Covid Kill Shot Reign of Terror
You've Been Lied To, if You're Complying With a Government, There Objective is Genocide,
You're Going Along With Your Own Execution...
The US and UK government has consistently lied to the public about its intentions regarding vaccine passports, initially claiming they weren't being considered while funding their creation, then announcing they'd be introduced at the end of September, then backtracking, and now they're back on the agenda again.
In other words, lying, fraud, embezzlement, misrepresentation of risk, material misrepresentation of facts, half-truths, the replacement of statements of fact with propaganda and spin: these are not the work of a scattered handful of sociopaths: they represent the very essence and heart of America's economic status quo.
I go back to my original statement in January, this is a "Pestilence", God knew evil men were in labs concocting a virus with the intention of harming humanity. SRH...
Once the Elitist a.k.a Satan Soldiers Destroy Humanity Then They Will Turn on Each Other, We Will Witness a Blood Bath…
The first psalm warns us not to keep company with evil people. We are told not to listen to their counsel, stand in their way or sit in their seats. The word 'blessed' is translated 'happy' in some newer renderings. Blessing implies the goodness of God will be with such a person. Look for these beatitudes throughout Scripture. If the Word gives us instruction as to what to do to find God pouring out His goodness on us, we should give careful attention to that instruction. You will be blessed if you avoid bad company. Man has a natural tendency to gravitate toward mocking and complaint. Don't!
Consider: "If I meditate on God's Word and don't walk in the counsel of the wicked, whatever I do will prosper."
A Thrilling Ride!
Sometimes a book comes across your path that's impossible to put down. A Long Journey Home isn't a casual book you'll read in a week or earmark for another day. Once you begin, CANCEL your schedule, SILENCE your phone, and FIND a quiet place with no trespassors. Click Here to Purchase on Amazon.com!
Thanks to a Whistleblower who came forth to Attorney Thomas Renz, the public is now seeing, for the first time ever, hard data from the largest database available in the U.S. to study the COVID-19 impact including deaths & injuries; The CMS Medicare Tracking System. During an extraordinary speech at Clay Clark's ReAwaken America Tour, Attorney Thomas Renz shocked the crowd of thousands in attendance and millions watching via livestream as he revealed: That data from the Medicare Tracking System reveals that 19,400 people less than 80 years old have died within 14 days of receiving the COVID-19 Vaccine. In addition, 28,065 people have died that are over the age of 80 within 14 days of receiving the Covid-19 vaccine. The Total number of American Citizens that died within 14 days of receiving the COVID-19 vaccine is 48,465 according to hard data revealed in the Medicare Tracking System. In July Attorney Renz Whistleblower, under penalty of perjury, stated that she estimated at least 45,000 people had died from the Covid-19 Vaccines.
VAERS data released Friday by the CDC included a total of 726,965 reports of adverse events from all age groups following COVID vaccines, including 15,386 deaths and 99,410 serious injuries between Dec. 14, 2020 and Sept. 17, 2021.
The government's passive vaccine injury surveillance system has logged over 675,000 adverse reactions from the vaccines in just eight short months. If these medical issues were divvied up among the roughly 17,000 hospitals in the United States, there have been roughly 40 COVID vaccine injuries for every hospital in the nation. Over the past forty-seven days of reporting, there have also been 3,296 deaths reported to VAERS. This is equivalent to SEVENTY deaths per day — a sacrificial routine of medical malpractice and wrongful death that must be stopped.