Wall Street & Municipal Banking in Crisis. Global Stock Markets Will Crash. FED's Fake Money Can't Prop U.S. Much Longer.
People's hearts are troubled, their minds are in a state of confusion, the Bible tells us a time of great delusion that will come upon the people, that time has arrived, the politicians must come up with more significant and more believable lies in order to bring on the antichrist, we have entered the Tribulation.
A Thrilling Ride
Every once in awhile, a book comes across your path that is impossible to put down. A Long Journey Home is not a casual book that you read in a week or earmark to complete at a later date. Once you begin, cancel your schedule, put your phone on silent, find a quiet place where you cannot be disturbed, and complete the journey. Click Here to Purchase on Amazon.com!
There is no other way to describe today's market carnage than a market in turmoil where things are rapidly breaking as the sudden disappearance of Russia's "toxic" commodity collateral is suddenly sparking contagion and widespread liquidations.
With S&P futures a one way elevator lower after a modest rip higher on Ukraine ceasefire optimism early in the session, sending spoos more than 120 points down from session highs and closing down 2.9%, below 4,200, its worst close since October 2020...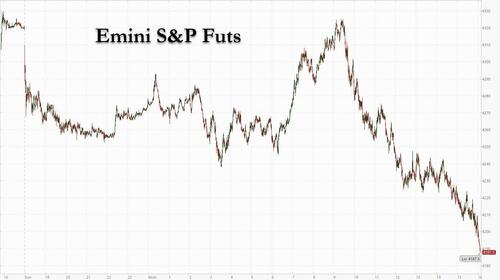 ... and the Dow tumbling more than 800 points, everything was in the red, with the exception of the defensive utility sector and of course energy which is basking in the glow of a historic surge in the commodity space.
The Nasdaq tumbled 3.6% with the help of Facebook and Moderna both of which have wiped out more than 50% of their value from all time highs, and is now down more than 20% from its all time high, closing in a bear market, where it joins the Russell, which is now also down more than 20% from ATH.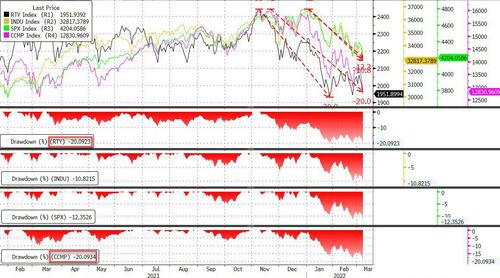 Consumer discretionary stocks, with a decline of more than 3%, led the S&P 500 to a fresh session low. Companies with outsize exposure to Europe - Calvin Klein owner PVH and Ralph Lauren - were among SPX stocks with the biggest drops, while Amazon and Apple are among top decliners on a points basis. Higher energy costs and soaring food prices may crimp consumer spending in other areas, with oil posing a particular challenge. Consumer discretionary stocks are the worst performers among SPX sectors this year, shedding ~19% while the broader index falls ~11%.
While energy was the best - and only outperforming - sector, a testament to today's dismal risk off mood is that the small-cap Russell actually outperformed both the S&P and the Nasdaq, with the latter tumbling more than 3%.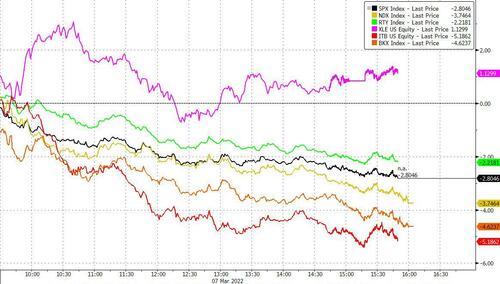 Europe was even worse, with Germany's DAX closing down 2% - at the lowest level since November 2020 - and bringing total declines since its January record high to bear-market inducing 21%, while the broader Euro Stoxx 50 also ended 1.2% lower, and also closing more than 20% lower in a bear market.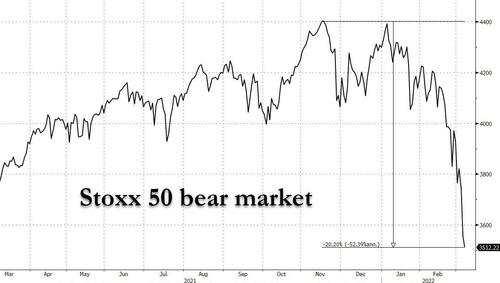 Believe it or not, those were some of the more timid moves observed today. As Nomura noted earlier, there have been some truly historic swings across all assets, especially Energy where oil had its biggest daily swing ever, with Brent surging to near $140 before tumbling $20 after Germany said it has no plans to halt Russian energy imports, only to reverse higher again...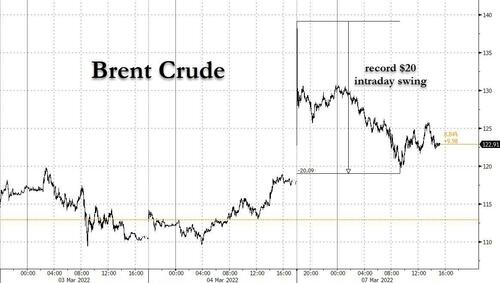 ... to gas, with the European nat gas benchmark trading > 79% to an all-time high, before also reversing gains...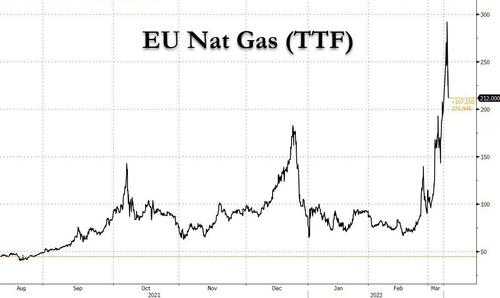 ... to Industrial Metals, where Nickel exploded 82% in one day amid a wave of short squeeze in the largest dollar gain in 35 yr history of LME contract...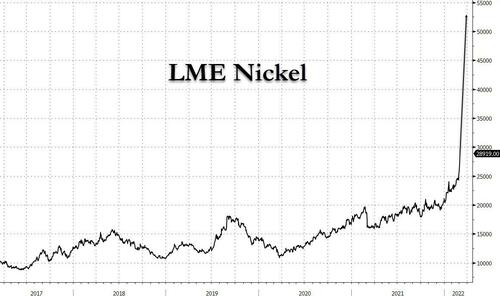 ... and even FX, with the Swiss trading through parity with the Euro earlier, the first time since the SNB peg break in '15...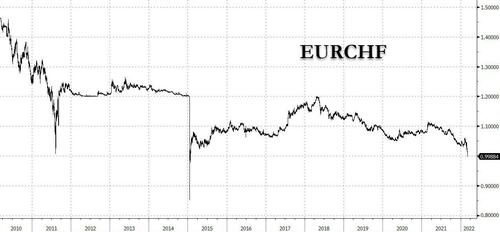 ... to Inflation, where even's Europe's 5y5y inflation swap soared to 8+ yr highs...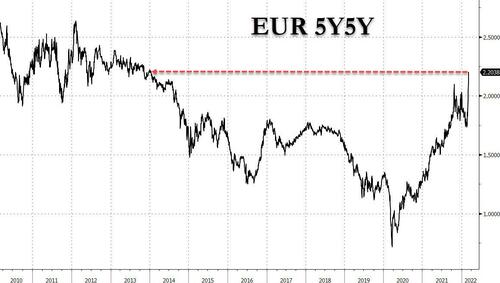 ... to EU Financials, with Europe's banks (SX7E) tumbling -34% in less than a month amid panic over Russian exposure.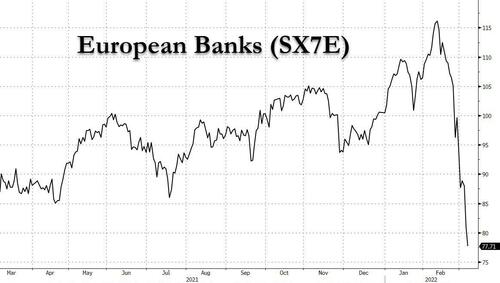 Among other commodities, the type that actually matter when considering social unrest and revolutions, wheat futures closed limit up again at a record $1,425 translating into an all time high $12.94 per bushel on fear Ukraine and Russian output will be cut off.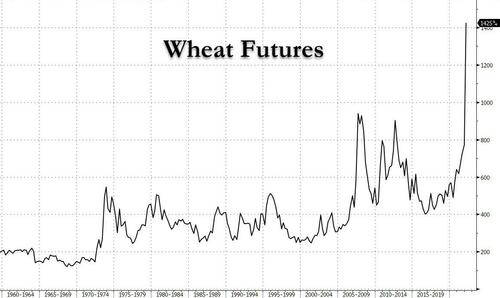 While those keeping track of market dislocations did not find anything abnormal in today's move in the FRA-OIS, which was roughly unchanged from Friday's close after blowing out late last week...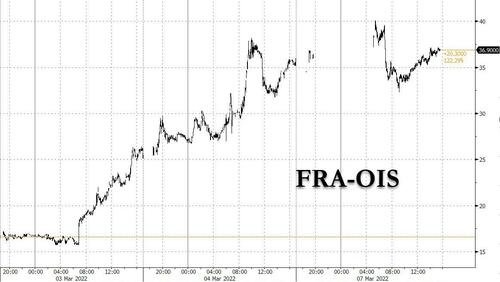 ... a look at the continued decline in the balance of the Fed's Overnight Reverse Repo suggests that banks are starting to stockpile liquidity.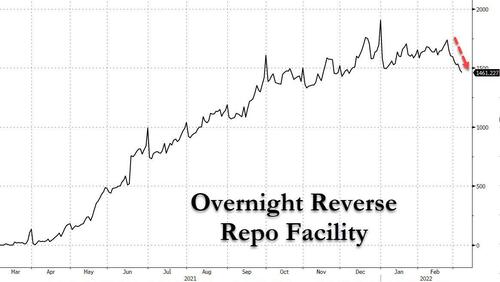 Even formerly invincible junk bonds cracked, and took out YTD lows, sliding to levels last seen in the aftermath of the covid crisis.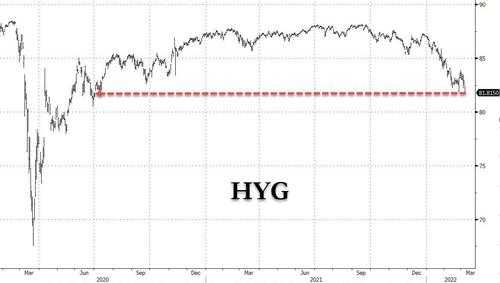 So as oil and commodities decouple from everything in the clearest signal yet that the summer of 2008 is in play (something we discussed 2 months ago in "Shades Of 2008 As Oil Decouples From Everything") is the market finally pricing in the coming stagflationary recession? Not yet, but with the 2s10s just 24 bps now, the lowest since the covid crash, and a few days trade away from 0, we are almost there.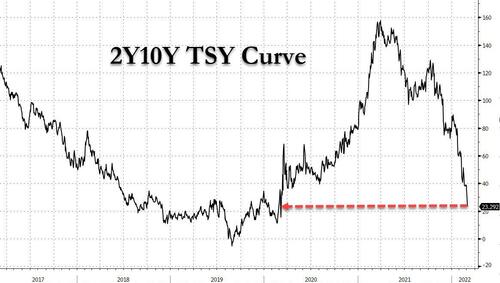 10Y Real rates plunged to -1.13%, a level which just a few weeks ago would have sent tech stocks soaring, only not this time because the entire move is driven by an explosion higher in 10Y breakevens, which soared 16bps today alone to 2.86%, the highest level on record as markets freak out about inflation over the next decade.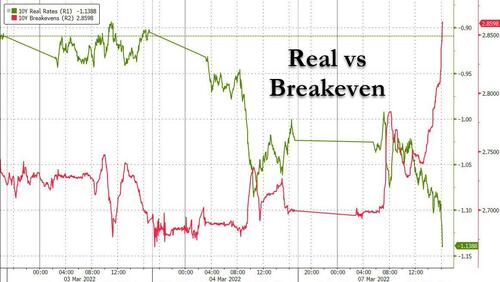 And yet, despite the beating drums of imminent recession, the Fed remains paralyzed as not only does it have to somehow contain inflation driven by a historic supply shock, over which it has no control, but it can't cut rates as it is already at zero. As a result, the market continue to price in just under 1 rate hike in March and almost 6 rate hikes for the full year!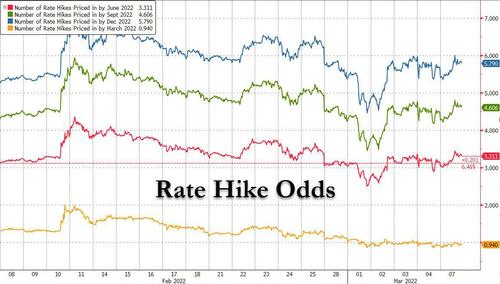 Finally, the VIX has continued its steady climb amid record put purchases, and hit a level of 36, the highest in over a year. This is a level where traders traditionally expect it to signal a market bottom. If that fails to happen, a quick trip to 50 is almost guaranteed.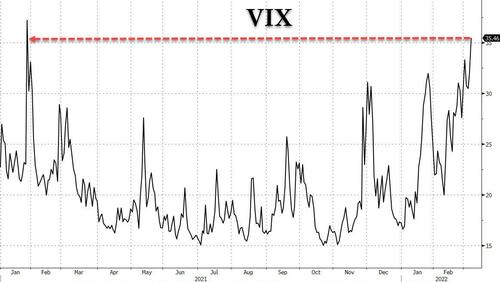 Looking at the so-called digital gold, bitcoin tumbled along with the broader crypto sector, as the decoupling observed last week with high beta stocks has now been long forgotten, and the correlation algos continue to trade cryptos as just your garden variety tech stock.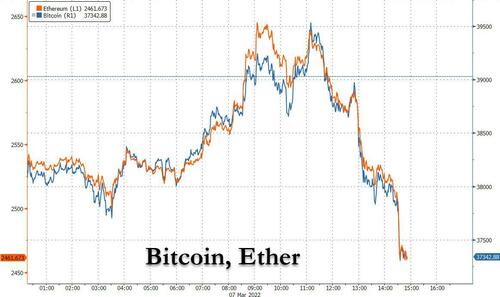 Meanwhile, the original "old-school" gold, continues to creep ever higher in what many view as a harbinger of the next episode of monetary debasement, and after earlier rising briefly above $2,000 then sliding, gold has stabilized just below the $2k mark.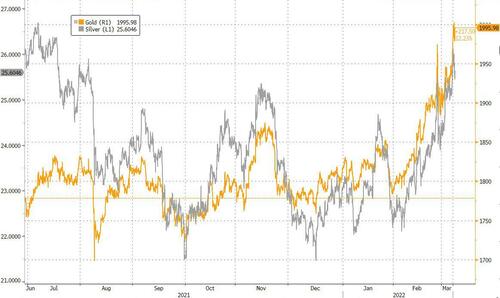 So is there any hope, even fleeting for a modest bounce? We doubt: after all, even the White House admits what is coming:
WHITE HOUSE SAYS U.S. NEEDS TO BE PREPARED FOR LONG, DIFFICULT ROAD AHEAD
It appears the market is getting the message: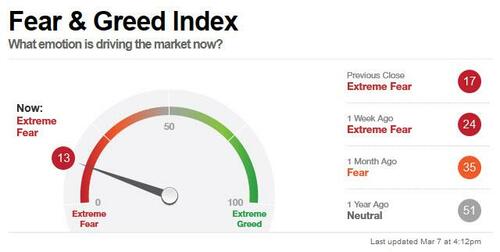 Source: ZeroHedge
A stock market crash occurs when there is a significant decline in stock prices. While there's no specific numeric definition of a stock market crash, the term usually applies to occasions in which the major stock market indexes lose more than 10% of their value in a relatively short time period.

 It's All Putin Fault

You can't wake this thing [economy] up with another cup of coffee. It's just going to go to sleep and pass out, Tribulation.

Epic Economist put together a great video detailing the 15 things (and yes, some are a little scary) that will happen when the economy collapses.  At this point in time and history, it is no surprise that an economic collapse is coming for us. When the world's largest economy is deep down in a recession, many other countries will not be late to follow the same path.
The financial breakdown the world is about to face over the next few years will be an unprecedented catastrophe, especially considering that the underlying problems from previous crashes were never fixed, only mended together. A real repair would require a complete reconstruction in the system, and the elites were never interested in fixing the system that they set up to screw the rest of us.
These are the 15 things that will happen that you should be prepared for:
1 -Fuel Shortages, or rationing of fuel

2 -Carjackings rise

3- Interstate Trucking is compromised, limiting the supply of essential goods

4-Defaults in garbage disposal and urban sanitation

5- Food scarcity, a disruption in food supply chains

6-Water quality drops

7-The population gets on survival mode, one example of this could be the slaughtering of zoo animals for food.

8-Pets go missing

9-Civil agitation leads to turbulence in the streets

10-Attacks become more frequent

11-Kidnappings Increase

12-Gang Activity Increases

13-Banks Close

14-Hospitals become Overloaded

15-Martial Law Enacted
Knowing that these things are likely to happen when the economy collapses should help give you an idea of what you're going to need to be prepared.  Make sure you know how to defend yourself and your family. Make sure you have a way to filter water.  You will need to be able to avoid crowds and live on your own, potentially off the grid. Become self-reliant and do not put your faith in the system.  Most people are still desperately fighting to keep the system intact in spite of the awareness that it's rigged and corrupt.  Instead, leave the system, put your faith in yourself, improve critical thinking skills, and create your back up plans.
Corruption is a state of decay, pollution, or incorrectness. In the Bible, corruption is one of the effects of sin that resulted from the fall of man. In the beginning, God created a perfect paradise, free of sickness, pain, and death. But when Adam and Eve disobeyed God by eating the forbidden fruit, sin entered the world, spoiling its perfection. That sin also brought contamination and decay to Adam and Eve and to the human nature of every person born after that (Romans 5:12). Thus, corruption in the Bible is the state of moral contamination and spiritual decay expressed through disobedience toward God.
The tragic reality of the world's biggest corrupt legal system -America's rigged courts, bribed judges, fake and phony trials, and over 2 million prisoners in the USA gulag The reality is that the United States of America, which proclaims itself the "land of freedom", has the most dishonest, dangerous and crooked legal system of any developed nation. Legal corruption is covering America like a blanket. The corruption of the USA legal system is well-known, but also well-hidden, by the news services of America's corporate-owned media. The US media companies are afraid of reprisal and of the social revolution that would come from exposing the truth. Without GOD there is no" justice"
Therefore Starving Innocent People to Fulfill Their Demonic Utopia — "Largest Distribution Ever" — Thousands of Cars Lined up at Texas Food Bank. "Evening Edit" was on Fox Business Network on Friday. Rep. Rick Crawford said that the US already has a food shortage because of supply issues that make it hard to find foods…
US Launching Five Digital Dollar Pilot Programs… By now it's common knowledge that China is leaps and bounds ahead of all other central banks in launching a CBDC, or Central Bank Digital…
Read More
A Thrilling Ride
Every once in awhile, a book comes across your path that is impossible to put down. A Long Journey Home is not a casual book that you read in a week or earmark to complete at a later date. Once you begin, cancel your schedule, put your phone on silent, find a quiet place where you cannot be disturbed, and complete the journey. Click Here to Purchase on Amazon.com!
US Launching Five Digital Dollar Pilot Programs… By now it's common knowledge that China is leaps and bounds ahead of all other central banks in launching a CBDC, or Central Bank Digital…
Read More