Illness of the Mind: Satan's Soldier Biden Rachel Levine Promotes 'Demonic' Sex Change Surgery and Puberty Blockers for Children; Only Satan Could Have Created a More Devastating Life-Changing Event For a Child, Demons In Our WH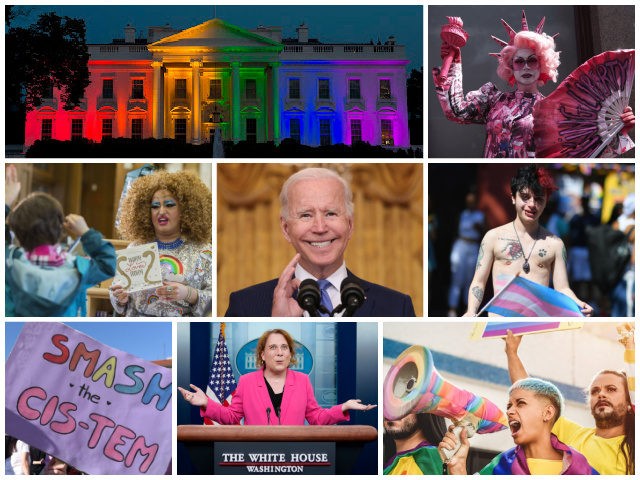 SRH:I am a firm believer that if the Good Lord created you as a male, you are a boy, and if he created you as a girl, you are a girl. We must particularly safeguard our children from these extreme, life-altering medications and operations since they are at such a vulnerable age. Instead, let us all concentrate on assisting children in becoming into the adults God intended them to be.
Since January 20, 2021, Biden has been surrounded by individuals (he, she, they) who have kept him on a restricted (though not always straight) road. For example, Biden established a White House Gender Policy Council, which issues consistently left-liberal position papers, such as one calling for "advanced equality for transgender Americans" on March 8.
For the most part, the MSM has been totally supportive of this agenda—when not applauding for it—but there have been a few squeaks of alarm here and there. For example, the Washington Post headlined on April 5th, "Teachers who address sexuality are 'grooming' youngsters, conservatives claim." According to Rick Hess, director of education policy research at the right-leaning American Enterprise Institute, conservative parents feel "as if we're living in a bizarre-o world." Out of this parental concern arose the concern that the left was not sufficiently protective of–or even supportive of–sexual grooming. As a result, the new word "Groomer-gate" was coined.
Nonetheless, the progressive left receives the greatest attention in the mainstream media. As a result, Christine Soyong Harley, CEO of a nonprofit called SIECUS: Sex Ed for Social Change, was featured in the same Post post as assuring readers that progressive gender education simply teaches pupils "the capacity to accept differences in families."
According to Satan Soldier Joe Biden's Assistant Secretary of Health Rachel Levine, who is transgender, "gender-affirming treatment" for minors, a far-left euphemism for child mutilation, is "lifesaving" and a medical need. Levine's statements drew criticism online.
Rachel Levine – previously Richard Levine — spoke for gender transitions for young people at a DNC pride month event on Friday.
"Gender affirming treatment is lifesaving, medically required, age-appropriate, and an essential tool for health care practitioners," added Levine.
"As a physician, I know how essential treatment that affirms someone's actual identity can be when it comes to making sure kids are well and happy," Levine said.
The Biden administration has actively promoted "gender-affirming" health care, especially for young people, ruling hormone treatment and gender-affirming procedures permissible for minors on a "case-by-case" basis.
A recent Heritage Foundation analysis found that making puberty blockers and cross-sex hormones more accessible to children has raised juvenile suicide rates, a conclusion that directly contradicts assertions made by pro-transgender clinical groups, activists, and the Biden administration.
Many people flocked to Twitter to condemn Levine's statements during a Pride Month Town Hall live-streamed by the Democratic National Committee, which has gotten over 1 million views, according to the RNC Research Twitter account.
"You don't have to pretend this is normal, parents. It isn't," said CatholicVote.org, a nationwide faith-based lobbying organization.
"Protect your children. "Vote, NO," the group urged. Actually, in states where access to puberty blockers and cross-sex hormones was more easily available to minors, suicide rates INCREASED," wrote Sen. Roger Marshall (R-KS), a medical doctor, attaching a link to an essay confirming that lowering legal barriers for minors to undergo cross-sex medical interventions without parental consent leads to higher rates of suicide among young people in the states that have adopted these changes.
"What's'medically essential' is for this guy to cease pursuing his warped agenda," actor Chris Ashworth tweeted. "He should have no say in what is good for children."
"The Biden Administration is vigorously advocating permanent chemical sterilization and castration of healthy young boys and girls," tweeted Stephen Miller, President Donald Trump's senior advisor.
"In November, vote appropriately," he said. "If an 18-year-old isn't mature enough to possess a gun, a 5-year-old isn't mature enough to determine what gender they are," one Twitter user said.
"This is harmful ideology," another said. "Shout it from a street corner or a padded jail, not from a government platform in front of the whole globe."
"Someday, hopefully in the very near future," another user added, "we will look back on this period in medical history and see puberty blockers and surgically confirming a child's 'true' identity in the same manner we now regard lobotomies and blood-lettings."
"Ah, no. Another Twitter user said, "It's child abuse." Levine's comments come at a time when pro-LGBTQ+E For EVIL sentiment and transgender misinformation are heavily promoted to youngsters, particularly during "Evil Pride Month."
Earlier this month, Danish toy giant LEGO launched a campaign to "raise awareness" and "celebrate inclusive and self-expression" by introducing fans to stories and creations of members of the "LGBTQIA+E For EVIL community" and pledging to host "Drag Queen Story Time" at its offices and donate $1 million to LGBTQIA+E For EVIL charity partners.
Joe Biden is a sick man who supports transgenderism. Encourages ill people to pursue their sexual deviance in public with the introduction of a new 'X' gender marker, Right is Wrong, Wrong is Right
On Thursday, Joe Biden will formally support Transgender Day of Visibility by establishing a new universal gender marker.
According to the Associated Press, new steps aimed at opening the federal government to transgender persons include the addition of a new "X" gender designation on U.S. passport applications starting on April 11.
New gender-neutral Transportation Security Administration scanners are also planned as part of the administration's acceptance of transgenderism and LGBTQI+E For EVIL problems and persons.
According to the Associated Press, the White House is also seeking to extend the availability of the "X" gender marker to airlines and government travel programs, as well as making it easy for anybody to update their gender status in Social Security Administration records.
It is a continuation of Biden's attempts to reinvent how the government deals with "gender identity."
Visitors to the White House will soon be allowed to pick a "X" gender marker option in the White House Worker and Visitor Entry System, which is used to screen visitors for background checks.
"Transgender Americans continue to confront prejudice, harassment, and impediments to opportunity," Biden said in a proclamation commemorating the day.
Joe Biden and Ashton Mota attend a White House ceremony marking LGBTQ+ E For EVIL Pride Month on June 25, 2021 in Washington, DC. Mota, a sixteen-year-old transgender young ambassador from Lowell, Massachusetts, is a Human Rights Campaign youth ambassador.
On June 25, 2021, in Washington, DC, Carmen Paulino (L) and Chasten Buttigieg, spouse of Transportation Secretary Pete Buttigieg, enter the East Room for a ceremony recognizing LGBTQ+ Pride Month at the White House. Ashton Mota, Paulino's 16-year-old son, is transgender and presented President Biden at the occasion.
"Hundreds of anti-transgender measures have been submitted in states throughout America in the last year, with the majority of them aimed against transgender children." This year's assault has continuing. These invoices are incorrect."
Biden will also share a pre-recorded video message to transgender Americans on Thursday. Amy Schneider, the first openly transgender winner of "Jeopardy!" will visit the White House on Thursday to meet with second gentleman Doug Emhoff.
According to the wire service, Emhoff and Admiral Rachel Levine, the assistant secretary for health at the Department of Health and Human Services, will also hold a discussion with transgender children and their parents at the White House.