NO GASOLINE WITHOUT 'COVID PAPERS' IT'S NOW APPEARING IN SOME PARTS OF THE WORLD, SATAN'S SOLDIERS ARE TIGHTENING THEIR GRIP
SRH, Investigative Editor: Banned in Parts of Europe and America, Wanted by Islamic Countries, Threatened by Terror Groups, Hunted by Left-Wing Media, Smeared by Hollywood Elites and Fake Cult Religious Leaders.
I hope you understand this is a plandemic orchestrated by extremely destructive (ungodly) people. They will literally kill in order to accomplish their evil goals. We are in the second year of tribulation, I know some biblical scholars think I'm full of it, but less think about individuals like Franklin Graham promoting the kill shot  —short time later he goes in the hospital for heart surgery, Two Forces at work, Good and Evil...
Thank Google and Satan Soldiers: Americans' Heating Bills To Soar Up To 50% This Winter
So far, Americans have been watching the money-depleting energy crisis that hit Europe and Asia with detached bemusement: after all, while US energy prices are higher, they are nowhere near the hyperinflation observed in Europe. That is about to change because as the Energy Information Administration warned this week, much higher heating bills are coming this winter.
According to the IEA's October winter fuels outlook (pdf), nearly half of U.S. households that warm their homes with mainly natural gas can expect to spend an average of 30% more on their "multi-year high" bills compared with last year. The agency added that bills would be 50% higher if the winter is 10% colder than average and 22% higher if the winter is 10% warmer than average.
The forecast rise in costs, according to the report, will result in an average natural-gas home-heating bill of $746 from Oct. 1 to March 31, compared with about $573 during the same period last year.
The IEA projects that U.S. households will spend more on energy this winter than they have in several years due to soaring energy prices—natural-gas futures have this year reached a seven-year high—and the likelihood of a more frigid winter than what most of the country saw last year.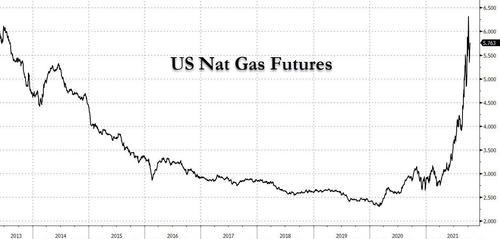 As the Epoch Times adds, propane costs are forecasted to rise by 54%, heating oil costs to rise by 43%, natural gas costs to rise by 30%, and electricity costs to rise by 6 percent. And with natural gas consumption projected to rise by 3% this winter, households are expected to spend $746 this winter, up from $573 last winter.
The increase in natural gas heating costs varies by region with the Midwest U.S. leading the price hike at a 45% increase from last winter, and the Northeast expecting a hike of 14%.
Nearly half of all U.S. households use natural gas as the primary source of heating. Households relying on heating oil over winter will spend $1,734 over winter, relative to $1,212 last winter.
Houses in Northeastern regions will be more affected by the price hike as nearly one in five homes in the region rely on heating oil as their primary source of space heating. The projection is based on the Brent crude oil price, which helps determine the prices of U.S. petroleum products.
"The higher forecast Brent crude oil price this winter primarily reflects a decline in global oil inventories compared with last winter as a result of global oil demand that has risen amid restrained production levels from OPEC+ countries," according to the EIA.
While most households commonly use electricity for heating, 41% rely on electric heat pumps or heaters as their primary source for space heating. These homes should expect to spend $1,268 this winter season, relative to $1196 last year. This projection accounts for 3 percent more residential electricity demand with more Americans working from home, a colder winter, as well as a rise in fuel costs for power generation.
"During the first seven months of this year, the cost of natural gas delivered to U.S. electric generators averaged $4.97/MMBtu, which is more than double the average cost in 2020," stated EIA.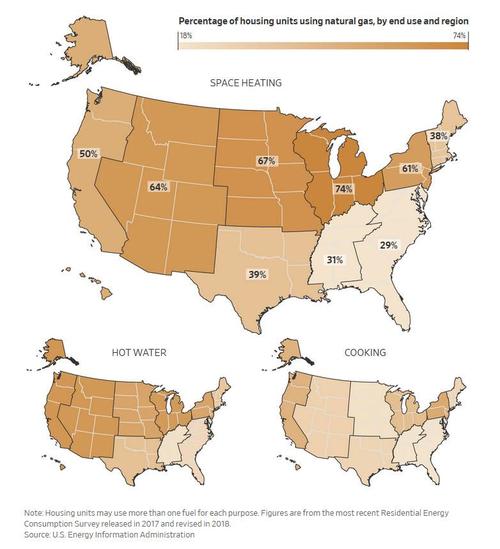 The 5 % of U.S. homes using propane as the primary means to heat can expect to spend $631 more on average compared to last winter, depending on the location.
Residents of the Midwest can spend an average of $1,805 this winter, reflecting higher propane prices and a 2 percent increased consumption.
Propane prices have been at their highest since February 2014 due to increased global demand, relatively flat U.S. propane production, and limited oil supplies from OPEC+ countries.
The looming increase, on top of rising prices for many consumer goods and commodities, is likely to cause stress for Americans at many income levels. Should prices rise too far, a repeat of the mass protests observed across European capitals denouncing soaring energy costs, is likely.  Economists warn that the larger utility bills are most likely to affect those households still hobbled by the Covid-19 pandemic.
"We are very concerned about the affordability of heat this winter for all customers, but in particular those who struggle every day to afford their utility services," says Karen Lusson, a staff attorney for the National Consumer Law Center, a nonprofit that advocates on consumer issues for low-income communities.
Sounds like another laser-guided stimmy courtesy of the Biden admin is coming.
SRH, Investigative Editor: Banned in Parts of Europe and America, Wanted by Islamic Countries, Threatened by Terror Groups, Hunted by Left-Wing Media, Smeared by Hollywood Elites and Fake Cult Religious Leaders.
StevieRay Hansen
Editor,
HNewsWire.com
[email protected]
I'm not injecting an unneeded, untested, and rushed concoction with no long-term data into my arm–not least one vended by convicted criminals (Pfizer) and pushed by pocket-lining politicians.
Depressingly though, the mandating of said experimental procedure is now being rolled-out across the globe. This is our reality. And even more concerning: only the minority are pushing back.
Those in charge have lied at every corner. Vaccines were supposed to spell the end of this nightmare. Original CDC guidelines stated that 'once vaccinated you can't catch COVID'. That was a demonstrable lie, clearly. Because not only can you still catch COVID after being vaccinated, but the efficacy of the shots has been shown to wane rapidly. Hence now that booster shots are required, as are boosters for the boosters.