Advisory: The editorial board of HNewsWire adopted the official policy to bypass many social media platforms. Some of these include: Facebook, Instagram, Twitter, Parler, and YouTube. We believe these companies are responsible for many of the spiritual ills our world faces today. In some cases, however, we have allowed our guest contributors to include content from their YouTube channel while we search for alternatives.
"Freedom Passports" And That No Man Might Buy or Sell, Except He That Had the Mark, or the Name of the Beast, or the Number of His Name…
Events of the Tribulation
In the Great Tribulation 2 ½ million die every day for 42 months. In Auschwitz, less than a thousand died each day. That means 2500x as many people die every day. Or to put it in Auschwitz terms—the number of people that died every day at Auschwitz will die every 30 seconds in the Great Tribulation! Or in other terms living on earth will be like living in an Auschwitz death camp—and in death toll there will be the equivalent of an Auschwitz Holocaust twice a day for 42 months!
A brief look through the pages of Revelation chapters six, eight, nine, and sixteen–describe the living hell you can avoid if you are saved this morning. Here are only a few of the dreadful disasters that take place during the Tribulation:
One out of every two people will die during the Tribulation (see Rev. 6:8 and onward), some through the ravages of war, others by starvation, and amazingly many others by the 'beasts of the earth'. So, whether by death that comes instantly and thus less dreaded or a slow and painful death that is lingering and agonizing-50 percent of all people will die. The world's population was 6,415,574,176 yesterday, so that means at least 3,207,500,000 will die. Does that amount to just about eleven times the current population of the United States-can you imagine that? And remember that the population of the world is doubling every 39.5 years. So every day the number of people who will die becomes larger and larger.
One-third of all vegetation will be burned up. All grass, every tree, everything green will be destroyed (see Rev. 8:7).
The sun and the moon will be darkened as nature goes into revolt (see Rev. 8:12).
The gates of hell will open and hordes of locusts, the size of horses, will come upon the earth. Those locusts will be allowed to sting men like scorpions and the pain will last for five months. The Bible says men will beg God to let them die but they will not die (see Rev. 9:3-6).
There will be worldwide famine, unlike anything the world has ever seen (see Rev. 18:8).
There will be a world war so bloody that the blood of those killed in battle will flow for two hundred miles up to the bridle of a horse in the valley of Jezreel. This will be the Battle of Armageddon (see Rev. 14:20).
All told, during the Great Tribulation, as many as half of all the people on the earth will be killed.
The British government has contracted two firms to develop COIVD 'freedom passports', that would be used to segregate society between those who have been tested or vaccinated against COVID and those who have not.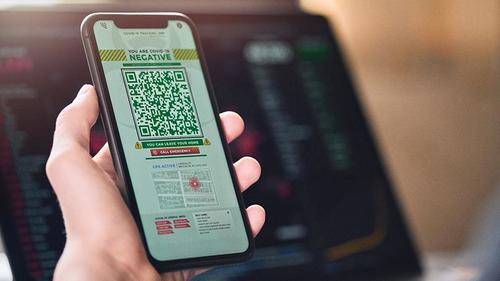 While the government is still saying that it will not introduce such a system, the firms have been given instructions to develop an app based system to integrate a QR code linking to a digital passport.
The QR code would be used to gain entry into pubs, clubs, venues, cinemas, basically anywhere in public.
"After scanning in the code, the venue could refuse entry to those without a recent negative result," the Daily Mail notes.
The 'negative Covid-19 test certification' plans were discovered on the UK Government's contracts finder.
The site shows that in November a £42,000 contract was awarded to a company called Netcompany UK to develop a 'Covid-19 Certification/Passport MVP' (minimum viable product').
Another contract for £34,000 was awarded to Hub Company to develop an app that would include a personal QR code for COVID tests.
"It is about looking at ways we could use this in future,' a Deprtment of Health source claimed, adding "It is looking at whether it would be possible."

"There are no plans to introduce immunity passports," the source also claimed, echoing previous government assurances.
We previously reported, back in November, on the government's active plans to develop a QR code system to use as an 'immunity passport'.
The report, stemming from sources close to the government, noted that "Those who refuse to get the Covid-19 jab would likely be refused entry to venues, as part of the same proposals."
Other reports have suggested that an app already used prominently in the UK by people to book doctor and hospital appointments could implement a vaccination status section that will show whether a person has taken the coronavirus jab or not, and that businesses may use it to refuse entry to those who have not.
Government officials have previously signalled that the system could be integrated with the much maligned NHS 'track and trace' app.
Health Secretary Matt Hancock, who has repeatedly refused to rule out making vaccination mandatory for all UK citizens, previously announced that 'immunity passports' could be rolled out for those who have antibodies against the virus, allowing them to participate in society.
The system would be similar in nature to that being considered by Ticketmaster, who it was revealed are considering making customers prove they've had the vaccine or a negative coronavirus test before allowing them to purchase tickets.
Ticketmaster later clarified that a final decision on such measures would be up to event organizers but that they were still mulling over the implementation of the system.
The spectre of so called 'immunity passports' stretches beyond Britain. Recently, the government in Ontario, Canada admitted that it is exploring 'immunity passports' in conjunction with restrictions on travel and access to social venues for the unvaccinated.
Last week, Israel announced that citizens who get the COVID-19 vaccine will be given 'green passports' that will enable them to attend venues and eat at restaurants.
A litany of other government and travel industry figures in both the US, Britain and beyond have suggested that 'COVID passports' are coming in order for 'life to get back to normal'.
Sam Grant, campaign manager at the civili liberties advocacy group Liberty has warned that "any form of immunity passport risks creating a two-tier system in which some of us have access to freedoms and support while others are shut out."
"These systems could result in people who don't have immunity potentially being blocked from essential public services, work or housing – with the most marginalised among us hardest hit," Grant further warned.

"This has wider implications too because any form of immunity passport could pave the way for a full ID system – an idea which has repeatedly been rejected as incompatible with building a rights-respecting society," Grant further urged.
While some see the idea of 'immunity passports' as antithetical to a free society, others support travel bans for the unvaccinated, and are begging for the health passes to be implemented:
Bill Gates Is Determined to Bring Us the Mark of the Beast , A Vaccination Based Digital Identity Program Trust Stamp Funded by Bill Gates and Implemented by Mastercard and Gavi, Will Soon Link Your Biometric Digital Identity to Your Vaccination Records. the Program Said to "Evolve as You Evolve" Is Part of the Global War on Cash and Has the Potential Dual Use for the Purposes of Surveillance and "Predictive Policing" Based on Your Vaccination History. Those Who May Not Wish to Be Vaccinated May Be Locked Out of the System Based on Their Trust Score…
And that no man might buy or sell – That is, this mighty power would claim jurisdiction over the traffic of the world, and endeavor to make it tributary to its own purposes. Compare Revelation 18:11-13, Revelation 18:17-19. This is represented by saying that no one might "buy or sell" except by its permission; and it is clear that where this power exists of determining who may "buy and sell," there is absolute control over the wealth of the world.
Save he that had the mark – To keep it all among its own friends; among those who showed allegiance to this power.
Or the name of the beast – That is, the "mark" referred to was either the name of the beast, or the number of his name. The meaning is, that he had something branded on him that showed that he belonged to the beast – as a slave had the name of his master; in other words, there was something that certainly showed that he was subject to its authority.
Source: HNewsWire ZeroHedge HNewsWire HNewsWire HNewsWire
StevieRay Hansen
Editor, HNewsWire.com
Watchmen does not confuse truth with consensus The Watchmen does not confuse God's word with the word of those in power…
This is what their New World Order looks like, Democrats Lawmaker in California: 'legalize child prostitution' SACRAMENTO – Beginning on Jan. 1, police cannot arrest child prostitutes in the streets of California, except under limited circumstances. And dumb down people wonder why California is burning to the ground, poke God in the eyes enough times and his anger will start to show…
The 127 Faith Foundation: We do not solicit donations from "those on disability, on a fixed income, or those who cannot afford to give." Please Pray!
Or, make checks payable to:
The 127 Faith Foundation
PO Box 127
Pontotoc, TX 76869
The number of Orphans aging out of Child Protective Custody has grown at an alarming rate. The 127 Faith Foundation receives many requests each week to house them at our ranch. Our prayer is that the good people of our country will step up to the challenge and offer financial support for "the least among us." We need your help! StevieRay Hansen, Founder, The 127 Faith Foundation
Dr. Jessica Rose has given another presentation based on her analysis of the CDC and FDA VAERS (Vaccine Adverse Event Reporting System) data. Dr. Jessica…
Read More
We make every effort to acknowledge sources used in our news articles. In a few cases, the sources were lost due to a technological glitch. If you believe we have not given sufficient credit for your source material, please contact us, and we will be more than happy to link to your article.