Advisory: The editorial board of HNewsWire adopted the official policy to bypass many social media platforms. Some of these include: Facebook, Instagram, Twitter, Parler, and YouTube. We believe these companies are responsible for many of the spiritual ills our world faces today. In some cases, however, we have allowed our guest contributors to include content from their YouTube channel while we search for alternatives.
One of the two most powerful public health agencies in the world can't obtain the virus from anywhere. Why? Obviously, because no one has it.
A further tip-off is the use of the word 'isolates." This means NO ISOLATED VIRUS IS AVAILABLE.
Another way to put it: NO ONE HAS AN ISOLATED SPECIMEN OF THE COVID-19 VIRUS.
NO ONE HAS ISOLATED THE VIRUS.
THEREFORE, NO ONE HAS PROVED THAT IT EXISTS. DO YOU UNDERSTAND–THE VIRUS (COVID 19) DOES NOT EXIST…
In other words, they were lying THEN, but they're not lying NOW. They were "contriving," but now they're telling the truth.
If you believe that, I have Fountain of Youth water for sale, extracted from the lead-contaminated system of Flint, Michigan.
We, at the CDC, did not have a specimen of the SARS-CoV-2 virus when we concocted the PCR test for SARS-CoV-2. Yes, and that's the test we've been using all along. So we CONTRIVED samples of 'the virus'. We fabricated. We lied. We made up [invented] synthetic gene sequences and we SAID these sequences HAD TO BE close to the sequence of SARS-CoV-2, without having the faintest idea of what we were doing, because, again, we didn't have an actual specimen of the virus. We had no proof THERE WAS something called SARS-CoV-2.
Biden's chief medical adviser, Dr. Anthony Faucci, is setting the stage to blame the next uptick in Covid-19 cases on the unvaccinated.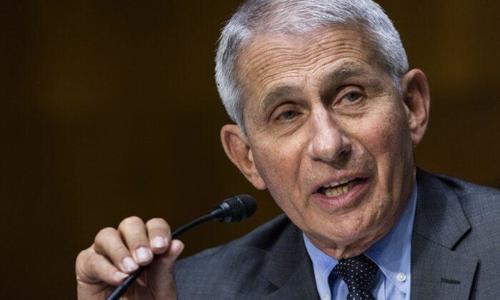 Prevaricate" which of course is a politically correct synonym for "lie"
Fauci's 'science' – which does not include the vastly superior naturally-acquired immunity from previous Covid-19 infections, or the fact that the vaccine does not prevent transmission – presumes that "the more people we get vaccinated, the less likelihood that there's gonna be another surge as we go into the winter."
Of note, just over 67% of the US is fully vaccinated, according to the CDC.
JUST IN: Fauci says unvaccinated Americans could lead to dangers of fifth COVID wave https://t.co/EmUjLZPYG6 pic.twitter.com/NmKutAcFK0— Insider Paper (@TheInsiderPaper) October 17, 2021
Just like 86.1% vaccinated Singapore?
After vaccinating over 85% of its population, Singapore 🇸🇬 finally flattened the curve, but along the wrong axis: pic.twitter.com/jHjczPGooE— Dr. Eli David (@DrEliDavid) October 8, 2021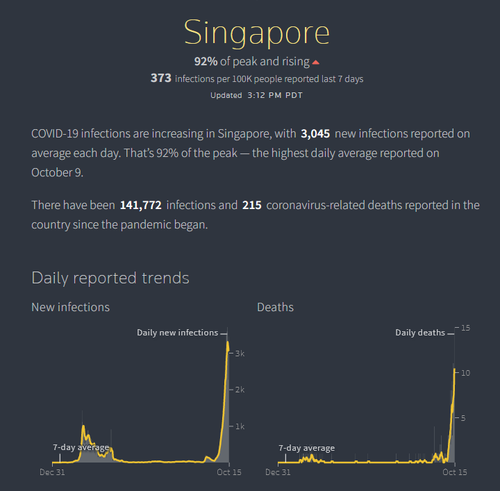 If only there were cheap and effective prophylaxis and early treatment options in everyone's medicine cabinet to take at the first sign of infection.

Fauci on Sunday also suggested that people shouldn't be hesitant to take Johnson & Johnson booster shots, as they probably should have made their vaccine a two-dose regimen instead of a single shot anyway.
"I think that they should feel good about it because what the advisors to the FDA felt, is that given the data that they saw, very likely, this should have been a two-dose vaccine to begin with," he told ABC News' "This Week."
"What the advisors to the FDA felt is that, given the data that they saw, very likely, this should have been a two dose vaccine to begin with," Dr. Anthony Fauci tells @MarthaRaddatz booster shots authorized for Johnson & Johnson vaccine. https://t.co/0guMYoI4vj pic.twitter.com/KjPQy9ZGg0— This Week (@ThisWeekABC) October 17, 2021
The 'top doc' went on to suggest that some J&J vaccine recipients might be well served to mix brands – receiving a Pfizer or Moderna shot as their booster.
"You know, that is true the data you refer to that if you [get the booster], people who have originally received J&J with either Moderna or Pfizer, the level of antibodies that you induce in them is much higher than if you boost them with the original J&J," said Fauci, adding "I think it's going to be variable depending upon who you are. For example, a woman of childbearing age who'd would have almost no issues at all with a possible adverse event of myocarditis — which you see, rarely…with the mRNA vaccine — that person might want to opt for that approach."
"If you're a young man who does have that very, very rare risk of getting myocarditis, you might want to take the J&J route."
So remember – when the next Covid-19 wave hits the US, blame the unvaccinated. Of course, we don't expect Fauci to actually call out the least vaccinated demographics, as that might ruin such finely curated narratives.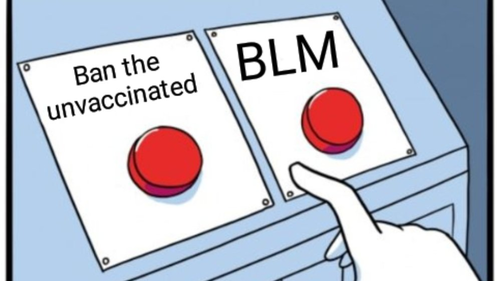 If you are a doctor, nurse, pharmacist or other health professional administering these COVID shots, you may be wise to reconsider your participation in this scheme. A significant problem is there's no way to provide or obtain informed consent.
"If you're injecting someone with these drug vaccine biologics, you are injecting them with something that you cannot possibly give them informed consent for, which means you're violating your Hippocratic Oath, you're violating the International Covenant on Civil and Political Rights Treaty, you're violating the Nuremberg Code, you're violating the Declaration of Helsinki.
It's right across the board. It's not even something that you can pretend doesn't happen anymore. It's just in everybody's faces. And you can see that the powers that be are so stressed out right now that they are cajoling and coercing and manipulating and attacking. My friends in Italy tell me that vaccinated people are behaving in the same way that they did during World War II towards the Jews and the intellectuals.
"Anytime you are using a mandate, you are taking away the ability of the patient to give consent," Barrows argued. "In terms of justifying it, you have to have a clear and obvious good that is achieved that outweighs the removal of patient consent."
And let's remember, the first people Hitler put in concentration camps weren't the Jews. The first people were the intellectuals, because if you take the intellectuals and the doctors off the street, if you stop people from talking, you can control the people.
So, the pressure being put on the medical community in this country and in countries around the world to simply go along is nothing more than the equivalent of what Adolf Hitler and the SS did during World War II when they rounded up the intellectuals. One [thing] will lead to the next and there's nothing about this that has been a successful campaign to control an infectious virus …
All you have to do is read the emergency use authorization documents. I'm just stunned at how many people have not read these. I'm stunned at physicians not having read these."
On flemingmethod.com, you can find several video presentations and PDFs where Fleming goes through the emergency use authorization documents. With that data in hand, Fleming suggests asking yourself some fundamental scientific questions, such as: "Is there any statistical difference in the number of people who developed COVID-19 or died among the vaccinated compared to the unvaccinated?"
The answer provided in the documents is no. There is no statistical difference between the two groups. The vaccines do not statistically reduce COVID-19 infection or death thereof. There are fewer cases in absolute numbers, but statistically there's no difference. Add to that the risk of side effects. If you take the shot, you risk developing inflammation and blood clotting.
The same people that were involved in the funding of this bioweapon are the same people that have interfered with doctors providing treatment to patients, and the same people that have been involved in the development of these vaccines. ~ Dr. Richard Fleming
As noted above, coerced administration of these shots violate any number of laws. Fleming also cites supreme court rulings in which the court ruled people have the right to choose their own health care.
"Rochin versus California had to do with an individual who was forced to undergo emetic medications to force him to vomit, to bring up things in his stomach. The Supreme Court said, 'You do not have a right to force this medication on people.'
Griswold versus Connecticut showed that the U.S. government cannot take away the personal rights of health care in individuals unless there's some type of compelling and substantial reason, and then it has to be put into law. It can't come out of the executive branch.
Cruzan versus Director of Missouri Department of Health in 1990, specifically stated that patients have a right to refuse any treatment. You cannot force treatment on people. Well, this is forced treatment. This is coerced treatment.
And Doe v. Rumsfeld proved in 2004 that investigational drugs could not be forced upon people unless there is a presidential waiver or informed consent. Well, here's the kicker on presidential waiver, which is what they're going to go to.
Anybody who takes an oath of office — the president of the United States, senators, representatives to Congress, governors, police officers, judges, lawyers, administrative officials — cannot violate the U.S. Constitution. If they do, they've committed treason, by definition.
In the U.S. Constitution, it states that Treaty Law and the Constitution and statutes are the supreme law of the land. The International Covenant on Civil and Political Rights specifically states that you cannot force people to take a drug; that they have to have informed consent, and that animal research has to have been done beforehand to prove it's safe.
So, if a president, including this one, issues an order that this is a mandate and is required, then he is violating the U.S. Constitution by violating Treaty and therefore has committed treason.
It's not only an impeachable offense, it is punishable by death because that's [the punishment for] treason. You can't force U.S. citizens to undergo forced experimentation.
And you can't get around that by doing something cute like having the FDA say, 'Whoa, well, we've now approved it, OK?' Because the Supreme Court has already ruled that you cannot force people to take a treatment and the only party that can change that is the Supreme Court."
We are doomed as a nation if we continue to obey Satan Soldiers
You've Been Lied To, if You're Complying With a Government, There Objective is Genocide,
You're Going Along With Your Own Execution…
Prevaricate" which of course is a politically correct synonym for "lie"
Source: ZeroHedge HNewsWire HNewsWire
You Would Have to Be Blind Not to See Where This Is Going, "Yoked"…
How Long Before USA Says: We Will Not Comply?
Insane that Assange is behind bars for killing nobody while Bush and Blair walk free -responsible for millions of deaths including their own troops.
Satan Soldier Joe Biden makes my choices, trying to protect me from myself
Ask The Blind Man ,He Saw it All
StevieRay Hansen
Editor,
HNewsWire.com
[email protected]
HNewsWire: "In October, November and December, There Will Be a Terrible Death Rate, Globally" Will Occur "Exclusively" With Vaccinated People. "Those Deaths Will Be Labeled Swiftly as a New Variant Strain of Covid
People are in a state of fear, they are susceptible to manipulation and easy for Satan Soldiers to control."
Do you understand what the elitist- YouTube, Fakebook and Twitter think of you, your basement dwellers and deserve to be controlled, Christian are Hate Fill Morons and Big Tech Will Control You…
Trust-WHO-FDA-CDC-GOV.-HELL-NO — TrustGOD Only
Global Predators Fauci, Gates, and Schwab Behind The Kill Shots COVID Reign of Terror
Remember when they all said that they were never going to demand forced vaccinations and that the passports were a "conspiracy theory"? Well guess what? We "conspiracy theorists" were right yet again.
Governments of the world, Big Pharma and Big Media are clearly guilty.
The 127 Faith Foundation: We do not solicit donations from "those on disability, on a fixed income, or those who cannot afford to give." Please Pray!
Or, make checks payable to:
The 127 Faith Foundation
PO Box 127
Pontotoc, TX 76869
The number of Orphans aging out of Child Protective Custody has grown at an alarming rate. The 127 Faith Foundation receives many requests each week to house them at our ranch. Our prayer is that the good people of our country will step up to the challenge and offer financial support for "the least among us." We need your help! StevieRay Hansen, Founder, The 127 Faith Foundation
We make every effort to acknowledge sources used in our news articles. In a few cases, the sources were lost due to a technological glitch. If you believe we have not given sufficient credit for your source material, please contact us, and we will be more than happy to link to your article.