Advisory: Be careful of what you read on social media. The algorithms used by these platforms have no regard for Biblical truth. They target your emotions to keep you engaged on their site so their advertisers can drop more ads. These platforms exist to enrich their stockholders. Consider God's promise to Believers in James 1:5, "If any of you lacks wisdom, you should ask God, who gives generously to all without finding fault, and it will be given to you."
The problem is clearly large and growing. What does the Bible teach about human trafficking? This question cannot adequately be answered without a clear understanding of God's value of human life. The Bible records that, when God created humans, He created them in His image (Genesis 1:26). Every life is of great value, and God loves all individuals.
Slavery did not end with abolition in the 19th century. Instead, it changed its forms and continues to harm people in every country in the world.
Whether they are women forced into prostitution, men forced to work in agriculture or construction, children in sweatshops or girls forced to marry older men, their lives are controlled by their exploiters, they no longer have a free choice and they have to do as they're told. They are in slavery.
The largest modern-day slavery ring in the United Kingdom forced more than 400 people to work for less than 75 cents a day and live in squalor — while their "masters" made millions, authorities revealed Friday.
Prosecutors said a gang of eight Polish natives – five men and three women – preyed on the homeless, former convicts and alcoholics in Poland and lured them to Britain with false promises of well-paid work.
However, the victims – believed to number more than 400 in the West Midlands – were made to live in rat-infested houses and work menial jobs, making about 50 pence or about 63 cents for a day's work. Meanwhile, their masters earned some $2.5 million and lived a luxurious lifestyle.
There are an estimated 40.3 million people in modern slavery around the world.
10 million children
24.9 million people in forced labor
15.4 million people in forced marriage
4.8 million people in forced sexual exploitation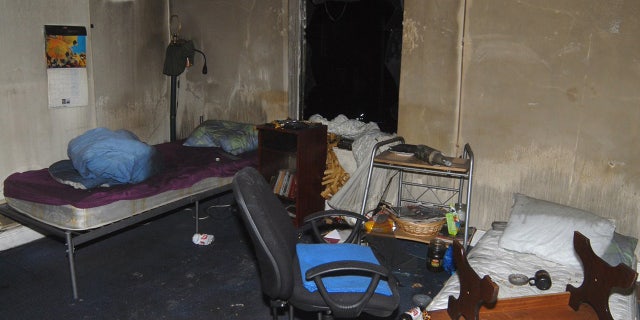 Victims were forced to live in squalid conditions – while the traffickers made $2.5 million from their suffering. (West Midlands Police)
Authorities said the victims — who ranged in age from 17 to over 60 — were housed in at least nine addresses in the West Midlands. They lived up to four to a room, were fed expired food and had to scavenge for mattresses to sleep on.
Other victims reported being forced to wash themselves in a canal because they had no access to fresh water, to plug leaky toilets with blankets and sheets and procure food from soup kitchens and food banks because their wages were not sufficient.
The victims were forced to work on farms and in rubbish recycling centers and poultry factories. The captors also opened bank accounts in the victims' names using bogus addresses and claimed benefits without their knowledge.
Someone is in slavery if they are:
forced to work – through coercion, or mental or physical threat;
owned or controlled by an 'employer', through mental or physical abuse or the threat of abuse;
dehumanized, treated as a commodity or bought and sold as 'property';
physically constrained or have restrictions placed on their freedom of movement.
"The ringleaders were clever and manipulative – capable of considerable charm when it suited them when talking to bank staff and employment officials – and ran a sophisticated operation across more than 30 properties," Dale said. "[The victims] most felt powerless to escape, with no knowledge of the area, little or no English language skills, and no-one to turn to for help. Their lives were reduced to misery and they all have the physical and psychological scars of their exploitation."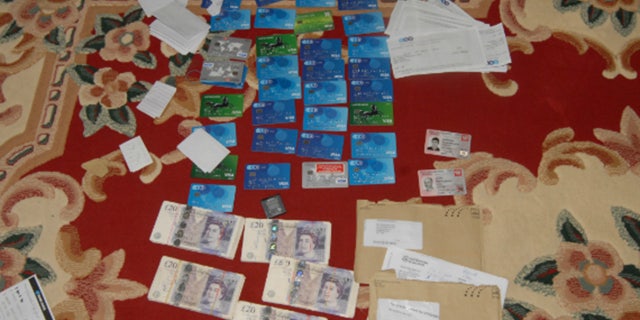 Credit and debit cards that were created in the victims' names and used by the gang members to steal their wages. (West Midlands Police)
The network collapsed when two victims fled their captors in 2015 and told slavery charity Hope for Justice of their ordeal.
Judge Mary Stacey said at the end of the first trial that the traffickers' "degradation" of fellow human beings had been "totally unacceptable." She imposed prison sentences of up to 11 years.
She said the belief that slavery had been ended in Britain was not true: "The hard truth is that the practice continues, here in the U.K., often hiding in plain sight."
The people convicted in the first trial, which ended in February, were chief conspirator Marek Chowanic, 30, Marek Brzezinski, 50, Julianna Chodakiewicz, 24, Natalia Zmuda, 29, and Justyna Parczewska, 48.
In the second trial, which ended in June, those convicted were Ignacy Brzezinski, 52, and Wojciech Nowakowski, 41. A third person, Jan Sadowski, 26, pleaded guilty. Source
Modern slavery in numbers
40.3 million people are in modern slavery across the world
10 million children are in slavery across the world
30.4 million people are in slavery in the Asia-Pacific region, mostly in bonded labor
9.1 million people are in slavery in Africa
2.1 million people are in slavery in The Americas
1.5 million people are in slavery in developed economies
16 million slavery victims are exploited in economic activities
4.8 million people are in forced into sexual exploitation
99% of people trafficked for sexual exploitation are women and girls
4.1 million people in slavery are exploited by governments
US$ 150 billion – illegal profits forced labor in the private economy generates per year
Forms of modern slavery
Forced labor – any work or services which people are forced to do against their will under the threat of some form of punishment.
Debt bondage or bonded labor – the world's most widespread form of slavery, when people borrow money they cannot repay and are required to work to pay off the debt, then losing control over the conditions of both their employment and the debt.
Human trafficking– involves transporting, recruiting or harboring people for the purpose of exploitation, using violence, threats or coercion.
Descent-based slavery – where people are born into slavery because their ancestors were captured and enslaved; they remain in slavery by descent.
Child slavery – many people often confuse child slavery with child labor, but it is much worse. Whilst child labor is harmful to children and hinders their education and development, child slavery occurs when a child is exploited for someone else's gain. It can include child trafficking, child soldiers, child marriage and child domestic slavery.
Forced and early marriage – when someone is married against their will and cannot leave the marriage. Most child marriages can be considered slavery. Source
StevieRay Hansen
Editor, HNewsWire.com
Conservative Christian World News
"And it shall come to pass afterward, that I will pour out my spirit upon all flesh; and your sons and your daughters shall prophesy, your old men shall dream dreams, your young men shall see visions." (Joel 2:28.)
John Wesley who said that what we tolerate in our generation, will be embraced by the next. Wesley is 100% correct! We are living in sick times.
Usually, the Lord doth no great thing for or against his people, without giving warning of it before it comes.
They perverted justice among themselves (v. 7): "You turn judgment to wormwood, that is, you make your administrations of justice bitter and nauseous, and highly displeasing both to God and man.'' That fruit has become a weed, a weed in the garden; as nothing is more venerable, nothing more valuable, than justice duly administered, so nothing is more hurtful, nothing more abominable, than designedly doing wrong under color and pretense of doing right. Corruptio optimi est pessima —The best, when corrupted, becomes the worst.
It is impossible to find anyone in the Bible who was a power for God who did not have enemies and was not hated.
2 Corinthians 4:8-11 New King James Version (NKJV)
8 We are hard-pressed on every side, yet not crushed; we are perplexed, but not in despair; 9 persecuted, but not forsaken; struck down, but not destroyed— 10 always carrying about in the body the dying of the Lord Jesus, that the life of Jesus also may be manifested in our body. 11 For we who live are always delivered to death for Jesus' sake, that the life of Jesus also may be manifested in our mortal flesh.
"Pedophile" has reverberated throughout America. But beneath our anger and revulsion, a fundamental question pulsates: Are those who abuse their positions of trust to prey upon children—a category certainly not limited to those in religious orders—sick … or are they evil? We need the answer to that fundamental question. Because, without the truth, we cannot act. And until we act, nothing will change.
My job is protecting children. It has taken me from big cities to rural outposts, from ghettos to penthouses, and from courtrooms, into demonic battlefields. But whatever the venue, the truth remains constant: Some humans intentionally hurt children. They commit unspeakable acts—for their pleasure, their profit, or both.
We make every effort to acknowledge sources used in our news articles. In a few cases, the sources were lost due to a technological glitch. If you believe we have not given sufficient credit for your source material, please contact us, and we will be more than happy to link to your article.