Watchman See Trouble: Ronna McDaniel Has Been Re-Elected as Chair of the Republican National Committee. How Tragic. TWO "Rig Elections" Can Appear in Various Forms. Drop the Doughnuts and Get To Work, Lazy Bastards! They Are All Corrupt?
HNewsWire: Ronna McDaniel, the GOP chairwoman, speaks during the Republican National Committee winter meeting Feb. 4, 2022, in Salt Lake City. "AP Photo/Rick Bowmer, File)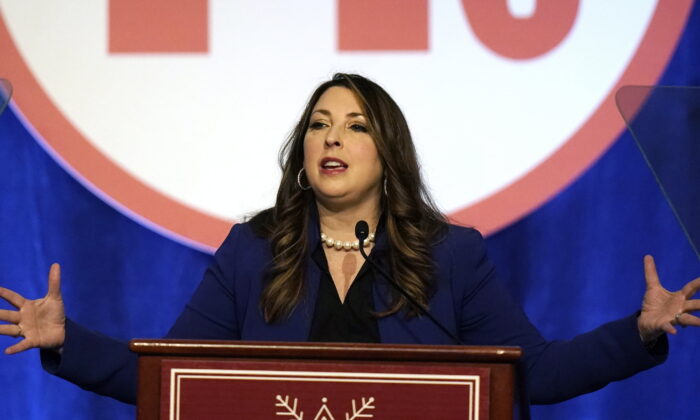 Of the RNC's 168 voting members, McDaniel garnered the support of 111, beating out California attorney Harmeet Dhillon and MyPillow CEO Mike Lindell, who received 51 votes and four votes, respectively. Former Rep. Lee Zeldin (R-N.Y.), who was not a contender, received one vote.
The final vote reveals an uptick in support for the incumbent chairwoman since November, when she circulated a letter of support signed by 101 committee members. With this win, McDaniel now becomes the longest-serving RNC chair since the Civil War.
"Mike and Harmeet … thank you for the race you ran, for the leaders you are in our party, we are so grateful for you," McDaniel said after being announced the winner on the final day of the RNC's winter meeting held at a beach resort in Dana Point, California.
"We need all of us," she noted as her opponents joined her on stage. "We heard you grassroots—we know. We heard Harmeet, we heard Mike Lindell, but with all of us united and with all of us going together, the Democrats are going to hear us in 2024, when we take back the White House and the Senate."
A Contentious Race
Though McDaniel will undoubtedly seek to unify the party heading into the 2024 presidential election, the divisions exposed by the bitter campaign are unlikely to be forgotten soon.
Sparked by a disappointing 2022 election cycle, calls for a change in direction grew in the months leading up to the chairmanship election, with Republicans in Texas and Alabama declaring that they had "no confidence" in McDaniel's leadership.
Dhillon and Lindell both entered the race promising change, though it was Dhillon who ended up posing the largest threat to McDaniel in her bid for reelection.
"I think that the party needs to realize that the party has become a populist party," Dhillon said in announcing her campaign. "The base of the party demands populist messages that speak to them and not Chamber of Commerce messages, not neocon messages, not warmonger messages."
"I'm afraid that the base of our party is not getting what it needs from our leadership," she added.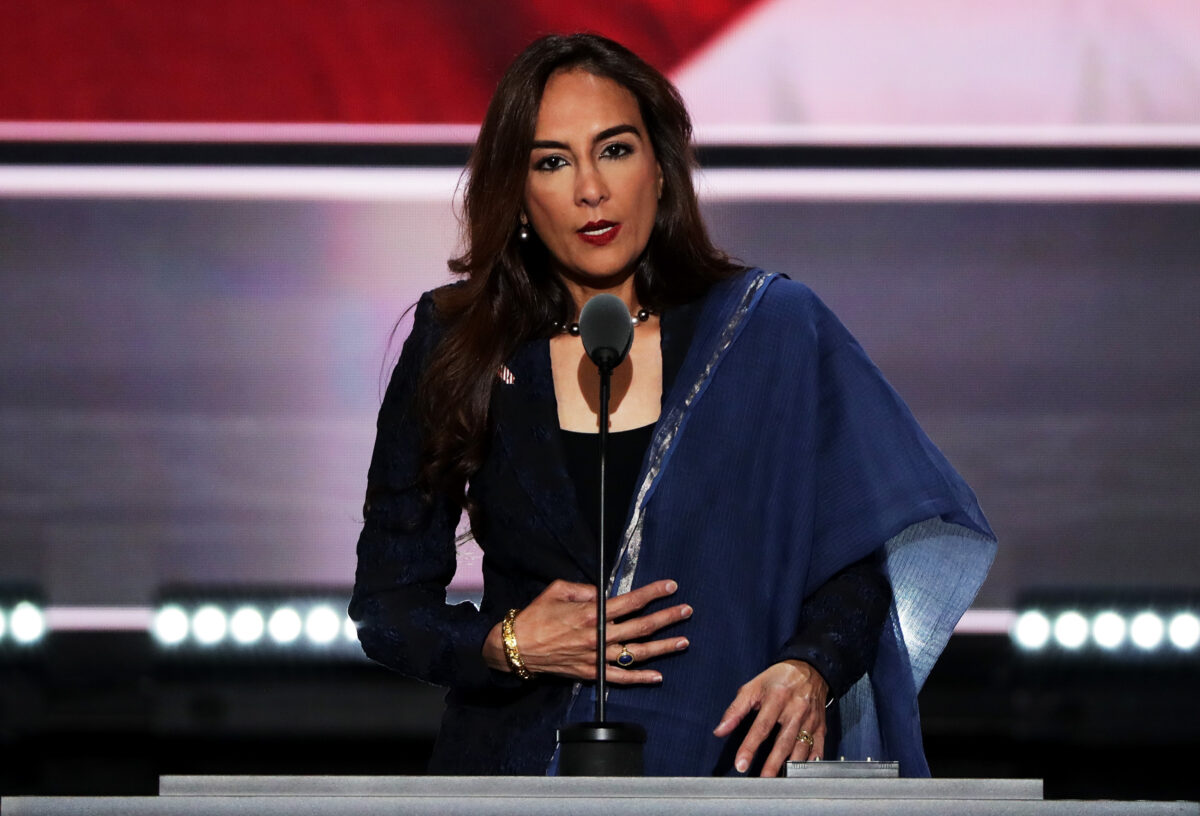 The attorney and founder of the Center for American Liberty gained the support of 29 committee members and state chairs, but in the process, she also took some arrows.
According to NBC News, a "whisper campaign" targeting Dhillon over her Sikh faith was reported by some RNC members, including committee member Solomon Yue, who shared a text he had received attributing the attacks to a McDaniel supporter "who visibly promotes themselves as a Christian leader."
"This is not only religious bigotry but also racism," Yue wrote in a Dec. 31 tweet. "Harmeet is a legal immigrant like me from Asia. I'm calling my fellow RNC members to reject both."
Addressing the allegations in a Jan. 11 statement, McDaniel, a member of the Church of Jesus Christ of Latter-day Saints, said: "I wholeheartedly condemn religious bigotry in any form. We are the party of faith, family and freedom, and these attacks have no place in our party or our politics. As a member of a minority faith myself, I would never condone such attacks. I have vowed to run a positive campaign and will continue to do so."
Moving Forward
As part of the unification process, McDaniel may seek to implement some of her challengers' ideas going forward.
One potential focus could be increased adaptation to changing technologies and trends—an area both Dhillon and Lindell have pinpointed for improvement.
"By failing to use modern methods of technology and communications, including social media influencers and social media communications, we are failing to target the youth vote," Dhillon contended while speaking with reporters Thursday.
The attorney noted that, at the age of 54, she is one of the RNC's youngest committee members—a fact she would like to change.
"The traditional base of the Republican party is aging out," she said, adding that she "would love to see" more young, experienced members on the committee.
The relocation of RNC headquarters, another key aspect of Dhillon's platform, could also be in the cards after the idea was endorsed Thursday by Florida Gov. Ron DeSantis, who is arguably one of the most popular figures in the Republican Party.
"I like what Harmeet Dhillon has said about getting the RNC out of D.C.," he said. "Why would you want to have your headquarters in the most Democrat city in America? It's more Democrat than San Francisco is!"
Lindell, meanwhile, vowed to forgo a salary if he won the election, though that concept is less likely to be adopted by McDaniel going forward.
Things To Come: It has been 7 years on 17th/1/2023 since 'the little horn[son]' -the Bibi[baby] son whose name /number adds to 666 renewed the Mosaic Covenant with Pope Francis in the Synagogue in Rome. ...7 year Biblical cycle....I believe we now might enter the Last Week- watch for his 'covenant with the many' acceptance speech?[42 month authority left]. ....building the New Temple...then the Last Two Prophets come a measuring ?...Merry Christmas & New Year,,,,Maranatha Shalom....old Messianic Jew. A Friend Of HNW.
They noted that Passover and Ramadan will again fall at the same time this year and that "extreme statements and actions by senior officials of the new government, along with the sense of desperation on the Palestinian side, may take their toll," a source familiar with the matter told the newspaper.
Ben Gvir's announcement of his intended visit was criticized by the opposition, with opposition leader Yair Lapid warning that such a visit would "cost lives" and urging Netanyahu to prevent the visit.
Ben Gvir is head of one of the three far-right parties in Netanyahu's nascent coalition.
The newly minted national security minister, who has long been accused of being a provocateur, made several trips to the Temple Mount as an activist and Knesset member and has also led contentious nationalist marches through the Muslim Quarter in Jerusalem's Old City. On several occasions, he set up an ad hoc office in East Jerusalem's Sheikh Jarrah neighborhood, which has also been at the center of Israeli-Palestinian tensions, kindling unrest.
His last visit to the Temple Mount was about three months ago, ahead of the Jewish New Year of Rosh Hashanah.
Despite Ben Gvir's rhetoric on the issue ahead of the elections, he agreed to maintain the status quo at holy sites, including the Temple Mount, in coalition agreements reached with Netanyahu before the government was sworn in.
Ben Gvir has long been an advocate of formally altering the Temple Mount status quo, in which Muslims are allowed to pray and enter with few restrictions, and Jews can visit only during limited time slots via a single gate and walk on a predetermined route, closely accompanied by police. Jews are not allowed to pray at the site, though recent years have increasingly seen police allow some silent prayer.
Palestinians and most of the international community vehemently reject any changes to the current situation, although most Palestinians also object to any Israeli Jewish presence at the site, including of police officers tasked with preserving security.
Netanyahu has sought to assure Israel's allies that he will not allow any changes, and he had a clause included in all of his coalition deals stipulating that the status quo "with regard to the holy places" will be preserved.
However, critics point to what they say has been the gradual erosion of the policy, with Jewish pilgrims often seen praying quietly at the site in recent years as Israeli police look on.