Advisory: Be careful of what you read on social media. The algorithms used by these platforms have no regard for Biblical truth. They target your emotions to keep you engaged on their site so their advertisers can drop more ads. These platforms exist to enrich their stockholders. Consider God's promise to Believers in James 1:5, "If any of you lacks wisdom, you should ask God, who gives generously to all without finding fault, and it will be given to you."
Will Start in Lebanon and spread It's Exactly What the New World Order Elitist Want, the Script to the T–Mayhem, LockDown and Then the Anti-Christ…
Everything is right on schedule and, now, the time is come to remove one of the final obstacles standing in the way of a New World Order: The United States Constitution – even if, over the course of many decades, it has already been greatly diminished by the B.E.A.S.T. system; or, more specifically, Bulls*** Emerging As Strategic Totalitarianism (B.E.A.S.T.).
Our Elected (Reprobate) Officials Lies Will No Longer Comfort the Masses , Now We Know the Truth and We Did Not Find It Listening to a Politician, There Won't Be Enough Cops, National Guards to Subdue the Peoples Quest for Revenge, Biblically Speaking Those That Put the Innocent People in This Position Are Going to Pay a High Price…
Chaos In Chicago: Bridges Raised To Prevent Gun-Toting Looters Getting Downtown
Hundreds of 'mostly peaceful protesters' swept through the Magnificent Mile and other parts of downtown Chicago early Monday, smashing windows, looting stores, confronting police and at one point exchanging gunfire with officers, authorities said.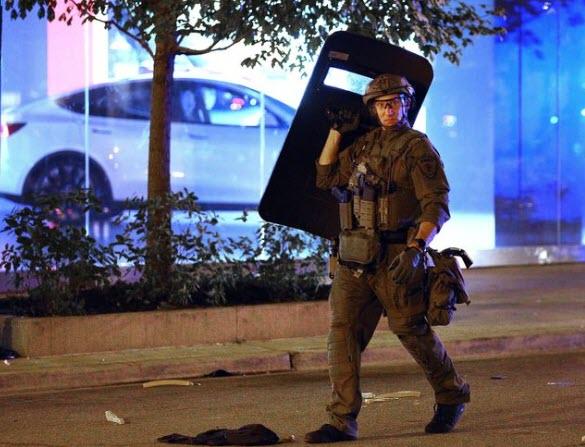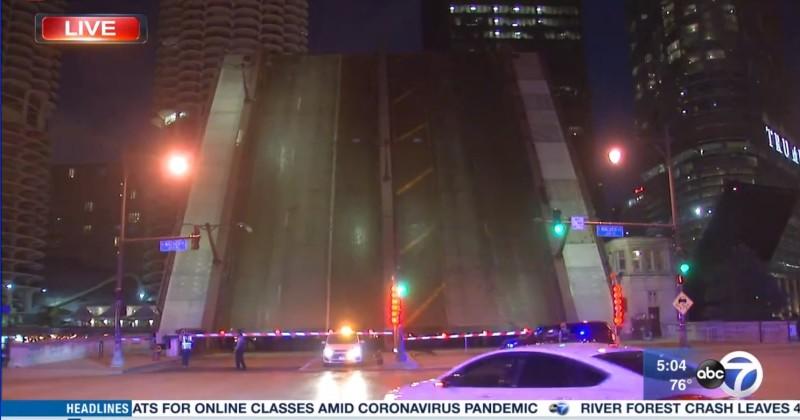 Luxury department stores were ransacked as hundreds of looters caused mayhem in response to the police shooting of an armed suspect in Englewood.
Police sent to respond to the looting were physically attacked, prompting authorities to raise major bridges in order to keep more people out of the area.
"All bridges are being raised along the river throughout The Loop," reports CBS Chicago. "Chicago's Office of Emergency Management announced street closures throughout areas in the Magnificent Mile, Gold Coast and South Loop."
Numerous bus and train services have also been suspended, while large areas of downtown Chicago are also closed.
Bridges were previously raised last month in an effort to keep Black Lives Matter protesters away from the business district, but the call to do so this time around appears to have come too late. Source: ZeroHedge Chicago Mayor Lori Lightfoot
Update 8/9/2020 You Are All Killers!" Protesters Storm Multiple Government Ministries In Beirut
The expected protests and riots have broken out in Beirut at the end of a week in which families mourned the over 150 killed in Tuesday's blast centered on the port, which it's now been revealed was the result of years of negligence by authorities who allowed 2,750 metric tons of ammonium nitrate to be unsafely stored right alongside a large stash of impounded fireworks.
Like the years-long banking crisis, the government is seen as directly responsible for this week's epic tragedy, also given the lengthy paper trail showing multiple officials and entities begged the government to do something about the explosive substance stored so near a densely populated area.
But Lebanese now taking to the streets this weekend could care less about the fine points buck passing among the political class as now a tsunami of rage is being unleashed, additionally as the economy is in shambles with record unemployment.
On Saturday local TV stations showed footage of thousands of protesters occupying at least four government ministry buildings in downtown Beirut.
An estimated ten thousand clashed with police, which reportedly involved shots fired, in mayhem that also left at least one police officer dead.
And Reuters reports that the country's banking sector remains target of the people's rage:
"Lebanese protesters stormed government ministries in Beirut and trashed the offices of the Association of Lebanese Banks on Saturday, TV footage showed, as shots were fired in growing protests over this week's devastating explosion," according to the report.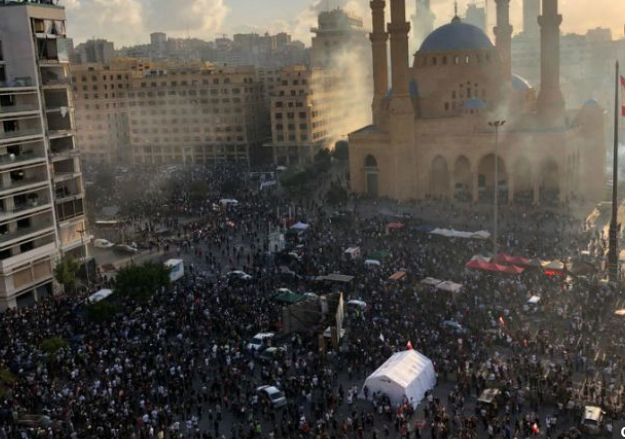 Already the growing number of injuries are an indicator of just how fierce this round of protests promises to be:
The Red Cross said it had treated 117 people for injuries on the scene while another 55 were taken to hospital. A fire broke out in central Martyrs' Square.

One thing is for certain: expect much more protests and unrest to come.
Dozens of protesters broke into the foreign ministry where they burnt a framed portrait of President Michel Aoun, representative for many of a political class that has ruled Lebanon for decades and that they say is to blame for its deep political and economic crises.
Chants of "the people want the fall of the regime" as well as the burning of portraits of top Lebanese leaders and politicians, such as of President Michel Aoun could be observed during mass demonstrations at Martyr's Square.
Responding to the pressure and popular anger, Prime Minister Hassan Diab called for early parliamentary elections and a two month transition period.
"We cannot get out of this crisis without early parliamentary elections," Diab said in a televised address.
The protesters said their politicians should be hanged and punished over their negligence that they say led to Tuesday's gigantic explosion that killed 158 people and injured more than 6,000.

The protesters chanted , reprising a popular chant from the Arab Spring uprisings of 2011. They held posters saying "Leave, you are all killers".
Lebanon is still at the height of abanking and currency crisis which previously saw unprecedented restrictions put on patrons of banks: they couldn't draw from their own savings accounts on fears of a run on cash (specifically the dollar), and had strict controls put on external transfers out of the country. This as the local Lebanese lira had effectively collapsed.
Lebanese officials estimate that the explosion resulted in between three and five billion dollars worth of destruction, and many thousands of people left homeless given whole buildings were destroyed.
One thing is for certain: expect much more protests and unrest to come.
Lebanon is bracing itself for a return to the massive demonstrations and riots which gripped the streets for much of last year, leading to closures of highways, banks, and public buildings. Like the years-long banking crisis, the government is seen as directly responsible for this week's epic tragedy.
Already Thursday night small, sporadic angry protests popped up downtown areas of Beirut. It's expected that following ongoing searches of rubble, as well as funerals for the over 135 killed, and initial clean-up efforts of a capital city covered in glass, mass demonstrations are expected to explode.
It was already a country on the brink, but the Tuesday blast centered on the port which had such force as to be compared to a mini-nuke has reportedly displaced 300,000 people – many of which saw entire walls of their homes ripped out – already in a dire situation of huge unemployment especially among young people, skyrocketing inflation, and a banking system teetering on collapse, which already saw closures for weeks at a time over the past year.
There's also of course the COVID-19 crisis which has not abated yet. But even before pandemic shutdowns in Lebanon the World Bank projected a whopping 45% of the population would be below the poverty line by the end of 2020.
Thus anger at widespread government corruption and ineptitude was already swelling before it was revealed that the government allowed 2,750 metric tons of ammonium nitrate to be left in unsafe conditions right on the doorstep of populous residential areas.
One Middle East analyst and US-based professor, Elias Muhanna, aptly described that "a tsunami of rage" is gathering and about to be unleashed across the country.
Recall too how earlier this year and into last year it's believed a record 25% of the entire population (of nearly seven million people) was on the streets protesting at one point.
This at the height of the banking and currency crisis which saw unprecedented restrictions put on patrons of banks: they couldn't draw from their own savings accounts on fears of a run on cash (specifically the dollar), and had strict controls put on external transfers out of the country. This as the local Lebanese lira had effectively collapsed.
Lebanese officials estimate that the explosion resulted in between three and five billion dollars worth of destruction. Currently international aid is en route, including at least three cargo planes worth of emergency aid from the United States.
Multiple countries have also sent emergency teams to set up makeshift clinics at local stadiums, given the over 5,000 wounded in the blast are still being treated.
We are living in an age of global mass protests that are historically unprecedented in frequency, scope, and size. Our analysis finds that the mass political protests that have captured media attention over the past year, such as those in Hong Kong and Santiago, are in fact part of a decade-long trend line affecting every major populated region of the world, the frequency of which have increased by an annual average of 11.5 percent between 2009 and 2019. The size and frequency of recent protests eclipse historical examples of eras of mass protest, such as the late-1960s, late-1980s, and early-1990s. Viewed in this broader context, the events of the Arab Spring were not an isolated phenomenon but rather an especially acute manifestation of a broadly increasing global trend. Analysis of the root causes of these global protests suggests they will continue and could increase in 2020 and beyond. While each protest has a unique context, common grievances overwhelmingly center on perceptions of ineffective governance and corruption.
Summary
Mass protests increased annually by an average of 11.5 percent from 2009 to 2019 across all regions of the world, with the largest concentration of activity in the Middle East and North Africa and the fastest rate of growth in sub-Saharan Africa.
Analysis of the underlying drivers of this growth suggests the trend will continue, meaning the number and intensity of global protests is likely to increase.
Protests have resulted in a broad range of outcomes, ranging from regime change and political accommodation to protracted political violence with many casualties.
Factors that could increase the rate of protest include slowing global economic growth, worsening effects of climate change, and foreign meddling in internal politics via disinformation and other tactics.
Russia, China, and Iran are notably active in suppressing protest movements within their own borders. They also advise and assist other country governments in suppressing protest movements, and in some cases meddle uninvited in other countries' protest movements by exploiting existing political cleavages.
Three potential catalyzing factors, which could intensify the trend or make it more manageable, warrant particular attention: (1) the use of technology by protestors and governments alike, (2) the tension between shifting democratic and authoritarian government types, and (3) the need for improved understanding and responsiveness between governments and their citizens.
To date, the U.S. government has failed to develop a systematic response to the rising tide of global protests. The Unites States has thus far treated each as an anomaly rather than a greater trend, failing to scale up U.S. capacity to achieve strategic ends, including by shoring up global democracy and pushing back against the spread of authoritarian tactics.
The outbreak of the novel coronavirus in early 2020 appears to have temporarily interrupted the surge of protests from 2019 in Hong Kong and Iran, though protest movements from Canada to India continue.
"People who grew up with the Internet saw what a wonderful thing it was for free expression, giving everyone access to a global audience. That's been completely flipped on its head, and now it's one of the most tightly controlled, manipulated places to find information that you could imagine. It's a complete 180 from what it used to be, and that's incredibly sad, because it was, initially, this challenge to old information gatekeepers, this place of free expression, of democratized information, and now it's just controlled by a handful of increasingly authoritarian ideologically partisan tech companies that haven't been held to account by officials in D.C. and aren't bound by any regulation preventing them from who censoring people or interfering in elections."
Technology companies like Google, Facebook, and Twitter and growing increasingly sophisticated in anticipating, intercepting, and suppressing information with the likelihood of going viral
The World Is In Big Trouble, for Those That Believe We Will Go Back to Some Sense of Normal Life Here on Earth, You Will Be Sadly Disappointed, Seven and Half Years of Hell on Earth Which Began January 1, 2020
"Our courts oppose the righteous, and justice is nowhere to be found. Truth stumbles in the streets, and honesty has been outlawed" (Isa. 59:14, NLT)…We Turned Our Backs On GOD, Now We Have Been Left To Our Own Devices, Enjoy…
While Mainstream Media Continues to Push a False Narrative, Big Tech Has Keep the Truth From Coming out by Shadow Banning Conservatives, Christians, and Like-Minded People, Those Death Attributed to the Coronavirus Is a Result of Those Mentioned, They Truly Are Evil…
Source: HNewsWire ZeroHedge csis ZeroHedge
StevieRay Hansen
Editor, HNewsWire.com
Watchmen does not confuse truth with consensus The Watchmen does not confuse God's word with the word of those in power…
In police-state fashion, Big Tech took the list of accused (including this site), declared all those named guilty and promptly shadow-banned, de-platformed or de-monetized us all without coming clean about how they engineered the crushing of dissent, Now more than ever big Tech has exposed there hand engaging in devious underhanded tactics to make the sinister look saintly, one of Satan's greatest weapons happens to be deceit…
The accumulating death toll from Covid-19 can be seen minute-by-minute on cable news channels. But there's another death toll few seem to care much about: the number of poverty-related deaths being set in motion by deliberately plunging millions of Americans into poverty and despair.
American health care, as we call it today, and for all its high-tech miracles, has evolved into one of the most atrocious rackets the world has ever seen. By racket, I mean an enterprise organized explicitly to make money dishonestly.
All the official reassurances won't be worth a bucket of warm spit. The Globals are behind the CoronaVirus, It Is a Man-Made Bioweapon.
For those of you who care, Google and your favorite social media platforms have misled you, and now we all pay a heavy price for trusting the ungodly, Google and company, They knew exactly what they were doing, removing our history while preparing you to accept the New World Order playbook, Enjoy.
HNewsWire: By Edward OHara, It's because that's exactly what we do. Because since they are deceived every bit as much as any un-churched person by…
Read More
We make every effort to acknowledge sources used in our news articles. In a few cases, the sources were lost due to a technological glitch. If you believe we have not given sufficient credit for your source material, please contact us, and we will be more than happy to link to your article.