Update 9/10/23…According to Watchman, Musk Is a New World Order Planner, and as Such, His Life Will Explode Catastrophically Before He Is Killed in the Biblical Tribulation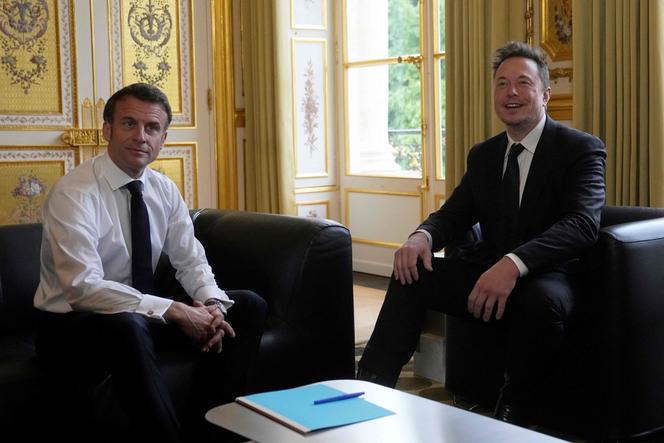 French President Emmanuel Macron met billionaire businessman Elon Musk on Monday, May 15, to discuss future investment projects, as the French leader hosts a conference aimed at persuading business leaders to put their money in France.
Macron hosted the world's second richest man, who is the chief executive of electric car firm Tesla, social media company Twitter and cosmic exploration outfit SpaceX, six months after their last encounter in the United States, his office said.
They met at the Elysée Palace before both head to Versailles for the latest edition of the president's Choose France summit where Macron seeks to drum up investment in the country. The two men were to talk about the "attractiveness of France and its industries", Macron's office announced. Musk smiled and waved at reporters as the meeting got underway but made no comment.
Finance Minister Bruno Le Maire told the BFMTV broadcaster that "negotiations are ongoing" with the magnate. Le Maire gave no details of Monday's talks with Musk, saying simply that "all of today's investments are the fruit of months or even years of negotiations".
During a US trip in December, Macron held an unannounced face-to-face meeting with Musk, saying later the two had had a "clear and honest" discussion during an hour-long meeting, including on electric cars and batteries.He had also conveyed to Musk his – and Europe's – concerns about content moderation on Twitter since Musk bought the influential platform.
"Transparent user policies, significant reinforcement of content moderation and protection of freedom of speech: efforts have to be made by Twitter to comply with European regulations," Macron tweeted after that meeting.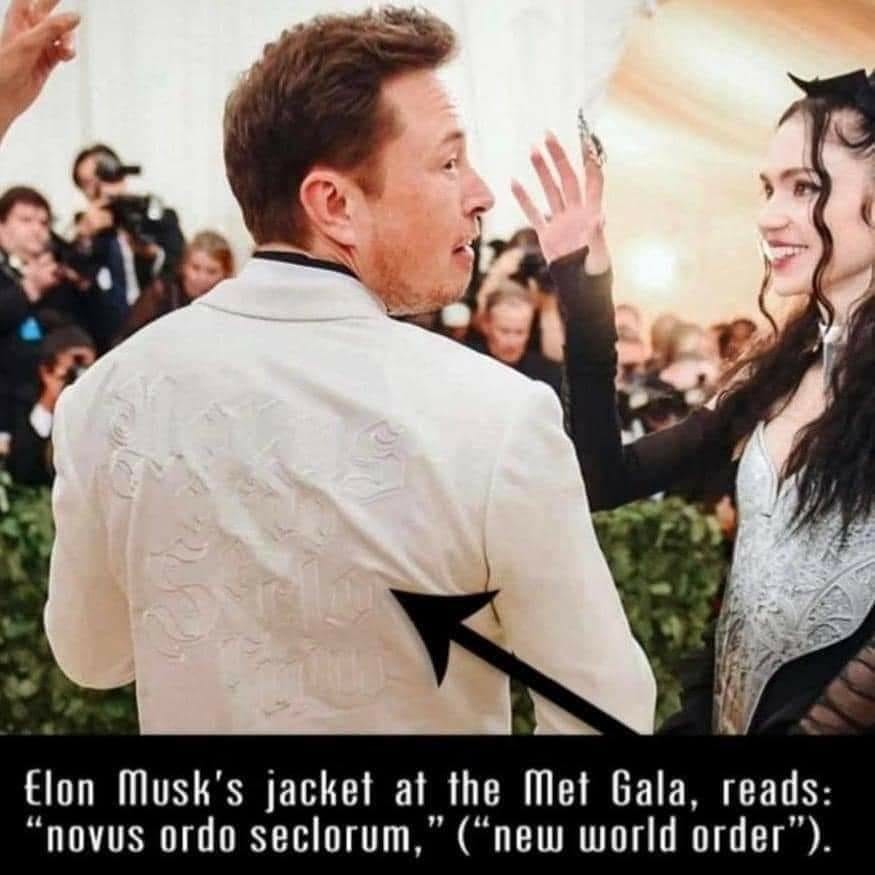 Who is Elon Musk?
Watchman: No One Will Be Able to Enter the New World Order Unless They Pledge Their Allegiance to Satan. It's Obvious Elon Musk Has Pledged His Allegiance to the New World Order, Thereby Pledging Their Allegiance to the Evil One.
HNewsWire:
Elon Musk for years has warned against the rise of AI, even going so far as to say that because of our dependence on mobile devices, we have already become transhuman. He famously said in an interview that AI was 'releasing the demon', and on many levels we say that to be largely true. Now Elon Musk throws his hat into the ring with the launch of X.AI, which no doubt will be tied to his implantable brain chip company Neuralink. One does wonder, however, if any of this or indeed all of this has any connection to his Baphomet Halloween costume with the upside-down Christian cross? Hmm, I wonder.
"And he had power to give life unto the image of the beast, that the image of the beast should both speak, and cause that as many as would not worship the image of the beast should be killed." Revelation 13:15 (KJB)
Musk and his sons visited the Vatican about a year ago. His mother and he are Luciferians. Did you see his satanic-themed Halloween costume he wore to Heidi Klum's Halloween party? To fulfill the next steps in the NWO plan to destroy us, he has been allowed to own (not a self-made man, despite having a high IQ) Tesla (electric cars cannot travel far and are dangerous; people cannot unite to form a unified force against the NWO), Neurolink (to transhumanize humans), SpaceX (controls communications and more), and now Twitter (censorship).
Each company serves a specific purpose. I am most likely only scratching the surface of what they want Elon to do. According to reports, he is now the darling of Christians. When the players in the new world order visit the Pope, I believe they receive their instructions. Musk is one of the participants. If the players do not do as they are told, they will pay a high price, because those who are "in the club" and receive all of the benefits that come with it will almost certainly die if they reveal any secrets or try to escape.
The Starship rocket built by Elon Musk's SpaceX exploded after launching for a test flight Thursday morning, days after a technical problem blocked an initial launch attempt.
Footage of the moment was posted on social media.
No crew was on board the rocket, CNN reported. The 400-foot-tall rocket is the tallest and most powerful ever built, designed to be entirely reusable and carry cargo into orbit.
The rocket launched from SpaceX's Starbase in the southern tip of Texas. It started spinning in the air after successfully lifting off, and some of the 33 engines on the booster appeared not to ignite, NBC News reported. A few minutes after liftoff, the rocket exploded over the Gulf of Mexico.
READ MORE: Elon Musk's SpaceX launches international 4-person crew to Space Station
SpaceX said on Twitter the rocket "experienced a rapid unscheduled disassembly before stage separation." The company said the test "will help us improve Starship's reliability as SpaceX seeks to make life multi-planetary."
Musk on Twitter called the launch "exciting," adding: "Learned a lot for next test launch in a few months."
Before the test flight, Musk said that if Starship flies "far enough away from the launchpad before something goes wrong, then I think I would consider that to be a success," the Washington Post reported.
READ MORE: Elon Musk is world's richest person once again
SpaceX also posted footage of the liftoff prior to the explosion.
The first attempt to launch the rocket was canceled on Monday after an issue with a stuck valve required to pressurize the first-stage booster, as reported by The Associated Press.
Thursday's launch was delayed 40 seconds prior to liftoff as teams worked on a pressurization issue, the Washington Post reported.
This was a breaking news story. The details were periodically updated as more information became available.
Watchman Reporting: A New United Nations Report Calls for the Global Decriminalization of All Illicit Drug Use and Sex With Others, Including Pedophilia. No One Will Be Admitted to the New World Order Unless They Swear to Worship Lucifer. David Spangler, United Nations Director of Planetary Initiative, Tribulation Read Story
Treat your skin well. Our soaps are gentle and produce a smooth, creamy lather that is nourishing to your skin. They are handmade in small batches. We use only high-quality natural ingredients. No chemicals, no sodium laurel sulfate, no phthalates, no parabens, no detergents. GraniteRidgeSoapworks
Use the code HNEWS10 to receive 10% off your first purchase.
.
Source: HNewsWire
Please Do Not Post HNewsWire Articles on Trump Truth, Gab, Parler, Facebook, Reddit, or Twatter Social Media Platforms. We Are Not Comfortable With Their Anti-Christian, Anti-American Nazi Philosophy. StevieRay Hansen
It is impossible to find anyone in the Bible who was a power for God who did not have enemies and was not hated. Anarchy is loosed upon the world.People who continue to get their news and patronize Facebook, Google, or Twitter have made their choice. and continue to poke God in the eye. They don't deserve the truth.
The beatings will continue until morale improves
A Thrilling Ride
Every once in awhile, a book comes across your path that is impossible to put down. A Long Journey Home is not a casual book that you read in a week or earmark to complete at a later date. Once you begin, cancel your schedule, put your phone on silent, find a quiet place where you cannot be disturbed, and complete the journey. Click Here to Purchase on Amazon.com!
HNewsWire: The range of food sources targeted by mRNA gene therapy technology is growing and now includes shrimp. Through its orally delivered RNA-particle technology, an ...
Read More

→