Advisory: The editorial board of HNewsWire adopted the official policy to bypass many social media platforms. Some of these include: Facebook, Instagram, Twitter, Parler, and YouTube. We believe these companies are responsible for many of the spiritual ills our world faces today. In some cases, however, we have allowed our guest contributors to include content from their YouTube channel while we search for alternatives.
as Massachusetts and Virginia Lead the Country in a Push Toward Mandatory Vaccination…
The Plandemic Has Been Designed to Make Society Suffer. They Know If They Crush Society, They Will Be Able to Implement the New World Order. The Alternative Would Be FEMA Food Lines, Satan Soldiers, and Billionaire Financier George Soros in Full Stride.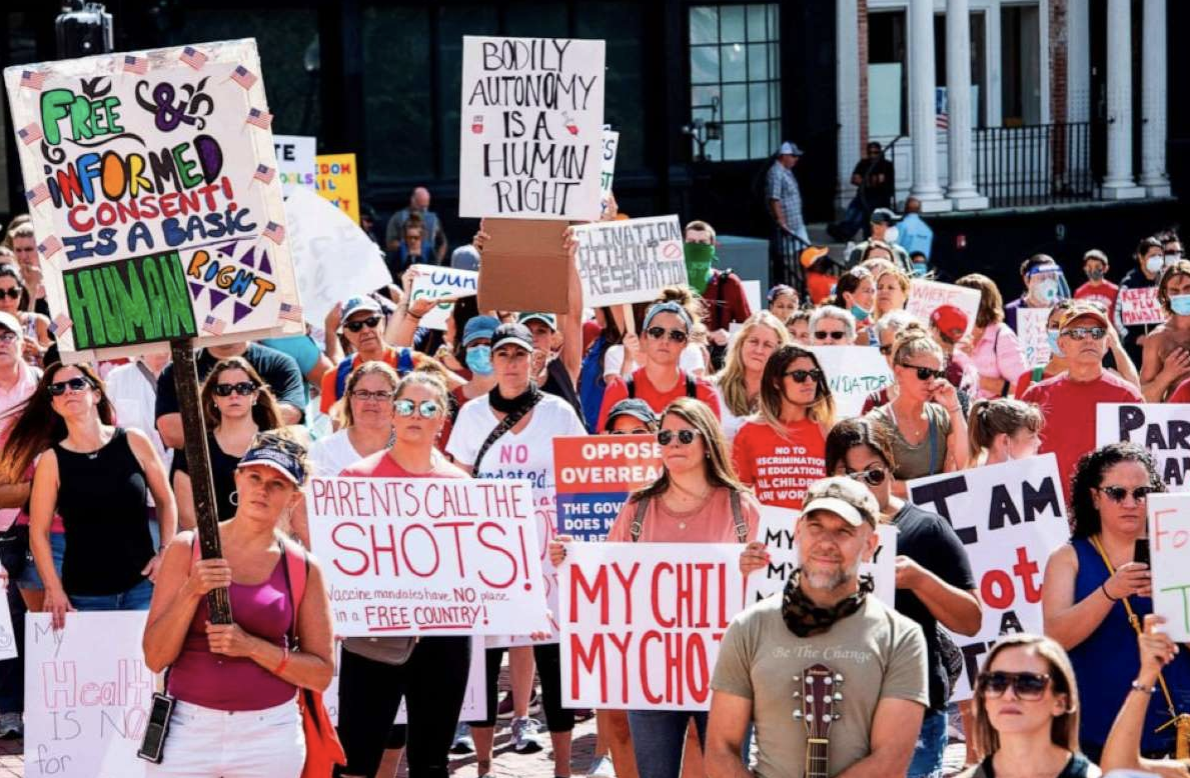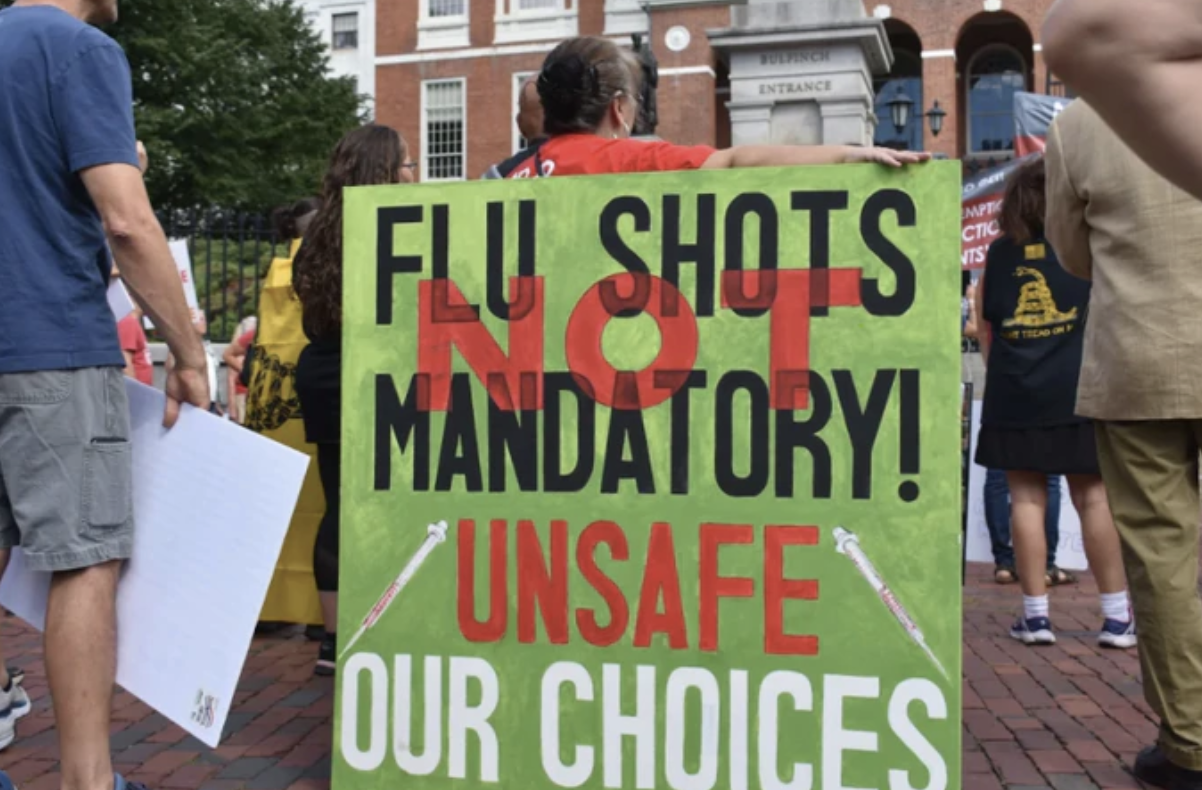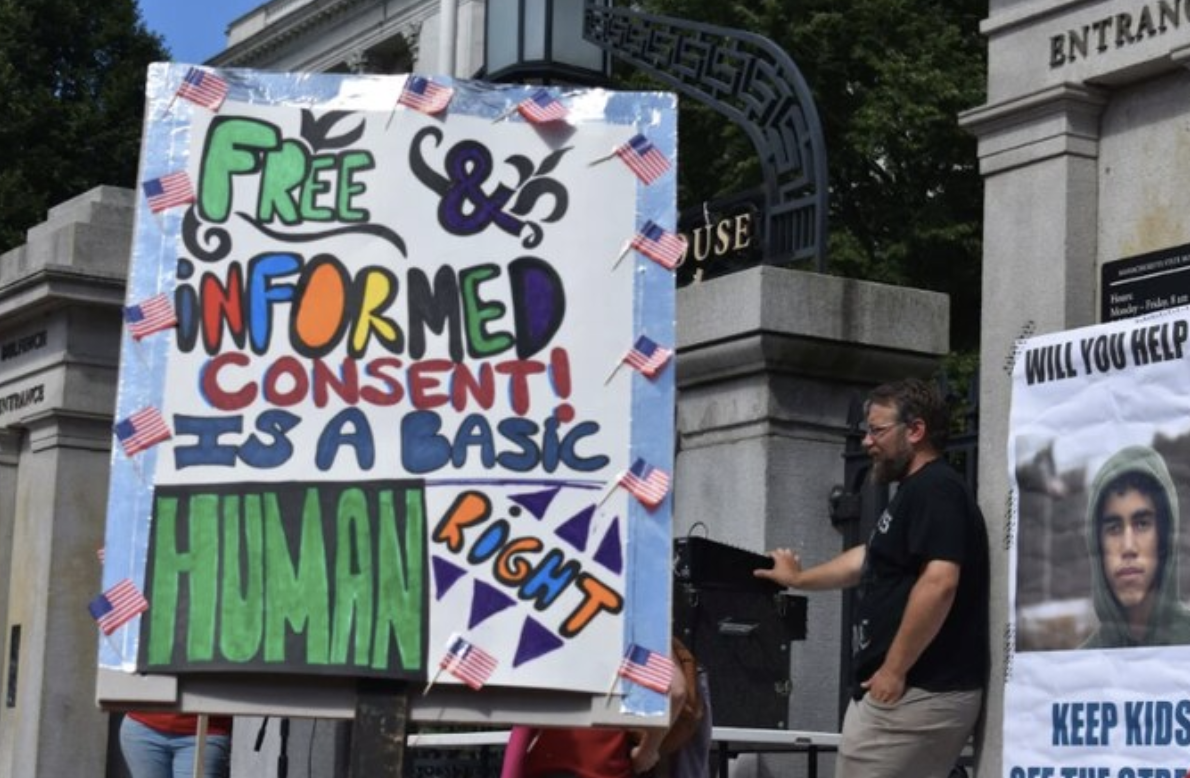 The protest were inspired by an Aug. 19 announcement that influenza immunization will be required for all children ages 6 months or older who are attending Massachusetts child care, pre-school, kindergarten, or K-12 schools.
Written in chalk in front of the statehouse was the phrase "No forced shots". While some protesters wore masks, many didn't.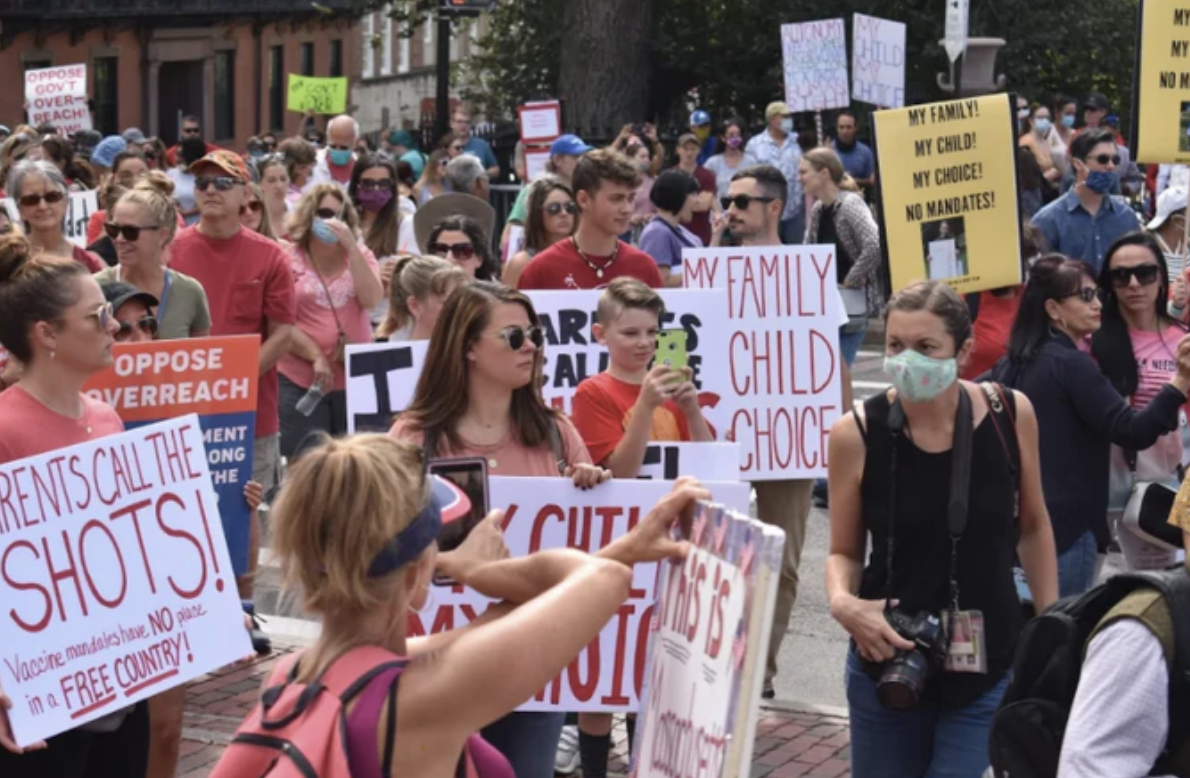 In other words, children must be vaccinated, or else. Full-time undergraduate students, and graduate students under 30, will also be required to get the vaccine.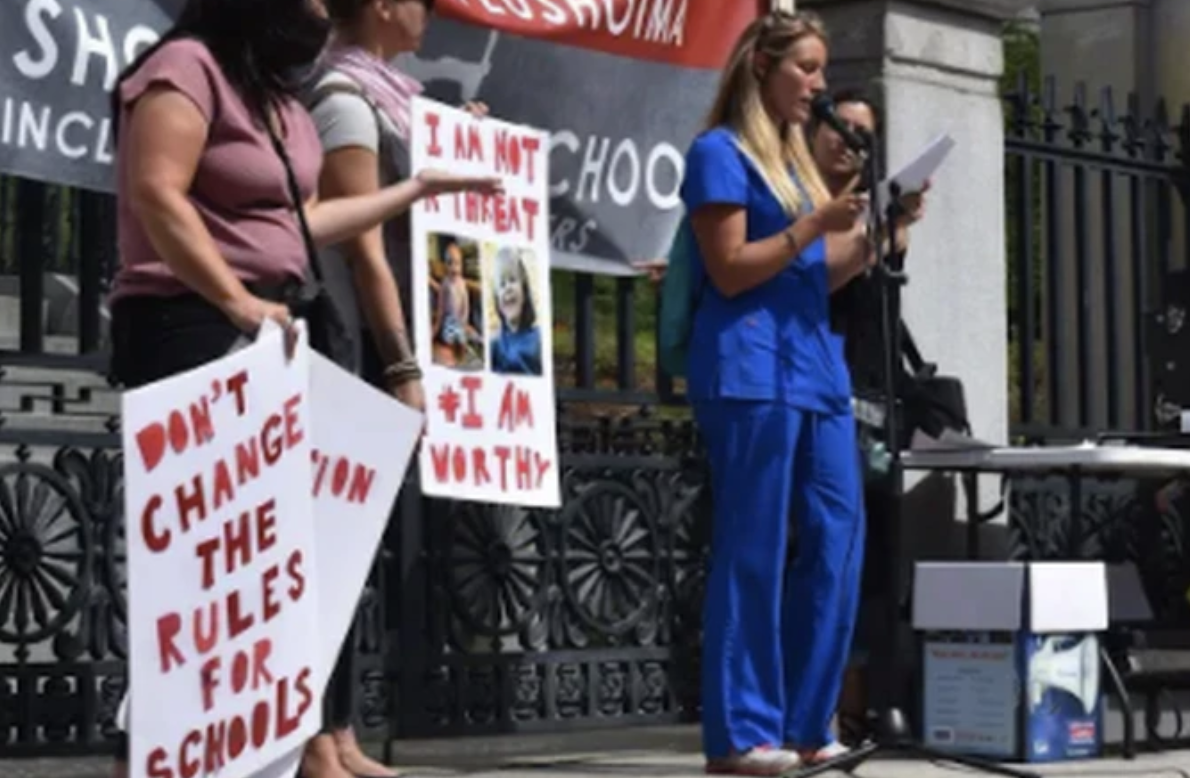 Activists insisted that "informed and voluntary consent" is a basic human right.
"The flu vaccine should not be a mandate. It should be a choice," Jessica Marchant said during a TV interview.
Others accused state officials of "taking advantage" of the fear caused by the virus.
"I think parents are vulnerable right now. They need their kids to go to school and they backed us into a corner," Taryn Proulx told WCVB.

"We feel like we have to just comply or rearrange our whole lives and homeschool our children."
Health experts have warned of a brutal "twindemic" caused by the flu circulating alongside SARS-CoV-2. While COVID-19 most seriously affects older adults, children are much more vulnerable to the flu.
Imagine That, Our Elected Officials Have Turned the Tables, We Work for Them, It's Set Down and Shut Up, We Call the Shots Now…
Trump Will Bring On The Anti-Christ Soon, What's So Amazing, Trump Has NO Ideal of What he's Doing in Terms of End Times Prophecy
In my first week in the House of Representatives in 1976, I cast one of the two votes against legislation appropriating funds for a swine flu vaccination program. A swine flu outbreak was then dominating headlines, so most in DC were frantic to "do something" about the virus.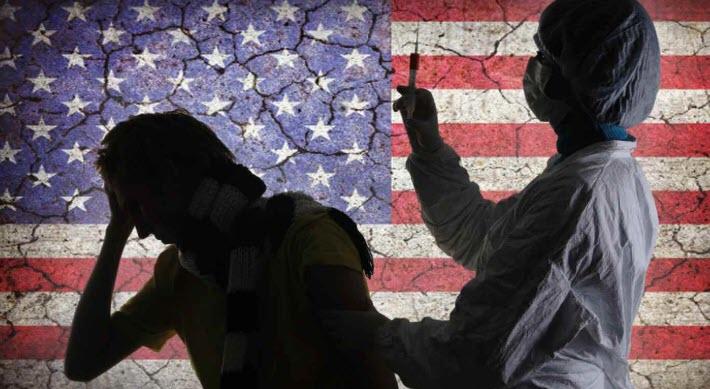 Unfortunately, the hastily developed and rushed-into-production swine flu vaccine was not only ineffective, it was dangerous. Approximately 50 people who received the vaccine subsequently contracted Guillain-Barré syndrome, a potentially fatal form of paralysis. According to an expert with the Centers for Disease Control, the incidence of Guillain-Barré was four times higher among those who received the swine flu vaccine than in the general population.
Right now, governments and private industries are working to rapidly develop and deploy a coronavirus vaccine. Microsoft founder Bill Gates, who is a major funder of these efforts, has suggested everyone who receives a vaccine be issued a "digital certificate" proving he has been vaccinated. Dr. Anthony Fauci, whose record of wrong predictions makes him the Bill Kristol of epidemiology, also wants individuals to carry some proof they have been vaccinated.
Another authoritarian proposal floated to deal with coronavirus is to force everyone to download a phone app that will track their movements. This would allow government officials to identify those who may have been near anyone who may have had coronavirus. Such mandatory "contact tracing" is an assault on our privacy and liberty.
Vaccines can improve health. For example, vaccines helped reduce the incidence of diseases like polio. But not all vaccines are safe and effective for all people. Furthermore, certain modern practices, such as giving infants multiple vaccines at one time, may cause health problems. The fact that vaccines may benefit some people, or even most people, does not justify government forcing individuals to be vaccinated. It also does not justify vaccinating children against their parents' wishes. And it certainly does not justify keeping individuals and families in involuntary quarantine because they do not have "digital certificates" proving they have had their shots.
As Time Goes on There Will Be a Lot of Politicians, Police Officers, Judges That Will Take Cover in Other Words They Are Going to Remain Neutral Out for Fear for Their Lives. You Are On Your Own, Prepare For The Worst, Pray for the Best –Tribulations Will Be Very Ugly
I Want Everyone to Know, Never Take Anyone's Word for the Gospel, Especially Revelations, Here's How It Works. When You're in the Word God Will Speak to You Through His Holy Spirit He Will Move You in the Direction He Wants You to Go. Please Stop Looking For That Individual Here on Earth That Has All the Answers, They're Not Here and That Confuse You.. That Includes Anything I Say, Always Test Every Spirit. Every Word That Is Uttered Out of Any Man's Mouth Must Be Verified Through the Holy Spirit… Stevieray Hansen
The World Is In Big Trouble, for Those That Believe We Will Go Back to Some Sense of Normal Life Here on Earth, You Will Be Sadly Disappointed, Seven and Half Years of Hell on Earth Which Began January 1, 2020
"Our courts oppose the righteous, and justice is nowhere to be found. Truth stumbles in the streets, and honesty has been outlawed" (Isa. 59:14, NLT)…We Turned Our Backs On GOD, Now We Have Been Left To Our Own Devices, Enjoy…
While Mainstream Media Continues to Push a False Narrative, Big Tech Has Keep the Truth From Coming out by Shadow Banning Conservatives, Christians, and Like-Minded People, Those Death Attributed to the Coronavirus Is a Result of Those Mentioned, They Truly Are Evil…
Source: HNewsWire zerohedge HNewsWire HNewsWire
StevieRay Hansen
Editor, HNewsWire.com
Watchmen does not confuse truth with consensus The Watchmen does not confuse God's word with the word of those in power…
In police-state fashion, Big Tech took the list of accused (including this site), declared all those named guilty and promptly shadow-banned, de-platformed or de-monetized us all without coming clean about how they engineered the crushing of dissent, Now more than ever big Tech has exposed there hand engaging in devious underhanded tactics to make the sinister look saintly, one of Satan's greatest weapons happens to be deceit…
The accumulating death toll from Covid-19 can be seen minute-by-minute on cable news channels. But there's another death toll few seem to care much about: the number of poverty-related deaths being set in motion by deliberately plunging millions of Americans into poverty and despair.
American health care, as we call it today, and for all its high-tech miracles, has evolved into one of the most atrocious rackets the world has ever seen. By racket, I mean an enterprise organized explicitly to make money dishonestly.
All the official reassurances won't be worth a bucket of warm spit. The Globals are behind the CoronaVirus, It Is a Man-Made Bioweapon.
You do recall, don't you, that the governors and mayors who imposed the lockdowns never asked their citizens about their views about instantly getting rid of all rights and freedoms. They didn't consult legislatures. They didn't consult a range of expert opinion or pay attention to any serious demographic data that showed how utterly preposterous it was to force non-vulnerable populations into house arrest while trapping vulnerable populations in nursing homes that became Covid-soaked killing fields. Google that and see what response you get, I can tell you Google hides the truth, as they do on their YouTube platform…
They thought nothing of shattering business confidence, violating contractual rights, wrecking tens of millions of lives, prohibiting freedom in the association, tanking the stock market, blowing all budgets, shutting down international travel, and even closing the churches. Amazing. Every government executive except a few became a tin-pot dictator and so we will give credit where credit is due, mainstream media, and especially high tech, Twitter, Facebook, you know the list of tyrants that are turning this country into hell on earth. Enjoy…
"People who grew up with the Internet saw what a wonderful thing it was for free expression, giving everyone access to a global audience. That's been completely flipped on its head, and now it's one of the most tightly controlled, manipulated places to find information that you could imagine. It's a complete 180 from what it used to be, and that's incredibly sad, because it was, initially, this challenge to old information gatekeepers, this place of free expression, of democratized information, and now it's just controlled by a handful of increasingly authoritarian ideologically partisan tech companies that haven't been held to account by officials in D.C. and aren't bound by any regulation preventing them from who censoring people or interfering in elections."
Technology companies like Google, Facebook, and Twitter and growing increasingly sophisticated in anticipating, intercepting, and suppressing information with the likelihood of going viral
The 127 Faith Foundation: We do not solicit donations from "those on disability, on a fixed income, or those who cannot afford to give." Please Pray!
Or, make checks payable to:
The 127 Faith Foundation
PO Box 127
Pontotoc, TX 76869
The number of Orphans aging out of Child Protective Custody has grown at an alarming rate. The 127 Faith Foundation receives many requests each week to house them at our ranch. Our prayer is that the good people of our country will step up to the challenge and offer financial support for "the least among us." We need your help! StevieRay Hansen, Founder, The 127 Faith Foundation
the Social Media Platforms, Congress, and Mainstream Media for Lying to You About the Food Shortage… The U.S. Department of Agriculture's World Agricultural Supply and Demand…
Read More
We make every effort to acknowledge sources used in our news articles. In a few cases, the sources were lost due to a technological glitch. If you believe we have not given sufficient credit for your source material, please contact us, and we will be more than happy to link to your article.