Imagine That, Our Elected Officials Have Turned the Tables, We Work for Them, It's Set Down and Shut Up, We Call the Shots Now…
Trump Will Bring On The Anti-Christ Soon, What's So Amazing, Trump Has NO Ideal of What he's Doing in Terms of End Times Prophecy
In my first week in the House of Representatives in 1976, I cast one of the two votes against legislation appropriating funds for a swine flu vaccination program. A swine flu outbreak was then dominating headlines, so most in DC were frantic to "do something" about the virus.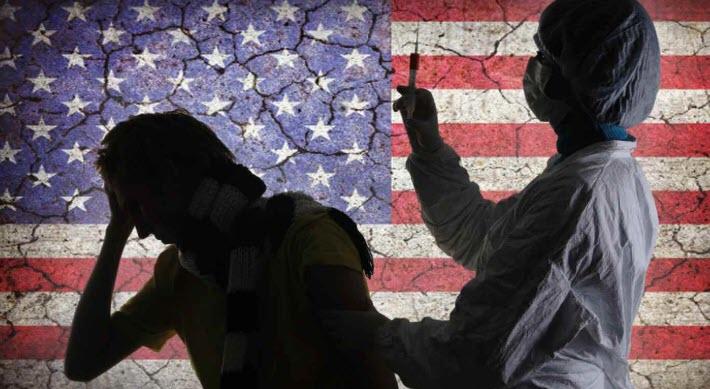 Unfortunately, the hastily developed and rushed-into-production swine flu vaccine was not only ineffective, it was dangerous. Approximately 50 people who received the vaccine subsequently contracted Guillain-Barré syndrome, a potentially fatal form of paralysis. According to an expert with the Centers for Disease Control, the incidence of Guillain-Barré was four times higher among those who received the swine flu vaccine than in the general population.
That sad history may soon repeat itself.
Right now, governments and private industries are working to rapidly develop and deploy a coronavirus vaccine. Microsoft founder Bill Gates, who is a major funder of these efforts, has suggested everyone who receives a vaccine be issued a "digital certificate" proving he has been vaccinated. Dr. Anthony Fauci, whose record of wrong predictions makes him the Bill Kristol of epidemiology, also wants individuals to carry some proof they have been vaccinated.
Another authoritarian proposal floated to deal with coronavirus is to force everyone to download a phone app that will track their movements. This would allow government officials to identify those who may have been near anyone who may have had coronavirus. Such mandatory "contact tracing" is an assault on our privacy and liberty.
Vaccines can improve health. For example, vaccines helped reduce the incidence of diseases like polio. But not all vaccines are safe and effective for all people. Furthermore, certain modern practices, such as giving infants multiple vaccines at one time, may cause health problems. The fact that vaccines may benefit some people, or even most people, does not justify government forcing individuals to be vaccinated. It also does not justify vaccinating children against their parents' wishes. And it certainly does not justify keeping individuals and families in involuntary quarantine because they do not have "digital certificates" proving they have had their shots.
If government can force individuals to receive medical treatment against their will, then there is no reason why government cannot force individuals to buy medical insurance, prohibit them from owning firearms, dictate their terms of employment, and prevent them from taking arguably harmful actions like smoking marijuana or drinking raw milk. Similarly, if government can override parents' wishes regarding medical treatment for their children, then there is no reason why government cannot usurp parental authority in other areas, such as education.
Proponents of mandatory vaccines and enhanced surveillance are trying to blackmail the American people by arguing that the lockdown cannot end unless we create a healthcare surveillance state and make vaccination mandatory. The growing number of Americans who are tired of not being able to go to work, school, or church, or even to take their children to a park because of government mandates should reject this "deal."
Instead, they should demand an immediate end to the lockdowns and the restoration of individual responsibility for deciding how best to protect their health.
"Our courts oppose the righteous, and justice is nowhere to be found. Truth stumbles in the streets, and honesty has been outlawed" (Isa. 59:14, NLT)…We Turned Our Backs On GOD, Now We Have Been Left To Our Own Devices, Enjoy…
While Mainstream Media Continues to Push a False Narrative, Big Tech Keep the Truth From Coming out by Shadow Banning Conservatives, Christians, and Like-Minded People, Those Death Attributed to the Coronavirus Is a Result of Those Mentioned, They Truly Are Evil…
StevieRay Hansen
Editor, HNewsWire.com
Watchmen does not confuse truth with consensus The Watchmen does not confuse God's word with the word of those in power…
The accumulating death toll from Covid-19 can be seen minute-by-minute on cable news channels. But there's another death toll few seem to care much about: the number of poverty-related deaths being set in motion by deliberately plunging millions of Americans into poverty and despair.
American health care, as we call it today, and for all its high-tech miracles, has evolved into one of the most atrocious rackets the world has ever seen. By racket, I mean an enterprise organized explicitly to make money dishonestly.
All the official reassurances won't be worth a bucket of warm spit. The Globals are behind the CoronaVirus, It Is a Man-Made Bioweapon.
StevieRay Hansen
PayPal.Me/the127faithfoundatio
The more I learned about the plight of the kids leaving foster care, the more concerned I became. Most of them didn't have a support system. One study found that within a year of leaving the foster care system, 66 percent of the kids were homeless, in jail or dead. A staggering 80 percent of the prison population had come out of foster care. Girls in foster care were 600 percent more likely than their peers to get pregnant before age 21. The Lazy H ranch is located on 609 acres of scenic hill country near Mason, Texas. Through a personalized mentoring approach, we help young men who are aging out of state foster care programs to discover God's unique plan for their lives while setting personal, educational and vocational goals for the future.
Whether completing a GED, a college degree or technical certification, every member receives professional job placement assistance along with ongoing spiritual leadership training to prepare for the responsibilities of an adult life.
The 127 Faith Foundation understands the pain and sorrow associated with being a throwaway child, We push this throwaway child towards bettering their education, be it junior-college are going for a Masters's degree. This program is about them because they determine by the grace of God if they're going to be a pillar in the community or a burden on society. Some of the strongholds orphans deal with are: fear, resentment, bitterness, unforgiveness, apathy, unbelief, depression, anxiety, lust, anger, pride, and greed. Many of these strongholds do open the door to addiction. Please Help The 127 https://the127.org/
PayPal.Me/the127faithfoundatio
The Book A Long-Journey-Home
reprobates,police state, superbugs, terrorism, virus, Chinese virus, Coronavirus, Biblical Prophecy, Pestilence, StevieRay Hansen,Tribulation, Pestilence, Coronavirus