Day of Wrath: Satan Soldiers Were Handsomely Compensated for Deceiving the American Public: They Received $350 Million in Secret Payments to Fauci, Collins, and Others at the National Institutes of Health
HNewsWire:
An estimated $350 million in undisclosed royalties were paid to the National Institutes of Health (NIH) and hundreds of its scientists, including the agency's recently departed director,Satan Soldier Dr. Francis Collins, and the other Satan Soldier Dr. Anthony Fauci, according to a nonprofit government watchdog.
"We believe that up to $350 million in royalties from third companies were paid to NIH scientists for the fiscal years between 2010 and 2020," Open the Books CEO Adam Andrzejewski told reporters in a telephone press conference on May 9.
"We reach that conclusion because, in the first five years, there has been $134 million that we have been able to measure of top-line figures that went from third-party payers, meaning pharmaceutical corporations or other payers, to NIH scientists."
The first five years, from 2010 to 2014, comprise 40 percent of the total, he added.
"We now know that there are 1,675 scientists that got funds throughout that time, at least one payment. In fiscal year 2014, for instance, $36 million was paid out and that is on average $21,100 per scientist," Andrzejewski added.
"We also found that throughout this era, leadership at NIH was engaged in collecting third-party payments. For instance, Francis Collins, the immediate previous head of NIH, earned 14 payments. Dr. Anthony Fauci got 23 payments while his deputy, Clifford Lane, received eight payments."
Collins retired as NIH director in December 2021 after 12 years of overseeing the world's biggest public health institution. Fauci is the longstanding chairman of NIH's National Institute for Allergies and Infectious Diseases (NIAID), as well as primary medical advisor to President Joe Biden. Lane is the deputy director of NIAID, under Fauci.
NIH Director Dr. Francis Collins holds up a replica of the coronavirus as he testifies before a Senate Appropriations Subcommittee looking into the budget projections for the National Institute of Health (NIH) and the condition of medical research, on Capitol Hill on May 26, 2021.
The top five NIH employees measured in terms of the number of royalty payments that they received while on the government payroll, according to a fact sheet published by Open the Books, include Robert Gallo, National Cancer Institute, 271 payments; Ira Pastan, National Cancer Institute, 250 payments; Mikulas Popovic, National Cancer Institute, 191 payments; Flossie Wong-Staal, National Cancer Institute, 190 payments; and Mangalasseril Sarngadharan, National Cancer Institute, 188 payments.
Only Pastan continues to be employed by NIH, according to Open the Books.
"When an NIH employee makes a discovery in their official capacity, the NIH holds the rights to any ensuing patent. These patents are then licensed for commercial use to firms who might utilize them to bring goods to market," the information sheet states.
"Employees are designated as inventors on the patents and get a percentage of the royalties gained via any licensing, or 'technology transfer,' of their discoveries. Essentially, government money financing NIH research helps researchers hired by NIH since they are identified as patent inventors and so get royalty payments from licensees."
An NIH spokeswoman didn't reply by press time to a request for comment.
Andrzejewski told reporters that the Associated Press published extensively on the NIH royalty payments in 2005, including particular facts about who earned how much from which payers for what activity, that the government is refusing to Open the Books in 2022.
"At that time, we knew there were 918 scientists, and each year, they were collecting around $9 million, on average with each scientist receiving $9,700. But now, the numbers are a lot bigger with the United States still in a proclaimed national health emergency. It's fairly evident the stakes in health care are a lot larger," Andrzejewski added.
He claimed the materials Open the Books is receiving—300 pages of line-by-line data—are "heavily redacted."
"These are not the data the AP acquired in 2005 when everything was disclosed—the scientist's identity, the name of the third-party payer, the amount of the royalty paid by the payer to the scientist," Andrzejewski added. "Today, NIH is releasing a substantially censored database; we don't know the payment amount to the scientist, and we don't know the identity of the third-party payer, all of that is being blacked."
Federal authorities are authorized to redact material from replies to FOIA requests if the revelation of the data might impair a firm's commercial privilege.
The unreported royalty payments constitute inherent conflicts of interest, Andrzejewski added.
"We feel there is an unholy conflict of interest inherent at NIH," he stated. "Consider the fact that each year, NIH doles out $32 billion in grants to around 56,000 grantees. Now we know that over an 11-year period, there is going to be around $350 million coming the other way from third-party payers, many of which get NIH funds, and those payments are flowing back to NIH scientists and leadership."
Fauci and Lane told AP that they agreed there was an appearance of a conflict of interest in obtaining the royalties, with Fauci claiming that he paid his income to charity. Lane didn't do that, according to Andrzejewski.
The governing ethical financial disclosure form in the past characterized the royalty payments as income recipients got from NIH, which meant the recipients weren't obligated to declare their payments on the form.
But Andrzejewski claimed NIH has declined to reply to his request for clarity on the disclosure problem.
"If they are not, none of these payments are undergoing any examination whatsoever and to the degree that a corporation makes payments to either leadership or scientists, while simultaneously receiving funds … then that simply on its face is a conflict of interest," he added.
Open the Books is a Chicago-based nonprofit government watchdog that leverages the federal and state freedom of information laws to collect and then put on the internet billions of dollars in expenditure at all levels of government.
The organization filed a federal Freedom of Information Act (FOIA) complaint requesting evidence of any payments by outside corporations to NIH and/or current and past NIH personnel.
NIH refuses to answer to the FOIA, thus Open the Books is bringing the government to court, suing it for violation with the FOIA. Open the Books is represented in federal court in the dispute by another nonprofit government watchdog, Judicial Watch.
SRH:
Their Strategy Seems to Be Working: They're a Gang of Thug-Like Thugs. Their Plan Is Succeeding; Globalists Are on Track With Their Plandemic to Destroy the People; They Realize That Capitulation Is Their Only Choice, and That It Will Be Accomplished via the People's Food Supply. U-Godly Subhuman Elicit Scum.
Dr. Anthony Fauci, head of the National Institute of Allergy and Infectious Diseases, warned Thursday on CNN's "The Lead" that the new BA.2 type of COVID might force Americans to wear masks again.
"The World Health Organization's director general, meanwhile, is sounding the alarm, stating that the epidemic is not finished," stated anchor Jake Tapper. Do you believe it was too soon to switch to the new criteria that enable so many Americans to avoid wearing masks?"
"Jake, it's not too soon if you note the caution that comes with it," Fauci added. The caveat is that we must be adaptable. And, if we do see a turnaround and comeback, we must be prepared to pivot and return to whatever level of mitigation that is appropriate for the scenario. As a result, we can't just declare victory. Now it's time to move on. We must be adaptable since we are working with a dynamic scenario. Hopefully, the instances will continue to fall as the weather warms, the danger of staying inside decreases, and we'll do well, at least for the next several months."
Francis Collins, director of the National Institutes of Health (NIH), announced his resignation on Tuesday, just weeks after documents exposed that he made "untruthful" comments about U.S. federal funding of gain-of-function research at the Wuhan Institute of Virology.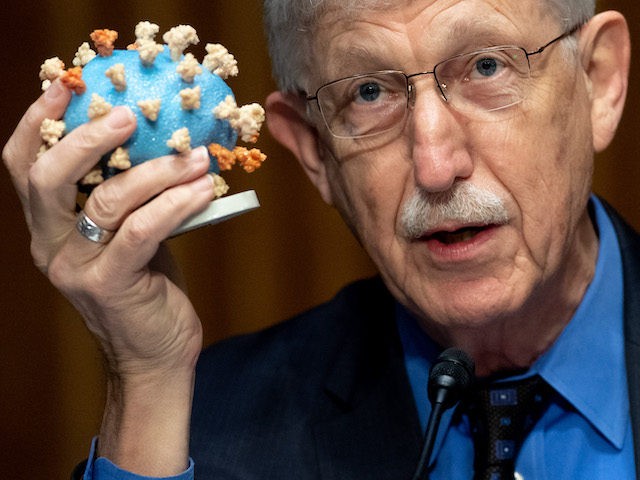 Will Putin Fulfill Biblical Prophecy and Attack Israel?