Watchman: What Demonic Joe Biden Is Saying Right Now Is the Official Position of the Entire Executive Branch of the U.S. Government,the People Should Get Repaired for FEMA Camps and Death Marches, Blood In the Streets a.k.a Civil War—Tribulation in Full Stride,Compliments of the Demonic Governments Around the World, a.k.a The New World Order
SRH: How interesting … A RED background, So, he's telling you that there won't be any elections because he'll arrange for a terrorist attack to prevent them and then label everybody who disagrees with him as an enemy of democracy.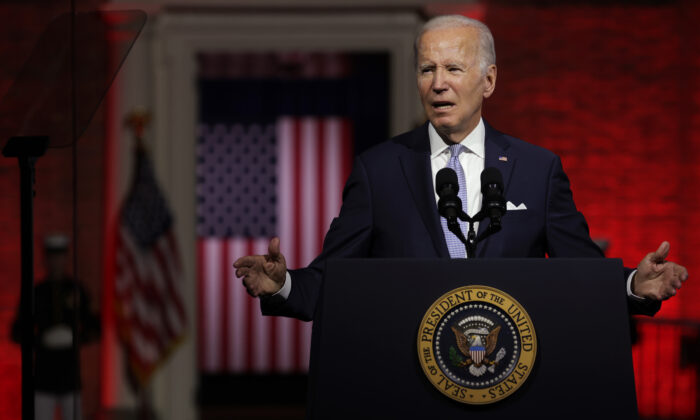 If he didn't have something he knew he couldn't say outright, he wouldn't have picked a communist red backdrop, which suggests that he was trying to convey a message. History lesson: Mussolini, Hitler, and the Communists all utilized fascism to demonize their opponents. who gives a speech warning people about how dangerous Republicans are to Democracy while having a background that looks like the Soviet Union and Hitler had a baby?"
"This blood red setting and negative complaining about political opponents means one thing — Demonic Joe Biden is really nervous that Donald Trump running again.
Take in what he has to say. Take a look at the pure, unadulterated HATRED in his face and eyes. The Fist Pushed Together. Seem and sound familiar? In roughly 60 days, we will know.
HNewsWire:
As global power centers continue to transition into a multi polar environment, Davos has decided to increase its wager that Beijing will be best positioned to profit from these shifting political dynamics. For Klaus Schwab and the gang, you will possess nothing, be happy, and possibly speak Mandarin as well.
The Dossier is a publication supported by its readers. Consider becoming a free or paid subscriber to receive updates and support my efforts.
After holding virtual meetings for a number of years "due to COVID," the World Economic Forum (WEF) is relaunching "Summer Davos" in June to bolster its significant presence in China.
The WEF report begins, "The global economy is at a pivotal moment of transformation." Established business and industry models have been tested not only by the COVID-19 pandemic, but also by an increasingly competitive geopolitical and geoeconomic environment.
"In response to this changing environment, the World Economic Forum will convene its 14th Annual Meeting of the New Champions in Tianjin, People's Republic of China. At a crucial time for the global economic recovery, the Meeting will bring together more than 1,500 business, government, civil society, and international organization leaders, as well as innovators and academics. \
Summer Davos, a 14-year-old organization tasked with facilitating partnerships between multinational corporations and the Chinese Communist Party (CCP), has been operating under the radar of the West. Summer Davos, once a minor event, is now a requirement for Fortune 500 companies seeking to sell their corporate souls to the CCP.
In recent months, the WEF has reaffirmed its commitment to the authoritarian nation. In September, the WEF announced that their China office now employs more than 40 full-time employees, a significant increase from previous years.
A press release announced the appointment of Chinese business executive Liming Chen as chairman and chief representative officer of the Beijing Representative Office of the World Economic Forum. Olivier Schwab, the son of WEF founder Klaus Schwab, also led the China office at one time.
The WEF is also devoting significant resources to expanding its presence on the censorship-compliant, Chinese government-controlled social media platforms TikTok, WeChat, and Weibo.
The Chinese government has long maintained close ties with the World Economic Forum, whose leaders share the CCP's commitment to a top-down, feudalistic form of government. WEF founder Klaus Schwab coined the term "stakeholder capitalism" for this governance model, despite the fact that it has nothing to do with capitalism and is antithetical to it.
High-level connections exist between the WEF and the CCP. In 2017, Chinese President Xi Jinping delivered a speech at Winter Davos, and Beijing routinely sends top officials to the World Economic Forum's annual invite-only meetings in Switzerland. In 2018, the CCP presented Klaus Schwab with its prestigious China Reform Friendship Medal, the highest honor for non-Chinese nationals who assist in advancing the CCP's overseas priorities.
HNewsWire:  Brought to Americans by Obama's Soros, and Dark Princess anti-American Susan Rice you can bet. I thought Obama was a divisive president... Biden  NOT our president,he attacked tens of millions of people who voted for former President Donald Trump, describing them as extremists.
During his address last night, while he was lit up in blood red like a demon giving a speech from the bowels of hell, Biden bitterly asserted that MAGA Republicans were akin to enemies of the state.
"We have to be honest with each other and ourselves: Too much of what is happening in our country today is not normal," said  Dominic Biden.
"Donald Trump and MAGA Republicans represent an extremism that threatens the very republic, Reilly!!
House Republican Leader Kevin McCarthy (R-CA) later demanded that Biden should apologize for "slandering tens of millions of Americans as fascists."
Tucker Carlson pointed out that Biden's speech wasn't a campaign event, it was an expression of the official position of the government.
"This speech has the full sponsorship of the White House. In other words, what Joe Biden is saying right now is the official position of the entire executive branch of the U.S. government," said Carlson.
Who gives a speech warning people about how dangerous Republicans are to Democracy while having a background that looks like the Soviet Union and Hitler had a baby?
Will Putin Fulfill Biblical Prophecy and Attack Israel?