A new paradigm has become evident in both the demographics and the political landscape of 21st Century America. Our nation's major political camps are becoming increasingly polarized. The differences between the more populous and liberal coastal regions versus the lightly-populated and conservative inland regions are growing more sharp with every passing year. In the long term, a clash of wills between the Red and the Blue is almost inevitable. Whether this will result in conflict or in eventual partition and accommodation remains to be seen. Trouble might occur as early as the year 2020. Or it might be a full generation away. But sooner or later, I can definitely see it coming. This rift might result in a Second Civil War. If and when it comes, this war will not be on racial lines nor on economic lines per se. Rather, It will be a war of world views.
Even a liberal and profoundly statist magazine like The Atlantic has recognized that there are huge disparities between rural America and urban America. In an article titled Red State, Blue City, author David A. Graham pointed out there might be armed conflict between the two camps.
Another troubling change is the overt politicization of our government agencies. Recently the US FBI –once considered an unassailable paragon of the even-handed Rule of Law–has recently come under fire for harboring political schemers. These conspirators formed a secret society within the FBI that maneuvered the agency to selectively soft-pedal investigations on their friends, while ramrodding investigations on their political opponents.
Here's The Harsh Reality: Today, The Biggest Risk For Global Catastrophe Isn't What It Was 50 Years Ago…
The supposedly "Independent" Mueller investigations have been tainted by heavy political overtones. There are now competing camps within the FBI, the CIA, the DIA, and even the Department of the Interior. No state or Federal agency or subdivision of government can now be trusted to conform to the Constitution and its strictures. All of that went out the window, back around the turn of the Century. Source
THE LOOTERS
Novelist Ayn Rand aptly used the term looters to describe the socialistic elements of our society. There will always be those who attempt to expropriate the productivity of others. This is most frightening when it is "government" that does so, under the color of law. By cleverly taking from some and dispensing most of it to others, government leaders can build a voter base and thereby make themselves permanent fixtures.
The only things that distinguish a mob of urban looters from a cabal of thieving politicians are: A.) The color of law, and B.) The rapidity of the looting process. But the end result is the same. It is just that "official" looters, can claim that they have the law on their side. They do their looting through intermediaries, often taxing authorities and traffic ticket writers. And they can resort to the police for muscle and to the courts for feigned legitimacy. The mass media outlets have become their willing accomplices.
Taxation is looting in slow motion, through a bureaucratic process, laws, paperwork, accounting entries, and paycheck deductions all in broad daylight and televised on C-SPAN, rather than under cover of darkness with a cutlass in hand. Again, looting is still looting, whether it is carried out by privateers or by "officials." And looting is still looting, whether it is punctuated by screams or by grumbling.
The same forces can be seen in play at the geopolitical level. The Looters at this level are the globalists who have the goal of redistributing wealth globally, with a slice off the top for the UN. Carbon taxes, greenhouse gas offsets, and other "Green" initiatives are just the latest in a long string of globalist Robin Hood schemes. Full details can be found here.
Here in the U.S., the divided camps are now labeled red and blue. But let's start with some history:
RED AND BLUE, SAYS WHO?
The use of red to designate Republicans and Blue to designate Democrats was not standardized until 1988. It wasn't until the advent of color television that this even became an issue. If you watched coverage of the 1972 presidential election by CBS on color television, blue was used to designate Republicans and Red to designate Democrats. But ever since 1988 the mass media–by then dominated by leftward-leaning journalists–has universally adopted an inverted color scheme. To back up a bit further: Traditionally, red has been the color associated with both socialism and communism. Both are to the left of free-market capitalism. Back in the 1930s the Nazis and Soviet communists began referring to each other as "leftists" and "rightists", and that terminology stuck. They are both FAR to the left of the free market worldview. Yet conservatives are now called right-wing, and democratic socialists are called left-wing. To further muddy the waters, they've reversed the color of the Red sympathizing Democrats. Magically, they are now "blue."
THE THIRD GULF WAR
For the sake of shorthand for this essay, I'll just use the modern blanket terms Red and Blue. And to avoid any additional confusion, I'll grit my teeth and refer to the democratic socialists as the "blues." I dislike being called red. I don't think that writing a memo to CBS, NBC, ABC and CNN is going to rectify this. Their color scheme has now been mixed into well-hardened cement.
I'm predicting a Third Gulf War, but it won't be fought in the Middle East. It will be the Second Civil War, here in America and caused by the gulf between the right and left—or between the godly and the godless—or between the libertarians and the statists—or between the individualists and the collectivists. Despite the non sequitur, I'll just label the "inlanders" as Red and the "coastal" as Blues.
Individualism and collectivism are in diametric opposition. Nationalism and globalism are both inherently collectivist constructs. Therefore, I believe that nationalism must be tempered and restrained, lest it destroys individual liberty. The logical brake on any excesses of nationalism is a strong Constitution, with carefully crafted checks and balances.
Although I am a libertarian (with a lower-case l), I have doubts about full anarchism. Any truly anarchist state is simply too vulnerable when surrounded by other countries with natural expansionist tendencies. The lack of any national identity opens the door for foreign invaders (arriving piecemeal or in wholesale numbers) to overwhelm an undefended territory. So some semblance of national identity must be maintained. (That is: defined borders, a common cultural framework, and a common language.) Striking a balance between these competing societal forces over the long term is a great difficulty. Some, like Bill Buppert contend that it is an impossibility. Once too much government creeps in, it tends to consolidate power and eventually become tyrannical. I suppose the goal should be the Constitutional Republic with an underlying strong anarchist streak. Perhaps H.L. Mencken said it best: "Every normal man must be tempted, at times, to spit on his hands, hoist the black flag, and begin slitting throats." (That was written by a socialist, but you can see his point.) Full details can be found here.
WAR WHEN?
The outbreak of actual fighting between red and blue regions will probably begin with street riots during a heated political campaign, or perhaps immediately following a contested election. The most recent election (November 2018) was marred by, ahem, vote tallying "irregularities", particularly in Florida and few other eastern states. If this is repeated in 2020, with enough vote-counting manipulation to flip the Presidential election, there could be huge riots. This might be the trigger for skirmishing and for some states demanding partition or even secession. I can see that Texas might be where it all begins. After all, there is a legitimate claim that Texas was never lawfully annexed into the Union. And there are already calls for Texas to leave the Union–so-called "Texit."
Regardless of where it begins, I predict that the second civil war will break out piecemeal, and almost unexpectedly. It might be something as simple as one state declaring a boycott of goods from another state. Or It might be a revolt be one group of counties in one part of a state being denied pleas for partition, by its state legislators in a state capitol in another more populous part of the same state. (I've mentioned this situation in both Oregon and Washington, repeatedly.)
PRESERVING LIFE AND LIMB
With a second civil war now on the horizon, you, my dear readers, may have questions: Will my family be involved? Will we want to be involved? What regions of the country will be safe? The answers to these questions may not be immediately clear. But some places definitely won't be safe. Consider this: The counties in the state of Wyoming are almost uniformly red, from end to end. But many states are a patchwork of red and blue counties. For example, the state of California is divided into 58 counties. Of those, roughly 10 quite urbanized counties are blue, while 30 rural counties are red, and perhaps 8 counties are various shades of purple. Living in California may become like living in Bleeding Kansas, before and during the first Civil War. If you continue to live in California despite the obvious risks, then that would be a classic blunder. Take a long, hard look at the political demographics of your current State of residence. Analyze it. Is it more like Wyoming, or more like California?
Many are puzzled by a known fact that 3% of the American population (homosexuals) control the narrative, the question has to be asked, why? here's the answer- most so-called Christians today, just happen to be Christians in name only, they're okay with God's infallible word being rewritten ( Queer bible and Hillsong Churches) to suit their ungodly lifestyles. Christians in name only are common within liberal faith and political circles. Sometimes, they may attempt to justify their liberal make-believe god through loose paraphrases of the Bible and leaps of logic (e.g., going from the Christian communities described in Acts to a call for a welfare state). They may at other times abandon any pretense that the Bible has anything to do with their views and identify as "Christian" solely for advancement in their liberal Churches and political circles or for identification with the Culture War. They also often attempt to turn Christianity into a purely or predominantly secular political movement, emphasizing social justice and other notions that are completely unmoored from Bible-based Christianity. StevieRay Hansen
Conflict in Israel has been a reality whenever Israel has existed as a nation. Whether it was the Egyptians, Amalekites, Midianites, Moabites, Ammonites, Amorites, Philistines, Assyrians, Babylonians, Persians, or Romans, the nation of Israel has always been persecuted by its neighbors. Why is this? According to the Bible, it is because God has a special plan for the nation of Israel, and Satan wants to defeat that plan. Satanically influenced hatred of Israel—and especially Israel's God—is the reason Israel's neighbors have always wanted to see Israel destroyed. Whether it is Sennacherib, king of Assyria; Haman, an official of Persia; Hitler, leader of Nazi Germany; or Rouhani, President of Iran, attempts to completely destroy Israel will always fail. The persecutors of Israel will come and go, but the persecution will remain until the second coming of Christ. As a result, conflict in Israel is not a reliable indicator of the soon arrival of the end times.
However, the Bible does say there will be terrible conflict in Israel during the end times. That is why the time period is known as the Tribulation, the Great Tribulation, and the "time of Jacob's trouble" (Jeremiah 30:7). Here is what the Bible says about Israel in the end times…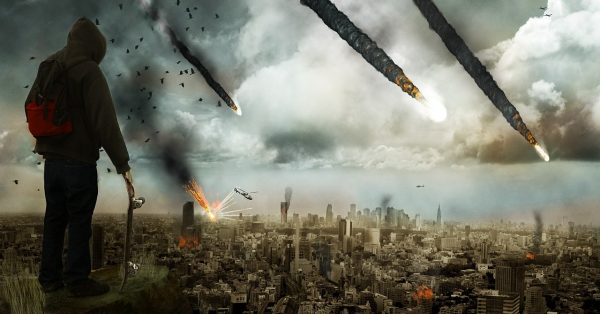 Are we about to see World War 3 erupt in the Middle East? Over the past several days, Israel has attempted to prevent attacks by Iranian forces and their allies by striking targets in Syria, Gaza, Lebanon, and Iraq. As you will see below, political leaders in both Lebanon and Iraq are now accusing Israel of a "declaration of war", and Hezbollah is pledging to strike Israel back extremely hard. Of course, if a full-blown war erupts between Israel and one of her neighbors, it is likely to become a multi-front war almost immediately. But at the core, this is a conflict between Israel and Iran. The Iranians have repeatedly pledged to wipe the nation of Israel off the face of the planet, and the coming "final war" is going to literally be a matter of life or death for those two nations. Both sides have been preparing for this "final war" for a very long time, and once it fully erupts the death and destruction that we will witness will be off the charts.
Just within the past few days, the fighting has escalated dramatically as the Israelis have conducted operations in four different territories…
Israeli forces openly claimed attacks over the weekend in Syria and the Palestinian-administered Gaza Strip and were blamed for two more operations in Lebanon and Iraq. As reports of what occurred across the region emerged, Israeli Prime Minister Benjamin Netanyahu hinted at his country's ongoing efforts abroad, telling a Monday planning meeting that "we will deepen our roots and strike at our enemies."
The attacks in Syria, Lebanon, and Iraq specifically targeted Iranian forces and their allies, and the goal was to prevent imminent attacks against Israel…
In Syria, Israeli warplanes killed two members of the Lebanese Hezbollah. Israel says the individuals were supporting an Iranian Islamic Revolutionary Guard Corps plot to launch explosive-laden drones into Israel. The Israelis say that the specific Islamic Revolutionary Guard Corps unit responsible was the Quds Force, led by Qassem Soleimani. If true, the Quds Force was likely using Hezbollah as a deniable proxy to avoid direct links between the plot and Tehran.

In another operation in Lebanon, Israel targeted another Iranian-allied group, the Popular Front for the Liberation of Palestine. In Iraq, senior Iran-aligned figures accused Israel of another air strike.
Missiles are not flying directly back and forth between Israel and Iran yet, but at this point, a state of war essentially exists, and many are deeply concerned about what is going to happen next.
In particular, it looks like Hezbollah could launch a large scale attack against Israel at any moment because their leadership is absolutely furious that the Israelis just hit their headquarters building in Beirut…
Hassan Nasrallah, Hezbollah's secretary-general, threatened to attack Israel in retaliation for a drone attack over the weekend on the organization's headquarters in Beirut. Tensions between Israel and Hezbollah are now at their highest point since the 2006 war.
And the Lebanese government itself is extremely angry as well. In fact, the president of Lebanon has publicly stated that what Israel has just done is essentially the equivalent of "a declaration of war"…
Lebanese President Michel Aoun met Monday with the U.N. Special Coordinator for Lebanon Jan Kubis, calling Israel's moves in Beirut and Qusaya "a declaration of war."

The statement echoed the words of Iraq's powerful Fateh Alliance, which called separate strikes that killed a militia commander in the border town of Al-Qaim "a declaration of war on Iraq and its people," according to the Associated Press.
This is an extremely serious situation. Israel is literally on the brink of war with Hezbollah, and many feel that such a war is inevitable.
Meanwhile, a very powerful bloc in the Iraqi government has also accused Israel of "a declaration of war"…
A powerful bloc in Iraq's parliament has called for the withdrawal of US troops from Iraq, following a series of air raids targeting Iran-backed Shia militias in the country that have been blamed on Israel.

The Fatah Coalition said on Monday that it holds the United States fully responsible for the alleged Israeli aggression, "which we consider to be a declaration of war on Iraq and its people."
We had not seen the Israeli military strike targets in Iraq until just recently, and this latest attack has absolutely enraged the Shia militias. During the funeral procession for the commander that was killed in the attack, some of the Shia fighters were actually trampling the American flag…
The Shia militia group, meanwhile, held a funeral procession in Baghdad for the commander killed on Sunday.

"There is no greater God but God!" the mourners shouted as they marched behind a banner with the words "Death to America" and "Death to Israel." Some trampled on an American flag as they marched.
Thousands of U.S. soldiers died, thousands more were injured, and we spent trillions of dollars in the process of "liberating" Iraq, and this is how they feel about us.
What a colossal waste.
Ultimately, nothing is going to be able to stop the massive war that is coming to the region. The Iranians and all of their allies have a religiously-fueled hatred for Israel that most people living in the western world will never understand, and they are absolutely obsessed with permanently destroying the nation of Israel as it exists today. There will never be peace between the two sides, and the coming apocalyptic conflict will literally be a battle for national survival.
This can definitely be described as a time of "wars and rumors of wars", and the situation on the ground is extremely fluid right now. The fact that the Israelis have another national election coming up adds another layer of complexity to all of this, and that election may cause events to accelerate even faster than many were anticipating.
Let us pray for peace because right now tensions are extremely high and things are beginning to spiral out of control.
And when a full-blown war does break out, it is highly likely that the U.S. will get involved, and that will have enormous implications for all of us. Source
There is much turmoil in Israel today. Israel is persecuted, surrounded by enemies—Syria, Lebanon, Jordan, Saudi Arabia, Iran, Hamas, Islamic Jihad, Hezbollah, etc. But this hatred and persecution of Israel is only a hint of what will happen in the end times (Matthew 24:15-21). The latest round of persecution began when Israel was reconstituted as a nation in 1948. Many Bible prophecy scholars believed the six-day Arab-Israeli war in 1967 was the "beginning of the end." Could what is taking place in Israel today indicate that the end is near? Yes. Does it necessarily mean the end is near? No. Jesus Himself said it best, "Watch out that no one deceives you. . . . You will hear of wars and rumors of wars but see to it that you are not alarmed. Such things must happen, but the end is still to come" (Matthew 24:4-6).
List of individuals who either are or give the appearance of being, XINOs
Any practitioner of liberal Christianity.
Ben Affleck – liberal actor.
Alec Baldwin – a liberal actor who also supports animal rights and environmentalism.
George W. Bush – once claimed that there are multiple ways to Heaven, not just through Christ; member of the Council on Foreign Relations; blundered in the Iraq War.
Anders Breivik – Mass murderer of seventy-seven victims in Norway.
The Roman Catholic Church.
Jimmy Carter – 39th President of the United States. A Democrat who used his support from southern evangelicals to unseat Gerald Ford in the 1976 presidential election. In the debate, Ford even claimed that he was unfamiliar with the term "born-again" Christian, which is specifically mentioned in the Bible. Carter left the Southern Baptist Convention to join the liberal Cooperative Baptist Fellowship. In an interview with the Huffington Post, Carter claimed that Jesus would approve of homosexual "marriage" and certain abortions.[7]
Any practitioner of Christian Identity.
Bill Clinton – 42nd President. A Democrat, he sang in the Immanuel Southern Baptist Church choir in Little Rock, when seeking the governorship there. Was seen on television by many Arkansas residents. Falsely claimed that his former pastor W. O. Vaught did not consider oral sex to be sinful.
Hillary Clinton – A corrupt liberal. I took a lesson in voodoo for her honeymoon in 1975 and involved in the occult. At October 20, 2016, Al Smith dinner in New York City, Clinton stated that salvation (justification) is by faith and good works, which contradicts the clear teaching of the Book of James on salvation and undermines her claim during the presidential campaign of being a real Christian.[8][9]
Matt Damon – liberal actor and friend of Ben Affleck.
David Duke – former Louisiana state representative who claimed to be a traditional Christian in his losing bid for governor in 1991.
John Edwards – a former senator from North Carolina, who canceled out most of the votes of his conservative colleague Jesse Helms. Democratic vice-presidential choice in 2004.
Emilio Estevez – liberal actor, brother of Charlie Sheen, and son of Martin Sheen.
John Wayne Gacy – serial killer and child molester who was also an avowed liberal.
Al Gore – 45th Vice President of the United States and member of the Democratic Party[10]
Billy Graham – Although millions of people experienced salvation through the long-running Graham Crusades, the evangelist denied some key Christian doctrines, such as faith in Christ alone for salvation. Active in the ecumenical movement, he treated Roman Catholics and Jews as spiritual equals and entrusted them with new believers. He has made numerous unbiblical, watered-down statements such as supporting abortion in the case of rape. He was a 33° Mason, which "take[s] sworn oaths to a pagan demonic god." Was an early admirer of Bill and Hillary Clinton, defended Clinton in the Monica Lewinsky scandal, and was also close to nominal Quaker Richard Nixon and Disciples of Christ adherent Lyndon B. Johnson.[11] His son, Franklin Graham, head of the charity Samaritan's Purse, is considered more conservative in matters of theology and political issues than was his father. Franklin Graham in 2018 released a new book, Through My Father's Eyes, based on how his father's teachings impacted him.
Amy Grant – Contemporary Christian artist. While married had an affair with country singer Vince Gill (also married); they then both divorced their spouses and married each other.
Ted Haggard – disgraced former pastor of New Life Church.
Adolf Hitler – leader of Nazi Germany. Responsible for the extermination of over 6,000,000 Jews.[12] In reality, Hitler was a Darwinian secularist who believed in adult fairy tale of evolution,[13] hated and despised Christianity,[14][15] and attempted to warp Christianity into a XINO organization that adhered to Nazi beliefs.[16]
Jesse Jackson – a media-seeking civil rights activist who claimed to have held the dying Martin Luther King, Jr., at the 1968 assassination in Memphis, Tennessee. The South Carolina native who has since lived for years in Chicago is a former candidate for the Democratic presidential nomination. Like Bill Clinton, who he mentored, Jackson has himself been involved in adultery.
Jehovah's Witnesses
Jim Jones – a cult leader from California.
John Kerry – Democratic senator from Massachusetts and 2004 presidential nominee. Later as secretary of state failed in most of his missions.
The Ku Klux Klan
Timothy McVeigh – the perpetrator of the Oklahoma City Bombing.
Michael Moore – anti-capitalist liberal film maker.
Barack Obama – 44th President of the United States and member of the Democratic Party [18]
Joel Osteen – runs a large "New Age" church in Houston, Texas; seems more concerned about making people feel good about their state of sin, instead of accurately teaching the Word of God. This is called "the prosperity gospel."
Nancy Pelosi – Democratic House Minority Leader from the San Francisco area; liberal Roman Catholic originally from Baltimore, Maryland.
Sean Penn – a liberal actor who portrayed on film the homosexual figure Harvey Milk.
Fred Phelps – Cult leader[19]
Harry Reid – former Democratic Senate Majority Leader from Nevada, who claims he is personally opposed to abortion but would not interfere with a woman seeking the procedure.
Ben Roethlisberger – controversial NFL quarterback for Pittsburgh Steelers who committed assault.
Much of the British Royal Family, who endorse homosexual marriage and have let the Anglican Church spiritually decline under their watch, as well as overall British culture. Conversely, Queen Victoria was a dedicated Christian when the British Empire was at its peak.
Jerry Sandusky – retired head coach from Pennsylvania State University who was a convicted child molester and rapist.
Susan Sarandon – liberal actress.
Al Sharpton – hosts a show on MSNBC. Stirs up racial animosity throughout the nation.
Martin Sheen – liberal actor.
Charlie Sheen – liberal actor, conspiracy theorist, and son of Martin Sheen.
Carrie Underwood – supports same-sex marriage and is a practicing vegan. Mocked President Trump on a country music awards show. Several of her songs espouse vengeance.
Rick Warren – Operates a "New Age" style church in California. Gave the inaugural prayer at Obama's swearing-in as President. CFR member. Runs his church to gain members, not to preach the gospel.
The Westboro Baptist Church of Topeka, Kansas, formerly pastored by Fred Phelps.
Oprah Winfrey – Talk show host, media mogul, and occasional host on 60 Minutes. Endorsed Obama in 2008 and 2012.[20]
Jeremiah Wright – Obama's pastor and preacher of Black Liberation Theology.
This generation will not pass…
This quote of Jesus in regards to the end times is found in Matthew 24:34; Mark 13:30; and Luke 21:32. Jesus said, "Truly I say to you, this generation will not pass away until all these things take place." The things that Jesus had been speaking of—the rise of the Antichrist, the desolation of the Holy Place, and the darkening of the sun—did not happen during the lifespan of people alive in Jesus' day. Obviously, Jesus meant something different when He spoke of "this generation."
Former Third-Level Illuminati Witch Predicts The End Times Will Begin In 2032, Once President Pence Leaves Office
The most recent episode of "The Sharpening Report" podcast featured an interview with Christian speaker and writer Doc Marquis, who claims to have been born into "a family of Illuminati witches" and was himself "a third-level witch in the Illuminati" until he converted to Christianity. Marquis claims that his status within the order means that he knows "all the names, places, times, events" behind "the Illuminati's plan to create a new world order," which he warned will finally come to pass around the year 2032, as soon as President Mike Pence leaves the White House.
"There are certain timelines in the order of the Illuminati when certain things will happen," Marquis said. "They have planned on it and they make sure it happens according to schedule. Now, one of the timelines—and I will never forget this—calls for, that between 2028 and 2030, they will have everything in their back pockets. Now what that means is that they will be in charge of absolutely everything at that point and that means, also, that they can move at a whim and set up their new world order."
Marquis predicted that President Trump will run for re-election and win in 2020, after which Mike Pence will succeed him as president for another eight years, finally leaving office in 2032, which is precisely "within the timeline of the Illuminati."
"I think what we are seeing right now is a window of opportunity that God has given us," he said. "We know that according to the prophecies, God said that toward the End Times, He would raise up a remnant, in other words, the last true bastions of Christian children upon the face of the earth and give us the proper amount of time to make the one last stand for Christianity and get as many people saved as we can before the Tribulation period hits. Because of the timing of the Illumination that timeline, if what they wrote down is true, that means it's going to happen towards the end or as soon as Mike Pence steps out of the office and this window of opportunity at that point will be closed."Source
The New World Order is a conspiracy theory that posits a new period of history bringing about a major change in the world with the balance of world power. This New World Order is theorized by some to involve a group or groups of elitist people bent on ruling the world through a single worldwide system of government. The appeal of this New World Order lies in its proposal to free the world of wars and political strife, and its promises to eradicate poverty, disease, and hunger. Its purpose is to meet the needs and hopes of all mankind through worldwide peace.
Also labeled the new "era of globalization," this New World Order will supposedly do away with the need for diverse world governments. This will be accomplished by the installation of a one-world political system or body. One means to achieve this is by eliminating all lines and borders demarcating the nations of the world. To effect all this change, it is believed that the New World Order will emphasize tolerance through the promotion and acceptance of other cultures and their values and ideologies. Its ultimate goal is a sense of unity and oneness with all people speaking the same language. Other objectives include the use of a single, world-wide currency, as well as oneness in politics, religion, and moral values. As a result, conspiracy theorists believe, the world will be under one rule, that of one government that promises worldwide peace, the absence of war, and the elimination of all political unrest.
Though it may be agreed that man needs hope in order to endure this life and have peace of mind, the problem lies in where man searches for such hope. The Scriptures are clear concerning all these things. As Christians, we are commanded to obey and respect those in authority, including our government. However, we can easily see that there are some severe consequences of such a New World Order, both from an economic and a religious standpoint (Romans 13:1-7; Acts 5:29).
The problem with the acceptance and approval of any New World Order is that no government has ever offered, nor will it ever offer, real hope and peace for mankind. When a man turns to the government to provide worldwide peace and hope, he becomes disillusioned and enslaved by its false promises. History has proven time and again that no quasi-world empire has ever survived, simply because of its innate flaws of greed, corruption, and the quest for power.
Those who desire the ushering in of a New World Order, whether secular or religious, are in for a rude awakening. The truth is that false religious teachings cannot bring utopia into being, regardless of man's creativity and ingenuity. Only heaven brings lasting peace and happiness. The Bible makes it very clear that all things associated with this life on earth with its sufferings, its decay, its discontent, and death will continue with this physical life (2 Corinthians 4:16; Hebrews 9:27). It is also clear that all these things are completely unknown in the heavenly city (Revelation 21:3-7 and Revelation 22). They will be done away with. Yes, hope is needed. But it is the hope of heaven we need, not the false hope of a New World Order. The one hope for all believers lies only in heaven (John 14:1-4). It is not here on this earth.
The key to understanding what Jesus meant by "this generation will not pass away until all these things take place" is the context; that is, we must understand the verses that are surrounding Matthew 24:34, especially the verses prior to it. In Matthew 24:4–31, Jesus is clearly giving a prophecy; He is speaking of future events. Jesus had already told those living during His earthly ministry that the kingdom had been taken from them (Matthew 21:43). Therefore, it is imperative that Matthew 24–25 be seen as dealing with a future time. The generation that Jesus speaks of "not passing" until He returns is a future generation, namely, the people living when the predicted events occur. The word generation refers to the people alive in the future when the events of Matthew 24–25 take place.
Jesus' point in His statement, "this generation will not pass away until all these things take place," is that the events of the end times will happen quickly. Once the signs of the end begin to be observed, the end is well on the way—the second coming and the judgment will occur within that last generation. Jesus reinforced this meaning with a parable in Matthew 24:32–33: "Now learn this lesson from the fig tree: As soon as its twigs get tender and its leaves come out, you know that summer is near. Even so, when you see all these things, you know that it is near, right at the door." A sure sign of summer is the leafing of the fig tree; a sure sign of the end of the world is that "all these things" (of Matthew 24) are taking place. Those who are on the earth then will have only a short time left.
Probably the most well-known example of historical globalization is the attempted construction of the Tower of Babel in the 21st century BC. Rather than filling the earth as God commanded (Genesis 9:1), mankind rebelled, deciding to centralize in one city and not be scattered over the earth (Genesis 11:4). This construction effort was spearheaded by Noah's great-grandson, King Nimrod (whose name means "rebel"). God, in response, confused their languages, thus forcing the people to group together by dialect and settle elsewhere (Genesis 11:8-9).
All the empires presented in a dream to King Nebuchadnezzar of Babylonia represent other attempts to institute the one-world government (Daniel 2). Daniel's prophetic interpretation of the king's dream is summarized in our article, What is the meaning of Nebuchadnezzar's dream in Daniel 2? It is notable that Nebuchadnezzar envisioned a fifth and final world empire, which is yet to come.
This final empire will be a true global government, ruled by the man known as the Antichrist, also called the beast and the lawless one (Revelation 13:4; 2 Thessalonians 2:8). He will have "authority over every tribe, people, language and nation," and he, along with the False Prophet, will force all people to take his mark. This future global leader will control all financial transactions (Revelation 13:17) and all religious observance (Revelation 13:8). Refusal to worship the Antichrist means death; acquiescence means eternal punishment from God (Revelation 13:15; 14:9-11).
The Bible, therefore, shows that any time man attempts "globalization" it is ruled by wicked, ungodly empires. We should oppose globalization to the extent that we understand that it is implemented by Satan, currently the god of this age (2 Corinthians 4:4). It is interesting to note that man's (and Satan's) final attempt at globalization will include a resurgence of "Babylon," which started the globalization effort so long ago (see Revelation 18).
Of course, we also know that the "whole world is a prisoner of sin" (Galatians 3:22) and that believers are to "hate evil" (Psalm 97:10). We must shine the light of righteousness into the darkness where we find it, via the gospel message (Matthew 5:16; cf. John 8:12). It is appropriate to rebuke wickedness, and there is much of that to be found in Satan's version of globalization. However, 1 Peter 2:13 does tell us to "submit yourselves for the Lord's sake to every authority instituted among men," and Jesus Himself warned us to "give to Caesar what is Caesar's" (Matthew 22:21), so it is required that we keep our opposition within the constraints of the law of the land.
God has a plan for globalization under the headship of the King and Redeemer, Jesus Christ (see Revelation 19–20). Evidently, there will still be individual nations under Christ's rule (Zechariah 2:10-11). The Kingdom will be a time of righteousness and true justice (Isaiah 11:3-5).
How peaceful and joyful the days of Christ's Kingdom will be! Isaiah 12:3-4 describes for us, "With joy, you will draw water from the wells of salvation. In that day you will say: 'Give thanks to the Lord, call on his name; make known among the nations what he has done, and proclaim that his name is exalted.'"
The people spreading concrete information on the dangers of globalism are accomplishing far more than those sitting around buying bitcoin or passing around Q-cult nonsense.
StevieRay Hansen
Editor, HNewsWire.com
It is impossible to find anyone in the Bible who was a power for God who did not have enemies and was not hated.
Like Joseph and Daniel of the Old Testament who served secular kings, we are called to serve everyone and help them fulfill their divine destiny. Jesus made it clear that people who want to lead or be great must be the servants of all. Serving is the way of leadership in the kingdom. Forcing our way onto the world is not great leadership. Some accuse us of doing this very thing because we speak up on moral issues. It is important that we speak up on issues, but it's also equally important that we love everyone no matter their persuasions.
Evil Exists So Spiritual Warfare Becomes Necessary!
#Antichrist #evildoers #suppressingtruth #birthpains #tribulation #sevenyears #hellonearth ##those that have ears, let him hear, those that have eyes let them see!
MY MISSION IS NOT TO CONVINCE YOU, ONLY TO INFORM YOU…
Evil men don't understand the importance of justice, but those who follow the Lord are much concerned about it. ~ Proverbs 28:5
Jesus come quick, there is nothing left in society that's sacred….