Advisory: Be careful of what you read on social media. The algorithms used by these platforms have no regard for Biblical truth. They target your emotions to keep you engaged on their site so their advertisers can drop more ads. These platforms exist to enrich their stockholders. Consider God's promise to Believers in James 1:5, "If any of you lacks wisdom, you should ask God, who gives generously to all without finding fault, and it will be given to you."
PROTEST PATRIOT PRAYER…
A "scoffer" is one who mocks Christ, ridicules the things of God, and opposes the gospel. Both Peter and Jude were writing warnings against false teachers who were intent on leading others astray. The word scoffer refers to one who denies the truths of Scripture and entices others to go along with his error.
Evil is a lack of goodness. Moral evil is not a physical thing; it is a lack or privation of a good thing. As Christian philosopher J. P. Moreland has noted, "Evil is a lack of goodness. It is goodness spoiled. You can have good without evil, but you cannot have evil without good." Or as Christian apologist Greg Koukl has said, "Human freedom was used in such a way as to diminish goodness in the world, and that diminution, that lack of goodness, that is what we call evil."
IMAGE CREDITS: SCREENSHOT/YOUTUBE.
Antifa members staged a Satanic ritual to protest a Patriot Prayer march earlier this month in downtown Portland, Oregon.
Earlier this month, an Antifa faction called the "Satanic Portland Antifascists" staged a mock religious ritual in downtown. One of the people leading the ritual is @destroyed4com4t, a local transsexual activist and writer who I remember cheering as I was beaten in June 5, 63311:44 PM – Sep 26, 2019Twitter Ads info and privacy4,393 people are talking about this
The video was clipped from this Ruptly compilation of a Patriot Prayer march earlier this month:
From Ruptly, Sep 15:
Right-wing activist group Patriot Prayer held a march through Portland, Oregon, on Sunday, where scuffles erupted as they intercepted by a group called the Satanic Portland Antifascists.
Footage shows Patriot Prayer members marching through the streets, where one member began fighting with an Antifascist who threw a liquid at him and other Patriot Prayer members.
Patriot Prayer leader Joey Gibson explained that his group, which has been known to engage in street brawls with Antifa, is this time "going to practice non-violent resistance, because if we defend ourselves they will just arrest us anyways, so we're going to come down here non-stop, and we are going to bring Jesus into Portland."
Patriot Prayer members also held a group prayer session together.
The Satanic Portland Antifascists later were seen holding a ritual of their own, where they repeatedly chanted "hail Satan."
Remember, according to CNN host, Chris Cuomo Antifa are identical to the American soldiers who stormed the beaches of Normandy on D-Day.
Christopher C. Cuomo✔@ChrisCuomo
Let's not forget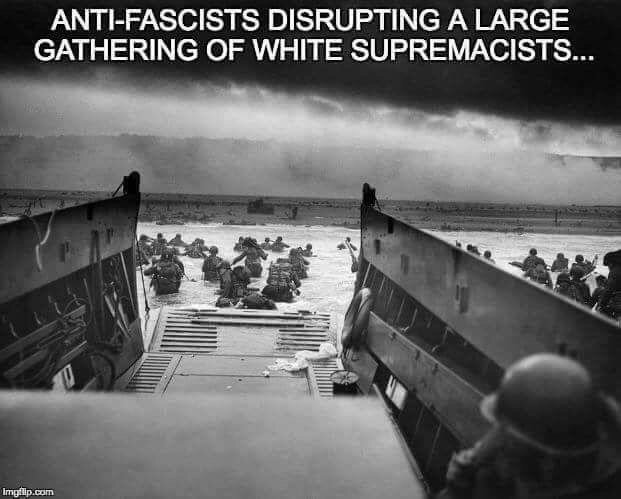 ---
The fools threatening our natural rights to Life, Liberty, and Property are ultimately waging a war against the creator. Time and time again, providence has laid waste to their plans. Source
Studies show that unbelief is indeed on the rise these days. We are living in increasingly evil times, and, unfortunately, those who do not believe in the truth of Scripture often seem to have the loudest voices in the public domain. Skeptics are becoming bolder and more vocal, and their influence is seen in education, entertainment, court systems, and government. They have made significant progress toward their goal of having God's name entirely removed from the public realm. Birth Pains…
Add to this the fact that we are living in what some call the most "biblically illiterate times," and it's apparent why unbelief is on the rise and why moral standards continue to deteriorate. Other factors contributing to today's unbelief include the pervasiveness of secular humanism, the church's halfhearted adherence to the hard truths God's Word, the significant growth of New Age and Eastern religions, the attempts to redefine the family, the postmodern rejection of absolutes, and the aggressive rise of the New Atheists.
This is biblical prophecy playing out as it should, for those of you who think you will control my editorial, you're wrong (you Antifa thugs, mama boys, basement warriors) your threats are meaningless, God's word comes first, you will not intimidate me, the truth is–I would have to respect your opinion before I was offended, obviously, I do not respect your opinion, nor your lawlessness
The bottom line is this—we live in a fallen world, and "the god of this age has blinded the minds of unbelievers so that they cannot see the light of the gospel" (2 Corinthians 4:4). As history moves forward, many will move further away from sound biblical doctrine, and unbelief spreads. "The Spirit clearly says that in later times some will abandon the faith and follow deceiving spirits and things taught by demons" (1 Timothy 4:1). There are plenty of false teachers to keep the lost blinded and aid them in their flight from God (Matthew 24:10–11; 2 Timothy 4:3; 1 John 4:1). The sad truth is that most people do not see the Bible as absolute authority anymore. As God's Word continues to be marginalized, unbelief will continue to increase around the world.
Let Me Make This Abundantly Clear. (I Am Apolitical) SRH…..
Alexandria Ocasio-Cortez Promotes Antifa Protesters In Plea For 'Bail Fund'
Labels straight pride event a "white supremacist parade"
New York Democratic Rep. Alexandria Ocasio-Cortez has been criticized for promoting a fundraiser to cover bail for Antifa affiliated 'activists' who were protesting a 'straight pride' parade in Boston this past weekend.
Labeling the event a "white supremacist parade," AOC encouraged her followers to "support the local LGBTQ community" with a contribution "to the Bail Fund for the activists who put themselves on the line protecting the Boston community."

One way to support the local LGBTQ community impacted by Boston's white supremacist parade?

Contribute to the Bail Fund for the activists who put themselves on the line protecting the Boston community:https://fundrazr.com/61YIs8?ref=ab_7ZU6lUcHlAs7ZU6lUcHlAs …

(Any $ left over goes to @MassBailFund+@Boston_GLASS) https://twitter.com/ayannapressley/status/1167927769105219585 …Solidarity Against Hate Legal Defense FundKnown fascists and white supremacists, under the front organization Super Happy Fun America, are descending on Boston for "Straight Pride" on Saturday, 8/31. As we have for the last 3 years, Boston…fundrazr.comAyanna Pressley✔@AyannaPressleyJoin me right now in making a contribution. TY to the allies & accomplices who stood in the gap & laid their bodies on the line today in affront #LGBT hate march. To everyone feeling unseen & vulnerable today…we got you. Equitable outrage. Our destinies & freedoms are tied. https://twitter.com/BlackAndPinkBos/status/1167869199848329216 …10.1K7:04 PM – Aug 31, 2019Twitter Ads info and privacy6,434 people are talking about this
As reported by USA Today and The Boston Herald, those same 'activists' touted by AOC identified with Antifa, the far-left violent protest group.
"We're covered in black so when we attack these guys we can't be prosecuted." the Herald reported one Antifa thug as saying.
"They are fascists, 100%. How else are you going to get them to shut up?" the thug added.
The Herald also noted that among the 36 arrests were individuals charged with "Assault and battery on a police officer," and one juvenile arrested for "Assault and battery by means of a dangerous weapon."
As Time Goes on There Will Be a Lot of Politicians, Police Officers, Judges That Will Take Cover in Other Words They Are Going to Remain Neutral Out for Fear for Their Lives. You Are On Your Own, Prepare For The Worst, Pray for the Best –Tribulations Will Be Very Ugly
I Want Everyone to Know, Never Take Anyone's Word for the Gospel, Especially Revelations, Here's How It Works. When You're in the Word God Will Speak to You Through His Holy Spirit He Will Move You in the Direction He Wants You to Go. Please Stop Looking For That Individual Here on Earth That Has All the Answers, They're Not Here and That Confuse You.. That Includes Anything I Say, Always Test Every Spirit. Every Word That Is Uttered Out of Any Man's Mouth Must Be Verified Through the Holy Spirit… Stevieray Hansen
I Have Never Seen The Righteous Forsaken or Begging For Rain…
StevieRay Hansen
Editor, HNewsWire.com
Let Me Make This Abundantly Clear. (I Am Apolitical) While I Have a General Distaste for Politicians No Matter the Party They Belong To, I Am Unashamedly Politically a Bible Believing Conservative Christian. I Have a Severe Distrust of Government. I Believe It Is the Most Inefficient and Ineffective Way to Accomplish Most Things. While I Strongly Disagree with Liberals/Progressives and Conservative on Most Political Issues, and While I Believe Liberals/Progressives and Most Politicians Are Terribly Misguided and Naïve About What Big Government Will Eventually Result In, I Strive to Not Question Their Motives. at the Same Time, While I Find Myself in Agreement with Conservative Politicians on Some Issues, I Do Not Believe Electing Republicans Is the Answer to Everything. for Me, Very Sadly, the Main Difference Between Republicans and Democrats Is How Quickly They Want to Drive the Car Towards the Cliff. Simply Put, I Do Not Believe the Government Is the Solution for Everything. I Do Not Place Any Faith, Trust, or Hope in Any Politicians to Fix What Is Wrong with the World. "Come Lord Jesus!" (Revelation 22:20)
Our government has been overthrown. As evidenced by Trump's capitulation on the border, his recent servitude to the GMO industry and his acquiescence to the warmongers, our President has been compromised. Our liberties are being eliminated one by one. Gun confiscation is next. The Constitution is gasping its last breaths. Our borders are destroyed and our culture has been turned upside down by every perversion known to man.
Education is useless without the bible (Daniel Webster)
Usually, the Lord doth no great thing for or against his people, without giving warning of it before it comes.
John Wesley who said that what we tolerate in our generation, will be embraced by the next. Wesley is 100% correct! We are living in sick times.
Evil Exists So Spiritual Warfare Becomes Necessary!
Corinthians 4:8-11 New King James Version (NKJV)
We are hard-pressed on every side, yet not crushed; we are perplexed, but not in despair; 9. persecuted, but not forsaken; struck down, but not destroyed— 10. always carrying about in the body the dying of the Lord Jesus, that the life of Jesus also may be manifested in our body. 11. For we who live are always delivered to death for Jesus' sake, that the life of Jesus also may be manifested in our mortal flesh.
Satan has power over (LGBTQE-TRANS PEOPLE). The "sons of disobedience" referred to in Ephesians 2:2 are those who have not trusted Christ as Lord and Savior (cf. Acts 26:18; 2 Corinthians 4:4; Revelation 13:12). The demons are also under the rule of Satan (Matthew 12:24), and one of his titles is "prince of demons" (Matthew 9:34). Satan has a kingdom (Matthew 12:26) and a throne (Revelation 2:13). Satan is called a prince because he is a ruler and possesses the power to manifest evil in the world through influencing people and commanding demons.
"People who grew up with the Internet saw what a wonderful thing it was for free expression, giving everyone access to a global audience. That's been completely flipped on its head, and now it's one of the most tightly controlled, manipulated places to find information that you could imagine. It's a complete 180 from what it used to be, and that's incredibly sad, because it was, initially, this challenge to old information gatekeepers, this place of free expression, of democratized information, and now it's just controlled by a handful of increasingly authoritarian ideologically partisan tech companies that haven't been held to account by officials in D.C. and aren't bound by any regulation preventing them from who censoring people or interfering in elections."
Technology companies like Google, Facebook, and Twitter and growing increasingly sophisticated in anticipating, intercepting, and suppressing information with the likelihood of going viral
HNewsWire- "All political language is designed to make lies sound truthful and murder respectable." Just look at some of our modern-day examples: torture is "enhanced interrogation techniques"; murder is "collateral damage"; the aggression initiation of war is a "pre-emptive strike"; the theft of taxpayers' money is a "bailout", and the theft of depositors' money in a bank is a "haircut" or "bail-in".In a blatant example of Newspeak, the New World Order controllers (through the psychiatric DSM V) have tried to rename pedophiles as "minor-attracted persons" and redefine pedophilia as "sexual orientation". This makes no sense since sexual orientation has to do with gender, not age, with whether you are attracted to males or females, not how old they are. There are even organizations (like B4UAct.org) which are claiming that pedophiles are being unfairly stigmatized for their feelings!
If homosexuality has been posed as healthy, good and normal, in the face of overwhelming evidence to the contrary, so can pedophilia. Pro-pedophilic articles are making their way into academia.
The Cult of LGBTQE-E for EVIL and is often a cover for child-molesting perverts
Unfortunately, not all alternative sources are reliable, even some Major Christian (and I use Christian loosely) news sources have been corrupted. They will NOT tell the truth. They just parrot the deceptive narratives perpetrated by those who currently control our government and media. Even those who are honestly trying to present the truth can miss it sometimes. There is so much deception out there. In these last days, you must be wise as serpents and gentle as lambs. It is no time to sleep or slumber. Diligence and vigilance are required. It is critical that you think for yourself and not be a Lemming.
Tagged Under: antichrist, antichrists, Apple, Bible, Big Tech, bigotry, Christian baker, Christianity, Christians, Colorado, Colorado Civil Rights Commission, conservatives, deep state, demonic assault, end of days, end times, Facebook, First Amendment, free speech, Google, hate groups, Hate speech, hatred, hostility, insanity, Instagram, intolerance, Jack Phillips, jesus, Jesus Christ, left cult, Leftists, LGBT mafia, Liberal Mob, lunatics, persecution, Pinterest, prophecy, Southern Poverty Law Center, SPLC, Tribulation, Twitter
HNewsWire: In This Video, We'll Show You How the Elites Planned and Executed the Nashville Shooting as a Terrorist Attack, With the Help of the…
Read More
We make every effort to acknowledge sources used in our news articles. In a few cases, the sources were lost due to a technological glitch. If you believe we have not given sufficient credit for your source material, please contact us, and we will be more than happy to link to your article.