And Un-godly, Irresponsible, Pathological Liars, Glib, Con Artists, Lacking in Remorse and Shallow…
"Politicians are more likely than people in the general population to be sociopaths. I think you would find no expert in the field of sociopathy/psychopathy/antisocial personality disorder who would dispute this… That a small minority of human beings literally have no conscience was and is a bitter pill for our society to swallow — but it does explain a great many things, shamelessly deceitful political behavior being one." — Dr. Martha Stout, a clinical psychologist and former instructor at Harvard Medical School
Twenty years ago, a newspaper headline asked the question: "What's the difference between a politician and a psychopath?"
The answer, then and now, remains the same: None.
There is no difference between psychopaths and politicians.
Nor is there much of a difference between the havoc wreaked on innocent lives by uncaring, unfeeling, selfish, irresponsible, parasitic criminals and elected officials who lie to their constituents, trade political favors for campaign contributions, turn a blind eye to the wishes of the electorate, cheat taxpayers out of hard-earned dollars, favor the corporate elite, entrench the military-industrial complex, and spare little thought for the impact their thoughtless actions and hastily passed legislation might have on defenseless citizens.
Psychopaths and politicians both have a tendency to be selfish, callous, remorseless users of others, irresponsible, pathological liars, glib, con artists, lacking in remorse and shallow.
Charismatic politicians, like criminal psychopaths, exhibit a failure to accept responsibility for their actions, have a high sense of self-worth, are chronically unstable, have socially deviant lifestyles, need constant stimulation, have parasitic lifestyles and possess unrealistic goals.
It doesn't matter whether you're talking about Democrats or Republicans.
Political psychopaths are all largely cut from the same pathological cloth, brimming with a seemingly easy charm and boasting calculating minds. Such leaders eventually create pathocracy: totalitarian societies bent on power, control, and destruction of both freedom in general and those who exercise their freedoms.
Once psychopaths gain power, the result is usually some form of totalitarian government or a pathocracy.
"At that point, the government operates against the interests of its own people except for favoring certain groups," author James G. Long notes. "We are currently witnessing deliberate polarizations of American citizens, illegal actions, and massive and needless acquisition of debt. This is typical of psychopathic systems, and very similar things happened in the Soviet Union as it overextended and collapsed."
In other words, electing a psychopath to public office is tantamount to national hara-kiri, the ritualized act of self-annihilation, self-destruction and suicide. It signals the demise of democratic government and lays the groundwork for a totalitarian regime that is legalistic, militaristic, inflexible, intolerant and inhuman.
Incredibly, despite clear evidence of the damage that has already been inflicted on our nation and its citizens by a psychopathic government, voters continue to elect psychopaths to positions of power and influence.
According to investigative journalist Zack Beauchamp, "In 2012, a group of psychologists evaluated every President from Washington to Bush II using 'psychopathy trait estimates derived from personality data completed by historical experts on each president.' They found that presidents tended to have the psychopath's characteristic fearlessness and low anxiety levels — traits that appear to help Presidents, but also might cause them to make reckless decisions that hurt other people's lives."
The willingness to prioritize power above all else, including the welfare of their fellow human beings, ruthlessness, callousness and an utter lack of conscience are among the defining traits of the sociopath.
When our own government no longer sees us as human beings with dignity and worth but as things to be manipulated, maneuvered, mined for data, manhandled by police, conned into believing it has our best interests at heart, mistreated, jailed if we dare step out of line, and then punished unjustly without remorse — all the while refusing to own up to its failings — we are no longer operating under a constitutional republic.
Instead, what we are experiencing is a pathocracy: tyranny at the hands of a psychopathic government, which "operates against the interests of its own people except for favoring certain groups."
Worse, psychopathology is not confined to those in high positions of government. It can spread like a virus among the populace. As an academic study into pathocracy concluded, "[T]yranny does not flourish because perpetuators are helpless and ignorant of their actions. It flourishes because they actively identify with those who promote vicious acts as virtuous."
People don't simply line up and salute. It is through one's own personal identification with a given leader, party or social order that they become agents of good or evil.
Much depends on how leaders "cultivate a sense of identification with their followers," says Professor Alex Haslam. "I mean one pretty obvious thing is that leaders talk about 'we' rather than 'I,' and actually what leadership is about is cultivating this sense of shared identity about 'we-ness' and then getting people to want to act in terms of that 'we-ness,' to promote our collective interests. . . . [We] is the single word that has increased in the inaugural addresses over the last century . . . and the other one is 'America.'"
The goal of the modern corporate state is obvious: to promote, cultivate, and embed a sense of shared identification among its citizens. To this end, "we the people" have become "we the police state."
We are fast becoming slaves in thrall to a faceless, nameless, bureaucratic totalitarian government machine that relentlessly erodes our freedoms through countless laws, statutes, and prohibitions.
Any resistance to such regimes depends on the strength of opinions in the minds of those who choose to fight back. What this means is that the citizenry must be very careful that we are not manipulated into marching in lockstep with an oppressive regime.
Writing for ThinkProgress, Beauchamp suggests that "one of the best cures to bad leaders may very well be political democracy."
But what does this really mean in practical terms?
It means holding politicians accountable for their actions and the actions of their staff using every available means at our disposal: through investigative journalism (what used to be referred to as the Fourth Estate) that enlightens and informs, through whistleblower complaints that expose corruption, through lawsuits that challenge misconduct, and through protests and mass political action that remind the powers-that-be that "we the people" are the ones that call the shots.
Remember, education precedes action. Citizens need to do the hard work of educating themselves about what the government is doing and how to hold it accountable. Don't allow yourselves to exist exclusively in an echo chamber that is restricted to views with which you agree. Expose yourself to multiple media sources, independent and mainstream, and think for yourself.
For that matter, no matter what your political leanings might be, don't allow your partisan bias to trump the principles that serve as the basis for our constitutional republic. As Beauchamp notes, "A system that actually holds people accountable to the broader conscience of society may be one of the best ways to keep conscienceless people in check."
That said, if we allow the ballot box to become our only means of pushing back against the police state, the battle is already lost.
Resistance will require a citizenry willing to be active at the local level.
Yet as I point out in my book Battlefield America: The War on the American People, if you wait to act until the SWAT team is crashing through your door, until your name is placed on a terror watch list, until you are reported for such outlawed activities as collecting rainwater or letting your children play outside unsupervised, then it will be too late.
This much I know: we are not faceless numbers. We are not cogs in the machine. We are not slaves.
We are human beings, and for the moment, we have the opportunity to remain free—that is, if we tirelessly advocate for our rights and resist at every turn attempts by the government to place us in chains.
The Founders understood that our freedoms do not flow from the government. They were not given to us only to be taken away by the will of the State. They are inherently ours. In the same way, the government's appointed purpose is not to threaten or undermine our freedoms, but to safeguard them.
Until we can get back to this way of thinking, until we can remind our fellow Americans what it really means to be free, and until we can stand firm in the face of threats to our freedoms, we will continue to be treated like slaves in thrall to a bureaucratic police state run by political psychopaths.
By John W. Whitehead, a Guest author
I Object to the Bad Faith and Dishonesty of the Un-Godly Resistance
I Object to the Criminal Misconduct Among the Federal Bureaucracy and Politician. God Place Trump in The People House, The DNC, Wasting The People's Time Again, However, The Nation Is Dangerously Close to What Could Be Another Civil War ……
A lot of readers (some of them former readers now) have been angrily twanging me by email for writing about the three-year Resistance effort to un-do the 2016 election. I did vote for Mr. Trump. I denounce the coup mounted to overthrow him. I object to the bad faith and dishonesty of the Resistance. I object to the criminal misconduct among the federal bureaucracy, and the mendacity of its partners in the news media, and the hysteria they continue to generate — at the expense of other matters that concern our future.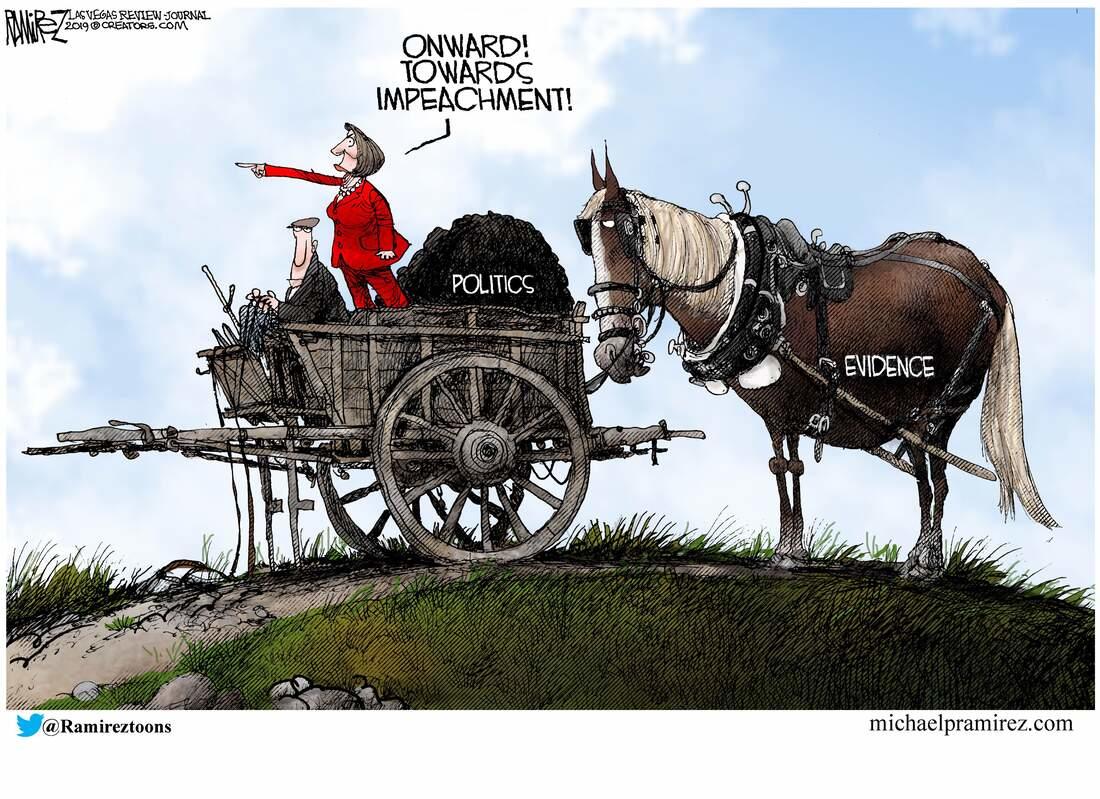 The political disorder spooling out is the political expression of the long emergency that the nation faces as it finally encounters the limits to growth we were warned about decades ago. The techno-industrial phase of history is ending, and we are left only with inadequate fantasies for coming to terms with it and moving forward. The dynamic relationship between affordable energy supplies and the operations of money roils at the core of this predicament. They are undoing each other and the result will be a contraction of human activity. The big question we refuse to face is how to cope with contraction.
Campari CEO on Brexit Stockpiles, Trade War, U.S. Sales Growth
Beyond the ongoing orchestrated coup stands a reality-optional political Left consumed by serial hysterias, uninterested in truth, steeped in social despotism, and apparently willing to do anything to gain power. We should be very concerned with what they intend to do with that power. As they attempt to redistribute wealth, they will make the unhappy discovery that the wealth itself is subject to the wholesale contraction underway. The overvalued "assets" representing "money" hoarded by the "wealthy" will turn out to be figments of a runaway debt crisis. We have already debated the operations of banking, and the tokens that banks issue — currencies and securities — levitate over an abyss.
We already have plenty of evidence for what the Left will do to the principle of political liberty. Their shibboleths of "diversity" and "inclusion" really mean shutting down free speech and telling everybody how to think. They are less interested in "social justice" than in plain coercion, the pleasure they take in pushing people around. What's worse is that they want to use government as the instrument for enforcing their will. I object to that not just on principle but because the government itself will be subject to the same contraction affecting everything else. It simply won't be able to compensate for all the other losses. Can we downscale its activities coherently, or will we make that journey violently, in some sort of civil war?
The Left seems to be opting for civil war.
It is surely underway among branches of government and the administrative bureaucracy I call the Deep State. Barack Obama, John Brennan, and others set the intel and police apparatus against Mr. Trump and the war goes on in the latest reckless campaign of "whistleblowers" who are no such thing, but rather agents provocateurs of the Central Intelligence Agency.
The Democrats in congress play a dangerous game with this as they attempt to engineer a non-impeachment impeachment — that is, without a vote by the whole House. To allow that vote would be a move to allow the opposition to participate in issuing subpoenas and seeing evidence, and the Democrats are bent on to preventing that. That ploy will provoke the White House to ignore their subpoenas and demands for documents on the principle that this mode of "Impeachment" is not legitimate.
The machinations of Speaker Nancy Pelosi and Rep. Adam Schiff in this latest "whistleblower" affair pulsate with skullduggery. Are we to suppose that they will march out one "whistleblower" after another whose identity — or very reality — will remain secret through these proceedings? This is the sort of thing you get in Spanish inquisitions and soviet show trials. Until recently, all Americans had very firm objections to kangaroo courts and star chambers where the common-law safeguards of due process are thrown out the window. If the standoff goes to the Supreme Court, we'll surely get yet another crusade to disqualify Justice Kavanaugh.
The Democratic Party is doing everything possible to destroy the legitimacy of these institutions — staring with elections themselves. The origins of the RussiaGate hoax will demonstrate that the party itself was behind "interference" in the 2016 election, and enlisted the help of several foreign governments in doing so. That is why they are so desperate to keep the level of hysteria amped to the max. The day maybe not far off when a great and chilling silence falls over this mob as they look to the sky and see the indictments raining down. Source
Many Americans were ready to forsake all hope of peace. Peace, Peace — but there is no peace, No God, No Peace. The war is actually begun! The next gale that sweeps from DC will bring to our ears the clash of resounding Civil UN-REST! ….. Why stand idle? What is it that gentlemen have become, Cowards? What would they have? Is life so dear, or peace so sweet, as to be purchased at the price of "The Electronic Prison By Big Tech slavery"? Forbid it, Almighty God! I know not what course others may take; but as for me, give me liberty or give me death!"
Nancy Pelosi just took the biggest gamble of her entire political career. If she is ultimately successful, she will be remembered as the woman that removed Donald Trump from the White House, and Democrats will treat her like a hero for the rest of her life. But if she fails and Trump wins in 2020, the backlash that she created when she tried to impeach Trump is likely to be blamed, and she could potentially lose her leadership role in the House. Of course, at that point, she probably wouldn't want to remain in the House much longer, and she would be hated by many Democrats for the rest of her life for subjecting them to four more years of Trump. So it really is all on the line for Nancy Pelosi, and she never should have gone down this road if she wasn't absolutely certain that she could deliver.
People often talk about impeachment as if it were identical to removing the President from office. However, this is not the case. In order to remove a President from office, the House of Representatives first has to impeach him, and then the Senate has to convict him. Note that President Clinton was impeached by the House in 1998, but he was subsequently acquitted by the Senate, so he was not removed from office. The only other President who was impeached by the House was Andrew Johnson in 1868, but he was also acquitted by the Senate. Formally, no US President has ever been removed by impeachment and conviction. When the Republican leadership informed Richard Nixon that impeachment and conviction were inevitable he resigned prematurely and it never came to a vote.
Due to the two-stage procedure of impeachment and conviction, it is not that easy to remove a President from office. What's more, while for impeachment in the House of Representatives only a simple majority of more than 1/2 is needed, a conviction in the Senate requires a 2/3 majority. At present, the Democrats have a 235-198 majority in the House (1 independent, 1 vacancy). In contrast, the Republicans have a 53-47 majority in the Senate (2 independents formally caucus with the Democrats). Assuming that all the Democrats vote for impeachment and conviction, it would take 20 Republican defectors in the Senate to remove the President from office. This equals about 38% of the Republican Senators. So while impeachment is within reach of the Democrats, the hurdle for conviction is much higher.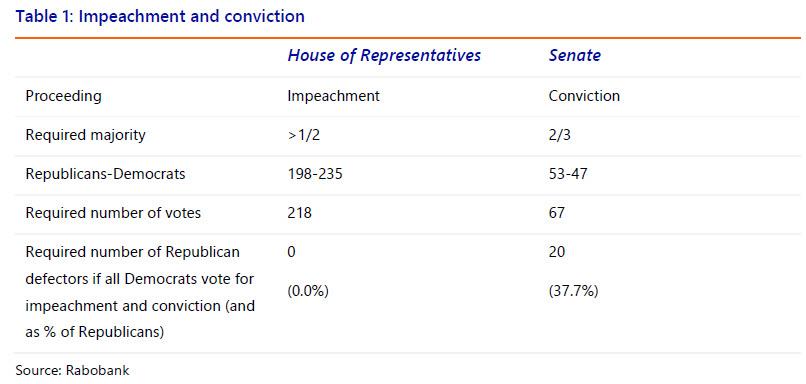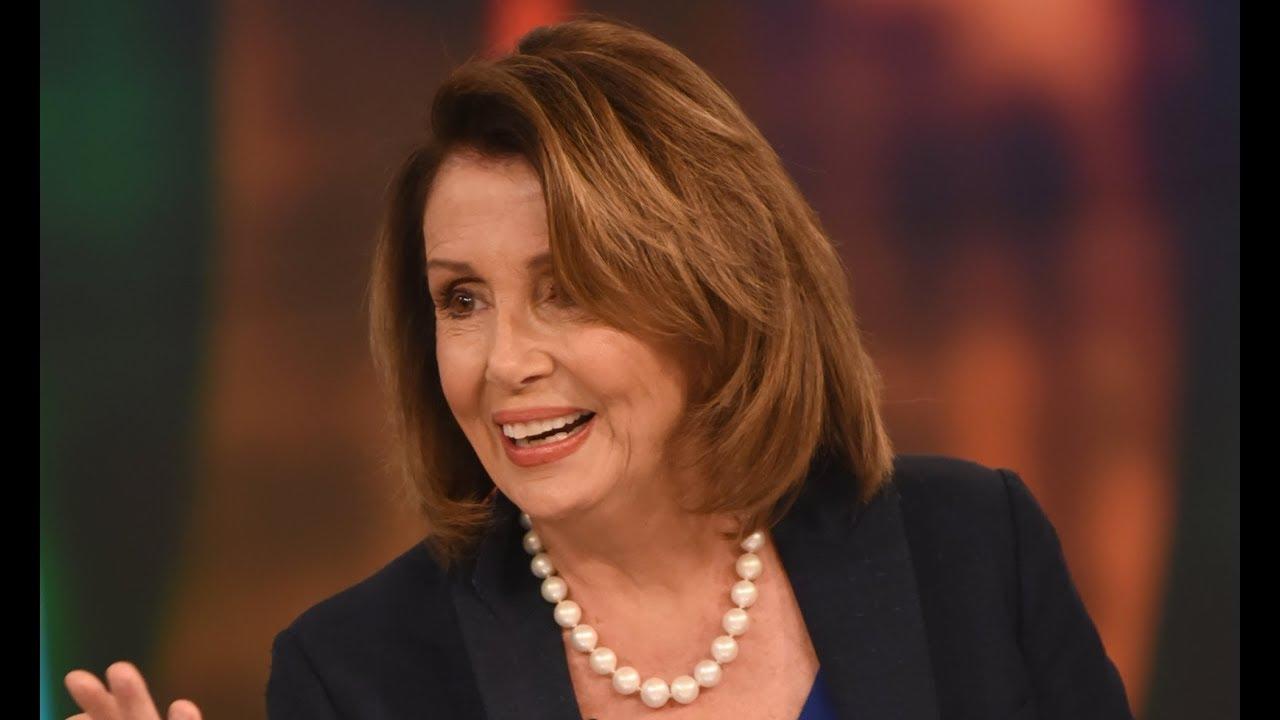 This makes for a dramatic coup de théâtre, but it's still only that: theater. Pelosi lost face, yes.
And at this point, most Americans don't want impeachment proceedings to happen. For example, just check out what a Politico/Morning Consult poll just found…
In the poll — conducted Friday through Sunday, as stories circled about Trump allegedly pressuring Ukraine to investigate former Vice President Joe Biden, one of the Democratic candidates hoping to oust him — 36 percent of respondents said they believe Congress should begin impeachment proceedings against Trump.
Other surveys have come up with similar results, but there is one survey out there that indicates that most Americans would actually support impeachment proceedings if the evidence shows that "Trump did use his presidential power to force a foreign leader to help take down a political rival"…
House Speaker Nancy Pelosi announced on Tuesday the opening of a formal impeachment inquiry against Trump in response to the Ukraine controversy. If it's found that Trump did use his presidential power to force a foreign leader to help take down a political rival, 55 percent of U.S. adults said they would support removing him from office, according to a recent YouGov survey.

Forty-four percent of those polled said they'd "strongly support" removing Trump if the allegations are true, while another 11 percent said they'd "somewhat support" it.
But as it stands right now, on the national level this is a very unpopular decision by Pelosi, and it could potentially hurt Democrats among key blocs of voters…
Worse yet, impeachment isn't selling where Democrats made their best gains in the midterms. A majority of suburban respondents oppose starting the impeachment process (35 percent/50 percent), with a wider gap among rural respondents (27/59), while urban voters are more ambivalent than one might guess (47/35). Impeachment trails by double digits in the South (33/53), Midwest, (36/48), and even in the Democrat-friendly Northeast (37/48).
Another reason why this is potentially a giant mistake by Nancy Pelosi is the fact that all of this focus on Ukraine is almost certainly going to damage one of the frontrunners for the Democratic nomination. Source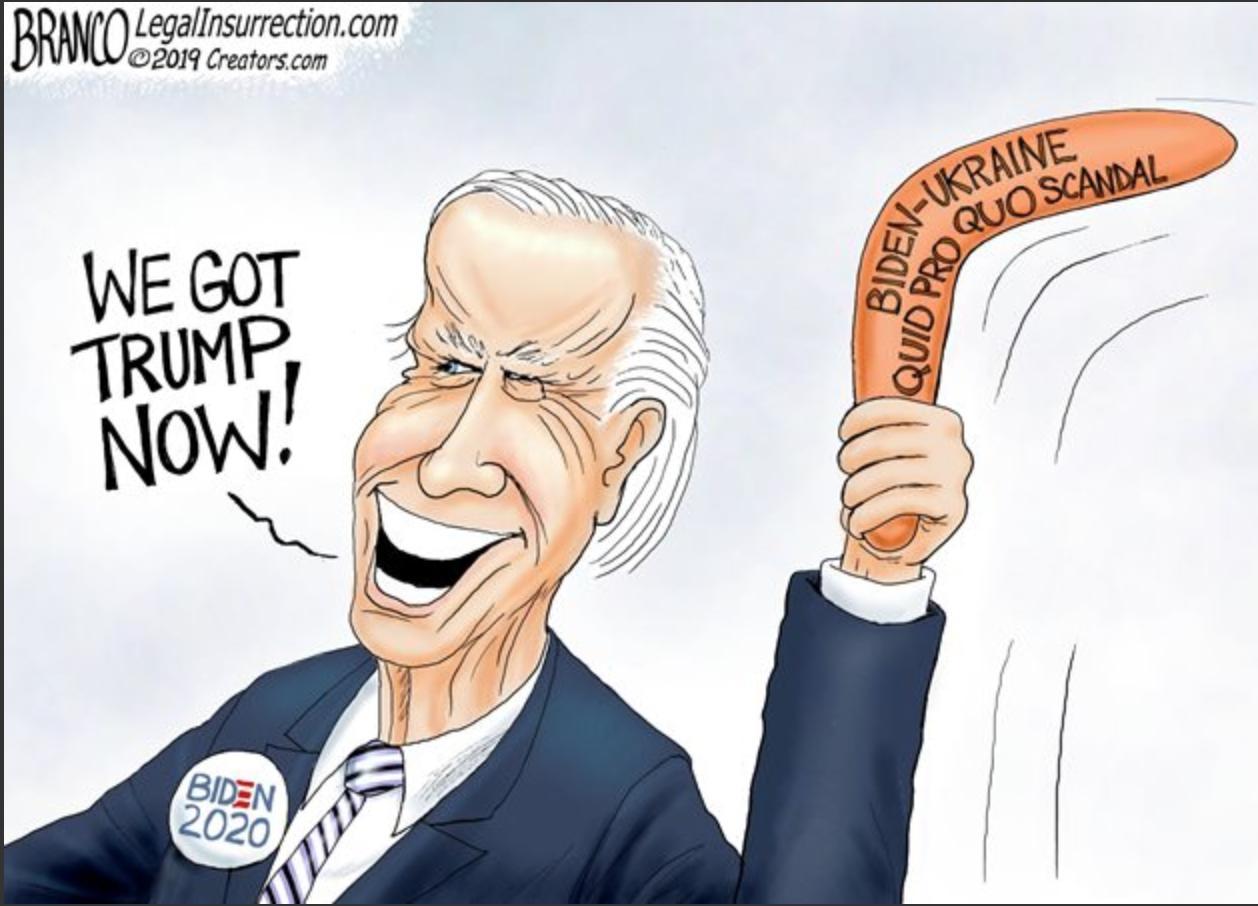 Impeachment Backfires: Trump Raises $5 Million In 24 Hours
Base rallies as Democrats get desperate
The Democrats' decision to formally begin an impeachment inquiry against President Trump is already monumentally backfiring, only resulting in rallying Trump's supporters into action.
Trump's base has been energized by the continuation of the 'witch hunt' against the President, as it immediately turned out that the basis for the impeachment hearings was a 'whistleblower' with an ax to grind against Trump.
Trump 2020 campaign manager Brad Parscale reported that the result has been in influx of donations to the campaign to the tune of $5 million in one day
Parscale called it a "huge groundswell of support," and noted that donations came in from all over the country.
In the 24 hours since news of Nancy Pelosi's impeachment announcement, @realDonaldTrump's campaign & @GOP have BLOWN OUT fundraising!

$5 Million combined in 24 hrs
Donors in all 50 states

A huge groundswell of support leading to Trump landslide in 2020!33K2:18 PM – Sep 25, 2019Twitter Ads info and privacy15.1K people are talking about this
The impeachment move collapsed into ridiculousness Wednesday when it emerged that the so-called whistleblower, who alleged that Trump pressured Ukraine to investigate former Vice President Joe Biden, was found by the intelligence community Inspector General to have 'political bias' and was in favor of a 'rival candidate' for US president.
In addition, The Federalist notes that the whistleblower's attorney Andrew Bakaj "interned for [Chuck] Schumer in the spring of 2001 and for [Hillary] Clinton in the fall of the same year."

Donald J. Trump✔@realDonaldTrump
"Attorney For Anti-Trump 'Whistleblower' Worked For Hillary Clinton, Chuck Schumer" https://thefederalist.com/2019/09/24/attorney-for-anti-trump-whistleblower-worked-for-hillary-clinton-chuck-schumer/ …Attorney For 'Whistleblower' Worked For Hillary Clinton, Chuck SchumerAndrew Bakaj interned for Schuck Schumer in the spring of 2001 and for Hillary Clinton in the fall of the same year, according to Bakaj's LinkedIn page.thefederalist.com60.2K9:26 PM – Sep 24, 2019Twitter Ads info and privacy35.3K people are talking about this
House Speaker Nancy Pelosi initiated a formal impeachment inquiry by alleging that the administration was hiding the whistleblower complaint.
When the White House released the transcript of Trump's call to the Ukrainian President Volodymyr Zelensky, it proved that there was no pressuring whatsoever, and Zelensky himself said during a Wednesday press conference that "nobody pushed me."
After braying for the release of the transcript for 24 hours, Democrats suddenly lost interest in it when Trump released it, with Pelosi even admitting she hasn't even read it, but still damning the President over the call with Zelensky.
Earlier in the day, the White House released a declassified transcript of Trump's July call with Ukrainian President Volodymyr Zelensky, showing Trump sought a review of former Vice President Joe Biden's efforts to have Ukraine's former top prosecutor fired.
Joe Biden has acknowledged on camera that, when he was vice president, he successfully pressured Ukraine to fire that prosecutor, Viktor Shokin, who was investigating the natural gas firm Burisma Holdings — where Hunter Biden had a highly lucrative role on the board paying him tens of thousands of dollars per month, despite limited relevant expertise. Shokin himself had been widely accused of corruption, while critics charged that Hunter Biden might have been essentially selling access to his father, who had pushed Ukraine to increase its natural gas production.
Trump made the request on the call for Ukraine to look into the Bidens after Zelensky first mentioned Ukraine's corruption issues, and after Trump separately requested as a "favor" that Ukraine help investigate foreign interference in the 2016 elections, including the hack of the Democratic National Committee (DNC) server involving the data security company CrowdStrike.
Multiple news outlets — including The New York Times, CNN, MSNBC, and The Washington Post — inaccurately reported that the "favor" related specifically to investigating Biden.
Jason Howerton✔@jason_howerton
This is one of the most deceptive pieces of reporting I have ever seen. Literally.@KatyTurNBC, you're better than this.

This is deliberate misleading of an audience. My gosh, issue a correction.2,3664:18 PM – Sep 25, 2019Twitter Ads info and privacy1,571 people are talking about this

Dems: "We demand you release the transcript of the call!"

Trump: "Ok done."

Dems: "Tomorrow morning!"

Trump: "No problem."

Dems: "Declassified!"

Trump: "You got it."

Dems: "Completely unredacted!"

Trump: "Sure thing."

Dems: "The transcript is meaningless! Proves nothing!"9,2792:38 AM – Sep 25, 2019Twitter Ads info and privacy3,916 people are talking about this
In addition, Democrats actually did the exact same thing they are now trying to impeach Trump for when they wrote to the Ukrainian government last year urging them to continue investigations into the fantasy collusion with Russia. Source
A complete clown show.

Brian Tyler Cohen✔@briantylercohen
Oh nothing, just the president of the United States announcing that Nancy Pelosi is no longer Speaker of the House.9,6401:50 PM – Sep 25, 2019Twitter Ads info and privacy5,438 people are talking about this
Where were you when 'Muh Russia' became 'Muh Ukraine' without a single trace of transitional irony in the interim?1,43710:29 AM – Sep 25, 2019Twitter Ads info and privacy318 people are talking about this

Summary
The Democrats in the House of Representatives have decided to start impeachment proceedings against President Trump. While impeachment is possible as the Democrats have a majority in the House of Representatives, the conviction is unlikely as long as the Republicans in the Senate continue to support their President. In this case, the removal of President Trump from office is unlikely, neither by conviction nor by the 25th Amendment.
What's more, history suggests that it will be a challenge for the Democrats to complete the process of impeachment & conviction before Election Day 2020. And then there is – at least as things stand now – virtually no chance of conviction. Consequently, it is unlikely to affect who is on the Republican ticket for the presidential elections in 2020.
However, it will set the tone for the election campaign. In fact, it could even backfire on the Democrats as it may energize Trump voters to go to the polls. Meanwhile, the impeachment theme may overshadow any political message that the Democrats might want to sell to the electorate. What's more, Democratic candidate Joe Biden may not come out of this process unscathed. This would strengthen the position of the remaining leading candidates in the Democratic primaries, which are far more left-wing than Biden. While this strengthens the position of the left-wing in the Democratic Party, it may scare away centrist voters on Election Day. Since impeachability is a political decision rather than a legal matter, history will tell whether starting an impeachment inquiry was the right decision for the Democrats.
Impeachment proceedings and the related further deterioration of the US domestic political climate add to the range of factors that are creating uncertainty for the economic outlook that the Fed is monitoring closely. What's more, they reduce the chance of meaningful fiscal policy legislation. Therefore, the third insurance cut before the end of the year – which is already in our baseline forecast – has become more likely. It also makes our forecast of a recession in 2020 and the Fed cutting all the way back to zero before the end of next year more likely Source
StevieRay Hansen
Editor, HNewsWire.com
Let Me Make This Abundantly Clear. (I Am Apolitical) While I Have a General Distaste for Politicians No Matter the Party They Belong To, I Am Unashamedly Politically a Bible Believing Conservative Christian. I Have a Severe Distrust of Government. I Believe It Is the Most Inefficient and Ineffective Way to Accomplish Most Things. While I Strongly Disagree with Liberals/Progressives and Conservative on Most Political Issues, and While I Believe Liberals/Progressives and Most Politicians Are Terribly Misguided and Naive About What Big Government Will Eventually Result In, I Strive to Not Question Their Motives. at the Same Time, While I Find Myself in Agreement with Conservative Politicians on Some Issues, I Do Not Believe Electing Republicans Is the Answer to Everything. for Me, Very Sadly, the Main Difference Between Republicans and Democrats Is How Quickly They Want to Drive the Car Towards the Cliff. Simply Put, I Do Not Believe the Government Is the Solution for Everything. I Do Not Place Any Faith, Trust, or Hope in Any Politicians to Fix What Is Wrong with the World. "Come Lord Jesus!" (Revelation 22:20) StevieRay Hansen
The Birth Pains Are Growing Stronger….
"Unless God has raised you up for this very thing, you will be worn out by the opposition of man and devils"…
My name is Steve Meyers and I need to share a vision and warning that the Lord showed me back in April 2007….
Many of you will ask why I waited so long to share the warning. I didn't. I shared the story with everyone that would listen from pastors to friends to family to colleagues. Immediately following the initial vision, I called a close friend. I told him to sit down that I had something to tell him. I needed it documented as I knew this was supernatural and from God. As I witness events unfolding today, I need to share the vision again.
The risk of loss in trading futures and options on futures can be substantial. The author does not guarantee the accuracy of the above information, although it is believed that the sources are reliable and the information accurate. The author assumes no liability or responsibility for direct or indirect, special, consequential or incidental damages or for any other damages relating or arising out of any action taken as a result of any information or advice contained in this commentary. The author disclaims any express or implied liability or responsibility for any action taken, which is solely at the liability and responsibility of the user. Steve Meyers
The silencing of the American people before 2020?
"The human heart is an idol factory."
The Un-Godly — Those That Suppress the Truth, the social media giants built multi-billion dollar empires by giving everyone a voice, but now that they have such a dominant position on the Internet they have decided that many prominent conservative voices should be completely silenced.
Our government has been overthrown. As evidenced by Trump's capitulation on the border, his recent servitude to the GMO industry and his acquiescence to the warmongers, our President has been compromised. Our liberties are being eliminated one by one. Gun confiscation is next. The Constitution is gasping its last breaths. Our borders are destroyed and our culture has been turned upside down by every perversion known to man.
The Left, a broad term for Liberal Socialist Democrats that can only be explained fully by using the Bible explanation of the human race is as follows. A servant of Satan, because you are either saved or lost. This election has brought out the true nature of who you serve. Simply put, it's Donald Trump, Conservatives, and Christians against the rest of the world. The Left's Love applies only to those who believe as they do. They Love evil and commit Anarchy against those who love good. They are governed by lies and never tell the truth. On this Friday, Inaugural Day for the swearing-in of Donald Trump as the 45th President of the United States the Left wants to commit widespread Anarchy to shut down the swearing-in ceremony. Their goal of transforming America, which was founded in Judea Christian values into a Pagan Nation is almost complete. Their goal has always been the total removal of God from American society and the downfall of America. Donald Trump says he is a Presbyterian, but he left off the USA, an apostate church.
Everything done in dark will be brought to light, being biblically bankrupt will not exclude the elitist.
Tagged Under: Banks, tribulation, hnewswire StevieRay Hansen, HNewsWire, antichrist,digital gulag, antichrists, Apple, Bible, Big Tech, bigotry, Christian baker, Christianity, Christians, Colorado, Colorado Civil Rights Commission, conservatives, deep state, demonic assault, end of days, end times, Facebook, First Amendment, free speech, Google, hate groups, Hate speech,Electronic Prison, Birth Pains