Advisory: The editorial board of HNewsWire adopted the official policy to bypass many social media platforms. Some of these include: Facebook, Instagram, Twitter, Parler, and YouTube. We believe these companies are responsible for many of the spiritual ills our world faces today. In some cases, however, we have allowed our guest contributors to include content from their YouTube channel while we search for alternatives.
Corona-virus Doomonger Doctor Anthony Fauci Announced Tuesday That There Are Now Two Americas, a Vaccinated America and an Unvaccinated america….
Mandatory Next Year, COVID-19 Vaccines a.k.a "Luciferase Stamp"
There's plenty of reason to suspect China intended to use Covid-19 as a bioweapon. Even if it wasn't the intent, that was its effect. Yet as bio-weapons go, it delivered unimpressive results. Without minimizing those who have suffered from Covid, the data from across the world shows Covid-19 was exceptionally effective at killing older people who were already very ill. For everyone else, not so much.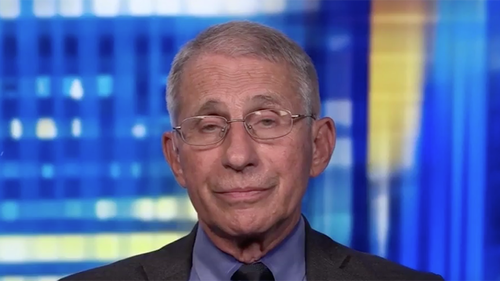 The FAKE virus was most successful in destroying the American economy, while also creating social chaos and suppressing liberty. The Chinese government must be delighted that their middling bio engineered weapon turned out to be a foreign social re-engineering bonanza.
In an appearance on Dom Lemon's CNN panic hour, Fauci declared that "When you have such a low level of vaccination super-imposed upon a variant that has a high degree of efficiency of spread, what you are going to see among under-vaccinated regions, states, cities or counties you're going to see these individual types of blips. It's almost like it's going to be two Americas."
"You're going to have areas where vaccination rate is high, where more than 70% of the population received at least one dose," he continued, adding "When you compare that to areas where you may have 35% of the people vaccinated, you clearly have a high risk of seeing these spikes in those selected areas."
Inevitably, Fauci concluded "The thing that's so frustrating about this, Don, is that this is entirely avoidable, entirely preventable."
"If you are vaccinated, you diminish dramatically your risk of getting infected and even more dramatically your risk of getting seriously ill. If you are not vaccinated, you are at considerable risk," Fauci once again repeated.
Watch:
https://content.jwplatform.com/players/zFGNWyxD-o73dHpYz.html
Fauci is completely ignoring the science on natural immunity again.
As Senator Rand Paul noted earlier this week, there is a boat load of misinformation on the matter coming from a government that is indiscriminately pushing vaccinations:
American health care, as we call it today, and for all its high-tech miracles, has evolved into one of the most atrocious rackets the world has ever seen. By racket, I mean an enterprise organized explicitly to make money dishonestly.
All the official reassurances won't be worth a bucket of warm spit. The Globals are behind the CoronaVirus, It Is a Man-Made Bioweapon.
Reprobate and "rejected" are the same word here. Webster's dictionary defines this word as "not enduring proof or trial; not of standard purity or fitness; disallowed; rejected."
In times past, it was American leadership worldwide which provided a haven for religious freedom. Now that the U.S. has succumbed to evil it is no longer seen as a protector, but instead as an aggressor, signaling a collapse in virtue the world over. Now that we have turned our back on right and truth we have entered into a period of moral free fall.
If anyone is to blame for the state of worldwide Christian persecution it is America herself due to the betrayal of its own founding principles. Christian persecution is on the rise because the pastors and leaders of America have allowed America to fall into the hands of God-haters, warmongers, and moral reprobates.
This Battle Must Be Fought, It's Good Versus Evil ,Choose Your Side Carefully.
Luciferian death cult
Source: HNewsWire ZeroHedge HNewsWire
StevieRay Hansen
Editor, HNewsWire.com
Let Me Make This Abundantly Clear. (I Am Apolitical) While I Have a General Distaste for Politicians No Matter the Party They Belong To, I Am Unashamedly Politically a Bible Believing Conservative Christian. I Have a Severe Distrust of Government. I Believe It Is the Most Inefficient and Ineffective Way to Accomplish Most Things. While I Strongly Disagree with Liberals/Progressives and Conservative on Most Political Issues, and While I Believe Liberals/Progressives and Most Politicians Are Terribly Misguided and Naive About What Big Government Will Eventually Result In, I Strive to Not Question Their Motives. at the Same Time, While I Find Myself in Agreement with Conservative Politicians on Some Issues, I Do Not Believe Electing Republicans Is the Answer to Everything. for Me, Very Sadly, the Main Difference Between Republicans and Democrats Is How Quickly They Want to Drive the Car Towards the Cliff. Simply Put, I Do Not Believe the Government Is the Solution for Everything. I Do Not Place Any Faith, Trust, or Hope in Any Politicians to Fix What Is Wrong with the World. "Come Lord Jesus!" (Revelation 22:20)
"Give Me God Given Free Will, Liberty or Give Me Death"
---
---
Amazon "Wish List" for The 127 Faith Foundation
---
Or, make checks payable to:
The 127 Faith Foundation
PO Box 127
Pontotoc, TX 76869
---
The 127 Faith Foundation: We do not solicit donations from "those on disability, on a fixed income, or those who cannot afford to give." Please Pray!
Or, make checks payable to:
The 127 Faith Foundation
PO Box 127
Pontotoc, TX 76869
The number of Orphans aging out of Child Protective Custody has grown at an alarming rate. The 127 Faith Foundation receives many requests each week to house them at our ranch. Our prayer is that the good people of our country will step up to the challenge and offer financial support for "the least among us." We need your help! StevieRay Hansen, Founder, The 127 Faith Foundation
Featured Story: Clicking the Box the Hospitals Get Up to $39,000 of Federal Funds. The Disruption of the Hospitalization Statistics Is Profound Over the decades,…
Read More
We make every effort to acknowledge sources used in our news articles. In a few cases, the sources were lost due to a technological glitch. If you believe we have not given sufficient credit for your source material, please contact us, and we will be more than happy to link to your article.