Satan Soldiers WH: Biden's Surgeon General Says Even Tripled Vaxxed Still Have to Wear Masks Indoors — Kill Christ Birthday
Genesis 3:14 Because you have done these terrible things. The Lord Said To The Serpents Be Cursed On ur belly's you will crawl & eat dust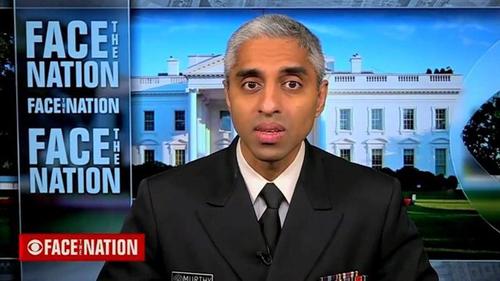 Diogenes, one of the ancient world's illustrious philosophers, believed that lies were the currency of politics, and those lies were the ones he sought to expose and debase. To make his point, Diogenes occasionally carried a lit lantern through the streets of Athens in the daylight. If asked why, Diogenes would say he was searching for an honest man.
The Surgeon General Dr. Vivek Murthy declared Sunday that even those who are tripled jabbed will still have to wear masks indoors while around their families at Christmas.
Genesis 3:14 Because you have done these terrible things. The Lord Said To The Serpents Be Cursed On ur belly's you will crawl & eat dust.
Appearing on CBS News, Murthy said "If people use the tools that we have that you can actually gather with much, much less risk," referring to masks.
Murthy added that those 'tools' "include getting vaccinated, getting boosted. Certainly, if you are eligible, that helps raise your level of protection, using masks in public indoor spaces, gathering in well-ventilated places when you do gather. These are all tools we've learned help. And finally, remember testing."
He added that "we have millions of people who are still unvaccinated, which poses a risk to their lives, but also poses an increased risk of transmission."
Murthy continued, "But if you do as many families, you get vaccinated and boosted. You use testing judiciously before you gather, you gather in well-ventilated spaces and use masks whenever you can in public indoor spaces, your risk can be quite low and your holidays can be quite fulfilling."
Watch:
Should Americans postpone holiday travel this month @Surgeon_General tells @margbrennan "If people use the tools that we have that you can actually gather with much, much less risk." pic.twitter.com/XlIdeZw2Lw

— Face The Nation (@FaceTheNation) December 5, 2021
"Quite fulfilling," sounds like a rip roaring time.
Murthy previously issued a 'toolkit' ordering Americans not to share any information about COVID, including memes and statistics, unless they are verified by the CDC.
The Surgeon General also previously claimed that the government putting requirements on people to take vaccines is a long held American tradition, and that many businesses are "relieved" that the government is pushing vaccine mandates.
Biden Administration Is Straight From the Pits of Hell… Indoor mask mandates at schools will likely to stay in place even after young children receive COVID-19 vaccines in the coming weeks, said U.S. Surgeon General Vivek Murthy. In an Oct. 21 interview on CNN's "New Day," Murthy was asked how much the vaccination of children ages 5-11 would affect the need…
Need to Cancel Thanksgiving if COVID-19 Cases Don't Subside, in Other Words It's Time to Destroy the Foundation of Family and Christianity in America… In several places in the Bible there are references to worthless persons (Surgeon General) (Deut. 13:13; Judg. 19:22; 20:13; 1 Sam. 25:17; 1 Ki. 21:9-13; Prov. 6:12-14; 16:27; 19:28; Nah. 1:11). The term worthless translates…
It should come as no great surprise that the civil servants have fallen in line for the plandemic, if they don't fall in line they won't have a place at the New World Order table, these people are bought and paid for compliments of George Soros and company, sponsored by Google, propaganda furnished by twitter……
Source: HNewsWire     HNewsWire    HNewsWire    HNewsWire    ZeroHedge
StevieRay Hansen
Editor,
HNewsWire.com
[email protected]
If it kills, it's a pestilent. If you get sick and feel peony for a few days and lose your taste and smell, it's a seasonal flu which we've had since the beginning of time, contrary to what phony doctors and or phony scientists have pushed as the gospel. Yes, it's the gospel of evil, the gospel of Satan