It should come as no great surprise that the civil servants have fallen in line for the plandemic, if they don't fall in line they won't have a place at the New World Order table, these people are bought and paid for compliments of George Soros and company, sponsored by Google, propaganda furnished by twitter…
In late February, no lessor healthcare official that the US Surgeon General took to Twitter to demand Americans "STOP BUYING MASKS!" claiming that they're not effective in preventing the general public from catching COVID-19.U.S. Surgeon General✔@Surgeon_General
"The best way to protect yourself and your community are with everyday preventive actions, like staying home when you are sick and washing hands with soap and water, to help slow the spread of respiratory illness," Jerome M. Adams said in the following tweet. Recommended VideosSurgeon General Jerome Adams Says He Can Completely Relate To George Floyd's Experience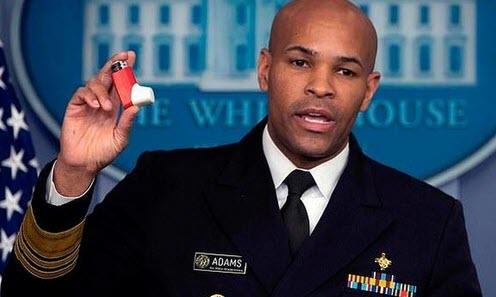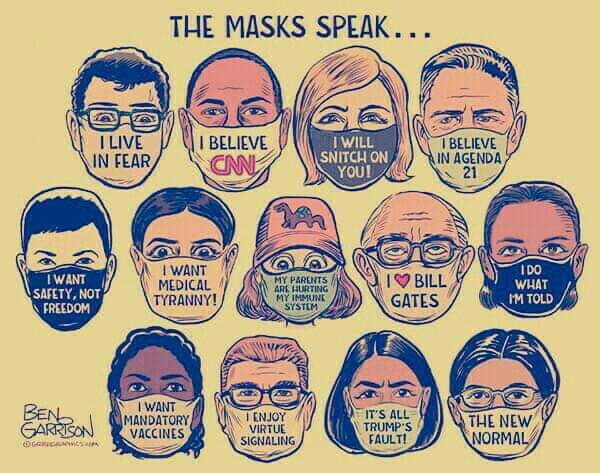 By the end of March, he had changed his authoritative stance on masks, stressing that people who are sick should wear a mask. He added,
"If you have a mask and it makes you feel better, then by all means wear it, but know that the more you touch your face the more you put yourself at risk and know that right now the data isn't quite there to say that there is a net benefit to the individual of wearing a mask."
In April, Jerome Adams, who is African American, came under serious fire from all sides after he appeared to single-out communities of color for not following President Trump's coronavirus guidelines (after widespread liberal media coverage of the inequities of the virus' impact on low income black and brown families).
"We need you to do this if not for yourself than for your abuela. Do it for your granddaddy, do it for your big momma, do it for your poppop," while suggesting that black and Latino families "avoid alcohol, tobacco and drugs."
And now, two months later, the Surgeon General on Sunday urged Americans to wear face coverings amid the pandemic and outlined the case for why such behavior means more, not less, freedom.
Adams, in a tweet on Sunday, dismissed the idea that face coverings curtail freedom, arguing that wearing masks to stem the spread of COVID-19 is a small sacrifice that leads to a faster reopening and return to economic and social normalcy.
"Some feel face coverings infringe on their freedom of choice- but if more wear them, we'll have MORE freedom to go out," Adams wrote in a tweet.Jerome Adams✔@JeromeAdamsMD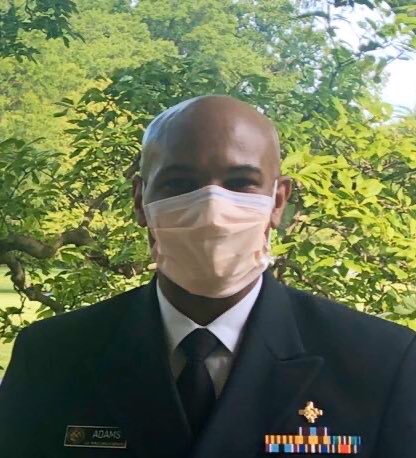 In a follow-up message, Adams acknowledged the issue of mask-wearing had its proponents and detractors and said it came down to individuals making choices about safety of others in the community.
"Ultimately it is a choice we make, and I hope it's made based on the best available/ current science, and a desire to do all we can to help others and ourselves/ our communities," he wrote, adding, "Like vaccines, the more who participate, the greater the impact."
So, in the space of three months, America's Surgeon General has claimed that "staying home [i.e. giving up all freedom] and not wearing a mask" is the best way to stay safe to now claiming "wearing a mask gives you more freedom."
Is it any surprise that the American public is increasingly questioning the omnipotence of the "science" and the "health officials" that have led us down this dark socio-economic path?
The World Is In Big Trouble, for Those That Believe We Will Go Back to Some Sense of Normal Life Here on Earth, You Will Be Sadly Disappointed, Seven Years of Hell on Earth Which Began January 1, 2020
"Our courts oppose the righteous, and justice is nowhere to be found. Truth stumbles in the streets, and honesty has been outlawed" (Isa. 59:14, NLT)…We Turned Our Backs On GOD, Now We Have Been Left To Our Own Devices, Enjoy…
While Mainstream Media Continues to Push a False Narrative, Big Tech Has Keep the Truth From Coming out by Shadow Banning Conservatives, Christians, and Like-Minded People, Those Death Attributed to the Coronavirus Is a Result of Those Mentioned, They Truly Are Evil…
Source: HNewsWire
StevieRay Hansen
Editor, HNewsWire.com
Watchmen does not confuse truth with consensus The Watchmen does not confuse God's word with the word of those in power…
In police-state fashion, Big Tech took the list of accused (including this site), declared all those named guilty and promptly shadow-banned, de-platformed or de-monetized us all without coming clean about how they engineered the crushing of dissent, Now more than ever big Tech has exposed there hand engaging in devious underhanded tactics to make the sinister look saintly, one of Satan's greatest weapons happens to be deceit…
The accumulating death toll from Covid-19 can be seen minute-by-minute on cable news channels. But there's another death toll few seem to care much about: the number of poverty-related deaths being set in motion by deliberately plunging millions of Americans into poverty and despair.
American health care, as we call it today, and for all its high-tech miracles, has evolved into one of the most atrocious rackets the world has ever seen. By racket, I mean an enterprise organized explicitly to make money dishonestly.
All the official reassurances won't be worth a bucket of warm spit. The Globals are behind the CoronaVirus, It Is a Man-Made Bioweapon.
My job is protecting children. It has taken me from big cities to rural outposts, from ghettos to penthouses, and from courtrooms, into demonic battlefields. But whatever the venue, the truth remains constant: Some humans intentionally hurt children. They commit unspeakable acts—for their pleasure, their profit, or both. StevieRay Hansen, CEO The 127 Faith Foundation
PayPal.Me/the127faithfoundatio
The number of Orphans aging out of Child Protective Custody has grown at an alarming rate. The 127 Faith Foundation receives many requests each week to house them at our ranch. Our prayer is that the good people of our country will step up to the challenge and offer financial support for "the least among us." We need your help! StevieRay Hansen, Founder, The 127 Faith Foundation