Powerful Politicians and Top Military Generals. These Reprobates Will Not Be Able to Stop TRUTH, We Have Entered Into a New Battle in World Affairs and So These Slugs Will Be Outmaneuvered at Every Turn, God is in Charge…
Social media platforms, Twitter, Facebook, wharfinger, Parler, have continuously shadow-banned the truth when it comes to biblical prophecy; they have hidden the most important news of a lifetime, all for the sake of not scaring people. These social media platforms are a disgrace to humanity; there are no better than Hitler was in Germany…
As a Reminder Please Do Not Post HNewsWire Articles on Christian News Network, Now the End Begins ,Shoebat, Parler, Brighteon, Mike Adams , Face Book, Reddit or Twatter Social Media Platform, We Are Not Comfortable With Their Anti-Christian — Anti-American Nazi Philosophy…Stevieray Hansen
The Lieutenants in Satan's Army Are Under Fierce Delusion, Big Tech Would Not Leave Well Enough Alone — FTC, 48 States File Lawsuits to Break up Facebook, and That's Just the Beginning, Google Your Next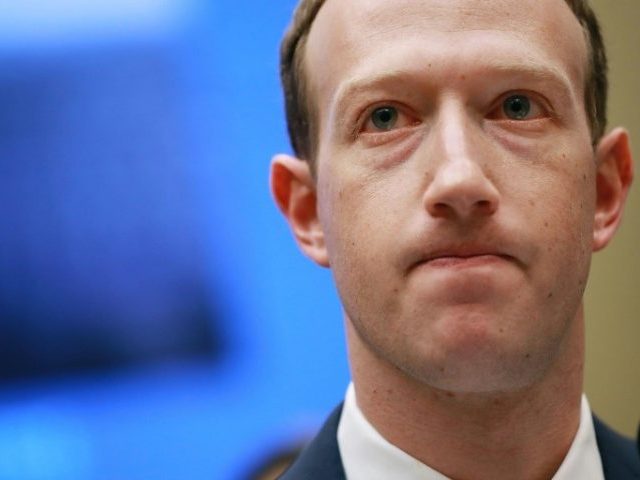 This is a time of tribulation upon the earth. Its severity is without historical precedent. Concerning this time, the angel, Gabriel, told Daniel, that it "will be a time of distress such as never occurred since there was a nation until that time" (Dan 12:1a). This time of tribulation is in keeping with unfulfilled prophecy given to Daniel that pertains to Israel (Dan 9:24-27). It is during this time that God's wrath will be poured out upon the world—specifically those who are hostile to Him and His people.
The FTC and 48 states are set to launch a legal assault on Facebook over claims of antitrust violations. The lawsuits seek to break up Mark Zuckerberg's social media empire.
Politico reports that federal antitrust authorities and dozens of states are set to launch a double-barreled legal assault against Facebook over allegations of antitrust violations. Both lawsuits aim to force Facebook to break up its empire which includes messaging service WhatsApp and photo-sharing app Instagram.
Attorneys general from 48 U.S. states and territories, including New York, are behind one of the suits that was first hinted at last week. The second suit filed by the FTC is set to be filed later this afternoon.
The cases accuse Facebook of illegally using its power for more than a decade to push out rivals and buy out rising competitors, noting WhatsApp and Instagram as specific examples of this. Facebook has continued to purchase multiple companies despite recent scrutiny, Breitbart News recently reported on Facebook's purchase of the customer service startup Kustomer in a deal valued at more than $1 billion.
The suit is part of the latest escalation in the power struggle between world governments and U.S. tech firms. In October, the Justice Department and a smaller group of U.S. states filed a similar antitrust lawsuit against Google.
Facebook has denied being a monopoly, noting that it ranks behind Google in how much revenue it takes from the $160 billion global market for online advertising. Google and Facebook maintain a duopoly over the online advertising market. Facebook currently has 2.74 billion users worldwide and disclosed in July 2019 that the FTC was investigating it for alleged antitrust violations. New York States attorney general, Tish James, announced two months later that she was leading a multistate coalition probing antitrust concerns of Facebook. Source: breitbart
Humble Yourself Big Tech in the Presence of the Lord. [Don't You Know] God Is Opposed to the Proud Boys? Be Miserable and Mourn and Weep; Let Your Laughter Be Turned Into Mourning and Your Joy to Gloom. [This Isn't the Message or Advice the Social Media or the World Gives You, but There Is a Purpose Behind It Because] He Gives a Greater Grace [a Grace the World Will Never Offer nor Does It Even Want You to Know It's Been Offered.] He Jealously Desires the Spirit Which He Has Made to Dwell in Us [and So] He Gives Grace to the Humble. [Through That Grace You May] Draw Near to God and He Will Draw Near to You [Despite What the World Teaches Because He Is Intimate With the Upright]. Cleanse Your Hands and Purify Your Hearts, [Even Though It's Difficult to Admit That You Are a] Double-Minded Sinner. [and in Doing So] He Will Lift You Up…
You do recall, don't you, that the governors and mayors who imposed the lockdowns never asked their citizens about their views about instantly getting rid of all rights and freedoms. They didn't consult legislatures. They didn't consult a range of expert opinion or pay attention to any serious demographic data that showed how utterly preposterous it was to force non-vulnerable populations into house arrest while trapping vulnerable populations in nursing homes that became Covid-soaked killing fields. Google that and see what response you get, I can tell you Google hides the truth, as they do on their YouTube platform…
They thought nothing of shattering business confidence, violating contractual rights, wrecking tens of millions of lives, prohibiting freedom in the association, tanking the stock market, blowing all budgets, shutting down international travel, and even closing the churches. Amazing. Every government executive except a few became a tin-pot dictator and so we will give credit where credit is due, mainstream media, and especially high tech, Twitter, Facebook, you know the list of tyrants that are turning this country into hell on earth. Enjoy…
This unique video platform brings the world's best viral videos to keep you entertained while making real money, The Best Video Platform Rumble
We live in a day where Big Tech has set Themselves Up as the judge, and God's character is on trial. In the Bible, God's wrath is never the capricious, self-indulgent, irritable, morally ignoble thing that Big Tech so often is. It is, instead, a human right and necessary reaction to objective moral evil". Big Tech has decided God and his children should be sidelined whenever an ethical issue is raised.
The immediately relevant issue of the contemporary phenomenon of "the spin doctor MSM, and Big Tech"— the person whose job is to put his finger into the wind of public opinion and decide how to bend the facts hide the truth to make them sound appealing, with little or no regard for truth. The people who live by-polls, not principle.
For the wrath of God is revealed from heaven against all ungodliness and unrighteousness of men who suppress the truth in unrighteousness" (Romans 1:18).
"For they exchanged the truth of God for a lie [notice, the truth that is being exchanged, gotten rid of, suppressed is truth about God], and [they] worshiped and served the creature rather than the Creator, who is blessed forever. Amen." This is the same as saying, "They did not glorify him as God or give thanks to him, but instead glorified the creature and took credit for what was owing only to God." They exchanged God-worship for self-worship. They suppressed the truth that God is infinitely glorious and that we are dependent on him.
Or consider verse 28: "And just as they did not see fit to acknowledge God any longer [literally: they did not approve having God in their knowledge], God gave them ( Big Tech, MSM) over to a depraved mind." Not approving to have God in their knowledge is the same as "suppressing the truth." God is true, but we don't want him in our understanding, so we will suppress this truth. We will exchange it. Distort it. Hide it. Run from it. And finally, become blind to it.
That blindness is the point of Romans 1:21: "For even though they knew God, they did not honor him as God or give thanks, but they became futile in their speculations, and their foolish heart was darkened." In other words, part of our condition in suppressing God's truth is that we become darkened. You don't just hold it down because you see and don't like it, but because you don't even see it anymore. This is why so many will say, "I don't suppress the truth of God; I don't think there is any truth of God to suppress." Paul would say, "The only explanation for such a stance in this world that God has made is a darkened heart — blindness to divine reality."
God warns that "a fourth of the earth" will die from the ride of the four horsemen of the Apocalypse—including by warfare, food shortages and disease epidemics (Revelation 6:7-8). This makes the current crisis look like a drop in the bucket compared to what is prophesied to come. To learn more about these four horsemen
The Rider of the "Pale Green Horse", That Kills 1/4th of Mankind. Another Point That Connects Him as the Man of Sin, Which Daniel Describes in the Latter 1/3rd of Daniel 11. in Revelation 6 We See That the Rider Named Death With Hell Following, Kills 1/4th of Mankind With "4" Described Methods. These Being, "to Kill With Sword, and With Hunger, and With Death, and With the Beasts of the Earth". We Also See "4" Described Methods in Daniel 11. These Being, "and They That Understand Among the People Shall Instruct Many: Yet They Shall Fall by the Sword, and by Flame, by Captivity, and by Spoil, Many Days". It Basically Defines to the Same Things, and Therefore Works to Connect the Two Entities as Being the Same. Daniel Also Confirms in This Same Passage That the Elect Shall Be Here During That 42 Month Reign of This Evil One That Claims to Be God. the 5th Seal Confirms That the Elect Shall Be Here Also, as They Are Being Killed for Their Testimony – Following the Arrival of the 4th Horseman, Who I Absolutely See as the 1st Beast/Son of Perdition. Then Comes "Salvation" in Revelation Chapter 7, Directly Following These Things, Just as in Daniel 12, Immediately Following the Death of the 1st Beast/Son of Perdition. We Know That the Rider Named Death/1st Beast Must Come to His End at the 6th Seal, Since Salvation Comes. These Events in Daniel and Revelation Are the Same, as Far as I Conclude. "Salvation" Coming, Confirming It. as Does Revelation 12: 7-12, We See the Same "Salvation" as the Dragon Is Cast Down to the Earth – the "Stars of Heaven That Fall to the Earth" of Revelation 6. All the Same Events. Same Events Jesus Describes Just Prior to His Arrival, in Matthew 24. Just Prior, the "Stars of Heaven" Fall to the Earth. They Are the Dragon Being Cast Down to the Earth. It All Interlocks to Confirm Itself as Being the Same Events. We Are Able to Gather Much Insight by Understanding This. Source: DDrake
The World Is In Big Trouble, for Those That Believe We Will Go Back to Some Sense of Normal Life Here on Earth, You Will Be Sadly Disappointed, Seven Years of Hell on Earth Which Began January 1, 2020
"Our courts oppose the righteous, and justice is nowhere to be found. Truth stumbles in the streets, and honesty has been outlawed" (Isa. 59:14, NLT)…We Turned Our Backs On GOD, Now We Have Been Left To Our Own Devices, Enjoy…
While Mainstream Media Continues to Push a False Narrative, Big Tech Has Keep the Truth From Coming out by Shadow Banning Conservatives, Christians, and Like-Minded People, Those Death Attributed to the Coronavirus Is a Result of Those Mentioned, They Truly Are Evil…
Source: HNewsWire ZeroHedge HNewsWire
PLEASE DO NOT POST HNEWSWIRE ARTICLES ON PARLER, FACE BOOK, REDDIT OR TWATTER SOCIAL MEDIA PLATFORM, WE ARE NOT COMFORTABLE WITH THEIR ANTI-CHRISTIAN — ANTI-AMERICAN NAZI PHILOSOPHY…STEVIERAY HANSEN
StevieRay Hansen
Editor,
HNewsWire.com
HNewsWire@protonmail.com
Watchmen does not confuse truth with consensus The Watchmen does not confuse God's word with the word of those in power…
In police-state fashion, Big Tech took the list of accused (including this site), declared all those named guilty and promptly shadow-banned, de-platformed or de-monetized us all without coming clean about how they engineered the crushing of dissent, Now more than ever big Tech has exposed there hand engaging in devious underhanded tactics to make the sinister look saintly, one of Satan's greatest weapons happens to be deceit…
The accumulating death toll from Covid-19 can be seen minute-by-minute on cable news channels. But there's another death toll few seem to care much about: the number of poverty-related deaths being set in motion by deliberately plunging millions of Americans into poverty and despair.
American health care, as we call it today, and for all its high-tech miracles, has evolved into one of the most atrocious rackets the world has ever seen. By racket, I mean an enterprise organized explicitly to make money dishonestly.
All the official reassurances won't be worth a bucket of warm spit. The Global s are behind the Corona-virus, It Is a Man-Made Bio-weapon.
My job is protecting children. It has taken me from big cities to rural outposts, from ghettos to penthouses, and from courtrooms, into demonic battlefields. But whatever the venue, the truth remains constant: Some humans intentionally hurt children. They commit unspeakable acts—for their pleasure, their profit, or both. StevieRay Hansen, CEO The 127 Faith Foundation
"People who grew up with the Internet saw what a wonderful thing it was for free expression, giving everyone access to a global audience. That's been completely flipped on its head, and now it's one of the most tightly controlled, manipulated places to find information that you could imagine. It's a complete 180 from what it used to be, and that's incredibly sad, because it was, initially, this challenge to old information gatekeepers, this place of free expression, of democratized information, and now it's just controlled by a handful of increasingly authoritarian ideologically partisan tech companies that haven't been held to account by officials in D.C. and aren't bound by any regulation preventing them from who censoring people or interfering in elections."
Technology companies like Google, Facebook, and Twitter and growing increasingly sophisticated in anticipating, intercepting, and suppressing information with the likelihood of going viral
The 127 Faith Foundation Thanks You
The 127 Faith Foundation: We do not want donations from "those on disability, on a fixed income, those that cannot afford to give" Please Pray!
My job is protecting children. It has taken me from big cities to rural outposts, from ghettos to penthouses, and from courtrooms, into demonic battlefields. But whatever the venue, the truth remains constant: Some humans intentionally hurt children. They commit unspeakable acts—for their pleasure, their profit, or both. StevieRay Hansen, CEO The 127 Faith Foundation
PayPal.Me/the127faithfoundatio
The number of Orphans aging out of Child Protective Custody has grown at an alarming rate. The 127 Faith Foundation receives many requests each week to house them at our ranch. Our prayer is that the good people of our country will step up to the challenge and offer financial support for "the least among us." We need your help! StevieRay Hansen, Founder, The 127 Faith Foundation
We make every effort to acknowledge sources used in our news articles. In a few cases, the sources were lost due to a technological glitch. If you believe we have not given sufficient credit for your source material, please contact us, and we will be more than happy to link to your article.