Update: 1215/21 The Death Angel Has Been Instructed to Confuse Big Tech — Social Media — 63,000 Websites Hit With Outages As Users Report Amazon Web Service Issues — Hours Of Darkness Coming More Often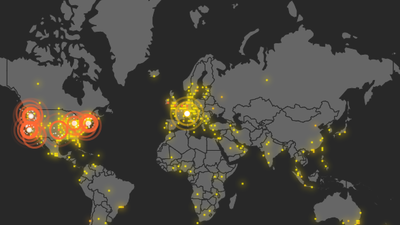 Update (1130ET): A person familiar with today's AWS outage told Bloomberg it's unrelated to last week's outage.
 Amazon company had one of its worst outages in its history earlier this month, affecting Netflix, robot vacuums and even ticket sales for Adele's upcoming tour. Amazon attributed the outage to "unexpected behavior" of its automated processes. -Bloomberg 
* * *
Preliminary reports from Pingdom AB, a Swedish website monitoring company, show more than 63,000 websites are experiencing issues worldwide. At the same time, Downdetector reports users are experiencing problems with Amazon Web Services.
REPORTS INDICATE THERE MAY BE A WIDESPREAD OUTAGE AT AMAZON WEB SERVICES, WHICH MAY BE IMPACTING SERVICE- DOWNDETECTOR

— zerohedge (@zerohedge) December 15, 2021
Pingdom shows 63,671 websites are experiencing issues on Wednesday morning.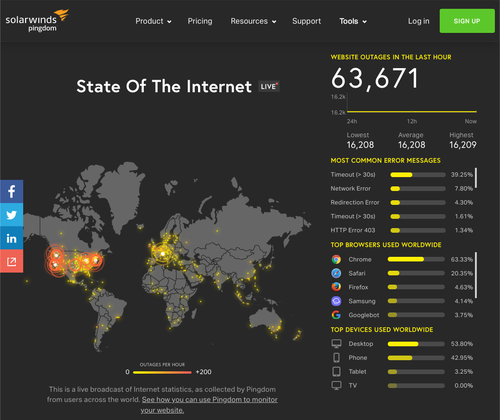 Downdetector shows AWS problems are being reported on the Eastern US half.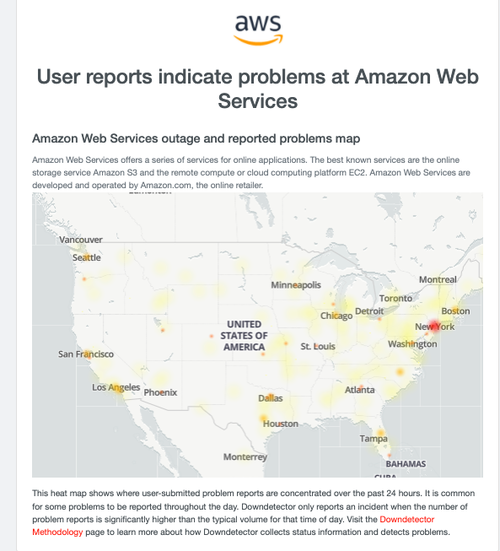 An alert on AWS Status page reads, "We are investigating Internet connectivity issues to the US-WEST-1 and US-WEST-2 Region."

Downdetector shows Twitch, Doordash, Facebook, Hulu, Slack, and Netflix are experiencing issues.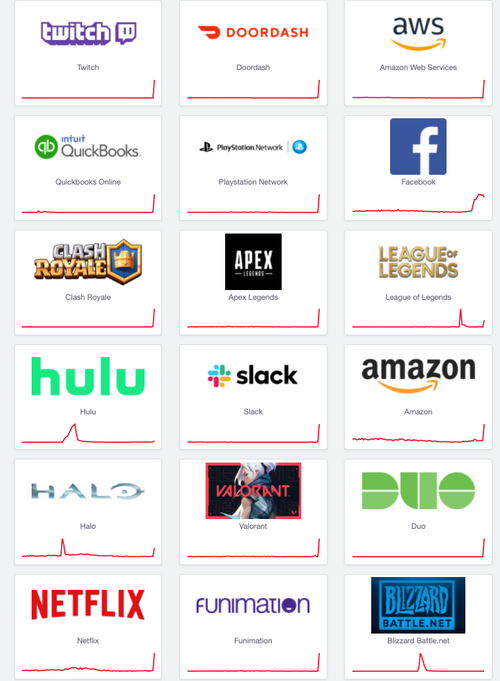 The fragility of the internet has been on full display this fall. Just last month, a technical issue at Google Cloud Networking led to tens of thousands of website outages.  Source: ZeroHedge
Update: 12/8/21 Many of Amazon's own offerings, including the Ring smart doorbell service, its Alexa virtual assistant and its Amazon Music Service, were also affected by the outage. It also interrupted Amazon's delivery operations, with drivers reportedly unable to access information via apps.
The outage began this morning at around 10.45 am EST and stretched into the early evening, according to Downdetector, which tracks website outages. In a statement published around 12.30 pm, AWS said that it was seeing multiple issues at data centers in its U.S.-East-1-region based out of Virginia.
The company blamed the issues on "the impairment of several network devices." While AWS said it had "executed a mitigation" that was producing "a significant recovery in the region," shortly after 5 pm, Downdetector was still showing plenty of reports of problems. In an emailed statement, Richard Rocha, an Amazon spokesman, said AWS is "working to resolve the issues as quickly as possible." At 7.35pm the company said it had resolved the issue with its network devices and engineers were "working towards recovery of any impaired services."
Is It Down for Everyone, or Just the Unvaxxed? SRH...
30K Websites Down After Google Cloud Outage
Update (1330ET): Internet tracking website NetBlocks confirms the widespread internet outage is "due to a Google Cloud Networking technical fault; incident not related to country-level internet disruptions or filtering."
ℹ️ Note: Several online services including Spotify, Snapchat and Etsy have been experiencing international outages due to a Google Cloud Networking technical fault; incident not related to country-level internet disruptions or filtering pic.twitter.com/KGfLKfgcUN— NetBlocks (@netblocks) November 16, 2021
Here's Google Cloud Status Dashboard laying out the errors.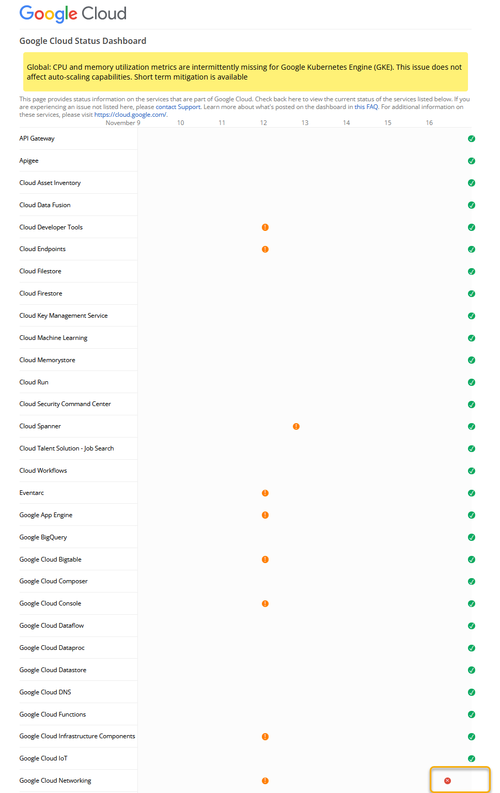 The outage has left 29k website offline worldwide.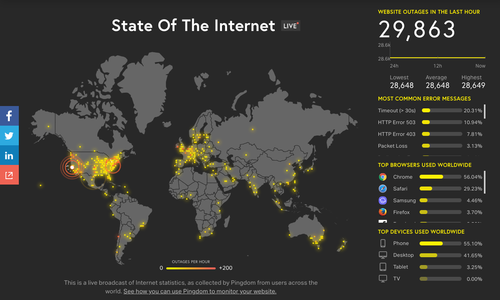 * * *
Downdector reports dozens of major websites began experiencing disruptions or outages around 1240 ET. Users are saying AWS and Google Cloud are down and could be the culprit behind the widespread outage.
Websites such as Spotify, Etsy, Snapchat, Discord, Google, Target, Google Cloud, and AWS, among others, are experiencing disruptions or outages.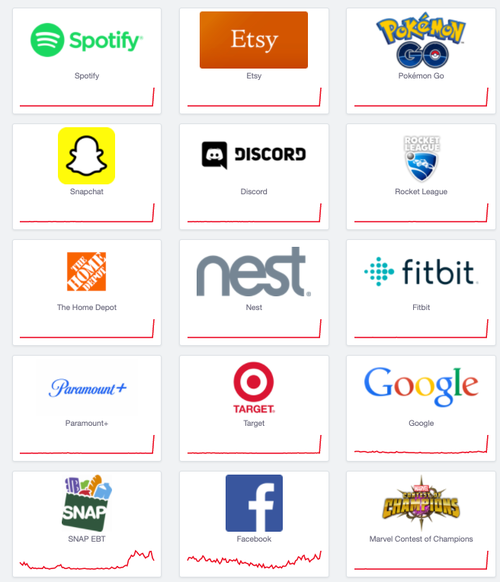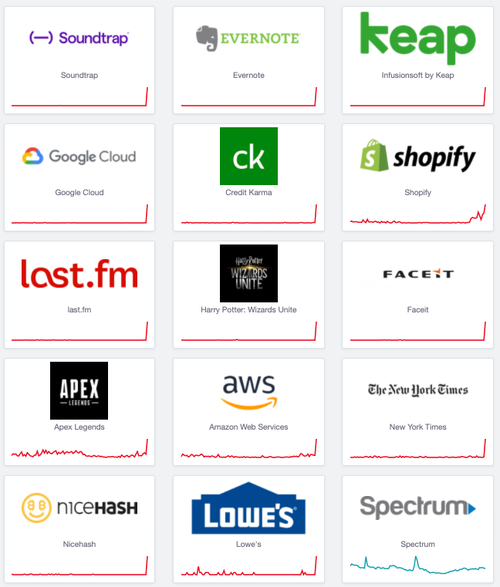 According to a Cloudflare status update, "it is investigating issues with the logging component within Gateway. Gateway's logging may be impacted. We are working to understand the full impact and mitigate this problem. More updates to follow shortly."

Cloudflare provides DNS and CDN (content delivery network) services and powers for about 40% of the internet. If one of the company's networks goes down, like what happened in July, widespread disruptions are seen.
Looks like another Cloudflare backbone fiasco pic.twitter.com/4JaaZ18k99— zerohedge (@zerohedge) November 16, 2021
About 27k websites across the world are down.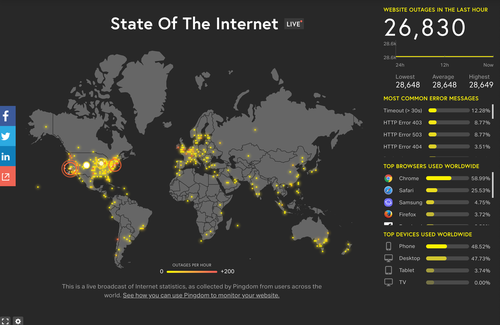 Here's what Twitter is saying about the outage:
@vitalsource is the website down? I was in the middle of reading when it stopped working pic.twitter.com/4UBPIIG9Or— Lizette 🦋 (@_lizettesanz31) November 16, 2021
@kulula website down? 🙁 pic.twitter.com/RxA62XzzlG— Greg (@greper) November 16, 2021
*This story is developing Source: ZeroHedge
Up-Date: 10/28/21 Amazon Tumbles After Missing Revenues And Earnings, Guiding Far Below Consensus
With the bulk of the FAAMG stocks - which is now GAMMA following Facebook's rebranding to Meta - reporting solid results, investors were keenly looking to Amazon earnings, where the biggest question for Amazon is how sustainable are the growth trends that boosted its performance during the pandemic. The Internet giant was one of the biggest beneficiaries of shifts in consumer and business behavior last year while continuing to grab market share in cloud.
Many consumers flocked to buy things online as they wanted to avoid infection at physical stores, with the recent Delta wave scare likely providing a further boost to Amazon. Further, Amazon Web Services revenue soared on back of rising usage from Internet digital services - including remote-working software, videostreaming and gaming. But with the wider availability of vaccines and as employees start to return to physical offices, the risk is some of these trends may start to reverse. Investors will be also looking for any commentary on the future prospects for regulation and antitrust legislation.
That said, Amazon is lapping last year's blockbuster pandemic boost, and investors are aware it can't match last year's growth. Analyst estimate third-quarter sales growth of 16.3% to $112 billion - the high end of the company's own guidance for Q3 of $106-$112BN - less than half the pace of growth of the same period a year ago. While slowing growth is anticipated, 16.3% for a company the size of Amazon is still remarkable.
A forward-looking question for today: How is Amazon's profitability going to shake out after the company added millions of customers, hundreds of warehouses, and hundreds of thousands of employees in the past year?
Looking ahead, another key focus will be on how expensive the busy holiday quarter will be due to broken supply chains, shipping logjams and inventory shortages. As Bloomberg notes, Amazon is not afraid to spend big and sacrifice profits to stand out from competitors and this holiday season could be a moment to shine if everything around them is struggling. Profit is secondary to customer experience. In other words, watch the operating-income forecast for the fourth quarter for an indication of big spending plans.
* * *
So with that in mind, how did Amazon do in Andy Jassy's second quarter as the company's new CEO? Not good: not only did the company miss on the top and bottom line and operating income, but guided much lower than Wall Street expected:
Net Sales $110.8BN, up +15.3 Y/Y but missing estimates of $111.81B
EPS $6.12, down big from $12.37Y/Y and also missing estimates of $8.96
Operating Income $4.85BN, down 22%Y/Y missing est. $5.62B
AWS net sales $16.11 billion, up 39% and beating estimate $15.40 billion
Online stores net sales $49.94 billion, up 3.3% and missing estimates of $51.53 billion
Looking ahead, the company's guidance was unexpectedly ugly, with the high end of expectations missing sellside consensus as the company sees several billion dollars in additional costs in 4Q.
Q4 Net Sales $130.0BN to $140BN, missing Wall Street est. $141.62B
Q4 Operating income between $0 billion and $3.0 billion, also badly missing estimates of $7.44BN
Amazon's dismal forecast signaled that the pandemic's boost to online shopping continues to fade. The company's revenue and profit also missed projections for the third quarter and Amazon said its costs to negotiate supply chain issues and add employees to deliver goods in the holiday season would cut further into profit.
Commenting on the quarter, Andy Jassy said that "in the fourth quarter, we expect to incur several billion dollars of additional costs in our Consumer business as we manage through labor supply shortages, increased wage costs, global supply chain issues, and increased freight and shipping costs—all while doing whatever it takes to minimize the impact on customers and selling partners this holiday season. It'll be expensive for us in the short term, but it's the right prioritization for our customers and partners"
Digging into the numbers we find that the company's revenue grew by 15.3% in Q3, less than half the 37.3% from a year ago. it gets worse because the Q4 midline revenue guidance of $135BN is projected to grow just 7.5% Y/Y, the slowest growth in the past decade.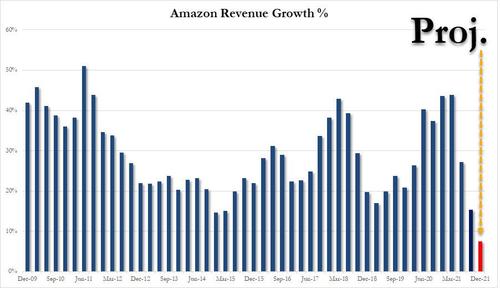 A breakdown of sales in Q3 between domestic and international shows misses in both:
North America Net Sales $65.56B, missing est. $66.36B
Intl Net Sales $29.15B, missing est $29.42B
There was more bad news: operating margins tumbled, dropping from 6.8% in Q2, to just 4.4%, tied for the lowest since March 2018.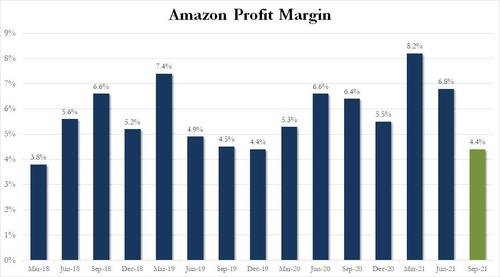 A look at margins showed more ugliness with a big drop in both North American and Intl retail margins, which actually turned negative again after three quarter in the green, and it was the AWS margin of just over 30% that saved the company's overall profit margin. And perhaps most remakrably, if it weren't for AWS's $4.883BN in profit, AMZN would have a negative profit margin across its legacy operations.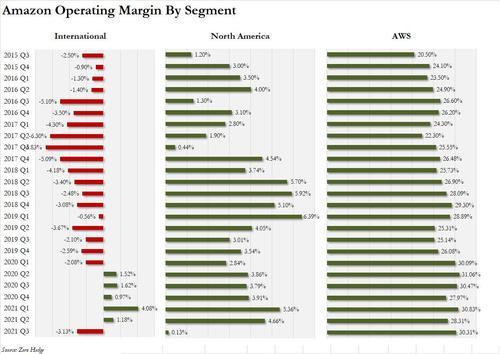 As Bloomberg notes, there was lots to chew on in Amazon's expenses rundown, which shows costs are rising, if not by as much as CEO Andy Jassy's dire warning on 4Q expenses. Fulfillment costs were up 26%, technology and content (largely engineering salaries) climbed 31%. Marketing expense surged by almost 50%. That said, all of those are in line with recent increases.
As usual, the saving grace for Amazon was AWS, where sales picked up materially, rising 39% Y/Y to $16.11BN, better than the $15.40BN expected, better than the 37% increase in Q3 and the highest revenue growth rate since Q1 2019!
Looking ahead, there was a big warning from Amazon that deliveries in the fourth quarter will be expensive. They want to get through the holidays however they can and money is no object. They're planning to drop a ton of money in holiday quarter. But investors are looking at that holiday outlook, and cloud computing isn't diverting their attention.
Despite the ugly results, the company continued its hiring ways and after a small dip in Q1, the company employees hit a new record high of 1.468 million.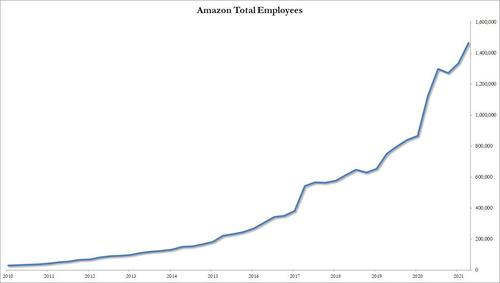 The bottom line, and sadly for the bulls, Amazon tempered any enthusiasm about a repeat of last year's blockbuster holiday quarter. A sales forecast of $130 billion to $140 billion and an operating income forecast of up to $3 billion were both shy of expectations.
The income outlook is likely the most sobering number as it suggests Amazon expects it will be expensive to get customers' orders to them in time given global shipping logjams, inventory shortages and a labor crunch that is driving up payroll costs. Long-time Amazon watchers shouldn't be surprised, though. Amazon doesn't like to say no to customers.
In kneejerk response, the stock is tumbling after hours, sliding more than 4%.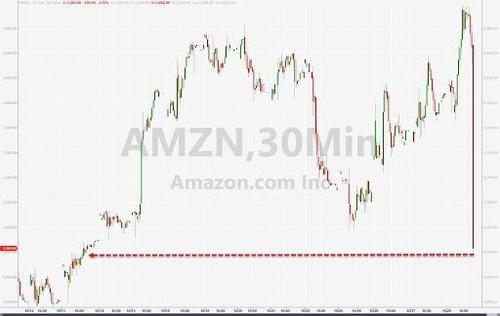 Up-Date: 10/9/21 Facebook, along with its subsidiaries Instagram, Messenger, and WhatsApp, is offline for the second time in less than a week, leaving competitors to rescue its customers from an existential crisis.
Facebook and its subsidiaries have crashed mysteriously for users all around the world on Friday, according to outage tracker DownDetector. It is the second major outage this week for the social media behemoth.
The trillion-dollar company acknowledged outages affecting its various platforms, using the exact same language it deployed to 'apologize' for Monday's snafu, which stretched past six hours and left those who rely on the platform to work or communicate with little recourse but to explore less well-known platforms like Telegram – which gained millions of users during the outage.
We're aware that some people are having trouble accessing our apps and products. We're working to get things back to normal as quickly as possible and we apologize for any inconvenience.— Facebook (@Facebook) October 8, 2021
Monday's failure cost founder Mark Zuckerberg upwards of $6 billion from his own fortune as the company's stock price cratered. That outage, pinned on a botched "server update," was the largest Down Detector had ever seen, according to the Daily Mail.
Update:10/4/21 After six hours offline, the estimated global economic impact of the internet disruption for Facebook, WhatsApp, and Facebook Messenger comes out to nearly $1 billion.
The NetBlocks Cost of Shutdown Tool (COST) estimated the outage had a total economic impact of a whopping $968 million on the global economy.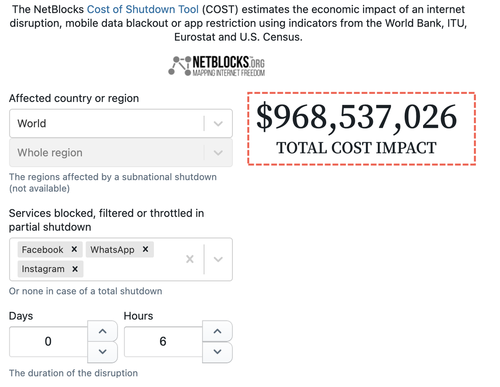 * * *
Update (1750 ET): Facebook is currently experiencing one of the largest global outages ever that has also taken out Instagram, WhatsApp, and Facebook Messenger, according to Downdetector.
After a Domain Name System (DNS) issue that knocked Facebook and other related products off the internet for more than six hours, there's a sign of life coming from Facebook's DNS servers which are broadcasting again, according to DNS Checker.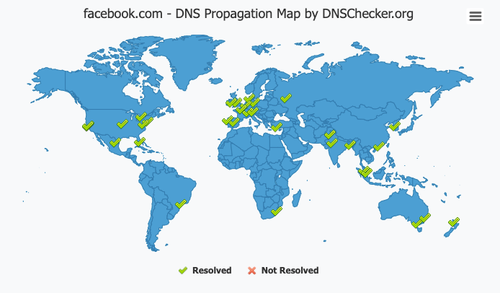 Senior Editor at The Verge tweeted, "Facebook seems to be slowly coming back to life. I'm seeing BGP announcements and DNS is back."
Facebook seems to be slowly coming back to life. I'm seeing BGP announcements and DNS is back pic.twitter.com/LNO76M5PhR— Tom Warren (@tomwarren) October 4, 2021
Even though Facebook's DNS is back up, this doesn't mean everything is fixed; the social media platform is still inaccessible to some users.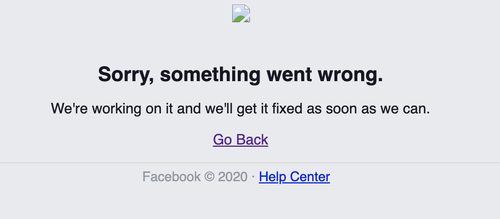 Facebook, Instagram, WhatsApp Experience Global Outages...
Update: 10/4/21 Downdector reports that Facebook, Instagram, Whatsapp, and Facebook Messenger are experiencing issues and /or outages worldwide. The outage comes just before a Facebook whistle-blower is set to testify before Congress on Tuesday. On the bright side, with a broad part of social media platforms down today, maybe people will get back to work and boost global productivity since the outage is broad.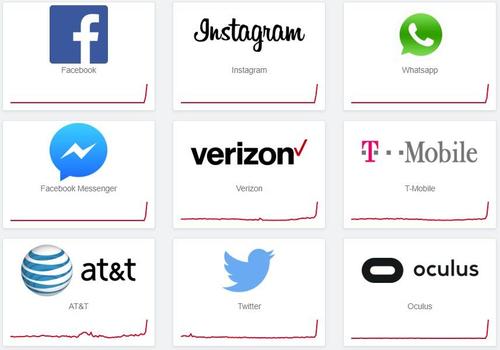 Users began to report issues with the social media platform around 1120 ET.
Facebook users report the website won't load with an error message that reads:
"Sorry, something went wrong. We're working on it and we'll get it fixed as soon as we can."

Facebook spokesperson Andy Stone acknowledged on Twitter that "some people are having trouble accessing our apps and products."
We're aware that some people are having trouble accessing our apps and products. We're working to get things back to normal as quickly as possible, and we apologize for any inconvenience.— Andy Stone (@andymstone) October 4, 2021
The timing of the widespread outages comes as a Facebook whistleblower will be testifying before Congress on Tuesday. The whistleblower appeared on "60 Minutes" Sunday, detailing the tech company's mission to put profit before doing "what was good for the public," including clamping down on hate speech.
Shares of the tech company slid 6% by early afternoon, tumbling not just on the whistleblower but also the global outage.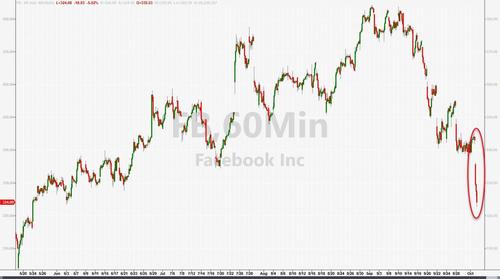 Facebook users took to Twitter to complain about the outages:
Facebook, Instagram and WhatsApp experiencing worldwide outage!!!!!! pic.twitter.com/EIMKqrtUFK— Nate (@natedoggie1134) October 4, 2021
The Facebook DNS outage will quickly expose the hidden dependencies some of us have on Facebook (company), even if we barely use the social network.

For me, it's WhatsApp.

Reminds me of the story of when Google took down their "Chubby" service:— Danny Kopping (@dannykopping) October 4, 2021
... and there's this:
Does anyone else think this Facebook outage is timed perfectly if they want to clean house in the face of the whistleblower's interview so that even more dirt isn't found?— Tim Palomo (@timpalomo1) October 4, 2021
Facebook, WhatsApp and Messenger all down in major outage.

Conspiracy theorists say just shortly after Whistleblower interview (which I've not seen) #facebook #interview— Graham Riddell Photography (@GR_SLR) October 4, 2021
If anyone out there is wondering, I can confirm that Facebook and Instagram are having massive outages.

Weird after this whistleblower stuff from @60Minutes last night. https://t.co/NYS9C8gH5r— Adam Greenbaum (@Greenbaumly) October 4, 2021
*This story is developing...
Source: ZeroHedge
(June 9-2021) The Internet Will Collapse , Black-Out Coming. The "Artificial Scarcity" Ploy is Used With Everything Else People Need as a Means of Control and Profit for Satan Soldiers, Why Would the Internet Be Any Different in Their Eyes?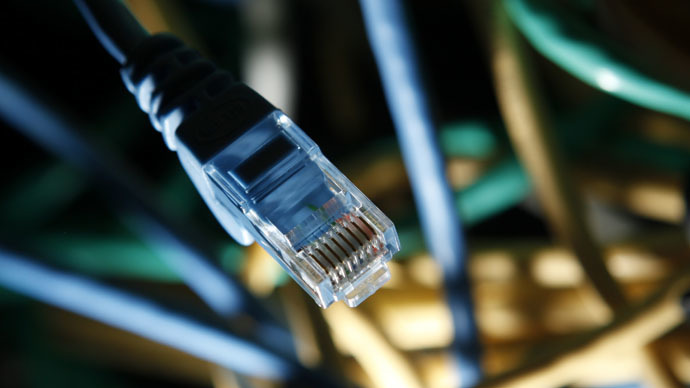 We live in a time when Big Tech has set themselves up as the judge, and God's character is on trial. In the Bible, God's wrath is never the impulsive, self-indulgent, irritable, morally ignoble thing that Big Tech so often is. It is, instead, a human right and necessary reaction to objective moral evil". Big Tech has decided God and his children should be sidelined whenever an ethical issue is raised.
Warning! Satan Soldiers Will Shut the Economy Down in Order to Pave the Way for the "Reset" of the Global Economy…
This dreary picture is echoed in the New Testament. Jesus said it will be a time of tribulation "such as has not occurred since the beginning of the world until now, nor ever shall" (Matthew 24:21). In fact, Jesus said it will be so terrible that if it were not stopped at the end of seven years, it would result in the destruction of all life (Matthew 24:22). The Apostle John states that the chaos will be so great that the leaders of the world will crawl into caves and cry out for the rocks of the mountains to fall upon them (Revelation 6:15-16).
Last year, the World Economic Forum teamed up with the Russian government and global banks to run a high-profile cyberattack simulation that targeted the financial industry, an actual event that would pave the way for a "reset" of the global economy.
The simulation, named Cyber Polygon, may have been more than a typical planning exercise and bears similarities to the WEF-sponsored pandemic simulation Event 201 that briefly preceded the COVID-19 crisis.
(June 7-2021) A Level 3 Internet outage today and haven't heard this company mentioned before, then you might be wondering how problems involving the Level3 network could take down your access to Yahoo Mail, PSN, Xbox Live, Outlook, BT, Twitch, HBO Go, Craigslist, and other networks/services.
Level 3 Communications is based in America and is now operating under the name CenturyLink. It provides Internet service via their Tier 1 network to Internet carriers in Europe, Asia, and North America. This is why we have seen problems with a range of services in the UK, Germany, and United States that all user the Level 3 network.
Countless websites and apps around the world went down for about an hour Tuesday after Fastly, a major content delivery network, reported a widespread failure.Fastly supports news sites and apps like CNN, the Guardian, the New York Times and many others. It also provides content delivery for Twitch, Pinterest, HBO Max, Hulu, Reddit, Spotify (SPOT) and other services. The outage took down other major internet platforms and sites, including Amazon, Target, and the UK government website — Gov.uk.The problem was caused by an outage at Fastly (FSLY), a cloud service provider. The company said on its service status website (which was working) Tuesday morning it had identified the problem and fixed the issue. Service for sites and apps started to be restored around 7 a.m. ET, although Fastly said some customers may experience longer load times as a residual effect of the problem.The outage affected dozens of countries across the Americas, Europe and Asia, as well as South Africa. Fastly said it had identified a service configuration that triggered disruptions across its servers. The company has disabled that configuration.Essentially, Fastly took down its own network with a bad software update — a rare but not unheard of goof that has temporarily brought down parts of even larger online platforms, including Google (GOOGL) and Amazon (AMZN), in the past."The problem with the internet is it's always there until it isn't," said David Vaskevitch, CEO of photo app Mylio and former Microsoft chief technical officer. "For a system with so many interconnected parts, it's not always reliable. Any one fragile part can bring it down."
What is Fastly?
Fastly helps improve load times for websites and provides other services to internet sites, apps and platforms — including a large global server network designed to smooth out traffic overloads that can crash websites, such as a denial-of-service attack. The serviceaccomplishes that by storing content and aspects of websites and apps on servers that are physically closer to the users trying to access a particular site or platform.But because Fastly provides a layer of support between internet companies and customers trying to access the various online platforms it services, when it goes down, access to those platforms can be blocked entirely.When Fastly went down, it went down hard: Three-quarters of the traffic coming from Fastly disappeared at around 5:49 am ET, according to Doug Madory, director of internet analysis for Kentik, a cloud company that provides large companies with internet transmission records. Traffic began returning at about 6:39 am ET.
Why did Fastly's outage take the internet down, too?
Companies that operate on the internet can switch content delivery networks — and some appeared able to bypass Fastly's outage Tuesday morning. But that's not always an easy or quick proposition.Major website and app outages happen from time to time and typically don't last long — internet service providers, content delivery networks and other hosting services are built with multiple redundancies and a global network of backup servers designed to reduce disruptions when things go haywire.In August 2020, CenturyLink, an internet service provider that is supposed to keep websites up and running, was down itself for the better part of a day. That meant Cloudflare, Hulu, the PlayStation Network, Xbox Live, Feedly, Discord, and dozens of other services reported connectivity problems. When Cloudflare — a content delivery network like Fastly — went down, it took dozens of website and online services along with it.
For those of you who care, Google and your favorite social media platforms have misled you, and now we all pay a heavy price for trusting the ungodly, Google and company, They knew exactly what they were doing, removing our history while preparing you to accept the New World Order playbook, Enjoy.
MY MISSION IS NOT TO CONVINCE YOU, ONLY TO INFORM…
For those of you who care, Google and your favorite social media platforms have misled you, and now we all pay a heavy price for trusting the ungodly, Google and company, They knew exactly what they were doing, removing our history while preparing you to accept the New World Order playbook, Enjoy.
Big Tech In Trouble
Wall Street Witnessed a Sell-Off in Tech Darlings This Week, Which Spooked Investors as They Interpreted It as the Beginnings of a Market Downturn.
Government efforts to rein in Big Tech have been underway for years, but 2021 is likely to be a watershed moment due to a number of growing pressures. Political, societal and market-based forces are combining to put these companies — Alphabet, Amazon, Apple, Facebook, Microsoft and others — under the microscope.
The Evil List
Which tech companies are really doing the most harm? Here are the 30 most dangerous, ranked by the people who know. Read More
Free is Evil.
How much do you pay for your email? Your search engine? Your social network? Your radio and TV? They're all free. Americans spend about 11 hours each day engaging with free media, apps and websites.
Someone is paying, though. How much are the advertisers of the world spending for access to your brain? What are they buying, anyway?
When you use a free service, you are consenting to let someone inside your head, to change your behavior in ways that benefit them. You're joining a behavior change program that turns your own behavior against you.
That's why free is evil.
Big-Tech Bloodbath Continues After Biggest Sell-Program In History
After yesterday's ugliness in big-tech and small-caps, many hoped for a bounce today. But the combination of ARKK gamma and CTA deleveraging meant the pain was not over and both Nasdaq and Russell 2000 plunged into the cash market open (after getting hit as the Asia open and European open)...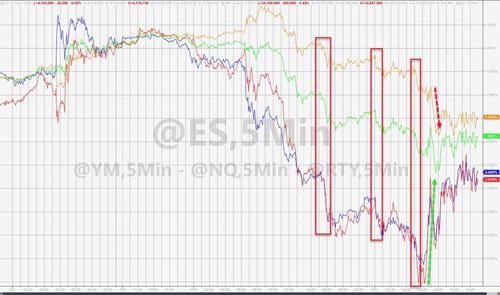 But that puke into the cash open was one for the history books as NYSE companies trading on downticks exceeded those on upticks by 2,069 at one point. That was the most widespread bout of selling in the history of the indicator...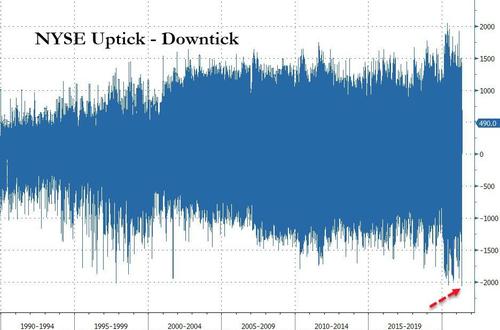 Source: Bloomberg
Powerful Politicians and Top Military Generals. These Reprobates Will Not Be Able to Stop TRUTH, We Have Entered Into a New Battle in World Affairs and So These Slugs Will Be Outmaneuvered at Every Turn, God is in Charge…
The Lieutenants in Satan's Army Are Under Fierce Delusion, Big Tech Would Not Leave Well Enough Alone — FTC, 48 States File Lawsuits to Break up Facebook, and That's Just the Beginning, Google Your Next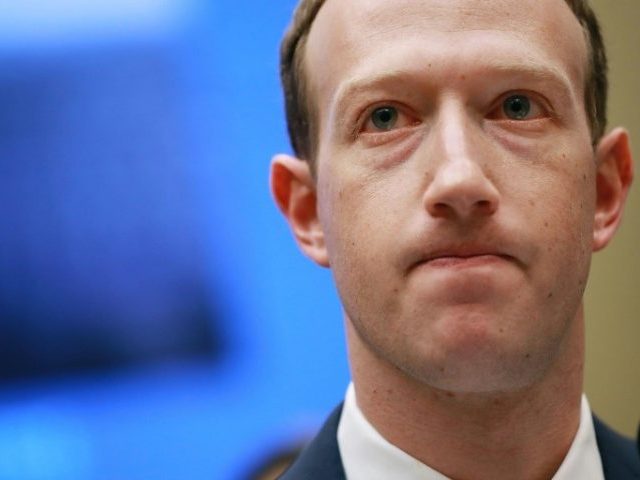 The FTC and 48 states are set to launch a legal assault on Facebook over claims of antitrust violations. The lawsuits seek to break up Mark Zuckerberg's social media empire.
Politico reports that federal antitrust authorities and dozens of states are set to launch a double-barreled legal assault against Facebook over allegations of antitrust violations. Both lawsuits aim to force Facebook to break up its empire which includes messaging service WhatsApp and photo-sharing app Instagram.
Attorneys general from 48 U.S. states and territories, including New York, are behind one of the suits that was first hinted at last week. The second suit filed by the FTC is set to be filed later this afternoon.
The cases accuse Facebook of illegally using its power for more than a decade to push out rivals and buy out rising competitors, noting WhatsApp and Instagram as specific examples of this. Facebook has continued to purchase multiple companies despite recent scrutiny, Breitbart News recently reported on Facebook's purchase of the customer service startup Kustomer in a deal valued at more than $1 billion.
The suit is part of the latest escalation in the power struggle between world governments and U.S. tech firms. In October, the Justice Department and a smaller group of U.S. states filed a similar antitrust lawsuit against Google.
Facebook has denied being a monopoly, noting that it ranks behind Google in how much revenue it takes from the $160 billion global market for online advertising. Google and Facebook maintain a duopoly over the online advertising market. Facebook currently has 2.74 billion users worldwide and disclosed in July 2019 that the FTC was investigating it for alleged antitrust violations. New York States attorney general, Tish James, announced two months later that she was leading a multistate coalition probing antitrust concerns of Facebook. Source: breitbart
Humble Yourself Big Tech in the Presence of the Lord. [Don't You Know] God Is Opposed to the Proud Boys? Be Miserable and Mourn and Weep; Let Your Laughter Be Turned Into Mourning and Your Joy to Gloom. [This Isn't the Message or Advice the Social Media or the World Gives You, but There Is a Purpose Behind It Because] He Gives a Greater Grace [a Grace the World Will Never Offer nor Does It Even Want You to Know It's Been Offered.] He Jealously Desires the Spirit Which He Has Made to Dwell in Us [and So] He Gives Grace to the Humble. [Through That Grace You May] Draw Near to God and He Will Draw Near to You [Despite What the World Teaches Because He Is Intimate With the Upright]. Cleanse Your Hands and Purify Your Hearts, [Even Though It's Difficult to Admit That You Are a] Double-Minded Sinner. [and in Doing So] He Will Lift You Up...
We live in a day where Big Tech has set Themselves Up as the judge, and God's character is on trial. In the Bible, God's wrath is never the capricious, self-indulgent, irritable, morally ignoble thing that Big Tech so often is. It is, instead, a human right and necessary reaction to objective moral evil". Big Tech has decided God and his children should be sidelined whenever an ethical issue is raised.
The immediately relevant issue of the contemporary phenomenon of "the spin doctor MSM, and Big Tech"— the person whose job is to put his finger into the wind of public opinion and decide how to bend the facts hide the truth to make them sound appealing, with little or no regard for truth. The people who live by-polls, not principle.
For the wrath of God is revealed from heaven against all ungodliness and unrighteousness of men who suppress the truth in unrighteousness" (Romans 1:18).
"For they exchanged the truth of God for a lie [notice, the truth that is being exchanged, gotten rid of, suppressed is truth about God], and [they] worshiped and served the creature rather than the Creator, who is blessed forever. Amen." This is the same as saying, "They did not glorify him as God or give thanks to him, but instead glorified the creature and took credit for what was owing only to God." They exchanged God-worship for self-worship. They suppressed the truth that God is infinitely glorious and that we are dependent on him.
Or consider verse 28: "And just as they did not see fit to acknowledge God any longer [literally: they did not approve having God in their knowledge], God gave them ( Big Tech, MSM) over to a depraved mind." Not approving to have God in their knowledge is the same as "suppressing the truth." God is true, but we don't want him in our understanding, so we will suppress this truth. We will exchange it. Distort it. Hide it. Run from it. And finally, become blind to it.
That blindness is the point of Romans 1:21: "For even though they knew God, they did not honor him as God or give thanks, but they became futile in their speculations, and their foolish heart was darkened." In other words, part of our condition in suppressing God's truth is that we become darkened. You don't just hold it down because you see and don't like it, but because you don't even see it anymore. This is why so many will say, "I don't suppress the truth of God; I don't think there is any truth of God to suppress." Paul would say, "The only explanation for such a stance in this world that God has made is a darkened heart — blindness to divine reality."
The Rider of the "Pale Green Horse", That Kills 1/4th of Mankind. Another Point That Connects Him as the Man of Sin, Which Daniel Describes in the Latter 1/3rd of Daniel 11. in Revelation 6 We See That the Rider Named Death With Hell Following, Kills 1/4th of Mankind With "4" Described Methods. These Being, "to Kill With Sword, and With Hunger, and With Death, and With the Beasts of the Earth". We Also See "4" Described Methods in Daniel 11. These Being, "and They That Understand Among the People Shall Instruct Many: Yet They Shall Fall by the Sword, and by Flame, by Captivity, and by Spoil, Many Days". It Basically Defines to the Same Things, and Therefore Works to Connect the Two Entities as Being the Same. Daniel Also Confirms in This Same Passage That the Elect Shall Be Here During That 42 Month Reign of This Evil One That Claims to Be God. the 5th Seal Confirms That the Elect Shall Be Here Also, as They Are Being Killed for Their Testimony - Following the Arrival of the 4th Horseman, Who I Absolutely See as the 1st Beast/Son of Perdition. Then Comes "Salvation" in Revelation Chapter 7, Directly Following These Things, Just as in Daniel 12, Immediately Following the Death of the 1st Beast/Son of Perdition. We Know That the Rider Named Death/1st Beast Must Come to His End at the 6th Seal, Since Salvation Comes. These Events in Daniel and Revelation Are the Same, as Far as I Conclude. "Salvation" Coming, Confirming It. as Does Revelation 12: 7-12, We See the Same "Salvation" as the Dragon Is Cast Down to the Earth - the "Stars of Heaven That Fall to the Earth" of Revelation 6. All the Same Events. Same Events Jesus Describes Just Prior to His Arrival, in Matthew 24. Just Prior, the "Stars of Heaven" Fall to the Earth. They Are the Dragon Being Cast Down to the Earth. It All Interlocks to Confirm Itself as Being the Same Events. We Are Able to Gather Much Insight by Understanding This. Source: DDrake