Evil Has Mutated out of Control, They Despise Everything That's Good About the United States of America…
Reprobate" and "rejected" are the same word here.  Webster's dictionary defines this word as "not enduring proof or trial; not of standard purity or fitness; disallowed; rejected."
In times past, it was American leadership worldwide which provided a haven for religious freedom. Now that the U.S. has succumbed to evil it is no longer seen as a protector, but instead as an aggressor, signaling a collapse in virtue the world over. Now that we have turned our back on right and truth we have entered into a period of moral free fall.
If anyone is to blame for the state of worldwide Christian persecution it is America herself due to the betrayal of its own founding principles. Christian persecution is on the rise because the pastors and leaders of America have allowed America to fall into the hands of God-haters, warmongers, and moral reprobates.
I hear all the time Christians saying they welcome the tribulation as a sign of the end times and Jesus' close return. What we need to realize is God will hold this generation accountable for the moral failings we have allowed, especially concerning the allowance of persecution of his saints. This is despicable reasoning almost demonic and is just another indicator as to how fallen from truth Christians have become in our modern age.
Here is a great verse that nails the moral failings of our country, Christians and pastors.
They profess that they know God; but in works they deny him, being abominable, and disobedient, and unto every good work reprobate. Titus 1:16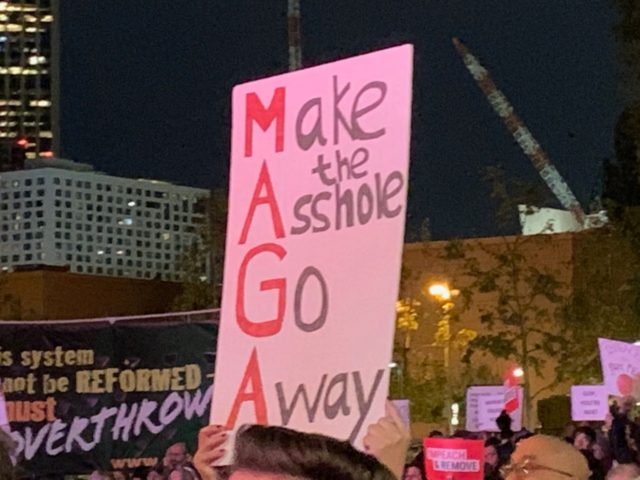 LOS ANGELES, California — Roughly 500 protesters turned out for a pro-impeachment rally Tuesday evening in front of City Hall, the night before the House of Representatives is due to vote on articles of impeachment against President Donald Trump.
"Impeach the motherf**ker!" shouted former Rep. Katie Hill (D-CA), who resigned earlier this year over allegations that she had affairs with members of her campaign and congressional staff. She was greeted warmly by the crowd.
Headliner Alyssa Milano, the actress-turned-activist, told the crowd she was tired of the "bullshit" from the "asshole" in the White House and urged attendees to vote out Trump and the Republicans in the upcoming 2020 election.
Signs — most homemade — included: "Impeach and Remove"; "Trump Is Not Above the Law"; and simply "Impeach 45." Less polite signs included "Fuck Cheeto Voldemort" and "Make the Asshole Go Away," the latter a play on Trump's "Make America Great Again" slogan.
One man carried a rubber head of Trump on a pike. He told Breitbart News he wished it were the real thing.
Breitbart News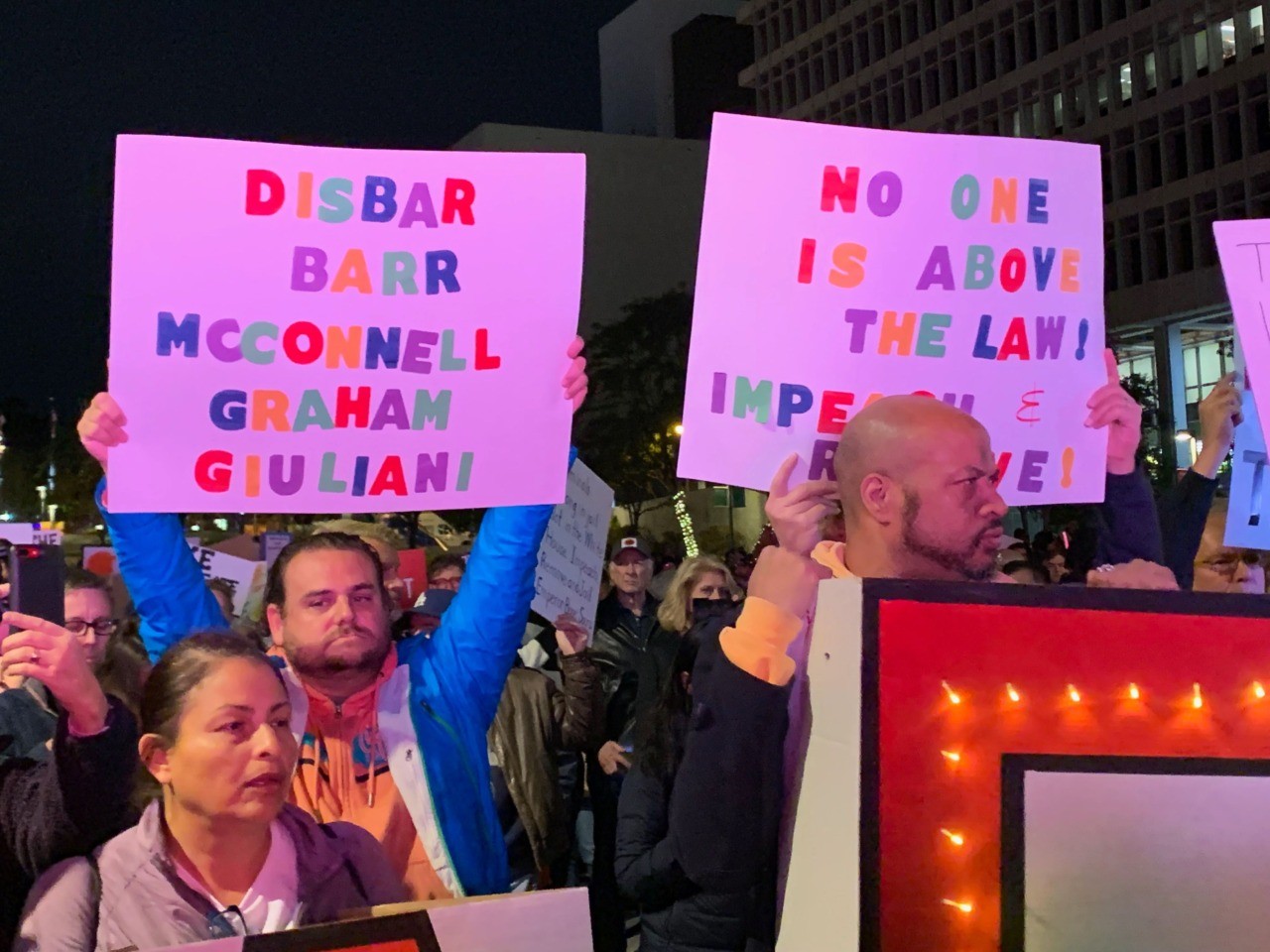 Breitbart News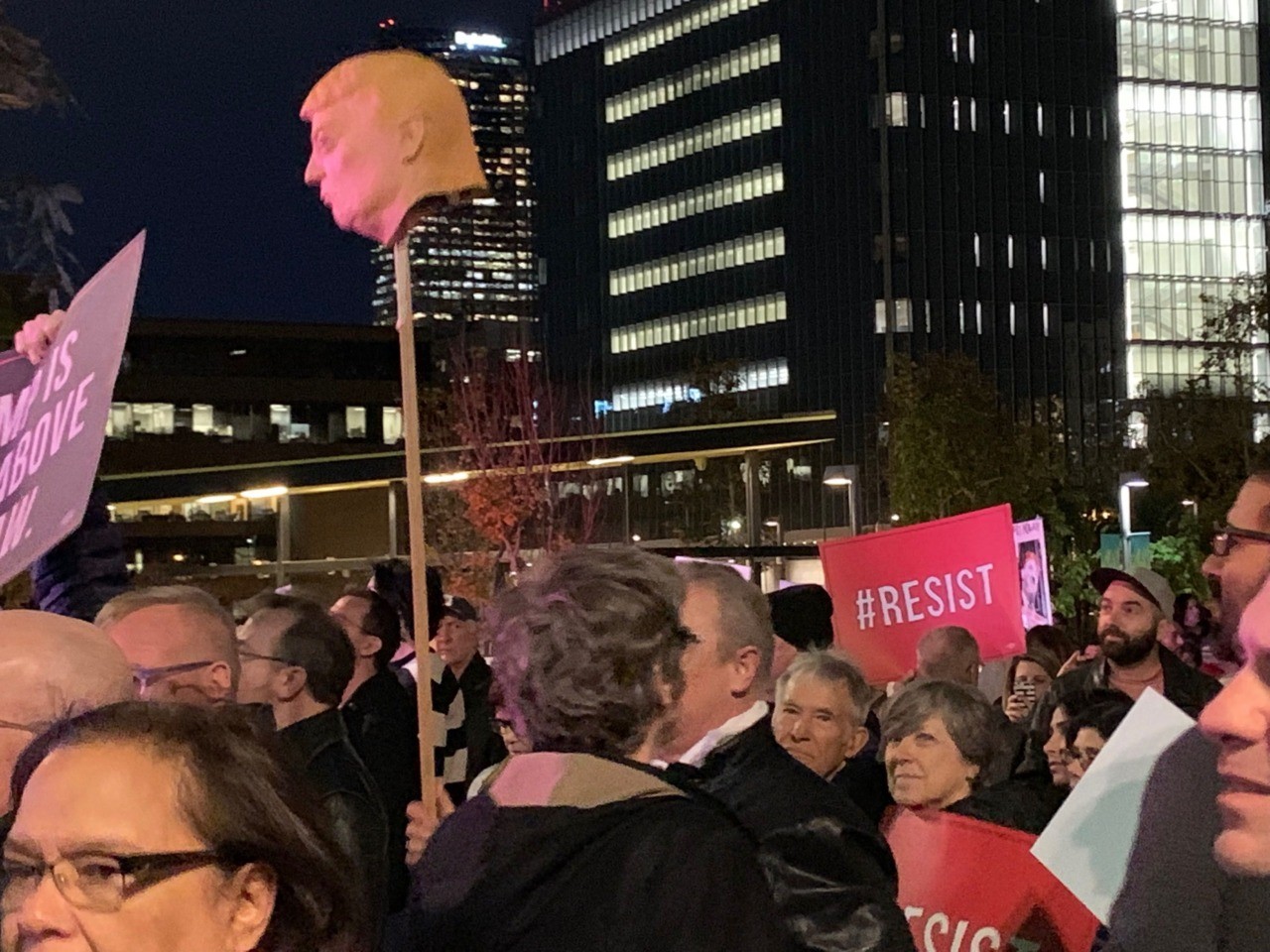 Breitbart News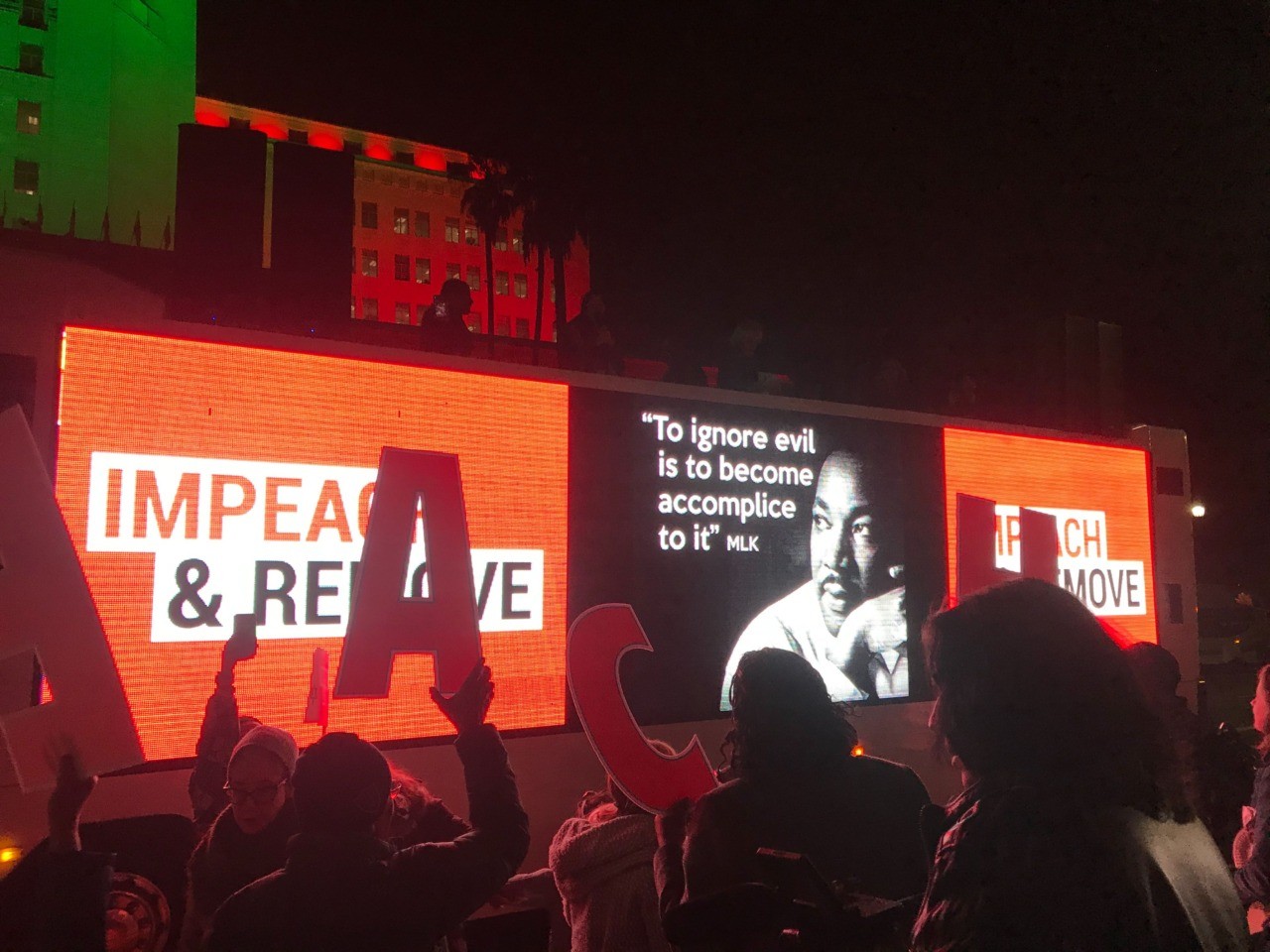 Breitbart News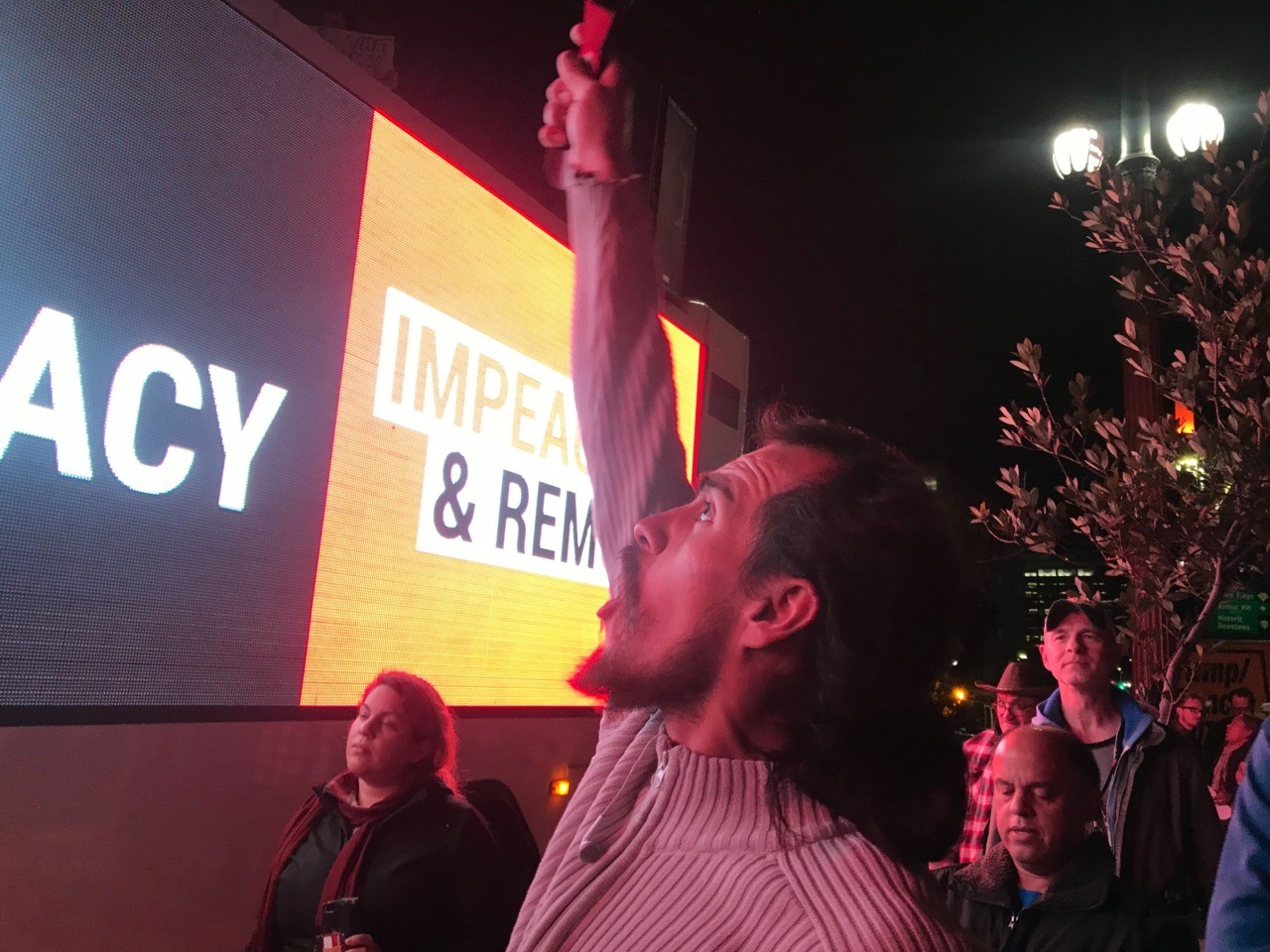 Breitbart News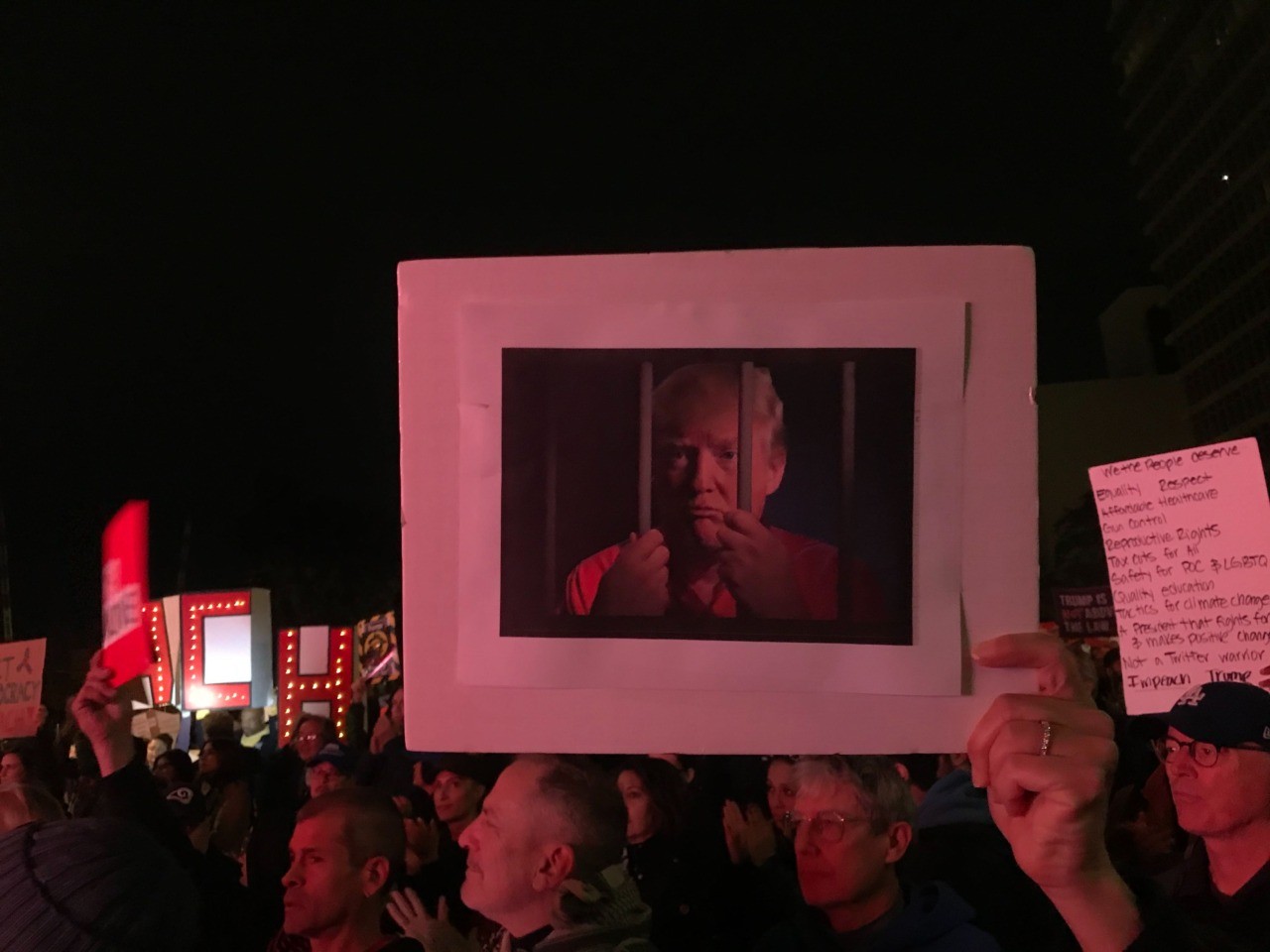 Breitbart News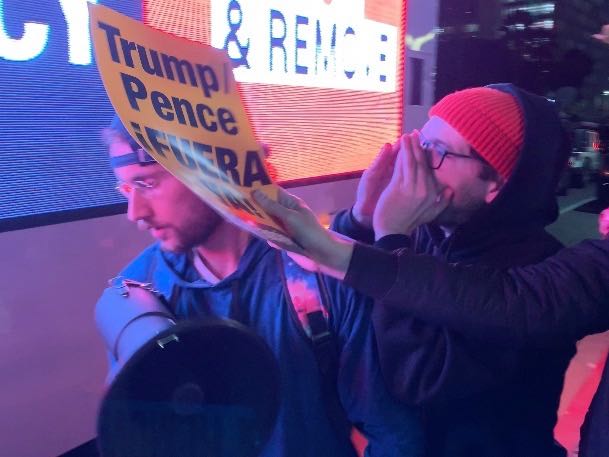 Breitbart News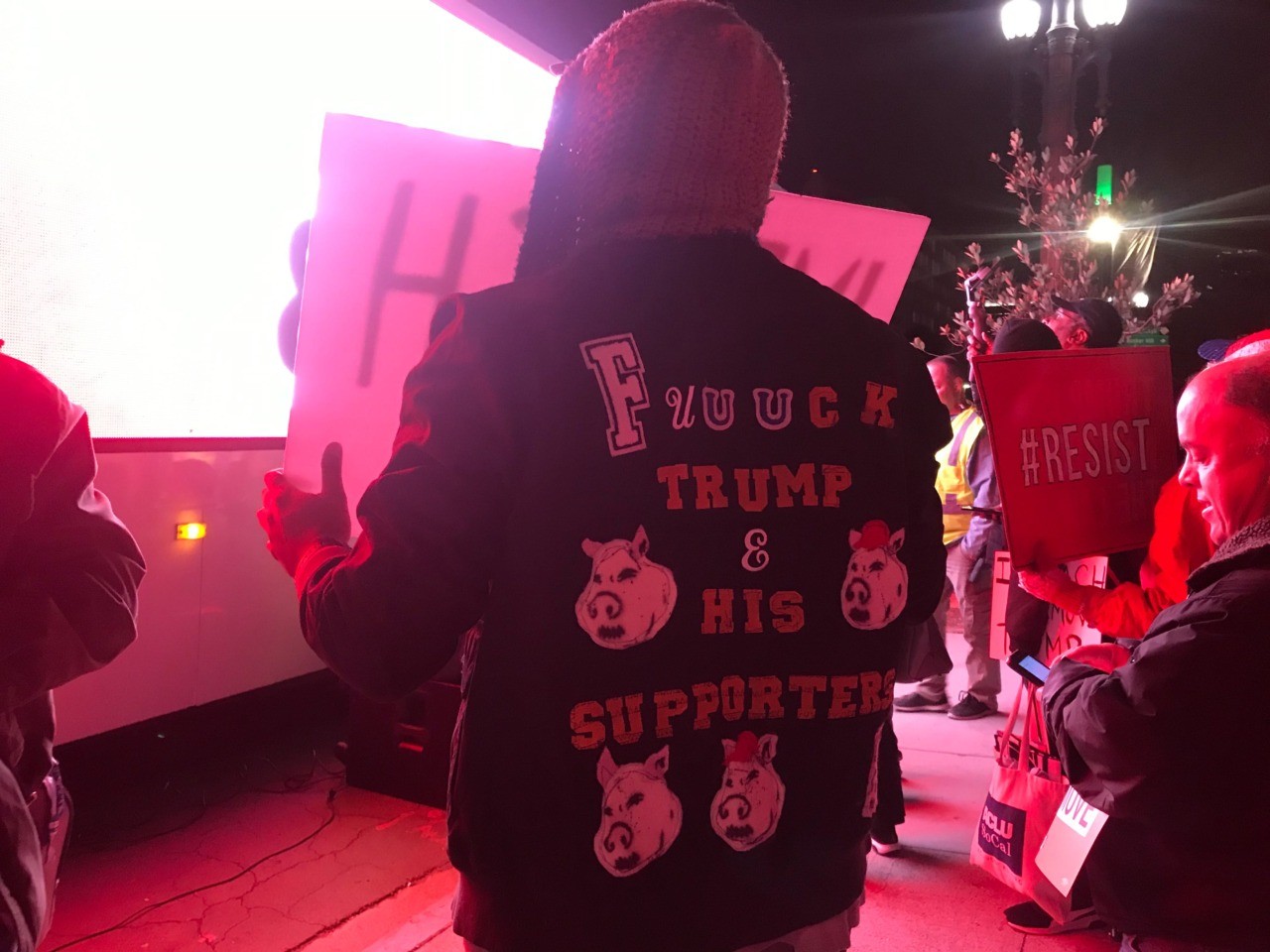 Breitbart News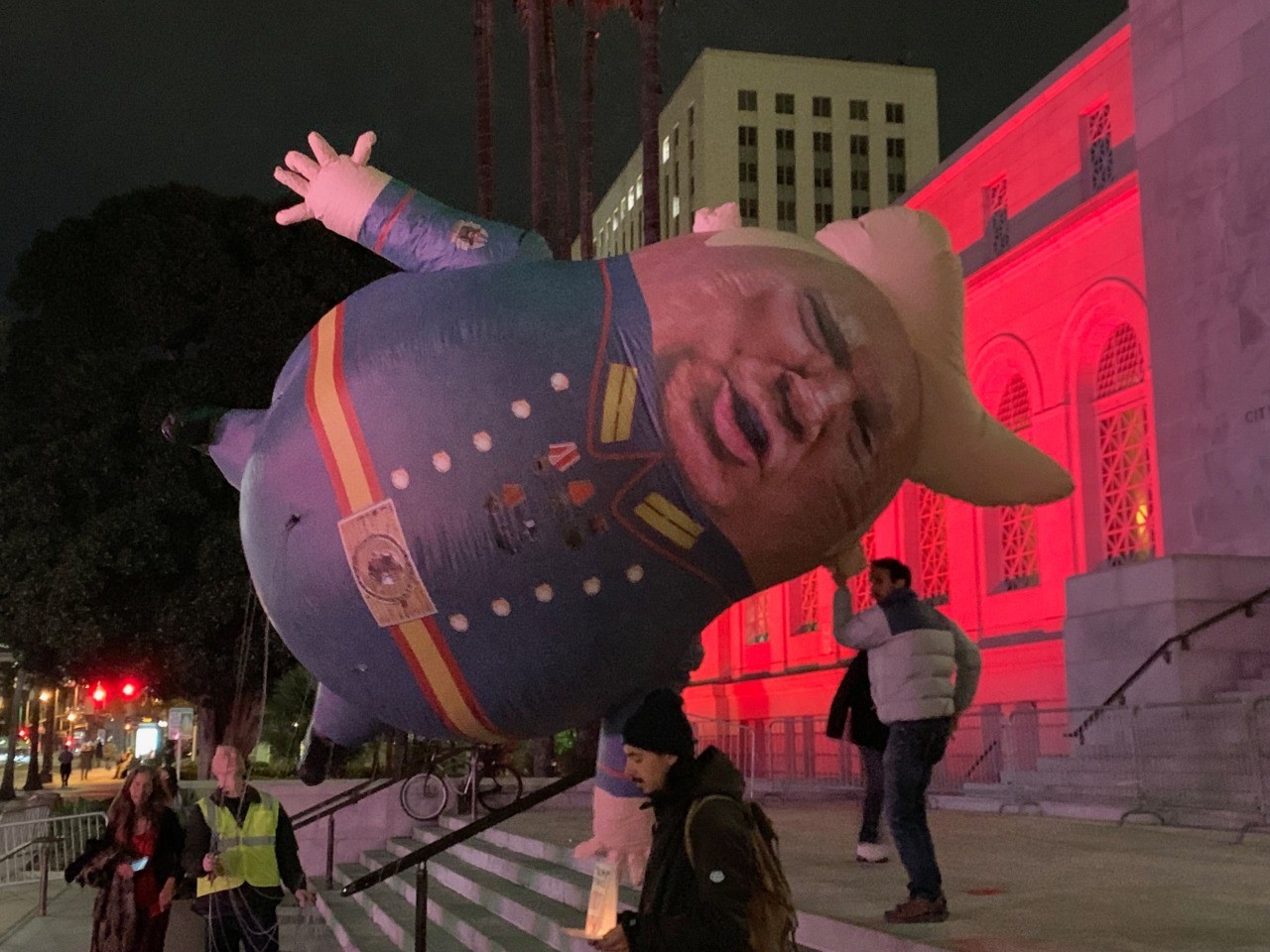 Breitbart News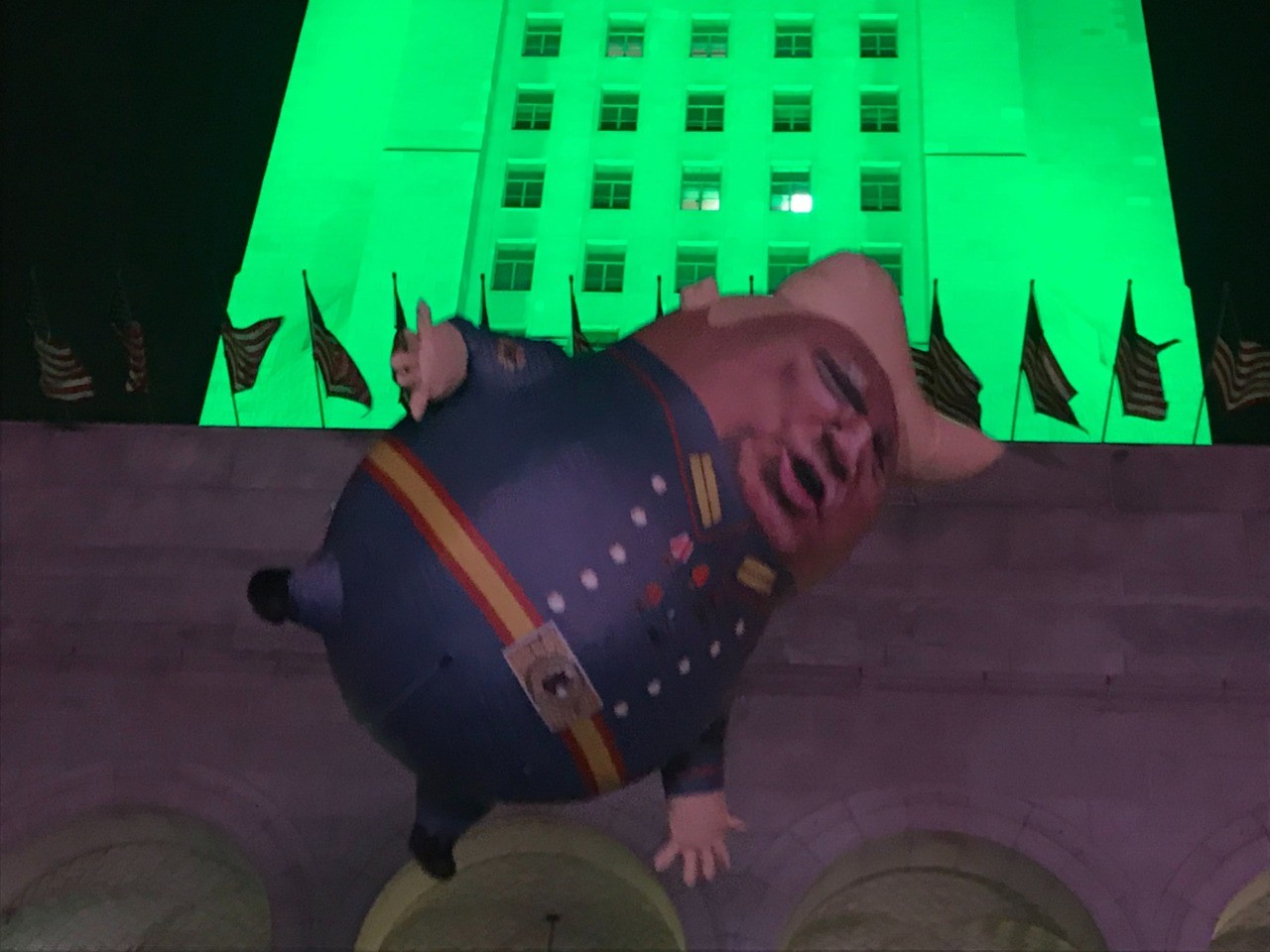 Breitbart News
One counter-demonstrator, carrying a megaphone with an Infowars.com sticker, attempted to disrupt the protest by chanting about Joe Biden. He was assaulted and escorted to the periphery by police. Joel B. Pollak
ClipsPoliticsAlyssa MilanoDonald TrumpimpeachmentKatie HillLos Angeles Source
KYLE MORRIS18 Dec 20191240:56
A few hundred protesters are gathered outside of the United States Capitol Wednesday to voice their support for the impeachment of President Donald Trump ahead of an expected House vote on the matter.
The nationwide protest, dubbed "Nobody is Above the Law, kicked off Tuesday with more than 600 protests nationwide.
Partners for the events include Need to Impeach, Women's March, MoveOn, By the People, Center for American Progress, NextGen America, Voto Latino, Equal Justice Society, Progressive Democrats of America, Indivisible, and many others.
"Nobody Is Above the Law," the event website stated. "That's why we're calling on Congress to Impeach & Remove Donald Trump."
The religion of our day has steadily moved away from the God of the Scriptures. We've taken God and have given Him a supposed upgrade (downgrade is the truth). Today we are blind to what is happening in the world. We are blind to the financial meltdown that IS coming. We blew through the 15 and 20 trillion dollar debt barriers like they were nothing. We think we will continue in prosperity and plenty – while our debt is shaking the financial pillars which were already cracked and faltering. We continue in gross sin – both sexual sin and religious sin. We now call acceptable what God calls immorality – we are hardly concerned at the continued murder of the innocents, as well as the injustice to the innocent – and we continue in a religious hypocrisy that justifies hating those who oppose what we "believe" and stand for – being far too politically minded and far less concerned at the powerlessness of the church.
God knows that evil is not combated with love and understanding.
King David Had This Down:
The misfits. The rebels. The troublemakers, The Cowboys. The round pegs in the square holes misfits. The ones who see things totally differently. They're not comfortable with the rules. And they have no respect for the status quo Pharisees "hypocrites". You can quote them, disagree with them, glorify or vilify them. About the only thing you can't do–is ignore them". Because they change things. They push GOD's human race forward and that bothers the politicians and otherworldly liars. And while some may see them as the crazy ones, I see a genius. Because the people who are crazy enough to think they can change the world, are the ones who do. SRH….
StevieRay Hansen
Editor, HNewsWire.com
The best index to a person's character is how he treats people who can't do him any good, and how he treats people who can't fight back…
The Birth Pains Are Growing Stronger….
"Don't piss down my back and tell me it's raining." Outlaw Josey Wales
"Man will ultimately be governed by God or by tyrants."
My name is Steve Meyers and I need to share a vision and warning that the Lord showed me back in April 2007….
Many of you will ask why I waited so long to share the warning. I didn't. I shared the story with everyone that would listen from pastors to friends to family to colleagues. Immediately following the initial vision, I called a close friend. I told him to sit down that I had something to tell him. I needed it documented as I knew this was supernatural and from God. As I witness events unfolding today, I need to share the vision again.
The risk of loss in trading futures and options on futures can be substantial. The author does not guarantee the accuracy of the above information, although it is believed that the sources are reliable and the information accurate. The author assumes no liability or responsibility for direct or indirect, special, consequential or incidental damages or for any other damages relating or arising out of any action taken as a result of any information or advice contained in this commentary. The author disclaims any express or implied liability or responsibility for any action taken, which is solely at the liability and responsibility of the user. Steve Meyers, StevieRay Hansen
The Un-Godly — Those That Suppress the Truth, the social media giants built multi-billion dollar empires by giving everyone a voice, but now that they have such a dominant position on the Internet they have decided that many prominent conservative voices should be completely silenced.
Our government has been overthrown. As evidenced by Trump's capitulation on the border, his recent servitude to the GMO industry and his acquiescence to the warmongers, our President has been compromised. Our liberties are being eliminated one by one. Gun confiscation is next. The Constitution is gasping its last breaths. Our borders are destroyed and our culture has been turned upside down by every perversion known to man.
It's interesting when you connect the dots, the masses are opposed to God's blueprint and therefore will bring destruction upon the earth intentionally. Me, I, mine, narcissists generation will bring total destruction upon God's people, only the chosen will survive, we live in evil times, dress appropriately, put on the full armor of God!….
Force is now the only rule remaining in deep state-controlled America. Everything else has collapsed. There is no free speech, no fair trial, no system of justice, no reasonable expectation of human rights anywhere, no fair elections, no honest news, no honest Wall Street operations, no real public education, no clean food, and threats from the elitist, the power structure that is hell-bent on bringing the New World order into the reality of the sleeping masses, get woke or get yoked, the choice still lives in the people's hands. Next, the AntiChrist will appear with many empty promises, peace, and security, in reality, it's the yoking of mankind, We are on the Doorstep of the Great Tribulations…
The prophet does not confuse truth with consensus. The prophet does not confuse God's word with the word of those who happen to hold power at present, or with the opinion of the majority. This is because powerholders and the majority can fall victim to a lying spirit-and this means a power that actually seizes the majority of experts, the political leadership, and the public.
'PORTA DOS FONDOS' (TRANSLATES TO "BACK DOOR") HYPER-REPROBATES…
Thanks to people like Pastor Steven Anderson and the choir of preachers he has assembled within the New Independent Fundamentalist Baptist movement there has been a resurgence in what is called the Reprobate Doctrine. A Biblical doctrine that demonstrates in scripture, that God will turn people over to their vile lifestyles as a curse, blinding them to salvation in Jesus, giving them over to a devil's hell for eternity. A doctrine that I believe is completely Biblical and defined by the Apostle Paul in Romans 1 is unmistakably visceral language.
Let Me Make This Abundantly Clear. (I Am Apolitical) While I Have a General Distaste for Electric Cars and Politicians No Matter the Party They Belong To, I Am Unashamedly Politically a Bible Believing Conservative Christian. I Have a Severe Distrust of Government. I Believe It Is the Most Inefficient and Ineffective Way to Accomplish Most Things. While I Strongly Disagree with Liberals/Progressives and Conservative on Most Political Issues, and While I Believe Liberals/Progressives and Most Politicians Are Terribly Misguided and Naive About What Big Government Will Eventually Result In, I Strive to Not Question Their Motives. at the Same Time, While I Find Myself in Agreement with Conservative Politicians on Some Issues, I Do Not Believe Electing Republicans Is the Answer to Everything. for Me, Very Sadly, the Main Difference Between Republicans and Democrats Is How Quickly They Want to Drive the Car Towards the Cliff. Simply Put, I Do Not Believe the Government Is the Solution for Everything. I Do Not Place Any Faith, Trust, or Hope in Any Politicians to Fix What Is Wrong with the World. "Come Lord Jesus!" (Revelation 22:20) The prophet does not confuse truth with consensus. The prophet does not confuse God's word with the word of those who happen to hold power at present, or with the opinion of the majority. This is because powerholders and the majority can fall victim to a lying spirit-and this means a power that actually seizes the majority of experts, the political leadership, and the public.StevieRay Hansen
Tagged Under: Haters of America ,Banks, tribulation, hnewswire StevieRay Hansen, HNewsWire, antichrist, digital gulag, antichrists, Apple, Bible, Big Tech, bigotry, Christian baker, Christianity, Christians, Colorado, Colorado Civil Rights Commission, conservatives, deep state, demonic assault, end of days, end times, Facebook, First Amendment, free speech, Google, hate groups, Hate speech, Electronic Prison, Birth Pains, banned, bias, Big Tech, Censorship, Collapse, content publishers, digital tyranny, Donald Trump, election fraud, evil, freedom of speech, Google, impotence, meddling, oppressed, President Trump, speech police, tech giants, technocrats, thought control, Trump, Tyranny
The number of Orphans aging out of Child Protective Custody has grown at an alarming rate. The 127 Faith Foundation receives many requests each week to house them at our ranch. Our prayer is that the good people of our country will step up to the challenge and offer financial support for "the least among us." We need your help! StevieRay Hansen, Founder, The 127 Faith Foundation
We make every effort to acknowledge sources used in our news articles. In a few cases, the sources were lost due to a technological glitch. If you believe we have not given sufficient credit for your source material, please contact us, and we will be more than happy to link to your article.