Advisory: Be careful of what you read on social media. The algorithms used by these platforms have no regard for Biblical truth. They target your emotions to keep you engaged on their site so their advertisers can drop more ads. These platforms exist to enrich their stockholders. Consider God's promise to Believers in James 1:5, "If any of you lacks wisdom, you should ask God, who gives generously to all without finding fault, and it will be given to you."
in an Effort to Be Accepted by a Filthy Sin Ravage World...
There Are No Vaccines as of Yet, Where Is MR. Gates When We Need Him.
'It's an assembly line': De-transitioned man says parents encouraging kids to become transgender are guilty of 'child abuse'
A man who lived for eight years as a trans woman before de-transitioning has called out the "child abuse" from adults who encourage transgenderism in kids, saying it's an "abhorrent" interference in their natural development.
Born male, Walt Heyer began transitioning to female at 42 years-old. He lived that way for eight years before realizing he had been a victim of childhood abuse and began the process of returning to his birth-assigned gender.
100% organic essential oil sets now available for your home and personal care, including Rosemary, Oregano, Eucalyptus, Tea Tree, Clary Sage and more, all 100% organic and laboratory tested for safety. A multitude of uses, from stress reduction to topical first aid. See the complete listing here, and help support this news site.
In an explosive interview with controversial conservative host Candace Owens, Heyer re-told the story of his troubled childhood; how his grandmother sparked gender confusion by encouraging him to wear a purple dress at the age of four – and how he suffered sexual abuse at the hands of an uncle as a direct result.
The MOST IMPORTANT interview I've ever done is out now!
Former Transgender woman Walt Heyer completely obliterates the "trans" narrative & reveals the truth; children switching genders signifies child abuse from the adults that watch them.
Watch HERE: https://m.youtube.com/watch?v=oJOuO9IxTdE …28.2K9:55 AM - Oct 13, 2019Twitter Ads info and privacy13.1K people are talking about this
(Article republished from RT.com)
"The consequences of [grandma] affirming me became very destructive – I think it's actually evil and it's child abuse to indicate that you can change genders at such a young age, and I'm speaking from 74 years of experience, so it's not like I just came to this conclusion," Heyer told Owens.
Today they call it gender dysphoria, but "it's really just child abuse," he said.
It confused my identity of who I was – the seed was planted and the destruction had started.
Heyer believes that the idea of gender dysphoria is introduced to children by adults and that a person is "not born with it." To encourage it creates an abhorrent "early sexualization" of the child, he said.
Heyer now runs a website for those who regret transitioning and publishes books and articles on the subject. He believes there is a misconception that transgenderism has something to do with being gay, but claims that 95 percent of the people who he speaks to about wanting to detransition are not gay.
In fact, he adds, a desire to transition is usually a "bandaid" for something else – often abuse – which makes the person not want to be who they are.
"It's a way to escape, and this is where the dissociation comes in. You don't want to be who you are, so you attempt to be someone else – and you don't want to be who you are because you got hurt, something happened to you," he said.
The power of the elements: Discover Colloidal Silver Mouthwash with quality, natural ingredients like Sangre de Drago sap, black walnut hulls, menthol crystals and more. Zero artificial sweeteners, colors or alcohol. Learn more at the Health Ranger Store and help support this news site.
Owens has repeatedly come under fire from the transgender community for expressing similar sentiments in her interviews, including questioning the readiness of modern parents to encourage curious children to transition. Actor Mario Lopez was recently condemned across social media for arguing during an interview with Owens that children as young as three-years-old might be too young to decide their own gender.
The conservative host has also been slammed for suggesting that the medical community is too quick to diagnose a child as being "transgender" when perhaps something else could be going on. But Heyer echoes those concerns about medical professionals.
He recounts his own personal experience of visiting a top gender therapist seeking help at the age of 41. Married with two children and a successful career, Heyer was still suffering from mental anguish after years of being unable to talk about his past. After only two sessions, the therapist prescribed hormones and wanted him to approve reassignment surgery.
Don't let them tell you that they go through some exhaustive psychological counseling because it's absolute baloney – they just approve, approve, approve, affirm, affirm, affirm – give them hormones, give them surgery. It's an assembly line.
In the UK, the Royal College of General Practitioners (RCGP) recently cautioned that there is a lack of "robust evidence" about the long-term impact of puberty-blocking drugs and hormones given to trans-identified kids. Whistleblower Dr. Kirsty Entwistle, who'd previously worked at the Gender Identity Development Service (GIDS), has said "traumatic early experiences" – including sexual abuse – can lead a child to present with gender dysphoria, but doctors are refusing to fully investigate these cases for fear of being labeled "transphobic."
Addressing the high suicide rate among those who have completed the surgical transition, Heyer blames what he believes is the realization that they can "never" really fully become another gender, which results in further depression.
It's insane to treat depression with hormones and surgery, but that's what they do. Source NewsTarget.com
Read more at: RT.com and Indoctrination.news.FacebookTwitterShare
Transvestitism (Deuteronomy 22:5). The Greek word often translated "homosexual offenders" or "male prostitutes" in 1 Corinthians 6:9 literally means "effeminate men."
Argues that doctors are doing treatment without evidence…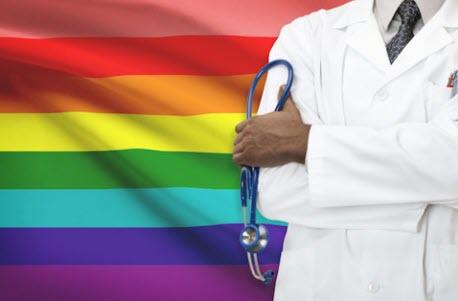 A psychiatrist from Johns Hopkins University has slammed the medical and psychiatric industries for what he says is the reckless and irresponsible treatment of patients who claim to be transgender.
Paul McHugh, a renowned psychiatrist from Johns Hopkins University, told The College Fix he believes transgender people are being experimented on because the doctors treating transgender patients with hormones "don't have evidence that (the treatment) will be the right one." He also criticized the manner of treatment given to many children who claim to be transgender.
"Many people are doing what amounts to an experiment on these young people without telling them it's an experiment," he told The Fix via phone.

"You need evidence for that and this is a very serious treatment. It is comparable to doing frontal lobotomies."
The vast majority of gender minorities report mental health issues
A recent study published in the American Journal of Preventive Medicine found that 80 percent of gender minority students report having mental health problems, nearly double the rate of "cisgender" students. McHugh believes that in many cases the patient's gender dysphoria is precipitated by mental illness.
"I think their mental problems, often depression, discouragement are the things that need treatment," not gender dysphoria, he argued.

"I'm not positive about this. It's a hypothesis, but it is a very plausible hypothesis, and it would explain why many of the people who go on to have treatment of their body discover they are just as depressed, discouraged and live just as problematic lives as they did before because they did not address the primary problem," he added.
Possible 'contagion effect'
"I believe that these gender confusions are mostly being driven by psychological and psychosocial problems these people have. That explains the rapid onset gender dysphoria Lisa Littman has spelled out," McHugh said.
The Lisa Littman to whom the professor referred is a researcher at Brown University, who last year published a bombshell report suggesting that some transgender-identified children might suffer from "rapid-onset gender dysphoria," a phenomenon in which "one, multiple, or even all of the friends [in a group] have become gender dysphoric and transgender-identified during the same timeframe."
There was significant backlash following Littman's publication of the study, after which Brown censored the report. The study was eventually validated with its results unchanged.
Long-term effects of child transgender treatment
Asked about the possible long-term consequences of the growing practice of helping children develop transgender identities, including with hormones, McHugh expressed pessimism.
"They're going to be in the hands of doctors for the rest of their lives, many of them are going to be sterilized not able to have their own children, and many will regret this," McHugh said.

"Can you imagine having a life where you need to seek doctors all the time, for everything, just to live? Getting your hormones checked, getting everything checked. That is something doctors should like to spare people of," he added.
McHugh thinks that eventually, our society will look back on this craze as something of a historical shame. "I believe it will be something like how we think of eugenics now. We will come to regret it when we discover how many of the young people that were injured regret it themselves," he told The Fix.
The doctor stressed that medical professionals should stick to a higher standard of evidence when considering treatment for individuals who claim a transgender identity.
"You can think whatever you want without proof. Be my guest. You can think anything you want if you like it that way. But don't ask me as a doctor to prescribe hormones or operate on you when I try to do things which are for your benefit," he said.
"My aim isn't to stop people. It's when they draw medical people in. That's when I insist on evidence and what makes more sense." Source
Satan cannot create; that power belongs to God alone. So he perverts what God has created. If he can entice God's most cherished creations to follow him in his twisted ideas, he succeeds in perverting the image of God we were designed to magnify (1 Corinthians 11:7). It is Satan who introduced the idea that perversion equals
Satan has power over (LGBTQE-TRANS PEOPLE). The "sons of disobedience" referred to in Ephesians 2:2 are those who have not trusted Christ as Lord and Savior (cf. Acts 26:18; 2 Corinthians 4:4; Revelation 13:12). The demons are also under the rule of Satan (Matthew 12:24), and one of his titles is "prince of demons" (Matthew 9:34). Satan has a kingdom (Matthew 12:26) and a throne (Revelation 2:13). Satan is called a prince because he is a ruler and possesses the power to manifest evil in the world through influencing people and commanding demons.
StevieRay Hansen
Editor, HNewsWire.com
The Birth Pains Are Growing Stronger….
"Unless God has raised you up for this very thing, you will be worn out by the opposition of man and devils"…
https://hnewswire.com/where-are-the-prophets-the-prophets-that-would-boldly-confronted-the-ruling-class-with-harsh-truths-usually-about-social-justice/
The light went out in the church, and that's the reason the world got dark. Dark times were perpetrated by the "last one out, turn out the lights" "The church lights have gone OUT".
Let Me Make This Abundantly Clear. (I Am Apolitical) While I Have a General Distaste for Politicians No Matter the Party They Belong To, I Am Unashamedly Politically a Bible Believing Conservative Christian. I Have a Severe Distrust of Government. I Believe It Is the Most Inefficient and Ineffective Way to Accomplish Most Things. While I Strongly Disagree with Liberals/Progressives and Conservative on Most Political Issues, and While I Believe Liberals/Progressives and Most Politicians Are Terribly Misguided and Naive About What Big Government Will Eventually Result In, I Strive to Not Question Their Motives. at the Same Time, While I Find Myself in Agreement with Conservative Politicians on Some Issues, I Do Not Believe Electing Republicans Is the Answer to Everything. for Me, Very Sadly, the Main Difference Between Republicans and Democrats Is How Quickly They Want to Drive the Car Towards the Cliff. Simply Put, I Do Not Believe the Government Is the Solution for Everything. I Do Not Place Any Faith, Trust, or Hope in Any Politicians to Fix What Is Wrong with the World. "Come Lord Jesus!" (Revelation 22:20)
Our government has been overthrown. As evidenced by Trump's capitulation on the border, his recent servitude to the GMO industry and his acquiescence to the warmongers, our President has been compromised. Our liberties are being eliminated one by one. Gun confiscation is next. The Constitution is gasping its last breaths. Our borders are destroyed and our culture has been turned upside down by every perversion known to man.
Education is useless without the bible (Daniel Webster)
Usually, the Lord doth no great thing for or against his people, without giving warning of it before it comes.
John Wesley who said that what we tolerate in our generation, will be embraced by the next. Wesley is 100% correct! We are living in sick times.
The Left, a broad term for Liberal Socialist Democrats that can only be explained fully by using the Bible explanation of the human race is as follows. A servant of Satan, because you are either saved or lost. This election has brought out the true nature of who you serve. Simply put, it's Donald Trump, Conservatives, and Christians against the rest of the world. The Left's Love applies only to those who believe as they do. They Love evil and commit Anarchy against those who love good. They are governed by lies and never tell the truth. On this Friday, Inaugural Day for the swearing-in of Donald Trump as the 45th President of the United States the Left wants to commit widespread Anarchy to shut down the swearing-in ceremony. Their goal of transforming America, which was founded in Judea Christian values into a Pagan Nation is almost complete. Their goal has always been the total removal of God from American society and the downfall of America. Donald Trump says he is a Presbyterian, but he left off the USA, an apostate church.
Corinthians 4:8-11 New King James Version (NKJV)
We are hard-pressed on every side, yet not crushed; we are perplexed, but not in despair; 9. persecuted, but not forsaken; struck down, but not destroyed— 10. always carrying about in the body the dying of the Lord Jesus, that the life of Jesus also may be manifested in our body. 11. For we who live are always delivered to death for Jesus' sake, that the life of Jesus also may be manifested in our mortal flesh.
Satan has power over (LGBTQE-TRANS PEOPLE). The "sons of disobedience" referred to in Ephesians 2:2 are those who have not trusted Christ as Lord and Savior (cf. Acts 26:18; 2 Corinthians 4:4; Revelation 13:12). The demons are also under the rule of Satan (Matthew 12:24), and one of his titles is "prince of demons" (Matthew 9:34). Satan has a kingdom (Matthew 12:26) and a throne (Revelation 2:13). Satan is called a prince because he is a ruler and possesses the power to manifest evil in the world through influencing people and commanding demons.
HNewsWire- "All political language is designed to make lies sound truthful and murder respectable." Just look at some of our modern-day examples: torture is "enhanced interrogation techniques"; murder is "collateral damage"; the aggression initiation of war is a "pre-emptive strike"; the theft of taxpayers' money is a "bailout", and the theft of depositors' money in a bank is a "haircut" or "bail-in".In a blatant example of Newspeak, the New World Order controllers (through the psychiatric DSM V) have tried to rename pedophiles as "minor-attracted persons" and redefine pedophilia as "sexual orientation". This makes no sense since sexual orientation has to do with gender, not age, with whether you are attracted to males or females, not how old they are. There are even organizations (like B4UAct.org) which are claiming that pedophiles are being unfairly stigmatized for their feelings!
If homosexuality has been posed as healthy, good and normal, in the face of overwhelming evidence to the contrary, so can pedophilia. Pro-pedophilic articles are making their way into academia.
The Cult of LGBTQE-E for EVIL and is often a cover for child-molesting perverts
Tagged Under: abuse, children's health, gender-confused, gender issues, gender madness, the left cult, LGBTQE-E For Evil un-godly Mob, Lunacy, mutilation, transgender, Child molesting perverts LGBTQE- E For Evil, drag queens, perverts
Unfortunately, not all alternative sources are reliable, even some Major Christian (and I use Christian loosely) news sources have been corrupted. They will NOT tell the truth. They just parrot the deceptive narratives perpetrated by those who currently control our government and media. Even those who are honestly trying to present the truth can miss it sometimes. There is so much deception out there. In these last days, you must be wise as serpents and gentle as lambs. It is no time to sleep or slumber. Diligence and vigilance are required. It is critical that you think for yourself and not be a Lemming.
HNewsWire: Imagine a future when earth's inhabitants are not humans, but cyborgs-robot like beings with both biological and mechanical components. With exosuits for added strength,…
Read More
We make every effort to acknowledge sources used in our news articles. In a few cases, the sources were lost due to a technological glitch. If you believe we have not given sufficient credit for your source material, please contact us, and we will be more than happy to link to your article.