Advisory: The editorial board of HNewsWire adopted the official policy to bypass many social media platforms. Some of these include: Facebook, Instagram, Twitter, Parler, and YouTube. We believe these companies are responsible for many of the spiritual ills our world faces today. In some cases, however, we have allowed our guest contributors to include content from their YouTube channel while we search for alternatives.
is Leading the Charge, They Are Withholding the Truth About the Corona-Virus and The Jab, You Are Marching Lockstep Into the Death Spiral…
When all else fails, just lie, make it up as you go along, sell your ad spots or air time to the highest bidder, and never look back. In the internet age, people are pretty keen on fact checking, rebutting, arguing, and gathering stats, and there are enough facts available to prove any side to any story. In fact, this has become an art form for major media, and the ability to gather facts in accordance with an agenda is a profitable skill for the social media and mainstream media.
The AstraZeneca corona-virus vaccine has been suspended or impounded by more than 15 European Union countries after about 30 people have developed blood clots after having the vaccination. Even before this news came out, however, Britons were worried about the safety of the vaccine and its side effects. Despite the bans, the World Health Organization (WHO) and the European Medicines Agency (EMA) say there is no indication of a link between the vaccine and reports of blood clots. Social Media will NOT report this important information.
"Tony Fauci was perfectly aware that China may have created this virus, and he knew for a fact that the government of China was lying, covering its tracks, and pushing the world health organization to do the same.
The most galling part" of this is the fact that while Fauci and the health authorities lied, "those few journalists and scientists who told the truth about what happened in Wuhan were punished for telling the truth."
"They were attacked by CNN, censored by Facebook, denounced by their colleagues. They were destroyed in some cases. Where's their apology? Who's paying into their reparations fund? No one of course.
The more we read, hear, and see regarding this entire situation confirms our worst fears.
COVID 19 was engineered
The solution to the problem was just as hurtful as the problem The contradictions from government have been staggering. The vaccine solution reads like a Frankenstein Novel,Insiders confirm the reasons these things are happening now, we are in fact witnessing mass extinction and huge food shortages are forthcoming.The vaccines contents are very suspicious and not normal, the nano tech, gene therapies which have no place in a free society. Monkey viruses, fetal stem cell DNA are known ingredients of some vector vaccines.
One international patent carries a number 606060, while a bill before congress regarding contact tracing was labeled 6666, and the name of the nano biofilm is Luciferase.
mRNA is a patented synthetic molecule and if it becomes part of your DNA technically your DNA is then owned by the patent holders. LOOK IT UP!
What do we do? Well, Forced vaccinations are in direct violation of Nuremburg Code which is International Law.
Whistle-blower organization Project Veritas has obtained internal documents from Facebook insiders detailing the company's efforts to censor concerns over the COVID-19 vaccine.
Leaked company documents provided by two whistleblowers detail Facebook's plan to combat "vaccine hesitancy" (VH) worldwide via "comment demotion".
"They're trying to control this content before it even makes it onto your page before you even see it," one insider told Project Veritas. "If I lose my job, it's like, what do I do? But that's less of a concern to me."
The social media giant's goal is to "reduce user exposure" to those with VH, while also reducing the ability to engage with said posts.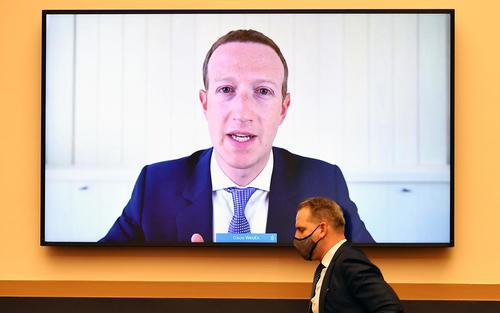 More from Mia Cathell via The Post Millennial:
One of the Facebook whistleblowers said the company uses a tier system to rank and determine how comments should be censored or buried. This is all based on how much the statements question or caution against the COVID-19 vaccination.
Tier 2, for instance, represents "Indirect Discouragement" of getting vaccinated. User comments such as these would be "suppressed," Project Veritas reported.
Comments that include "shocking stories" that describe what could be true events or facts that can raise safety concerns are demoted. Any of the such that raises concern about coronavirus vaccinations are fair game to be demoted and hidden, according to the source, despite authenticity or capacity to contribute to the public good. "I have to do something," one of the Facebook insiders said.
It doesn't matter if the comments are true, factual, or represent reality. The comment is demoted, buried, and hidden from public view if it clashes with the system. "It doesn't match the narrative," one source explained. "The narrative being, get the vaccine, the vaccine is good for you. Everyone should get it. And if you don't, you will be singled out."
One of the insiders, a data center technician, showed documentation detailing an algorithm test being run on 1.5 percent of Facebook and Instagram's almost 3.8 billion users worldwide. "They're trying to control this content before it even makes it onto your page before you even see it," one insider said.
Project Veritas uploaded the entire "Facebook Vaccine Hesitancy Comment Demotion" document and the entire "Facebook Global Operations Primer – Health Misinformation" document on the investigative news outlet's website.
A top Facebook spokesperson was reached about these documents and sent "a brief and broad" statement in reply to Project Veritas that "failed to address" the investigative outlet's biggest questions regarding transparency.
"I really wonder how Mark Zuckerberg will be able to defend this," stated Project Veritas founder James O'Keefe ahead of the press release Monday. "His own employees are coming to Project Veritas because they can't stand the wrongdoing they are witnessing at their workplace," he told Project Veritas followers.
As part of the #ExposeFacebook series in June 2020, Project Veritas revealed how Facebook employees were ordered to monitor, shadow ban, and delete pro-Trump content on the site. At the beginning of May, the Facebook Oversight Board announced that the company ruled to uphold the platform's ban on former President Donald Trump who was booted offline in the wake of the Jan. 6 riot.
A leaked Facebook conference call from July 2020 caught CEO Mark Zuckerberg violating the tech giant's own rules, stating that he didn't understand the long-term effects of "modifying people's DNA and RNA," in reference to the COVID-19 vaccine. The footage was published in February of this year, juxtaposing Facebook's policy to remove material that "claims that the COVID-19 vaccine changes people's DNA" with Zuckerberg's alleged violation.
Facebook's vice president for Global Affairs and Communications was seen on video in February fleeing from a Project Veritas journalist over a previous statement he had made. The former Liberal Democrats party leader Nick Clegg had argued on-camera at the time that Facebook has "too much power."
Source: HNewsWire HNewsWire HNewsWire ZeroHedge
Please do not post HNewsWire articles on Parler, Facebook, Reddit or Twatter social media platforms. We are not comfortable with their anti-Christian — anti-American Nazi philosophy.
It is impossible to find anyone in the Bible who was a power for God who did not have enemies and was not hated.
StevieRay Hansen
Editor,
HNewsWire.com
[email protected]
"My job is protecting children. It has taken me from big cities to rural outposts, from ghettos to penthouses, and from courtrooms into demonic battlefields. But whatever the venue, the truth remains constant: Some humans intentionally hurt children. They commit unspeakable acts—for their pleasure, their profit, or both." ~ StevieRay Hansen, CEO The 127 Faith Foundation
The 127 Faith Foundation: We do not solicit donations from "those on disability, on a fixed income, or those who cannot afford to give." Please Pray!
The 127 Faith Foundation: We do not solicit donations from "those on disability, on a fixed income, or those who cannot afford to give." Please Pray!
Or, make checks payable to:
The 127 Faith Foundation
PO Box 127
Pontotoc, TX 76869
The number of Orphans aging out of Child Protective Custody has grown at an alarming rate. The 127 Faith Foundation receives many requests each week to house them at our ranch. Our prayer is that the good people of our country will step up to the challenge and offer financial support for "the least among us." We need your help! StevieRay Hansen, Founder, The 127 Faith Foundation
Mission of Us Food Banks Who Are Spending a Lot More on Food Than Ever Before… US Meat Prices To Remain Elevated Amid Depleted Reserves…
Read More
We make every effort to acknowledge sources used in our news articles. In a few cases, the sources were lost due to a technological glitch. If you believe we have not given sufficient credit for your source material, please contact us, and we will be more than happy to link to your article.