Update: The People Have Finally Had Enough of Satan's Soldiers, Trudeau Ungodly Behavior
Arrests are threatened for anyone who provide fuel to the Freedom Convoy.
After initially blocking trucks with gasoline tanks going to the assistance of the demonstrators, Ottawa police have threatened to jail anyone supplying the Freedom Convoy with petrol and diesel cans.
Authorities said that anybody offering "material assistance" to protestors will be arrested beginning at midnight yesterday night.
When asked if "material support" includes things like food and drink, a police official told Fox News that the notification "relates to dangerous products that pose a public safety or fire concern."
Videos of individuals being detained and police snatching gasoline from demonstrators quickly surfaced.
Police had already barricaded important crossing points and shuttered multiple highways in the vicinity in an attempt to impede the supply of trucks carrying gasoline tanks to the convoy.
Mayor Jim Watson proclaimed a state of emergency earlier on Sunday, claiming that the demonstrators, whose major activity is blaring their horns, constituted a "severe hazard and threat to the safety and security of citizens."
Authorities and the media have sought to portray the truckers as possibly violent fanatics, with provocateurs even attempting to conduct idiotic acts to tarnish their reputation.
Authorities have yet to rule out the use of military force against the demonstrators.
The truckers said they will not leave unless vaccination regulations that require truckers returning from the United States to be quarantined once they reach in Canada are abolished.
Meanwhile, the same lefties who have been vowing for months to make life unbearable for the unvaccinated are suddenly screaming foul about horns being honked.
The world's richest person, Elon Musk, and a supporter of the truckers tweeted a meme comparing the amateur thieves robbing railcars in Los Angeles to "professional thieves" at GoFundMe. The tweet went out to 72 million of his followers.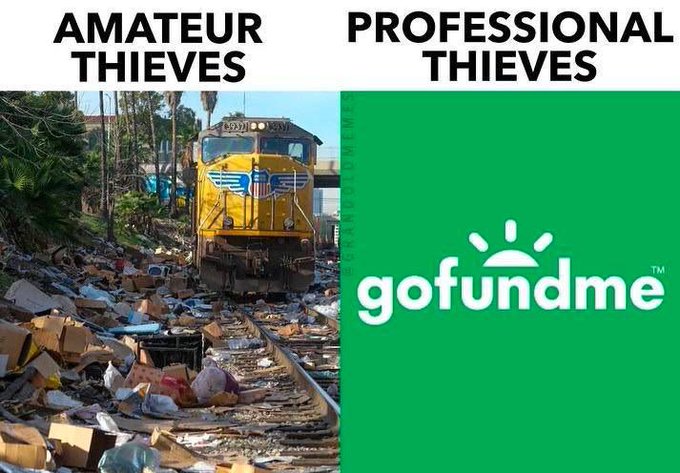 The Radical Leftists in San Francisco Who Operate Gofundme Seized Millions of Dollars From the Canadian "Freedom Convoy" and Vowed to Refund Donations to Donors (Upon Request) Or Disburse the Funds to "Credible Charities" Like Black Lives Matter, Greenpeace, and Planned Parenthood Matter.
Benny Johnson captured the prevailing sentiment on Saturday, tweeting that the "Go Fund Me story was my breaking point. Blood boiling. FUCK GO FUND ME. Put them in prison. Authoritarian boot-licking thieving scum. Not another dollar to them - EVER."
OTTAWA— Thousands of demonstrators once again assembled in Canada's capital to oppose COVID-19 requirements and limitations on Feb. 5.
The trucker convoy protest was joined by farmers who brought their own farm vehicle convoy to Ottawa to take part in the demonstration.
Trucks and other vehicles are parked near to Parliament Hill in Ottawa as demonstrators assemble to rally against COVID-19 mandates and limitations on Feb. 5, 2022.

The protest on Feb. 5 comprised speakers, music, dancing, and a singing of the Canadian national anthem.
The number of demonstrators fell following last weekend, the first weekend of the Freedom Convoy rally, but many participated again this weekend.
Several more significant rallies were conducted on Feb. 5 in provincial capitals throughout the nation against COVID-19 mandates.
The convoy, which originally started as a demonstration against the federal government's vaccination obligation for cross-border truck drivers, has subsequently expanded into a massive campaign against all COVID-19 restrictions and mandates.
Protesters rally on Parliament Hill in Ottawa to rally against COVID-19 mandates and limits on Feb. 5, 2022. The first convoy departed the West Coast for Ottawa on Jan. 23, culminating in a huge demonstration held in the nation's capital on Jan. 29. Many demonstrators have stayed in Ottawa, saying they will stay until the government relaxes COVID-19 regulations.
Ahead of the Feb. 5 rally, Ottawa chief of police Peter Sloly said officers are preparing a "surge and contain strategy" to cope with the participants. This includes sending 150 more police officers to the protest area in Ottawa's downtown core, barricading the area with concrete and heavy-equipment barriers, as well as "increased efforts" by national, provincial, and local intelligence agencies to target those "who are funding/supporting/enabling unlawful and harmful activity" by protesters.
Protesters assemble on Parliament Hill in Ottawa to rally against COVID-19 mandates and limits on Feb. 5, 2022. (Jonathan Ren/The Epoch Times)
Protesters assemble in Ottawa to rally against COVID-19 regulations and limitations on Feb. 5, 2022. (Jonathan Ren/The Epoch Times)
Keith Wilson, a lawyer with the Justice Centre for Constitutional Freedoms who is representing the organizers of the demonstration, said the latest procedures by Ottawa police are comparable to those employed by oppressive governments across the world.
"[Sloly] basically proclaimed that he is going to be taking away Canadians' fundamental right of peaceful assembly and freedom of expression," Wilson said in a video on Feb. 4.
Also on Feb. 4, GoFundMe stated it is taking the C$10 million (US$8 million) collected in donations to finance the trucker protest. The fundraising site had been under pressure by political leaders and Ottawa police to withdraw the contribution financing to the demonstrators. It had already provided C$1 million to the organizers to be utilized for expenditures like as petrol and food for the protesting trucks.
Protesters assemble in Ottawa to rally against COVID-19 regulations and limitations on Feb. 5, 2022. (Jonathan Ren/The Epoch Times)
Protesters assemble on Parliament Hill in Ottawa to rally against COVID-19 mandates and limits on Feb. 5, 2022. (Jonathan Ren/The Epoch Times)
GoFundMe had first claimed that contributors had to seek a refund, and the leftover monies would be donated to a charity recognized by GoFundMe. But on Feb. 5 it announced all donations will be immediately returned.
The organizers have now set up an alternate contribution portal on GiveSendGo, which they believe will ensure the money goes to the demonstrators to assist pay costs.
In a Feb. 4 statement on Twitter, Ottawa Mayor Jim Watson commended GoFundMe for "listening to the call made by the City and the Ottawa Police to no longer send funding to the convoy organizers."
"I'm optimistic that limiting their access to … funds and resources would constrain their capacity to remain in Ottawa," Watson said.
GoFundMe had already approved withdrawal of C$1 million by the organizers to be utilized for expenditures like as petrol and food for the demonstrators. The fundraising platform noted in its Feb. 4 announcement that contributors may file a request for a full refund of their payment until Feb. 19.
The trucker convoy demonstration initially started as a protest against the federal government's requirement for truck drivers crossing the U.S.-Canada border to have COVID-19 vaccination, but became a large movement as many across Canada opposing various COVID-19 mandates and restrictions joined the protest.
The convoy united in Ottawa on Jan. 29, and many demonstrators have remained in the city, parking their trucks and automobiles around Parliament Hill. Sounds of horn honking by demonstrators may be heard throughout the day.
The demonstrators claim they will remain in the nation's capital until the government lifts COVID-19 regulations.
The organizers have now established up an additional fundraising portal on GiveSendGo, which they believe will ensure the money goes to the demonstrators. The contribution site has raised almost $175,000 in only a few hours after its inception.
In 2013 a reporter asked Justin Trudeau which country he most admired. "There is a level of admiration I actually have for China because their basic dictatorship is allowing them to turn their economy around on a dime," Trudeau smiled and stated with seriousness. He went on to say how he admired (i.e., envied) how dictators could simply implement laws on a whim without the consent of the people, and added a nod to climate change policies as the left does not see that as a problem yet.
"There is a flexibility that I know Stephen Harper must dream about of having a dictatorship where he could do whatever he wanted," he stated. No, Mr. Trudeau, YOU dream of dictatorship. You have shown the Canadian people and the world stage that you are a complete coward by hiding from the Freedom Convoy in your glass castle while diminishing the views of Canadians to that of a "small fringe minority." Trudeau called opposing vaccine mandates an "unacceptable view," but feels that handing all liberties over to government is an ideal Utopia.
Whether China is a dictatorship or not is another topic, but the real issue here is that the leader of Canada does not respect his nation's Constitution or Charter of Rights and Freedoms. This interview was recorded before the COVID pandemic that gave world leaders a little taste of unlimited authority and they are reluctant to relinquish that power.
Others were similarly outraged.
GoFundMe's Trustpilot rating page was just suspended after people began to bombard it with negative reviews.
For example: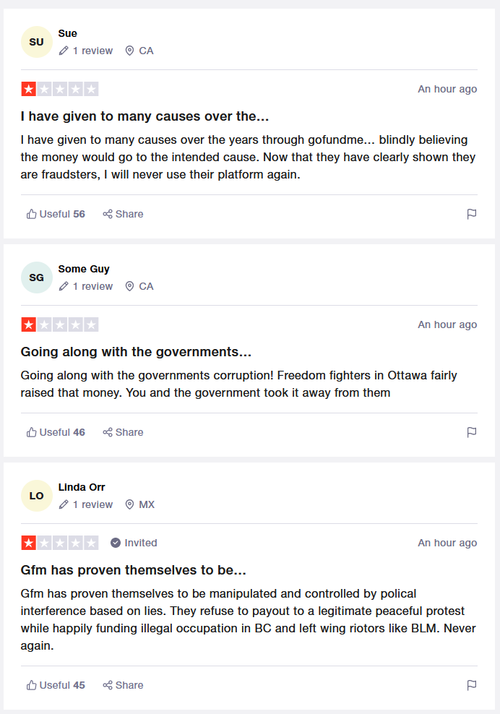 Meanwhile, a GiveSendGo campaign for the Freedom Convoy reached $1.1 million in donations overnight, however the platform is currently inaccessible and has said it's under DDOS attack.
Let's review GoFundMe's previous support of far-left violence:
Putin's In Charge , Ask Trudeau.
Meet Moses! He's a young man who grew up in the most challenging circumstances. Today, he has larger-than-life goals to achieve something extraordinary.
A Thrilling Ride
Every once in awhile, a book comes across your path that is impossible to put down. A Long Journey Home is not a casual book that you read in a week or earmark to complete at a later date. Once you begin, cancel your schedule, put your phone on silent, find a quiet place where you cannot be disturbed, and complete the journey. Click Here to Purchase on Amazon.com!
HNewsWire: Dr. Scott Gottlieb (His advice should not be trusted!), a member of the Pfizer board, issued a warning that the United States lacked a ...
Read More

→