Watchman Reporting More Lies From Trump: Trump Promised to Sign a Law if He Is Re-Elected That Would Ban Transgender Surgeries on Children–More BS! He Supports Homosexuals
HNewsWire: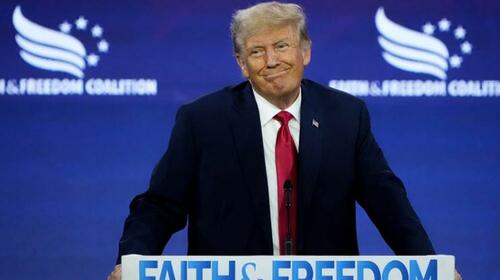 "Something else I find hard to believe that I have to even say," Trump told the crowd, adding "It's so ridiculous. It's so horrible and so ridiculous. I will keep men out of women's sports. And I will sign a law prohibiting child sexual mutilation in all 50 states. Prohibited."
Trump continued, "and on day one I will reinstate the Trump ban on transgenders in the military. Because a warrior should be focused on crushing American enemies, on being strong, on having the image of being strong."
"They have to be powerful. They have to be strong, especially when you see what's happening in the world today, not catering to radical gender ideology," he continued.
Watch:
Trump also promised to "immediately sign a new executive order to cut federal funding for any school pushing Critical Race Theory, transgender insanity, and other inappropriate racial, sexual or political content on our children."
"Can you believe this? Can you imagine saying this 10 or 15 years ago? I will fight for parents' rights," Trump further asserted, adding "I will fight for the direct election of school principals by the parents, the parents of the school. If any principal is not getting the job done, the parents should be able to fire them immediately and select someone who will."
The presumed GOP candidate also said he "will not give one penny to any school that has a vaccine mandate or masked mandate from kindergarten to college."
The full speech can be seen below:
of the Counterfeit Christianity on a Global Scale… Have you ever been around a boaster? He goes around telling everyone how wonderful he is, how smart he is, how much he knows. Christians should go around telling people how wonderful Christ is, how great He is, how merciful, how kind, how powerful, how awesome, how righteous, etc. Boasting in ourselves is sinful pride; boasting in the Lord deflates our pride and gives all the glory to Him. True Christians confess, "The only thing I'm great at is being a great sinner, but Christ Jesus is a great Savior!" "No enactment of man can be considered law unless it conforms to the law of God." – Judge William Blackstone There is no doubt that Donald Trump's presidency is a clear exhibition of the counterfeit Christianity on a global scale (Matthew 7:21-23),…
Be gentle with your skin. Our soaps are kind to your skin and create a creamy, silky lather that is nourishing. Small batches are made by hand. We only use the best natural ingredients. There are no chemicals, phthalates, parabens, sodium laurel sulfate, or detergents. GraniteRidgeSoapworks
Use the code HNEWS15 to receive 15% off your first purchase.
Revelation: A Blueprint for the Great Tribulation
Will Putin Fulfill Biblical Prophecy and Attack Israel?
A Thrilling Ride
Every once in awhile, a book comes across your path that is impossible to put down. A Long Journey Home is not a casual book that you read in a week or earmark to complete at a later date. Once you begin, cancel your schedule, put your phone on silent, find a quiet place where you cannot be disturbed, and complete the journey. Click Here to Purchase on Amazon.com!