Advisory: Be careful of what you read on social media. The algorithms used by these platforms have no regard for Biblical truth. They target your emotions to keep you engaged on their site so their advertisers can drop more ads. These platforms exist to enrich their stockholders. Consider God's promise to Believers in James 1:5, "If any of you lacks wisdom, you should ask God, who gives generously to all without finding fault, and it will be given to you."
Mandatory Vaccines and the Loss of Freedoms in the United Kingdom…
Backlash Against Politicians and their cohorts, MSM and big evil tech…You do recall, don't you, that the governors and mayors who imposed the lockdowns never asked their citizens about their views about instantly getting rid of all rights and freedoms. They didn't consult legislatures. They didn't consult a range of expert opinion or pay attention to any serious demographic data that showed how utterly preposterous it was to force non-vulnerable populations into house arrest while trapping vulnerable populations in nursing homes that became Covid-soaked killing fields. Google that and see what response you get, I can tell you Google hides the truth, as they do on their YouTube platform…
Thousands of protesters descended on the British capital on Saturday to call for an end to coronavirus lockdowns and restrictions on businesses in the UK, which they described as a form of "tyranny".
In a Breitbart London exclusive video, protesters were seen singing: "I would rather be a human than a slave", "We are the 99 per cent", and "You can shove your New World Order up your ass".
The 'Stop the New Normal' march was organised by the anti-lockdown activist group Stand Up X and was one of the largest rallies against the government's coronavirus restrictions since the beginning of the lockdowns in March.
The large scale act of civil disobedience followed more restrictions being imposed on the people of Wales, Northern Ireland, and Scotland, as well as the introduction of a 'tier system' by Prime Minister Boris in England, in which local regions and cities are placed under lockdown if spikes in coronavirus cases are recorded.
At around 4 pm the police in London began using tactics to split the protest into separate groups and made at least 18 arrests in Trafalgar Square and on Westminster Bridge.
One woman told Breitbart London: "I'm so angry, all these police that are storming in, they're going to lose their pensions. They're supposed to be protecting us, they're not, this is tyranny."
"I cannot believe in this day and age, in this time now, more than ever we need to stand together, and if people can't get together and get united for the cause, for their freedom, for everybody, then we've lost already," she said.
"I don't understand, if your children are not the motivation to fight for your freedom… my grandfather and my grandad did not fight in the First World War and the Second World War as snipers to not be under a fucking dictatorship, for it to happen now in 2020," she added, going on to urge the rest of the country to "wake up".
Exclusive Video: Watch Cops Storm, Forcibly Shut Down Peaceful Anti-Lockdown Protest in London
The lead officer for the Metropolitan Police's response to the protest, Commander Ade Adelekan explained his decision to disperse the crowds: "Throughout the day, officers have been managing a number of complex protests at various locations across central London."
"One demonstration, in particular, attracted a large number of protesters and I became increasingly concerned that those in the crowd were not maintaining social distancing or adhering to the terms of their own risk assessment," he said.
"Organisers did not take reasonable steps to keep protesters safe which then voided their risk assessment. At this point, officers then took action to disperse crowds in the interests of public safety," Adelekan added.
In footage shared online, police were again seen physically confronting the anti-lockdown protesters, with one man wearing a 'Make Britain Great Again' hat being thrown to the pavement.
In contrast, the police took a hands-off approach to a large-scale protest against police brutality in Nigeria, that was led by Black Lives Matter activist and self-described Black Panther, Sasha Johnson.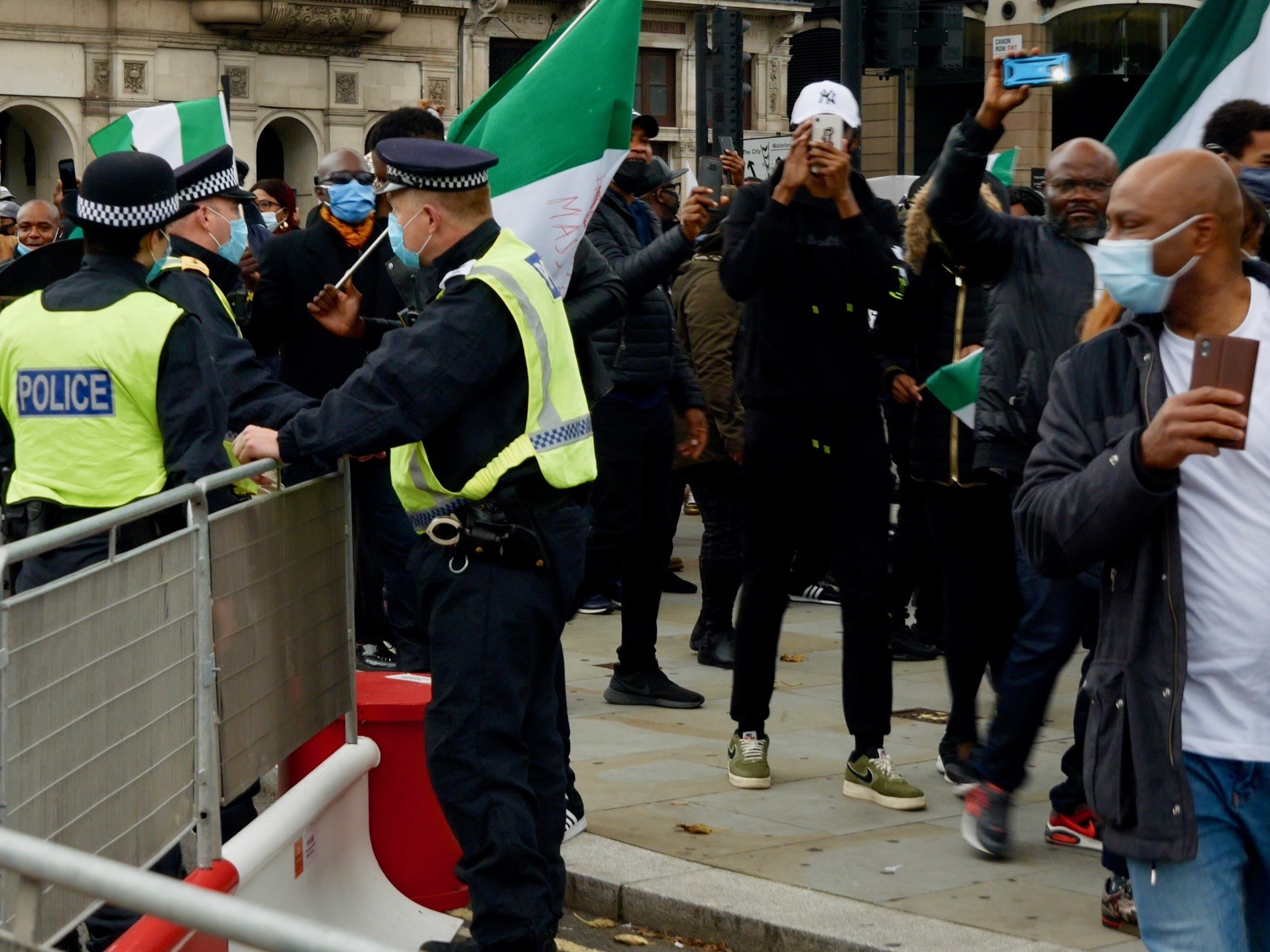 Hundreds of protesters against police brutality in Nigeria took to the streets of London on October 24, 2020. Kurt Zindulka, Breitbart News
At a 'Stop Trump Coalition' Protest in London on October 24, 2020, a man dressed as President Trump is seen 'injecting' a pantomime cow with growth hormones. Kurt Zindulka, Breitbart News
Another protest organized by the Stop Trump Coalition — which saw around 50 people gather in Parliament Square to protest against the American leader as well as the prospect of a trade deal between the UK and the United States — was not broken up by the police either.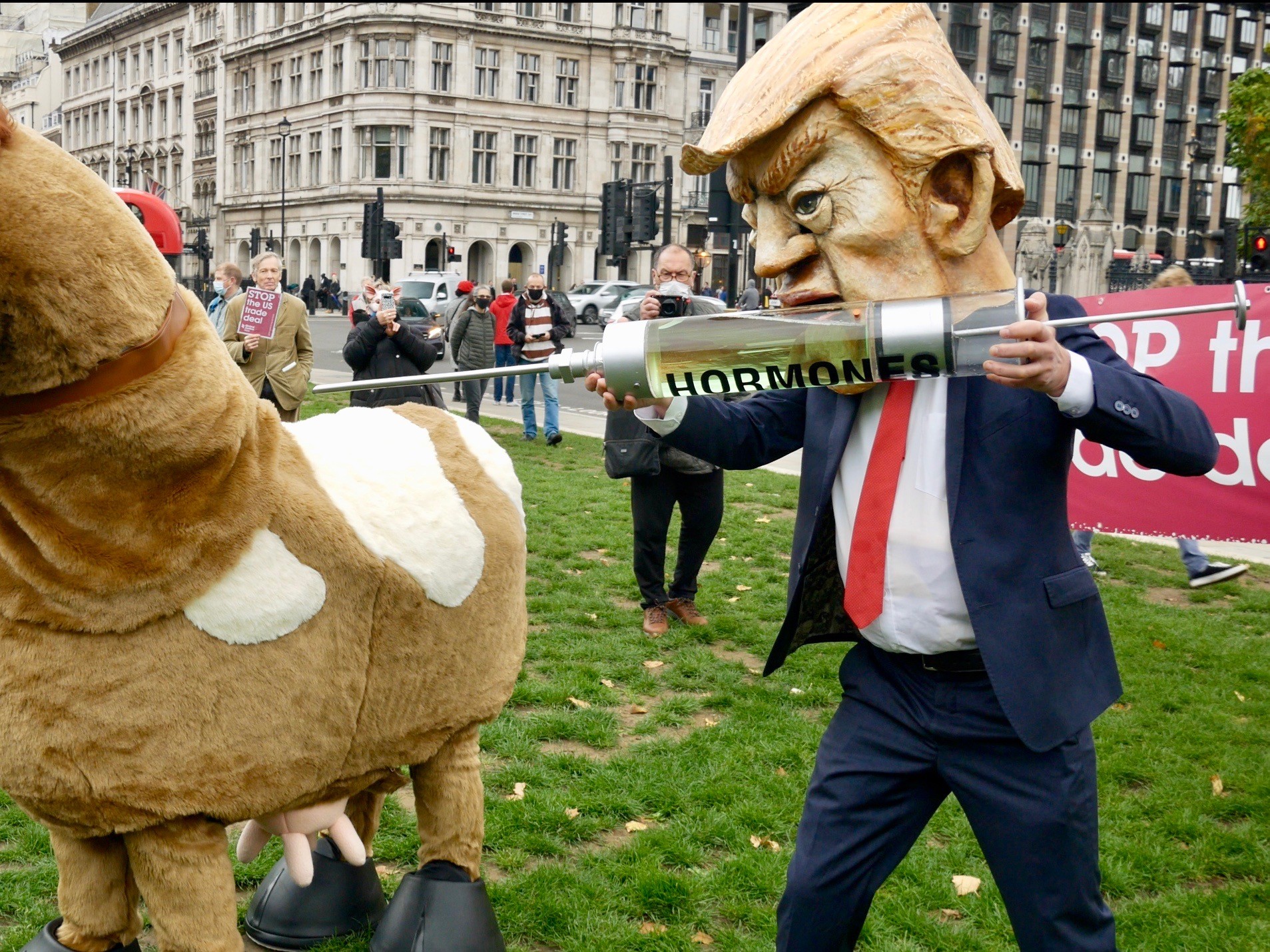 At a 'Stop Trump Coalition' Protest in London on October 24, 2020, a man dressed as President Trump is seen 'injecting' a pantomime cow with growth hormones. Kurt Zindulka, Breitbart News
Another protest organized by the Stop Trump Coalition — which saw around 50 people gather in Parliament Square to protest against the American leader as well as the prospect of a trade deal between the UK and the United States — was not broken up by the police either.
The World Is In Big Trouble, for Those That Believe We Will Go Back to Some Sense of Normal Life Here on Earth, You Will Be Sadly Disappointed, Seven Years of Hell on Earth Which Began January 1, 2020
"Our courts oppose the righteous, and justice is nowhere to be found. Truth stumbles in the streets, and honesty has been outlawed" (Isa. 59:14, NLT)…We Turned Our Backs On GOD, Now We Have Been Left To Our Own Devices, Enjoy…
While Mainstream Media Continues to Push a False Narrative, Big Tech Has Keep the Truth From Coming out by Shadow Banning Conservatives, Christians, and Like-Minded People, Those Death Attributed to the Coronavirus Is a Result of Those Mentioned, They Truly Are Evil…
Source: HNewsWire breitbart HNewsWire HNewsWire HNewsWire HNewsWire
StevieRay Hansen
Editor, HNewsWire.com
Watchmen does not confuse truth with consensus The Watchmen does not confuse God's word with the word of those in power…
In police-state fashion, Big Tech took the list of accused (including this site), declared all those named guilty and promptly shadow-banned, de-platformed or de-monetized us all without coming clean about how they engineered the crushing of dissent, Now more than ever big Tech has exposed there hand engaging in devious underhanded tactics to make the sinister look saintly, one of Satan's greatest weapons happens to be deceit…
The accumulating death toll from Covid-19 can be seen minute-by-minute on cable news channels. But there's another death toll few seem to care much about: the number of poverty-related deaths being set in motion by deliberately plunging millions of Americans into poverty and despair.
American health care, as we call it today, and for all its high-tech miracles, has evolved into one of the most atrocious rackets the world has ever seen. By racket, I mean an enterprise organized explicitly to make money dishonestly.
All the official reassurances won't be worth a bucket of warm spit. The Globals are behind the CoronaVirus, It Is a Man-Made Bioweapon.
But realize this, that in the last days difficult times will come. For men will be lovers of self, lovers of money, boastful, arrogant, revilers, disobedient to parents, ungrateful, unholy, unloving, irreconcilable, malicious gossips, without self-control, brutal, haters of good, treacherous, reckless, conceited, lovers of pleasure rather than lovers of God, holding to a form of godliness, although they have denied its power; avoid such men as these.
Among them are those who enter into households and captivate weak women weighed down with sins, led on by various impulses, always learning and never able to come to the knowledge of the truth. Just as Jannes and Jambres opposed Moses, so these men also oppose the truth, men of depraved mind, rejected in regard to the faith. But they will not make further progress; for their folly will be obvious to all, just as Jannes's and Jambres's folly was also. Now you followed my teaching, conduct, purpose, faith, patience, love, perseverance, persecutions, and sufferings, such as happened to me at Antioch, at Iconium, and at Lystra; what persecutions I endured, and out of them all the Lord rescued me! Indeed, all who desire to live godly in Christ Jesus will be persecuted.
But evil men and impostors will proceed from bad to worse, deceiving and being deceived. You, however, continue in the things you have learned and become convinced of, knowing from whom you have learned them, and that from childhood you have known the sacred writings which are able to give you the wisdom that leads to salvation through faith which is in Christ Jesus. All Scripture is inspired by God and profitable for teaching, for reproof, for correction, for training in righteousness; so that the man of God may be adequate, equipped for every good work.
I solemnly charge you in the presence of God and of Christ Jesus, who is to judge the living and the dead, and by His appearing and His kingdom: preach the word; be ready in season and out of season; reprove, rebuke, exhort, with great patience and instruction. For the time will come when they will not endure sound doctrine; but wanting to have their ears tickled, they will accumulate for themselves teachers in accordance to their own desires, and will turn away their ears from the truth and will turn aside to myths. But you, be sober in all things, endure hardship, do the work of an evangelist, fulfill your ministry.
2 Timothy 3:1-4:5
According to the word of God, as Christians, we are living in difficult or perilous times. One of the greatest of those perils is the threat posed by false teachers. This site is a call to action for believers. The call to action is this: Trust(1) in the truthfulness and sufficiency of God's word. Submit(2) to His sovereignty over our lives. Study(3) His word with humility and fear. Test(4) those who call themselves Apostles or claim any other title of spiritual authority. Prove(5) your love for God by not fearing man, and warn those who do not know God whether or not they claim to be Christian. Expose(6) the lies that claim to be God's truth. Love(7) others sacrificially. Judge(8) with righteous judgment. Examine(9) yourself to see if you're in the faith. Endure(10) to the end.
Pharmaceuticals Home Made Pestilence Via Vaccines a.k.a Kill Shots: HNewsWire- Before arriving in San Francisco, the Ruby Princess, a Princess Cruises ship, reported a COVID-19…
Read More
We make every effort to acknowledge sources used in our news articles. In a few cases, the sources were lost due to a technological glitch. If you believe we have not given sufficient credit for your source material, please contact us, and we will be more than happy to link to your article.