Advisory: Be careful of what you read on social media. The algorithms used by these platforms have no regard for Biblical truth. They target your emotions to keep you engaged on their site so their advertisers can drop more ads. These platforms exist to enrich their stockholders. Consider God's promise to Believers in James 1:5, "If any of you lacks wisdom, you should ask God, who gives generously to all without finding fault, and it will be given to you."
Fake Pastor.
that is quickly replacing doctrinal purity while professing itself to be biblical…
When pastors in today's modern churches are backed into the corner on the topic of preaching hard against the societal and political sins of our nation you will usually hear the same excuse,
"These topics are all important, but I am just called to preach Jesus and the Gospel, I haven't been called to preach on politics."
There is one huge flaw in this reasoning, and it actually blasphemes the person and power of who Jesus is in totality.
Jesus is not just the man we read about in the Gospel narratives. No, pastors that make this excuse, limit Jesus to the mere 33 years of His physical ministry, death, and resurrection. If you Just preach the Gospel stories, making endless ear-tickling analogies on Love every Sunday, you fail to teach the real Jesus of scripture and instead present a mirage of who Jesus truly is in scripture.
If Jesus is God, then as a preacher you need to be able to reconcile thousands of idiosyncrasies between the justice and wrath of God in the Old Testament and the mercy of Jesus in the New Testament. Our culture demands answers today, asking IF they are one and the same, why are they so different in personality between the two testaments?
The fact is, 99.9% of preachers out there would be hard-pressed to expound on any principles that bridged the Old and New Testament. As a result, there is a great falling away from the Church; young people especially have lost interest in the smoke and mirror churches they find on every block in their home town.
If more pastors preached the real Jesus, the Jesus that whipped money changers, told the disciples to buy swords, called the religious class the children of the devil, refused to speak to the reprobate Herod, spoke a curse of destruction on Israel, we wouldn't have half the messes we have today.
So You Say You Preach Jesus?
Here is why it is important for pastors and Christians to apply themselves to the understanding of all of the principles we find in the Bible; principles that jive completely with all of the harder sayings and actions of Jesus.
The Gospel of John, in the opening few verses, uses the word λόγος(Logos) as a powerful way to describe the enormity of who Jesus' really is,
In the beginning, was the Word, and the Word was with God, and the Word was God. The same was in the beginning with God. All things were made by him, and without him was not anything made that was made. John 1:1-3
Simply put Jesus is described as the "Word", he was with God before creation and is the means in which the thoughts of God become manifest.
The Cosmology that this statement evokes is breathtaking in concept, and one I think most Christians fail to grasp in totality. This statement used by John purposely invokes Genesis 1:1 "In the beginning, God created the Heavens and the Earth," all by speaking it into existence. We are being given a "Word Picture" peering into the actual mechanics behind creation. Just like a programmer code that supports logic and organization thus the Word of God supports all of Creation through logic and organization as well.
A further rendering of this word λόγος also reveals that the word is used interchangeably with the "Word" of God as found in scripture. Thus saith the LORD,
λόγος – word, uttered by a living voice, embodies a conception or idea
what someone has said
a word
the sayings of God
decree, mandate or order
of the moral precepts given by God
Old Testament prophecy was given by the prophets
what is declared, a thought, declaration, aphorism, a weighty saying, a dictum, a maxim
Fittingly, the dictates of the Bible reveals our Creator just as it should, in the personage of Jesus Christ. If John 1:1-3 is to be true, and Jesus is the λόγος, then logically the entire body of scripture, its histories, law, prophets, proverbs, and psalms all should reveal Jesus Himself, seeing He is the author. When we analyze the Bible we find it does, in almost poetic form.
Jesus is simultaneously the physical order and moral order, as well as the historical person we find in the Gospels. Jesus is more than the Gospel narratives before our world existed He was the Eternal Word of God. John the Apostle got this, as well as the Apostle Paul. Paul speaking of Jesus said,
Who is the image of the invisible God, the firstborn of every creature: For by him were all things created, that are in heaven, and that are in earth, visible and invisible, whether they be thrones, or dominions, or principalities, or powers: all things were created by him, and for him: And he is before all things, and by him all things consist. Colossians 1:15-18
So, if you are truly preaching Jesus as so many pastors claim they are, then pastors should be constantly referencing the entire volume of scripture including the Old Testament and not just the feel-good soundbites in the New Testament. The role of a preacher is to reconcile what we know about Jesus in both the New and Old Testament, and that takes work, reasoning, understanding, insight, study, and yes even courage, because the harder things of scripture, the things preachers love to avoid are controversial by nature and undoubtedly won't win them friends in the world or in their congregations.
Preach the word; be instant in season, out of season; reprove, rebuke, exhort with all long suffering and doctrine. 2 Timothy 4:2
Conclusion
Today we have pastors skirting their responsibility as teachers and prophets. The way they do this is through the omission and application of scripture in their teaching ministries. We need pastors to reorient themselves with the last and final instructions Jesus gave us while on earth. The Great Commission is the summation of what it means to be a Christian, it is the mission statement of the Church.
Shortly after Jesus' resurrection, he gave us the Great Commission, a guiding compass that we might know our Two-Fold mission as Christians while on earth.
And Jesus came and spake unto them, saying, All power is given unto me in heaven and in earth. Go ye therefore, and teach all nations, baptizing them in the name of the Father, and of the Son, and of the Holy Ghost: Teaching them to observe all things whatsoever I have commanded you: and, lo, I am with you alway, even unto the end of the world. Amen. – Matthew 28:19-20
Yes, two-fold mission, if you read this verse properly you see one mission is the mission that most preachers claim for themselves, which is evangelize and share the Gospel, but they forget the last part and mission which is "teaching them to observe all things whatsoever I have commanded you."
Jesus says ALL things, not a selection of things, not just the things that make you feel happy and joyful, but even the commands in the Old Testament. Jesus and the Apostles quote copiously from the Old Testament, they never for an instant neglected to reveal Christ in the Old Testament, knowing full well that to preach Jesus meant to preach it all. His commands come from the entirety of scripture because he IS scripture itself.
This is where you lose pastors, they don't want to preach the Old Testament because frankly, they don't know how to reconcile Jesus with the God of the Old Testament, they don't have the knowledge or insight to communicate the principles we find there. The worthless seminaries they attended omitted it in their training and thus they are too lazy to study these things for themselves. Preaching the real Jesus is a lost art, and as a lost art we now have a lost society.
When we preach the entirety of scripture, we are confronted with stories that speak on unjust war, abortion, the sanctity of life, natural rights, natural law, revealed law, reprobate sin, jurisdictional limitation of Government, self-defense, the justice and wrath of God, etc.
These are all issues we are required to preach on as commanded by Christ Himself. Don't call yourself a preacher if you can't reconcile these things for your flock, the lack of knowledge on these subjects immediately unqualifies you from the ministry per the Great Commission itself.
In fact, Jesus Himself quoted from 24 Books of the Old Testament during His ministry, He even took the time on the road to Emmaus to demonstrate to the two disciples that He is found everywhere in the Old Testament,
And beginning at Moses and all the prophets, he expounded unto them in all the scriptures the things concerning himself. Luke 24:27
This should demonstrate the requirements of ministry, if pastors nowadays can't even fulfill the Great Commission in entirety and do exactly what Jesus did, which is reveal His Laws and Principles in scripture as He did on the road to Emmaus as a perfect example, then they have no business in the Ministry. Furthermore, congregants that continue to attend these churches, satisfied with the lack of substance they have no business calling themselves Christians. You either take Jesus as who he is, which is the God of the Old and New Testament, or call yourselves by another name. A fake, watered down Christ is no Christ at all. Source
The Bible Indicates That There Will Be a Great Apostasy During the End Times, Jerry Falwell Jr, the "Great Apostasy" That Is Mentioned in 2 Thessalonians 2:3. the Kjv Calls It the "Falling Away," While the Niv and Esv Call It "the Rebellion." and That's What Apostasy Is: A Rebellion, an Abandonment of the Truth. The End Times Will Include a Wholesale Rejection of God's Revelation, a Further "Falling Away" of an Already Fallen World.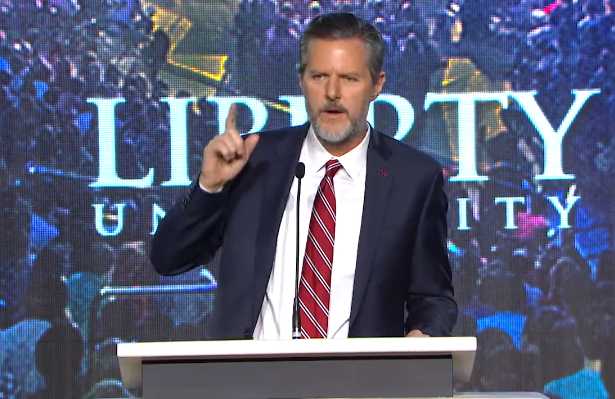 LYNCHBURG, Va. — Jerry Falwell Jr., the president of Liberty University, which touts itself as the world's largest Christian university, wrote a letter on Tuesday to a Republican congressman who recently received a no-confidence vote from a local GOP committee after he "happily" officiated a same-sex "wedding." Falwell, also seeing that some leaders of the Republican Party within the district were backing away from Rep. Denver Riggleman, asserted that it is wrong for the congressman to be excluded over "social issues." He advised that he plans to endorse Riggleman for reelection as he believes the party needs to be a "big tent" and unite.
"It is my understanding that certain leaders of the Republican Party in the 5th District are attempting to exclude you and others because of social issues," Falwell wrote. "I was told that they are assuming that because you officiated at a gay marriage recently, that you are not socially conservative."
"I believe that excluding other conservatives over issues that have already been decided by the U.S. Supreme Court does nothing but help the liberals gain more power," he opined. "There is nothing that anyone in the House of Delegates or the Virginia Senate can do to change the law on gay marriage or abortion until the U.S. Supreme Court reverses its previous positions, WRONG.
Falwell asserted that his logic is "common sense," and that if Republicans do not unite and think pragmatically, the liberals will win. He said that he wants to see Republicans retain control of the House of Delegates and the state Senate in November.
"I hope that the less pragmatic members of the party will wake up and realize that, in the words of Ben Franklin, 'We must all hang together or most assuredly we will all hang separately,'" Falwell wrote. "I intend to endorse you in your bid for reelection in 2020 in light of your liberty-minded conservatism and our shared values."
He also expressed the hope that he would see Riggleman at an upcoming fundraiser, which will also be attended by Robert Hurt, the executive director of Liberty University's Center for Law and Government. Riggleman had been invited to Liberty University in March by student groups such as Young Americans for Liberty, College Republicans, and Students at Liberty for Gun Rights.
Reports outline that on July 14, Riggleman officiated the "wedding" of campaign volunteers Alex Pisciarino and Anthony LeCounte, and expressed that he was "proud" to do so.
"My real belief is that government shouldn't be involved in marriage at all, but if it is, everybody has to be treated equally before the law," the congressman told the Washington Post. "And that is part of our Republican creed. And it also comes down to love is love. I'm happy to join two people together who obviously love each other."
However, Riggleman also opposes the proposed Equality Act because of concerns about infringing parental rights, and he believes that the matter of transgenders serving the military needs additional study.
Because of his participation in the ceremony, Wendell Johnson of the Fifth Congressional District Republican Committee presented a motion to formally rebuke Riggleman.
"I move that the committee censure Denver Riggleman for failing to uphold the Republican Party platform, [which] states 'marriage is between one man and one woman,'" he said, according to Newsweek.
While his initial effort was not successful, member Diana Shore put forward a vote of no confidence with the Cumberland County Republican Committee, which she chairs. It passed unanimously.
Mainstream Media Won't Tell You the TRUTH!
"I make this motion of no confidence in Congressman Denver Riggleman for his recent act in officiating a homosexual marriage and his lack of support for stronger border security and immigration policies," it read.
Riggleman's campaign responded to the vote by stating that the congressman was happy to officiate "and he is proud of these two young people who found their life partner."
As previously reported, Falwell has been an ardent supporter of President Trump, repeatedly asserting throughout Trump's presidential campaign that the then-candidate bears the fruit of one being born again because of his characteristic good deeds.
"I've seen his generosity to strangers, to his employees, his warm relationship with his children," he said on CNN's "Legal View With Ashleigh Banfield" on February 2016. "I'm convinced he's a Christian. I believe he has faith in Jesus Christ."
Falwell asserted that those who expressed concerns about Trump's behavior were violating the "judge not" clause in Matthew 7:1. WRONG…
"Jesus said, 'Judge not, lest ye be judged. Let's stop trying to choose the political leaders who we believe are the godliest because, in reality, only God knows people's hearts. You and I don't, and we are all sinners," he said in an interview with the Liberty University newspaper that same year.
He also told the Washington Post earlier this year that he doesn't believe that the teachings of Christ were meant to be used for public policy, but that the government should rather be "free of religious association."
"Jesus never told Caesar how to run Rome," Falwell told the Washington Post. "He went out of his way to say that's the earthly kingdom, I'm about the heavenly kingdom. And I'm here to teach you how to treat others, how to help others, but when it comes to serving your country, you render unto Caesar that which is Caesar's."
"You almost have to believe that this is a theocracy to think that way — to think that public policy should be dictated by the teachings of Jesus." Source
As Christian apologist Ravi Zacharias puts it, "The fact is, the truth matters – especially when you're on the receiving end of a lie." And nowhere is this more important than in the area of faith and religion. Eternity is an awfully long time to be wrong.
The people spreading concrete information on the dangers of globalism are accomplishing far more than those sitting around buying bitcoin or passing around Q-cult nonsense.
The man of lawlessness, according to 2 Thessalonians 2:4, is the one who "will oppose and will exalt himself over everything that is called God or is worshiped, so that he sets himself up in God's temple, proclaiming himself to be God." Clearly, this has not yet happened; no one since Paul's time has set himself up as God in the Jewish temple. Two thousand years have passed since the epistle was written, and the "day of the Lord" has not yet come. Paul assures us that it will not come until the falling away comes first.
The Greek word translated "rebellion" or "falling away" in verse 3 is apostasia, from which we get the English word apostasy. It refers to a general defection from the true God, the Bible, and the Christian faith. Every age has its defectors, but the falling away at the end times will be complete and worldwide. The whole planet will be in rebellion against God and His Christ. Every coup requires a leader, and into this global apostasy will step the Antichrist. We believe this takes place after the church has been raptured from the earth.
Jesus warned the disciples concerning the final days in Matthew 24:10–12: "At that time many will turn away from the faith and will betray and hate each other, and many false prophets will appear and deceive many people. Because of the increase of wickedness, the love of most will grow cold." These are the characteristics of the great apostasy of the end times.
"Unless God has raised you up for this very thing, you will be worn out by the opposition of man and devils"…
StevieRay Hansen
Editor, HNewsWire.com
The Birth Pains Are Growing Stronger….
"Man will ultimately be governed by God or by tyrants."
My name is Steve Meyers and I need to share a vision and warning that the Lord showed me back in April 2007….
Many of you will ask why I waited so long to share the warning. I didn't. I shared the story with everyone that would listen from pastors to friends to family to colleagues. Immediately following the initial vision, I called a close friend. I told him to sit down that I had something to tell him. I needed it documented as I knew this was supernatural and from God. As I witness events unfolding today, I need to share the vision again.
The risk of loss in trading futures and options on futures can be substantial. The author does not guarantee the accuracy of the above information, although it is believed that the sources are reliable and the information accurate. The author assumes no liability or responsibility for direct or indirect, special, consequential or incidental damages or for any other damages relating or arising out of any action taken as a result of any information or advice contained in this commentary. The author disclaims any express or implied liability or responsibility for any action taken, which is solely at the liability and responsibility of the user. Steve Meyers
The silencing of the American people before 2020?
"The human heart is an idol factory."
The Un-Godly — Those That Suppress the Truth, the social media giants built multi-billion dollar empires by giving everyone a voice, but now that they have such a dominant position on the Internet they have decided that many prominent conservative voices should be completely silenced.
Our government has been overthrown. As evidenced by Trump's capitulation on the border, his recent servitude to the GMO industry and his acquiescence to the warmongers, our President has been compromised. Our liberties are being eliminated one by one. Gun confiscation is next. The Constitution is gasping its last breaths. Our borders are destroyed and our culture has been turned upside down by every perversion known to man.
The Left, a broad term for Liberal Socialist Democrats that can only be explained fully by using the Bible explanation of the human race is as follows. A servant of Satan, because you are either saved or lost. This election has brought out the true nature of who you serve. Simply put, it's Donald Trump, Conservatives, and Christians against the rest of the world. The Left's Love applies only to those who believe as they do. They Love evil and commit Anarchy against those who love good. They are governed by lies and never tell the truth. On this Friday, Inaugural Day for the swearing-in of Donald Trump as the 45th President of the United States the Left wants to commit widespread Anarchy to shut down the swearing-in ceremony. Their goal of transforming America, which was founded in Judea Christian values into a Pagan Nation is almost complete. Their goal has always been the total removal of God from American society and the downfall of America. Donald Trump says he is a Presbyterian, but he left off the USA, an apostate church.
Everything done in dark will be brought to light, being biblically bankrupt will not exclude the elitist.
Let Me Make This Abundantly Clear. (I Am Apolitical) While I Have a General Distaste for Politicians No Matter the Party They Belong To, I Am Unashamedly Politically a Bible Believing Conservative Christian. I Have a Severe Distrust of Government. I Believe It Is the Most Inefficient and Ineffective Way to Accomplish Most Things. While I Strongly Disagree with Liberals/Progressives and Conservative on Most Political Issues, and While I Believe Liberals/Progressives and Most Politicians Are Terribly Misguided and Naive About What Big Government Will Eventually Result In, I Strive to Not Question Their Motives. at the Same Time, While I Find Myself in Agreement with Conservative Politicians on Some Issues, I Do Not Believe Electing Republicans Is the Answer to Everything. for Me, Very Sadly, the Main Difference Between Republicans and Democrats Is How Quickly They Want to Drive the Car Towards the Cliff. Simply Put, I Do Not Believe the Government Is the Solution for Everything. I Do Not Place Any Faith, Trust, or Hope in Any Politicians to Fix What Is Wrong with the World. "Come Lord Jesus!" (Revelation 22:20) StevieRay Hansen
The 127 Faith Foundation: We do not solicit donations from "those on disability, on a fixed income, or those who cannot afford to give." Please Pray!
Or, make checks payable to:
The 127 Faith Foundation
PO Box 127
Pontotoc, TX 76869
The number of Orphans aging out of Child Protective Custody has grown at an alarming rate. The 127 Faith Foundation receives many requests each week to house them at our ranch. Our prayer is that the good people of our country will step up to the challenge and offer financial support for "the least among us." We need your help! StevieRay Hansen, Founder, The 127 Faith Foundation
Therefore Starving Innocent People to Fulfill Their Demonic Utopia — "Largest Distribution Ever" — Thousands of Cars Lined up at Texas Food Bank. "Evening Edit"…
Read More
We make every effort to acknowledge sources used in our news articles. In a few cases, the sources were lost due to a technological glitch. If you believe we have not given sufficient credit for your source material, please contact us, and we will be more than happy to link to your article.