Gun Crime, Everyone Knows Those Criminals Will Turn in Their Guns ASAP Once Mayor Heavyfoot Gets Another Law Passed for Gun Control, This Make Sense, Disarm the Law-Abiding People and Leave the Guns in the Hands of the Criminals So They Can Continue Rape and Pillage Unarmed Citizens. He/She's From Another Planet and We Are Not Members of the Space Cadet Club…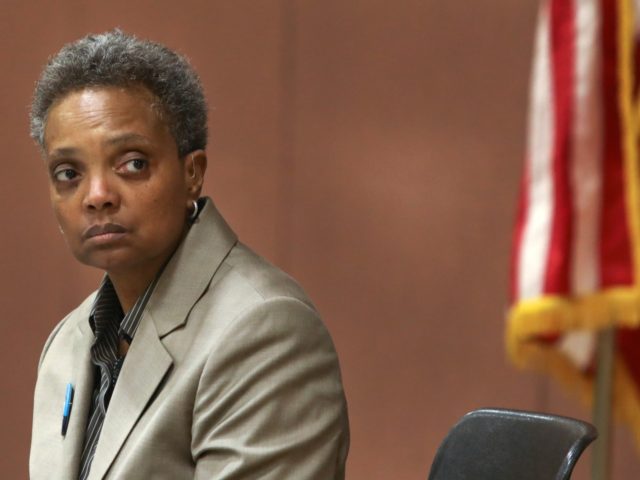 Fifteen people were shot, one fatally, on Wednesday alone in Mayor Lori Lightfoot's (D) Chicago.
The Chicago Sun-Times reports the fatality occurred just after 9:30 p.m., as people "were at a gathering outside…in the 7300 block of South Claremont Avenue." Someone began shooting and a 35-year-old man was shot numerous times in the head and elsewhere. He was transported to a hospital and pronounced dead.
A 12-year-old girl was shot and wounded in the incident as well.
The Sun-Times reports 10 were shot Tuesday in Mayor Lightfoot's Chicago.
Breitbart News reported at least 60 people were shot, five fatally, over the weekend in Mayor Lightfoot's Chicago.
WLS reported the shootings included an incident on Chicago's Eisenhower Expressway just after 2 a.m. Monday morning, where a man was shot "multiple times." He was transported to a hospital in stable condition.
At least 50 people were shot, five fatally, last weekend and at least 35 were shot, four fatally, the weekend before and 34 were shot, nine fatally, three weekends ago.
To date, Mayor Lightfoot has pushed for more gun control as a solution to Chicago's gun crime.
On August 12, 2020, Breitbart News reported Lightfoot pushing for Joe Biden to be elected, claiming a Biden administration would be key to getting more gun control for Chicago.
 The worthless Zuckerberg employs all forms of communication using his "mouth," "eyes," "feet," and "fingers" to advance his evil agenda. There companions understand his various forms of language and consent to do his bidding.  Solomon describes them as one "who with perversity in his heart continually devises evil." That is, they revels in the natural inclinations of there own depravity (Jer. 17:9; Mark 7:21-22), and in there activities "spreads strife" among men.
The World Is In Big Trouble, for Those That Believe We Will Go Back to Some Sense of Normal Life Here on Earth, You Will Be Sadly Disappointed, Seven and Half Years of Hell on Earth Which Began January 1, 2020
"Our courts oppose the righteous, and justice is nowhere to be found. Truth stumbles in the streets, and honesty has been outlawed" (Isa. 59:14, NLT)…We Turned Our Backs On GOD, Now We Have Been Left To Our Own Devices, Enjoy…
While Mainstream Media Continues to Push a False Narrative, Big Tech Has Keep the Truth From Coming out by Shadow Banning Conservatives, Christians, and Like-Minded People, Those Death Attributed to the Coronavirus Is a Result of Those Mentioned, They Truly Are Evil…
StevieRay Hansen
Editor, HNewsWire.com
Watchmen does not confuse truth with consensus The Watchmen does not confuse God's word with the word of those in power…
In police-state fashion, Big Tech took the list of accused (including this site), declared all those named guilty and promptly shadow-banned, de-platformed or de-monetized us all without coming clean about how they engineered the crushing of dissent, Now more than ever big Tech has exposed there hand engaging in devious underhanded tactics to make the sinister look saintly, one of Satan's greatest weapons happens to be deceit…
The accumulating death toll from Covid-19 can be seen minute-by-minute on cable news channels. But there's another death toll few seem to care much about: the number of poverty-related deaths being set in motion by deliberately plunging millions of Americans into poverty and despair.
American health care, as we call it today, and for all its high-tech miracles, has evolved into one of the most atrocious rackets the world has ever seen. By racket, I mean an enterprise organized explicitly to make money dishonestly.
All the official reassurances won't be worth a bucket of warm spit. The Globals are behind the CoronaVirus, It Is a Man-Made Bioweapon.
The Short List of "Reprobate" found in Romans 1:28 in reference to those whom God has rejected as godless and wicked. They "suppress the truth by their wickedness," and it is upon these people that the wrath of God rests (Romans 1:18). The Greek word translated "reprobate" in the New Testament is adokimos, which means literally "unapproved, that is, rejected; by implication, worthless (literally or morally)." SRH…
"People who grew up with the Internet saw what a wonderful thing it was for free expression, giving everyone access to a global audience. That's been completely flipped on its head, and now it's one of the most tightly controlled, manipulated places to find information that you could imagine. It's a complete 180 from what it used to be, and that's incredibly sad, because it was, initially, this challenge to old information gatekeepers, this place of free expression, of democratized information, and now it's just controlled by a handful of increasingly authoritarian ideologically partisan tech companies that haven't been held to account by officials in D.C. and aren't bound by any regulation preventing them from who censoring people or interfering in elections."
Technology companies like Google, Facebook, and Twitter and growing increasingly sophisticated in anticipating, intercepting, and suppressing information with the likelihood of going viral
The number of Orphans aging out of Child Protective Custody has grown at an alarming rate. The 127 Faith Foundation receives many requests each week to house them at our ranch. Our prayer is that the good people of our country will step up to the challenge and offer financial support for "the least among us." We need your help! StevieRay Hansen, Founder, The 127 Faith Foundation