Advisory: Be careful of what you read on social media. The algorithms used by these platforms have no regard for Biblical truth. They target your emotions to keep you engaged on their site so their advertisers can drop more ads. These platforms exist to enrich their stockholders. Consider God's promise to Believers in James 1:5, "If any of you lacks wisdom, you should ask God, who gives generously to all without finding fault, and it will be given to you."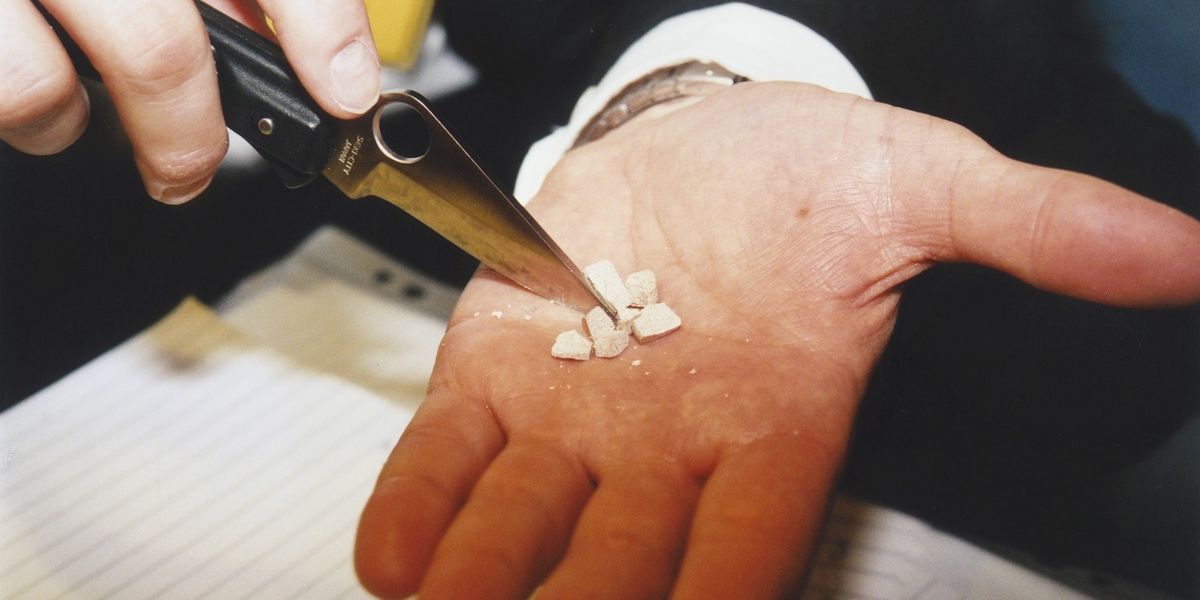 Beijing has made only sporadic and half-hearted efforts to stop the flow of synthetic opioids like fentanyl from Chinese producers to international markets, where the medicines are causing record numbers of overdose deaths, especially in the United States.
In addition, the communist regime continues to prioritize its geopolitical objectives over any significant reforms on this front.
According to a recent Brookings Institution analysis prepared by Vanda Felbab-Brown, a senior fellow at the think tank, opioids are "the cause of the greatest U.S. drug epidemic ever," with 104,288 Americans dying from drug overdoses between October 2020 and September 2021. Opioids were responsible for 78,388 of those deaths.
According to Felbab-findings, Brown's an already deadly opioid problem worsened 10 years ago when synthetic opioids like fentanyl displaced plant-based opioids and became increasingly used as ingredients in drug cocktails that also included cocaine and methamphetamine.
For years, many of China's pharmaceutical industry's more than 5,000 companies provided fentanyl straight to the United States. China's chemical export business, according to the research, is a poorly regulated shadow economy with between 160,000 and 400,000 manufacturers and distributors, many of which operate without licenses or hide their activities behind shell companies.
Others conceal the fentanyl they manufacture among other high-volume items. Brokers in China continued to ship fentanyl to the United States until 2019, despite US regulations prohibiting the importation of their drugs.
According to the report, the US raised the matter with Beijing in the hopes of enacting stronger regulations on the manufacture and export of these pharmaceuticals within China, and this effort resulted in the regulation of fentanyl analogs and two fentanyl precursors in 2018 and 2019.
However, drug manufacturers just switched tactics, sending shipments to Mexican cartels, who then distribute the narcotic to American consumers. The makers and distributors did not stop supplying drugs to American streets; instead, they found proxies to do it.
Even now, some Chinese dealers customize their technique expressly for Mexican cartels, according to the research. Felbab-Brown referenced research from the Washington-based non-profit C4ADS, which revealed how Chinese traffickers bundle fentanyl and meth precursors, as well as cocaine fillers, in Spanish-language adverts and boast about the narcotics' capacity to pass through Mexican customs.
In the face of US criticism, Beijing maintains that it can only do so much to prevent non-scheduled sales of meth and fentanyl precursors to drug cartels, and rejects US accusations that China is to blame for the opioid crisis.
According to the report, the fact that Chinese criminal syndicates are less likely than some Latin American cartels to murder their real or perceived enemies adds to Beijing's justification for leniency, except in the relatively rare cases where Chinese criminal syndicates act directly against the interests of Beijing's ruling elite.
Beijing's position is that the crisis is the result of socioeconomic problems in the United States, and that it should not be blamed on a country like China, which has demonstrated "benevolence" and cooperation in anti-drug measures, it added.
However, due to rising tensions between Washington and Beijing in recent years, the dictatorship has refused to provide the kind of aid that is desperately needed to stop the flow of fentanyl into American cities. Even as more attention has been placed on the situation and the role of offshore suppliers in recent years, things have gotten worse, not better.
Until 2018, Chinese police responded to tips from the United States and arrested Chinese fentanyl dealers. Since then, however, Chinese authorities have not acted on intelligence or indictments from US officials. Cooperation between Chinese and Mexican law enforcement agencies on fentanyl trafficking and precursor agent trading is almost non-existent.
"China's counternarcotics cooperation with the United States has been subjugated to the two nations' overall worsened geostrategic relationship," according to the report.
"Indeed, without a considerable improvement in the overall US-China relationship, China is unlikely to step up its anti-drug cooperation with the US," the report concluded. "Sanctions and drug indictments in the United States are unlikely to change that."
According to the research, political tensions have similarly impacted cooperation between Chinese and Australian agencies.
In both East Asia and Mexico, China is recognized as "the primary supplier" of precursor chemicals used in methamphetamine manufacture. According to the analysis, meth made in southern China flowed to domestic markets as well as East Asia and Australia between the 1990s and the mid-2010s. In this case, too, heightened diplomatic calls for action had only a limited impact on global trade.
"At first, Beijing was combative and dismissive of assertions that China was the source of the meth epidemic in Australia. However, as time went on, it became more inclined to work with Canberra," according to the paper.
In its first year of operation, Task Force Blaze, a Sino-Australian organization based in Guangdong Province in southern China, seized shipments of meth from China to Australia and made 130 arrests, but it did not stop the flow of meth precursors and pre-precursors from China to drug producers in Bruma (Myanmar) and other countries.
Meth is distributed in Asia, Australia, and New Zealand by Chinese drug smuggling networks, while completed meth is sold in the United States by Mexican gangs who rely largely on Chinese precursors.
While the supply chain may appear to be different on the surface, Chinese manufacturers and suppliers continue to dominate.
According to the Brookings paper, the US can take a variety of initiatives to address China's role in the narcotics trade.
It can't hurt to emphasize China's interest in preventing domestic opioid consumption and encourage Beijing to step up its anti-money laundering measures. However, according to the paper, such measures will have minor long-term effects. The global deployment of self-regulatory measures for the chemical and pharmaceutical industries may make a bigger effect. Such an approach may have an impact on drug traffickers' access to precursor chemicals. According to the research, more coordination between anti-trafficking agencies from different countries is also required.
According to Jonathan P. Caulkins, a professor at Carnegie Mellon University's Heinz College and an expert on the global drug trade, offering Beijing an enormous prize in exchange for cracking down on China-based drug trafficking would be one of the worst mistakes the US could make as it grapples with its opioid crisis and looks urgently for ways to stem the number of deaths.
Given the relative simplicity with which precursor agents for synthetic pharmaceuticals can be created anywhere, nothing about the fentanyl trade, according to Caulkins, is truly unique to China. The drug trade may be crucial to the livelihood of a smaller, destitute country like Bolivia or Afghanistan, but the money that China's pharmaceutical industry earns from the illegal drug traffic is still insignificant in the grand scheme of things.
"The entire economic worth of Chinese fentanyl and precursor exports is probably certainly less than $25 million per year, and possibly closer to $10 million," Caulkins added. "They're only getting a sliver of the pie." Not in China, but further down the supply chain, the majority of the value is created."
"Given that China is the world's second-largest economy and the Chinese pharmaceutical business is massive," he explained, "this is more of a round-off figure for them, a minor activity in terms of dollars and people involved."
Caulkins added that while Beijing may be able to crack down on illegal trafficking more successfully if it so chooses, it is well aware of the severity of the opioid crisis in the United States and the potential for using the crisis to gain leverage and demand concessions in exchange for taking action.
"China recognizes that this is a problem for America, and they are attempting to deceive or trick the US into trading something," he said. "A lot of individuals here think about this issue in ways that aren't based on economics or markets. My greatest fear is that the US would make the disastrous mistake of selling anything diplomatically significant in exchange for China's assistance."
He warned that adopting a Taiwan policy more in line with Beijing's objectives would be a tremendous mistake because the US would be giving up something fundamental.
Furthermore, even if Beijing follows through on its commitment to take harsher measures against opioids, another actor would likely step in to keep fentanyl flowing into American streets, according to Caulkins. As a result, America must devise measures that do not play into Beijing's interests and do not just hand over the trade to new traffickers.
It cannot be stressed enough that our current administration has been intentionally worsening the circumstances on our southern border since Bidense first stepped foot into office. It goes without saying that the fentanyl epidemic is a by product of Biden's intentional lack of initiative on our border. It is possibly one of the baseline responsibilities of being the president of the United States of America to protect our borders from foreign threats. And along comes sleepy joe, more worried about dictatorial COVID-19 legislature than the infiltration of our southern border. But we all know it's a part of his game, compromising red states to gain votes. Biden doesn't like it when you require ID to vote, he believes it's racist. It all comes together, wrapped in a bow; Adding up to the worst display of public policy in American history. Stay inquisitive in the word of God, and the world around you.
December 4, 2023 Recently, it has been reported that 200 Muslim men had the similar dream of Jesus who an underground ministry had been feeding…
Read More
We make every effort to acknowledge sources used in our news articles. In a few cases, the sources were lost due to a technological glitch. If you believe we have not given sufficient credit for your source material, please contact us, and we will be more than happy to link to your article.