Advisory: Be careful of what you read on social media. The algorithms used by these platforms have no regard for Biblical truth. They target your emotions to keep you engaged on their site so their advertisers can drop more ads. These platforms exist to enrich their stockholders. Consider God's promise to Believers in James 1:5, "If any of you lacks wisdom, you should ask God, who gives generously to all without finding fault, and it will be given to you."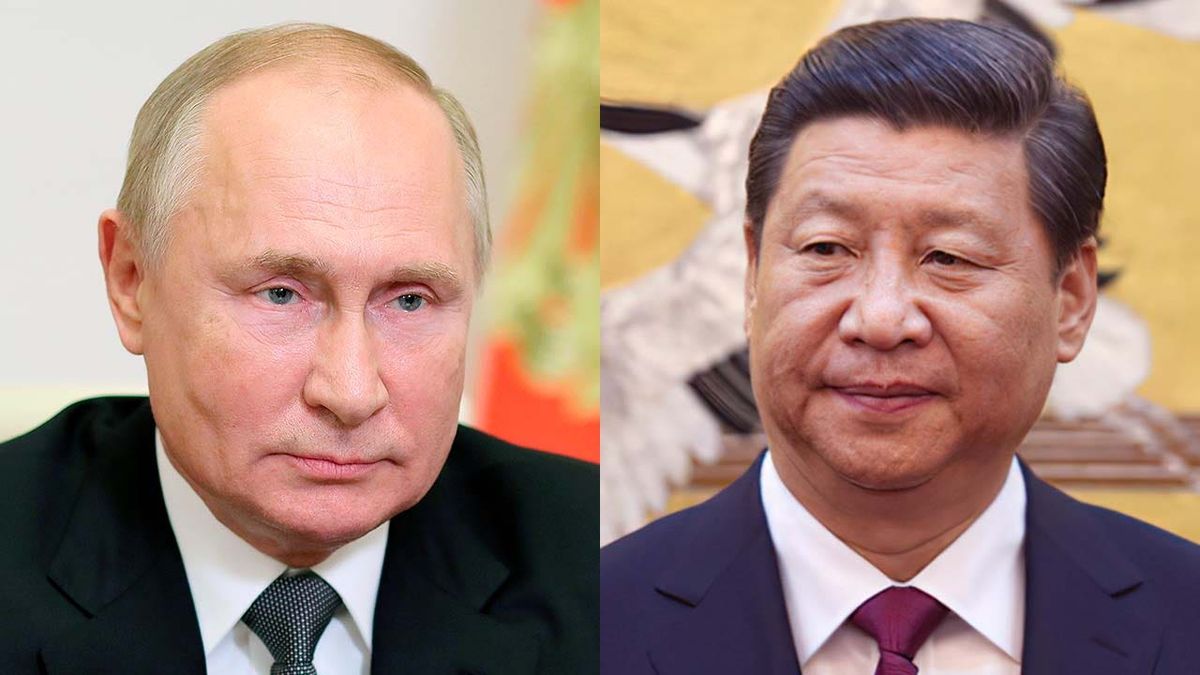 According to one analyst, China and Russia are attempting to disrupt and change the rules of the international system by authoritarian means. They claim that the plan can only be prevented by a concerted effort by democratic states around the world.
"China and Russia are authoritarian states that see themselves constrained, encircled, and threatened by the liberal democracies led by the United States," said Aaron Friedberg, a visiting senior fellow at the German Marshall Fund of the United States.
"They're attempting, both separately and in concert, to change important aspects of the existing international order. They are revisionist powers. The challenge they pose is collective and requires a collective response."
Friedberg made the remarks during a webinar conducted by the German Marshall Fund of the United States on Jan. 19, a think tank that aims to encourage cooperation between North American and European countries.
The remarks come amid growing concerns that Russia would invade Ukraine, as well as widespread concern about China's unparalleled military buildup and possible ambitions to invade Taiwan.
Following Russia's illegal invasion of Crimea in 2014, Friedberg and other academics at the webinar highlighted how the two countries became considerably closer.
Following the annexation, Russia looked to China's economy to help mitigate the effects of Western sanctions, while the Chinese Communist Party  attempted to lessen its own vulnerabilities from the west.
The alliance is rooted in an endeavor to establish resiliency against international system mechanisms by shielding the Russian economy from sanctions while simultaneously supplying Chinese markets with a supply line of food and energy resources that do not require access to sea lanes.
Friedberg claims that China and Russia have been cooperating more closely since 2014, both explicitly and surreptitiously aligning themselves against the larger international order.
He attributed the rising closeness to a number of issues, the most noteworthy of which was a mistrust of the ideals that sustain democratic countries.
"The deepest and perhaps the most important [of these factors], is a shared fear of, and animosity towards, what the Chinese now refer to as the so-called 'universal values' of the liberal democratic West, and the threat that these pose to the legitimacy of the Russian and Chinese regimes," said Friedberg.
Friedberg said that open conflict between the Eurasian nations and the West was averted in part because both countries now require access to Western resources. Fear of losing access has limited Russia's purported intentions for the conquest of Ukraine and China's for Taiwan thus far.
Friedberg stated, "Both China and Russia still require access to Western markets, capital, and technology." "So, they're walking a very thin line. They're pushing hard, but they're trying not to provoke the Western powers into cutting them off."
Friedberg cautioned that such a situation might not persist indefinitely.
The game would be finished if Eurasian markets became further disconnected from the West, or if either regime lost at least some fear of Western retaliation for its conduct.
This is an issue because, according to Friedberg, China and Russia are losing faith in liberal democratic countries' willingness to suffer to punish authoritarian overreach.
"Authoritarian leaders have to become convinced that democratic societies, and the leaders of democratic societies, are willing to do things which not only impose costs on their opponents, but impose costs on their own societies," Friedberg stated. "I'm afraid that they don't believe that as much as I would like them to."
China doesn't have the capability to make complex semiconductor integrated circuit chips, and the rest of the world is keeping that technology from them for the time being, seeing as they're already using technology to enslave people and give them a grade on their existence. The severe economic sanctions that are set to hit Russia in the event of an invasion no doubt include Nord Stream 2. But also the necessities to build out an industry for integrated circuit technology to bolster the 4th industrial revolution. Who knows what Russia will do now, but we know what China has done. If these two team up, they could pose a significant threat in the event of simultaneous invasion of both Taiwan and Ukraine.
Surely, the United States has accounted for such a plan. However inevitably it would slow any western response and weaken a reactionary force. This scenario could unfold rapidly and the results would probably leave western society begging on their knees to be protected by the government. We've seen what happens when people hang on every word that the government says. It creates delusional people who don't think in terms of common sense and natural curiosity. They have yet to question for a second wether these globalist sell outs indeed do have their best interest in mind or not. They've just taken the narrative for what it is without question, it's sad really. Stay inquisitive in the word of God, and the world around you.
Conservative Leader Erin O'Toole has spoken out against Quebec's intention to tax residents who refuse the COVID-19 vaccine, and other Conservative lawmakers have also spoken out against the contentious measure.
During a Facebook Live event on Jan. 13, O'Toole expressed his opposition to Quebec Premier François Legault's idea, calling it unjust and predicted that it will not persuade vaccine-skeptical Quebecers to roll up their sleeves.
He also claimed that Quebec's idea is incompatible with Canada's health-care policy, and that it's simple to "turn a frustrated 85 percent of the population against 10 or 15 other percent of the population," referring to those who are vaccinated and those who refuse to get the shot."
who refuse to be vaccinated Legault announced earlier this week that unvaccinated adults without a medical exemption will face a "significant" financial penalty. On Jan. 13, he announced that a measure will be filed in the province's National Assembly early in February, allowing all political parties to "vote for or against and propose adjustments, if necessary." Official statistics show that 85 percent of Quebecers have gotten at least one dose of the COVID-19 vaccine.
Alberta Premier Jason Kenney, Manitoba Premier Heather Stefanson, and Saskatchewan Premier Scott Moe all ruled out a similar punishment for unvaccinated people of their jurisdictions earlier this week. Dr. Kieran Moore, Ontario's Chief Medical Officer of Health, has stated that he will not recommend a comparable "punitive" fee on the unvaccinated. On Twitter, a number of Conservative MPs slammed Legault's idea.
"Any tax targeting unvaccinated people is discriminatory and wrong. Period." Pierre Poilievre, a member of the Carleton legislature, wrote in a letter.
Melissa Lantsman, a member of Parliament from Thornhill, described the proposal as "legally and ethically wrong."
"The scapegoating of the "unvaccinated" is becoming increasingly common. "This tax will do nothing to keep anyone safe," said Michael Cooper, MP for St. Albert-Edmonton.
Quebec's plan has also been opposed by a number of civil liberties and constitutional rights organizations.
In a statement released on Jan. 12, the Canadian Civil Liberties Association (CCLA) stated that the planned tax on the unvaccinated "raises significant equity concerns."
"We know that some of those who remain unvaccinated are individuals who face serious barriers to accessing health care, and many have a low level of trust in the system because of negative experiences in the past," said Cara Zwibel, the CCLA's acting general counsel.
"This is a divisive measure that will end up punishing and alienating those who may be most in need of public health supports and services."
Mark Strahl, a Conservative MP, praised the CCLA for condemning the "shameful policy," saying that Canada's charter "recognizes human liberty over our bodies and medical decisions."
The Justice Centre for Constitutional Freedoms said on Jan. 13 that it will sue Quebec over the "planned health tax," which it claims violates the Charter of Rights and Freedoms.
"The proposed Quebec 'health tax' is an outrageous breach of Quebecers' Charter rights and an affront to the equality for which Canada was once recognized," says John Carpay, president of the Justice Centre.
On January 12, Prime Minister Justin Trudeau stated that he would need more information about Quebec's plan before deciding whether or not to endorse it. The next day, he stated that the province has indicated that the plan will adhere to the objectives of the Canada Health Act, which ensures that all Canadians have access to health care.
This news comes just after the U.S. government warned its citizens to avoid traveling north of the border due to Canada's rising cases on Jan 11th. To me it just looks like these politicians are trying to keep the public from knowing that there is a particular emptiness around the world that these tyrannical politicians created. Do YOU want to take a trip to Rome or Paris during this plandemic? "While evidence shows that Omicron causes much less severe illnesses due to significantly lower lung infections, the variant's high transmissibility is driving up cases across Canada." Said Andrew Chen, with the Epoch Times. With that being said, why are we locking down? Why? Herd immunity is the most basic solution to the problem and Canada is locking down for a highly transmissible yet less virulent variant? Sure, it's not about government overreach. It's all in the name of public safety. They're creating skeptics, and solidifying our perceptions. Stay inquisitive in the word of God, and the world around you.
The 127 Faith Foundation: We do not solicit donations from "those on disability, on a fixed income, or those who cannot afford to give." Please Pray!
Or, make checks payable to:
The 127 Faith Foundation
PO Box 127
Pontotoc, TX 76869
The number of Orphans aging out of Child Protective Custody has grown at an alarming rate. The 127 Faith Foundation receives many requests each week to house them at our ranch. Our prayer is that the good people of our country will step up to the challenge and offer financial support for "the least among us." We need your help! StevieRay Hansen, Founder, The 127 Faith Foundation
The further a society drifts from the truth, the stronger the delusion will take its place…. It is crucial that every Christian understands that he/she…
Read More
We make every effort to acknowledge sources used in our news articles. In a few cases, the sources were lost due to a technological glitch. If you believe we have not given sufficient credit for your source material, please contact us, and we will be more than happy to link to your article.