Advisory: Be careful of what you read on social media. The algorithms used by these platforms have no regard for Biblical truth. They target your emotions to keep you engaged on their site so their advertisers can drop more ads. These platforms exist to enrich their stockholders. Consider God's promise to Believers in James 1:5, "If any of you lacks wisdom, you should ask God, who gives generously to all without finding fault, and it will be given to you."
Be Trusted- The Truth Will Eventually Come Out …
COVID-19 Is A Man-Made Virus: HIV-Discoverer Says "Could Only Have Been Created In A Lab"
As the mainstream media and politicians begin to raise/admit the possibilities that the source of COVID-19 was likely a lab in Wuhan (accidentally leaked or otherwise) – something we first brought to the world's attention in January before being mocked, censored, and chastised – it appears more actual 'scientists' (at least those not paid by or working for a lab in Wuhan) are willing to admit what we noted all along – this virus is man-made.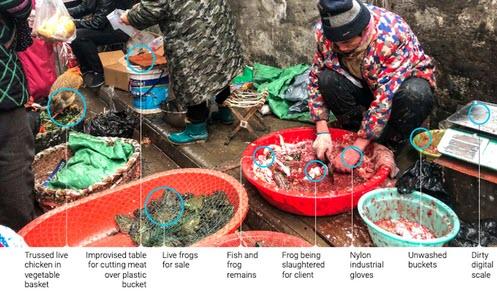 ---
GilmoreHealth.com's Robert Miller writes that contrary to the narrative that is being pushed by the mainstream that the COVID 19 virus was the result of a natural mutation and that it was transmitted to humans from bats via pangolins, Dr. Luc Montagnier the man who discovered the HIV virus back in 1983 disagrees and is saying that the virus was man-made.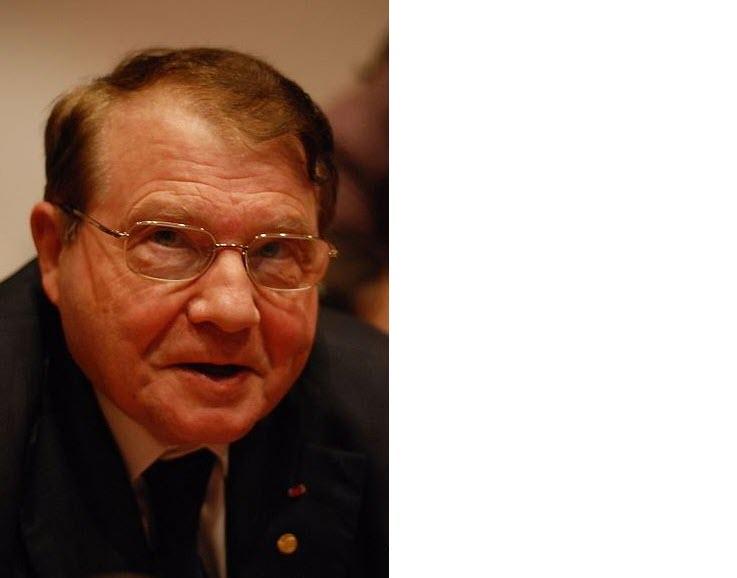 Professor Luc Montagnier, 2008 Nobel Prize winner for Medicine, claims that SARS-CoV-2 is a manipulated virus that was accidentally released from a laboratory in Wuhan, China. Chinese researchers are said to have used coronaviruses in their work to develop an AIDS vaccine. HIV DNA fragments are believed to have been found in the SARS-CoV-2 genome.
We knew that the Chinese version of how the coronavirus emerged was increasingly under attack, but here's a thesis that tells a completely different story about the Covid-19 pandemic, which is already responsible for more than 110,000 deaths worldwide.
According to Professor Luc Montagnier, winner of the Nobel Prize for Medicine in 2008 for "discovering" HIV as the cause of the AIDS epidemic together with Françoise Barré-Sinoussi, the SARS-CoV-2 is a virus that was manipulated and accidentally released from a laboratory in Wuhan, China, in the last quarter of 2019.
According to Professor Montagnier, this laboratory, known for its work on coronaviruses, tried to use one of these viruses as a vector for HIV in the search for an AIDS vaccine!
"With my colleague, bio-mathematician Jean-Claude Perez, we carefully analyzed the description of the genome of this RNA virus," explains Luc Montagnier, interviewed by Dr. Jean-François Lemoine for the daily podcast at Pourquoi Docteur, adding that others have already explored this avenue:
Indian researchers have already tried to publish the results of the analyses that showed that this coronavirus genome contained sequences of another virus, … the HIV virus (AIDS virus), but they were forced to withdraw their findings as the pressure from the mainstream was too great.
In a challenging question, Dr. Jean-François Lemoine inferred that the coronavirus under investigation may have come from a patient who is otherwise infected with HIV.
"No," says Luc Montagnier, "in order to insert an HIV sequence into this genome, molecular tools are needed, and that can only be done in a laboratory."
According to the 2008 Nobel Prize for Medicine, a plausible explanation would be an accident in the Wuhan laboratory. He also added that the purpose of this work was the search for an AIDS vaccine.
The truth will eventually come out
Sources believe the coronavirus outbreak originated in Wuhan lab as part of China's efforts to compete with US
https://fxn.ws/2VwOEGz#FoxNewsSources believe coronavirus outbreak originated in Wuhan lab as part of China's efforts to compete…There is increasing confidence that COVID-19 likely originated in a Wuhan laboratory not as a bioweapon, but as part of China's effort to demonstrate that its efforts to identify and combat viruses…foxnews.com
Coronavirus 'originated in bungling experiments at Wuhan lab'
https://mol.im/a/8223779 via @MailOnlineCoronavirus 'originated in bungling experiments at Wuhan lab'Coronavirus first crossed to humans during experiments with bats at the Wuhan Institute of Virology Lab, multiple sources who have been briefed on intelligence details told Fox News.dailymail.co.uk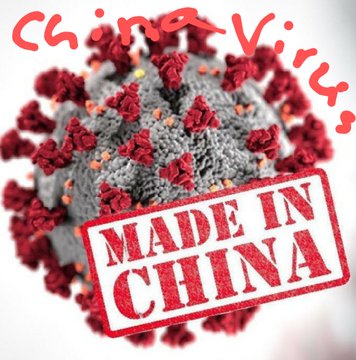 In any case, this thesis, defended by Professor Luc Montagnier, has a positive turn. According to him, the altered elements of this virus are eliminated as it spreads:
"Nature does not accept any molecular tinkering, it will eliminate these unnatural changes and even if nothing is done, things will get better, but unfortunately after many deaths."
Luc Montagnier added that with the help of interfering waves, we could eliminate these sequences and as a result stop the pandemic.
This is enough to feed some heated debates! So much so that Professor Montagnier's statements could also place him in the category of "conspiracy theorists":
"Conspirators are the opposite camp, hiding the truth," he replies, without wanting to accuse anyone, but hoping that the Chinese will admit to what he believes happened in their laboratory.
To entice a confession from the Chinese he used the example of Iran which after taking full responsibility for accidentally hitting a Ukrainian plane was able to earn the respect of the global community. Hopefully, the Chinese will do the right thing he adds.
"In any case, the truth always comes out, it is up to the Chinese government to take responsibility." Source: ZeroHedge HNewsWire
"One Of The Worst Coverups In Human History": MSM Attention Turns To Chinese Biolab Near COVID-19 Ground Zero
In late January we asked whether a prolific Chinese scientist who was experimenting with bat coronavirus at a level-4 bio lab in Wuhan China was responsible for the current outbreak of a virus which is 96% genetically identical – and which saw an explosion in cases at a wet market located just down the street.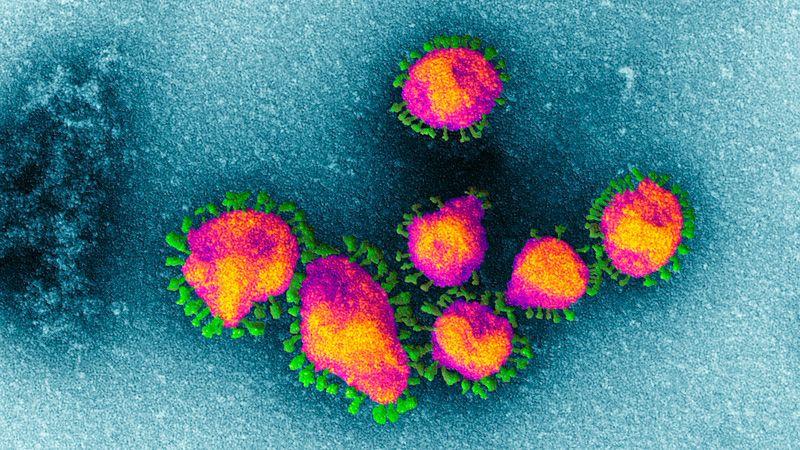 For suggesting this, we were kicked off Twitter and had the pleasure of several articles written by MSM hacks regarding our 'conspiracy theory' – none of which addressed the plethora of hard evidence linked in the post. These are the same people, mind you, who pushed the outlandish and evidence-free Trump-Russia conspiracy theory for years.
Whether or not the virus was engineered (scientists swear it wasn't) – it shouldn't take Perry Mason to conclude that a virulent coronavirus outbreak which started near a bio lab that was experimenting with — coronavirus — bears scrutiny. Could a lab worker have accidentally infected themselves – then gone shopping for meat at the market over several days, during the long, asymptomatic incubation period?
In February, researchers Botao Xial and Lei Xiao published a quickly-retracted paper titled "The possible origins of 2019-nCoV coronavirus" – which speculated that the virus came from the Wuhan bio lab.
Now, mainstream outlets are catching on – or at least have become brave enough to similarly connect the dots.
Earlier this week, Fox News' Tucker Carlson suggested that COVID-19 may have originated in a lab.
And now, the Washington Times is out with a report titled "Chinese researchers isolated deadly bat coronaviruses near Wuhan animal market."
Chinese government researchers isolated more than 2,000 new viruses, including deadly bat coronaviruses, and carried out scientific work on them just three miles from a wild animal market identified as the epicenter of the COVID-19 pandemic.

Several Chinese state media outlets in recent months touted the virus research and lionized in particular a key researcher in Wuhan, Tian Junhua, as a leader in bat virus work.

The coronavirus strain now infecting hundreds of thousands of people globally mutated from bats believed to have infected animals and people at a wild animal market in Wuhan. The exact origin of the virus, however, remains a mystery. –Washington Times
"This is one of the worst cover-ups in human history, and now the world is facing a global pandemic," said Texas GOP Rep. Michael T. McFoul – a ranking member of the House Foreign Affairs Committee. McFaul believes China should be held accountable for the outbreak.
Meanwhile, a video from December funded by the Chinese government shows Tian collecting samples from captured bats and storing them in vials.
"I am not a doctor, but I work to cure and save people," said Tian, adding "I am not a soldier, but I work to safeguard an invisible national defense line."
The mainstream theory behind the virus is that it crossed over to humans after first infecting an intermediary species – such as a pangolin.
Read the rest of the report here. Source: ZeroHedge
In an explosive interview Dr. Francis Boyle, who drafted the Biological Weapons Act has given a detailed statement admitting that the 2019 Wuhan Coronavirus is an offensive Biological Warfare Weapon and that the World Health Organization (WHO) already knows about it.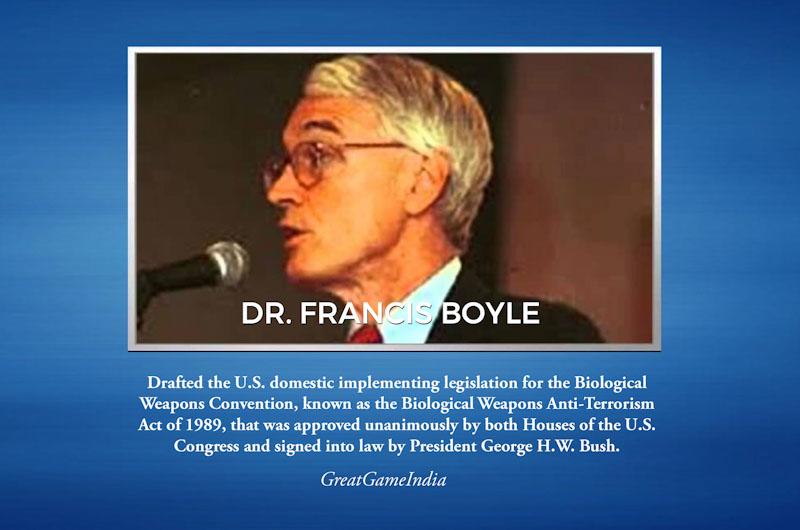 Francis Boyle is a professor of international law at the University of Illinois College of Law. He drafted the U.S. domestic implementing legislation for the Biological Weapons Convention, known as the Biological Weapons Anti-Terrorism Act of 1989, that was approved unanimously by both Houses of the U.S. Congress and signed into law by President George H.W. Bush.
In an exclusive interview given to Geopolitics and Empire, Dr. Boyle discusses the coronavirus outbreak in Wuhan, China and the Biosafety Level 4 laboratory (BSL-4) from which he believes the infectious disease escaped. He believes the virus is potentially lethal and an offensive biological warfare weapon or dual-use biowarfare weapons agent genetically modified with a gain of function properties, which is why the Chinese government originally tried to cover it up and is now taking drastic measures to contain it.
The Wuhan BSL-4 lab is also a specially designated World Health Organization (WHO) research lab and Dr. Boyle contends that the WHO knows full well what is occurring.
Dr. Boyle also touches upon GreatGameIndia's exclusive report Coronavirus Bioweapon – where we reported in detail how Chinese Biowarfare agents working at the Canadian lab in Winnipeg were involved in the smuggling of Coronavirus to Wuhan's lab from where it is believed to have been leaked.
Dr. Boyle's position is in stark contrast to the mainstream media's narrative of the virus being originated from the seafood market, which is increasingly being questioned by many experts.
Recently, American Senator Tom Cotton of Arkansas also dismantled the mainstream media's claim on Thursday that pinned the coronavirus outbreak on a market selling dead and live animals.
In a video accompanying his post, Cotton explained that the Wuhan wet market (which Cotton incorrectly referred to as a seafood market) has been shown by experts to not be the source of the deadly contagion.
Cotton referenced a Lancet study which showed that many of the first cases of the novel coronavirus, including patient zero, had no connection to the wet market — devastatingly undermining mainstream media's claim.
"As one epidemiologist said: 'That virus went into the seafood market before it came out of the seafood market.' We still don't know where it originated," Cotton said.

"I would note that Wuhan also has China's only bio-safety level four super laboratory that works with the world's most deadly pathogens to include, yes, coronavirus."
Asked about the virus while traveling abroad last week, Trump said: "We have it totally under control". In a separate Twitter posting, he offered reassurance but scant detail for his confidence. By Associated Press Updated On: 05:53 PST, Jan 31, 2020
Such concerns have also been raised by J.R. Nyquist, the well-known author of the books "Origins of the Fourth World War" and "The Fool and His Enemy," as well as co-author of "The New Tactics of Global War". In his insightful article, he published secret speeches given to high-level Communist Party cadres by Chinese Defense Minister Gen. Chi Haotian explaining a long-range plan for ensuring a Chinese national renaissance – the catalyst for which would be China's secret plan to weaponiz viruses.
Nyquist gave three different data points for making his case in analyzing Coronavirus. He writes:
Meanwhile, the mainstream media's narrative still maintains that the origin of the 2019 Coronavirus is the Wuhan Seafood Market. After GreatGameIndia published the story on Coronavirus Bioweapon – not only was our database tinkered with and our reports blocked by Facebook on the flimsy reason that they could not find GreatGameIndia Facebook page, but the report itself was viciously attacked by Foreign Policy magazine, PolitiFact (known widely as Facebook's propaganda arm) and BuzzFeedNews.
It is not GreatGameIndia alone which is being viciously attacked. Zero Hedge, a popular alternate media blog was suspended by Twitter for publishing a story related to a study by Indian scientists finding 2019 Wuhan Coronavirus to be not naturally evolved, raising the possibility of it being created in a lab. Shockingly, the study itself came under intense online criticism by Social Media experts resulting in the scientists withdrawing the paper.
In retaliation, India has launched a full-scale investigation against China's Wuhan Institute of Virology. The Indian government has ordered an inquiry into a study conducted in the Northeastern state of Nagaland (close to China) by researchers from the U.S., China, and India on bats and humans carrying antibodies to deadly viruses like Ebola.
The study came under the scanner as two of the 12 researchers belonged to the Wuhan Institute of Virology's Department of Emerging Infectious Diseases, and it was funded by the United States Department of Defense's Defense Threat Reduction Agency (DTRA).
The study, conducted by scientists of the Tata Institute of Fundamental Research, the National Centre for Biological Sciences (NCBS), the Wuhan Institute of Virology, the Uniformed Services University of the Health Sciences in the U.S. and the Duke-National University in Singapore, is now being investigated for how the scientists were allowed to access live samples of bats and bat hunters (humans) without due permissions.
The results of the study were published in October last year in the PLOS Neglected Tropical Diseases journal, originally established by the Bill and Melinda Gates Foundation.
As the author J.R. Nyquist puts it:
We must have an investigation of the outbreak in Wuhan. The Chinese must grant the world total transparency. The truth must come out. If Chinese officials are innocent, they have nothing to hide. If they are guilty, they will refuse to cooperate.

The real concern here is whether the rest of the world has the courage to demand a real and thorough investigation. We need to be fearless in this demand and not allow "economic interests" to play a coy and dishonest game of denial. We need an honest inquiry. We need it now.
StevieRay Hansen
Editor, HNewsWire.com
Demon Virus
Asked about the virus while traveling abroad last week, Trump said: "We have it totally under control". In a separate Twitter posting, he offered reassurance but scant detail for his confidence. By Associated Press Updated On: 05:53 PST, Jan 31, 2020
WASHINGTON: Wuhan coronavirus: Donald Trump says deadly outbreak 'very well under control' as WHO declares a global emergency. President Donald Trump regaled a friendly New Jersey campaign crowd with his thoughts about impeachment, the economy, the border wall, local politics and much more.
But he was conspicuously quiet on January 28 about one big issue keeping much of the globe on pins and needles: the spread of a deadly new type of coronavirus. It has killed more than 170 people in China, sickened thousands more there and led to a handful of confirmed cases in the US, including the first US case of person-to-person transmission reported on by health officials. The State Department on January 30 advised all US citizens against traveling to China.
Trump, a self-described germaphobe, generally has discussed the virus in broad terms, but he offered some of his most extensive comments on the issue to date during an appearance on January 30 at a Michigan manufacturing plant. "Hopefully, it won't be as bad as some people think it could be, but we're working very closely with them (Chinese) and with a lot of other people and a lot of other countries, he said. "We think we have it very well under control."
The Birth Pains Are Growing Stronger….
One of the signs of ruling class collapse is when they can no longer enforce the rules that maintain them as a ruling class. When the Romans started making exceptions to republican governance, it was a matter of time before someone simply decided the rules no longer applied to them. Perhaps the robot historians will consider Obama our Marius or Sulla. Maybe that person is in the near future. Either way, the rule of law is over and what comes next is the rule of men.
"Man will ultimately be governed by God or by tyrants." as in Nancy Pelosi (D-San Fran-feces)
Our government has been overthrown. As evidenced by Trump's capitulation on the border, his recent servitude to the GMO industry and his acquiescence to the warmongers, our President has been compromised. Our liberties are being eliminated one by one. Gun confiscation is next. The Constitution is gasping its last breaths. Our borders are destroyed and our culture has been turned upside down by every perversion known to man.
The watchman does not confuse truth with consensus. The Watchman does not confuse God's word with the word of those who happen to hold power at present, or with the opinion of the majority. This is because powerholders and the majority can fall victim to a lying spirit-and this means a power that actually seizes the majority of experts, the political leadership, and the public.
Everything is right on schedule and, now, the time is come to remove one of the final obstacles standing in the way of a New World Order: The United States Constitution – even if, over the course of many decades, it has already been greatly diminished by the B.E.A.S.T. system; or, more specifically, Bullshit Emerging As Strategic Totalitarianism (B.E.A.S.T.).
They are tolerant of everything except dissenting values and opinions — meaning, of course, they are tolerant of nothing that matters, only themselves."
Let Me Make This Abundantly Clear. (I Am Apolitical) While I Have a General Distaste for Electric Cars and Politicians No Matter the Party They Belong To, I Am Unashamedly Politically a Bible Believing Conservative Christian. I Have a Severe Distrust of Government. I Believe It Is the Most Inefficient and Ineffective Way to Accomplish Most Things. While I Strongly Disagree with Liberals/Progressives and Conservative on Most Political Issues, and While I Believe Liberals/Progressives and Most Politicians Are Misguided and Naive About What Big Government Will Eventually Result In, I Strive to Not Question Their Motives. At the Same Time, I Find Myself in Agreement with Conservative on Some Issues, and I Do Not Believe Electing Republicans Is the Answer to Everything. Sadly, the Main Difference Between Republicans and Democrats Is How Quickly They Want to Drive the Car Towards the Cliff. Put, I Do Not Believe the Government Is the Solution for Everything. I Do Not Place Any Faith, Trust, or Hope in Any Politicians to Fix What Is Wrong with the World. "Come Lord Jesus!" (Revelation 22:20)
The Watchman does not confuse truth with consensus. The watchman does not confuse God's word with the word of those who happen to hold power at present, or with the opinion of the majority. This is because powerholders and the majority can fall victim to a lying spirit-and; this means a power that seizes the majority of experts, the political leadership, and the public.StevieRay Hansen
If you have a news scoop or an interesting story for us, please reach out at [email protected]
Coronavirus, CoronaSinVirus biblical truth, tribulation, antichrist, B.E.A.S.T, tribulation, demon virus, CDC, WHO, end times, Electronic Prison, Birth Pains, MSM, High-Tech & Reddit Engaged in Heavy Censorship of Truthful News Sources, Leftists, President Trump, Project Veritas, revolution, SHTF, Civil War
The Land of the Free doesn't give a rat's-arse how they are perceived anymore.
Isaiah 5:20 ESV  Woe to those who call evil good and good evil, who put darkness for light and light for darkness, who put bitter…
Read More
We make every effort to acknowledge sources used in our news articles. In a few cases, the sources were lost due to a technological glitch. If you believe we have not given sufficient credit for your source material, please contact us, and we will be more than happy to link to your article.