Every time there is an explosion of conflict in the Middle East, many people begin to wonder if the end times are approaching. Some Bible prophecy aficionados claim to find specific passages of Scripture to match virtually every news headline that comes out of the Middle East. The civil war in Syria, rocket attacks from Gaza, ISIS, threats from Iran, McDonald's offering a bacon cheeseburger in Israel (okay, I made the last one up), all resulted in claims that the rapture, tribulation, second coming, etc., are fast approaching. If I could summarize this blog post with one word, it would be: relax!
Don't get me wrong, I do not deny that a conflict in the Middle East could possibly be a precursor to biblical end-times events. At the same time, there has been near ceaseless conflict in the Middle East for the past 3,000 years. Ever since the United Nations reestablished the nation of Israel in 1948, there likely hasn't been even a single year without some sort of conflict or terrorist activity in or near Israel. That is why I tend not to place too much weight on any specific event in the Middle East as a definite sign of the end times.
Jesus declared, "And you will hear of wars and rumors of wars. See that you are not alarmed, for this must take place, but the end is not yet. For nation will rise against nation, and kingdom against kingdom, and there will be famines and earthquakes in various places. All these are but the beginning of the birth pains" (Matthew 24:6-8).
The Communist Chinese government is bragging about its social credit system preventing 2.5 million "discredited entities" from purchasing plane tickets and 90,000 people from buying high-speed train tickets in the month of July alone.
Affiliate Links
Last Days
"China restricted 2.56 million discredited entities from purchasing plane tickets, and 90,000 entities from buying high-speed rail tickets in July," tweeted the Global Times, a Chinese government mouthpiece.
China restricted 2.56 million discredited entities from purchasing plane tickets, and 90,000 entities from buying high-speed rail tickets in July: NDRC #socialcredit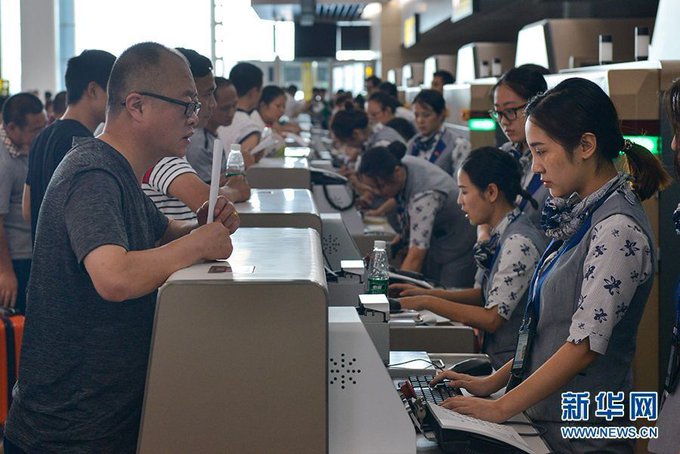 8711:00 PM – Aug 15, 2019Twitter Ads info and privacy80 people are talking about this
As I document in the video below, Chinese citizens are punished by having their social credit score lowered for engaging in a number of different behaviors, including;
– Bad driving.
– Smoking on trains.
– Buying too many video games.
– Buying too much junk food.
– Buying too much alcohol.
– Calling a friend who has a low credit score.
– Having a friend online who has a low credit score.
– Posting "fake news" online.
– Criticizing the government.
– Visiting unauthorized websites.
– Walking your dog without a leash.
– Letting your dog bark too much.
As of November 2018, 6.7 million Chinese people had already been banned from buying air and train tickets. That number now appears to be surging.
While many on the left and in the media decry China's Orwellian social credit score system, they simultaneously advocate for a similar thing in the west, where people are de-platformed and have their right to engage in commerce revoked because of their political views. Source
Affiliate Links
Not a Victim
"Big Tech has already implemented their own "social credit score" system where they punish people for their political views by de-platforming them, censoring their websites and closing their PayPal/bank accounts," writes Chris Menahan.
"On the other hand, media outlets which push propaganda in accordance with the desires of our ruling oligarchs are rewarded by having their content algorithmically artificially boosted and handed millions of dollars."
Imagine going to buy groceries with your credit card, but then having your payment declined because someone in an office in San Francisco thinks you posted something "hateful" on the Internet.
That's our collective future.
Here's a dystopian vision of the future: A real announcement I recorded on the Beijing-Shanghai bullet train. (I've subtitled it so you can watch in silence.)30.7K2:34 AM – Oct 29, 2018Twitter Ads info and privacy19.8K people are talking about this
Affiliate Links
Trending Authors
SUBSCRIBE on YouTube: Paul Joseph Watson
Two passages in the Bible say that "in the last days, scoffers will come." Second Peter 3:3 and Jude 1:18 both explain what that means. A "scoffer" in this context is one who mocks Christ, ridicules the things of God, and opposes the gospel. Both Peter and Jude were writing warnings against false teachers who were intent on leading others astray. The word scoffer refers to one who denies the truths of Scripture and entices others to go along with his error.
Scoffers have been present since the Garden of Eden. Satan's first temptation of man was in the form of scoffing at God's command: "Did God really say—?" (Genesis 3:1). Scoffers dominated Noah's day (Genesis 6:5–8; Hebrews 11:7), leaving God with little choice but to destroy them all and start over with Noah, the only righteous man on earth. Scoffers refuse to believe the word of the Lord and set themselves up as their own gods (2 Chronicles 36:16). The psalmist warns against the digression that leads from casual association with wicked people to sitting "in the seat of scoffers" (Psalm 1:1, ESV), embracing their worldview—and sharing their fate.
Although scoffers have always been a part of this fallen world, Scripture seems to indicate that, as the Day of the Lord draws nearer, the scoffing will increase. Peter describes these scoffers as "following their own evil desires" (2 Peter 3:3) and questioning the second coming of the Lord Jesus (verse 4). Thousands of years have passed since Jesus ascended into heaven, promising to return for His faithful ones (John 14:1–4; Revelation 22:12). Scoffers point out the lapse of time and mock those who still wait and yearn for His appearing (2 Timothy 4:8; 2 Thessalonians 1:7).
The people spreading concrete information on the dangers of globalism are accomplishing far more than those sitting around buying bitcoin or passing around Q-cult nonsense.
StevieRay Hansen
Editor, HNewsWire.com
Birth Pangs
Jesus chastised religious leaders in the first century for not knowing the time of His arrival. Will we make the same mistake today? Christ stated how His second coming would be preceded by global events signifying the end of our age. We may not know the day or the hour, but we can know the season!
"And it shall come to pass afterward, that I will pour out my spirit upon all flesh; and your sons and your daughters shall prophesy, your old men shall dream dreams, your young men shall see visions." (Joel 2:28.)
Education is useless without the bible (Daniel Webster)
"Courage is as "fear that has said its prayers."
John Wesley who said that what we tolerate in our generation, will be embraced by the next. Wesley is 100% correct! We are living in sick times.
Usually, the Lord doth no great thing for or against his people, without giving warning of it before it comes.
They perverted justice among themselves (v. 7): "You turn judgment to wormwood, that is, you make your administrations of justice bitter and nauseous, and highly displeasing both to God and man.'' That fruit has become a weed, a weed in the garden; as nothing is more venerable, nothing more valuable, than justice duly administered, so nothing is more hurtful, nothing more abominable, than designedly doing wrong under color and pretense of doing right. Corruptio optimi est pessima —The best, when corrupted, becomes the worst.
It is impossible to find anyone in the Bible who was a power for God who did not have enemies and was not hated.
2 Corinthians 4:8-11 New King James Version (NKJV)
8 We are hard-pressed on every side, yet not crushed; we are perplexed, but not in despair; 9 persecuted, but not forsaken; struck down, but not destroyed— 10 always carrying about in the body the dying of the Lord Jesus, that the life of Jesus also may be manifested in our body. 11 For we who live are always delivered to death for Jesus' sake, that the life of Jesus also may be manifested in our mortal flesh.