Advisory: Be careful of what you read on social media. The algorithms used by these platforms have no regard for Biblical truth. They target your emotions to keep you engaged on their site so their advertisers can drop more ads. These platforms exist to enrich their stockholders. Consider God's promise to Believers in James 1:5, "If any of you lacks wisdom, you should ask God, who gives generously to all without finding fault, and it will be given to you."
FaceBook blew it on privacy and fake news. Can it do better when it comes to knowing the truth versus a lie. Apparently they're struggling with truth, I posted this article on Facebook this afternoon and immediately got a message that I was in violation of Facebook's hate speech policy. It's obvious Facebook doesn't know right from wrong, they're enabling evil individuals disguised as entertainers(drag queens) pedophiles, homosexuals and other devious individuals to post on Facebook and indoctrinate children, and the misled brain-dead parents that allow their children to be indoctrinated by pure evil, transgender, homosexual devious sexually perverted individuals… That's okay, but let a Christian Post opposition to evil and Fake Book immediately block the article….
Facebooker taking his stand against misandry. Nor is it a boneheaded "enforcement error" caused by one of Facebook's 15,000 human content moderators around the world. The posts get removed because of one of Monika Bickert's well-intentioned, though possibly doomed, policies. Source
Facebook has a 40-page rule book listing all the things that are disallowed on the platform. They're called Community Standards, and they were made public in full for the first time in April 2018. One of them is hate speech, which Facebook defines as an "attack" against a "protected characteristic," such as gender, sexuality, race, or religion. What Facebook is really protecting, people from the truth!~!!~!…
Your post goes against our Community Standards on hate speech
No one else can see your post. We have these standards because we want discussions on Facebook to be respectful.
So being truthful is disrespectful on FaceBook ? really confusing
#trans #pedophiles #lawlessness #schools #children #molested #ACLU#baddoctorHNEWSWIRE.COMMilitant Activists Force LGBT Ideology On Children and Some Parents Agree – www.HNewsWire.com
In a number of different places, the Apostle Paul makes some comments that are so offensive to modern men. Namely, he states that mankind, apart from God's Spirit working in them, is incapable of clear thinking. That doesn't mean that people apart from Christ can't be smart, but it does mean that people apart from Christ are incapable of seeing certain things clearly.
We could argue this point all day. According to the Apostle Paul the reason for this problem is not intellectual superiority but moral deformity caused by sin. In fact, in one place he says that such people "suppress the truth by their wickedness," (Romans 1:18, NIV84). That is, their moral depravity leads them to find intellectual arguments against truth claims.
Transsexualism, also known as transgenderism, Gender Identity Disorder (GID), or gender dysphoria, is a feeling that your biological/genetic/physiological gender does not match the gender you identify with and/or perceive yourself to be. Transsexuals/transgenders often describe themselves as feeling "trapped" in a body that does not match their true gender. They often practice transvestism/transvestitism and may also seek hormone therapy and/or gender reassignment surgery to bring their bodies into conformity with their perceived gender.
The Bible nowhere explicitly mentions transgenderism or describes anyone as having transgender feelings. However, the Bible has plenty to say about human sexuality. Most basic to our understanding of gender is that God created two (and only two) genders: "male and female He created them" (Genesis 1:27). All the modern-day speculation about numerous genders or gender fluidity—or even a gender "continuum" with unlimited genders—is foreign to the Bible.
The closest the Bible comes to mentioning transgenderism is in its condemnations of homosexuality (Romans 1:18–32; 1 Corinthians 6:9–10) and transvestitism (Deuteronomy 22:5). The Greek word often translated "homosexual offenders" or "male prostitutes" in 1 Corinthians 6:9 literally means "effeminate men." So, while the Bible does not directly mention transgenderism, when it mentions other instances of gender "confusion," it clearly and explicitly identifies them as sin.

Queer Role Models for Kids? A self-styled "drag queen" (this is a man) holds a copy of "Princess Boy," a "children's" picture book promoting gender confusion about a boy who "likes to wear his princess tiara," etc. This introduction from the opening page of the "Drag Queen Story Hour" website reads: "Drag Queen Story Hour (DQSH) is just what it sounds like–drag queens reading stories to children in libraries, schools, and bookstores. DQ SH captures the imagination and play of the gender fluidity of childhood and gives kids glamorous, positive, and unabashedly queer role models. In spaces like this, kids are able to see people who defy rigid gender restriction and imagine a world where people can present as they wish, where dress up is real."
In October of last year, a Satanic looking drag queen with horns reading to children at Michelle Obama's public library in Long Beach, California sparked a backlash from Conservatives.
The shocking photo of a man dressed as a female demon with giant horns on his head reading to little children at a public library was posted to Twitter and Facebook by the Long Beach Library but taken down after a huge outpouring of critical replies, including from GOP Congressional candidate Omar Navarro. It also got the approval of the Church of Satan, reported TGP's Kristinn Taylor.
LGBT activists are ramping up efforts to indoctrinate children inside and outside the classroom.
Across the country, initiatives like "Drag Queen Story Hour" — the latest tactic in the broader campaign to "convert" kids to the pro-LGBT worldview — are growing.
Likewise, groups dedicated to normalizing transgenderism through the education system are mushrooming, targeting children with the message that biological sex is changeable; that gender is a social construct instead of a scientific fact.
Under the guise of "education," they indoctrinate, imposing their propaganda on impressionable young minds.
So-called "Gay-Straight Alliances" unite in-school pro-gay activists to promote the LGBT agenda and collaborate with groups like Planned Parenthood to force radical sex education programs on students.
These programs are designed to desensitize students to sex and undermine whatever religious or moral perspective was first planted in them by parents and clergy.
Because they're natural allies, Planned Parenthood and like-minded groups strongly back pro-gay activists and their mutually reinforcing agendas.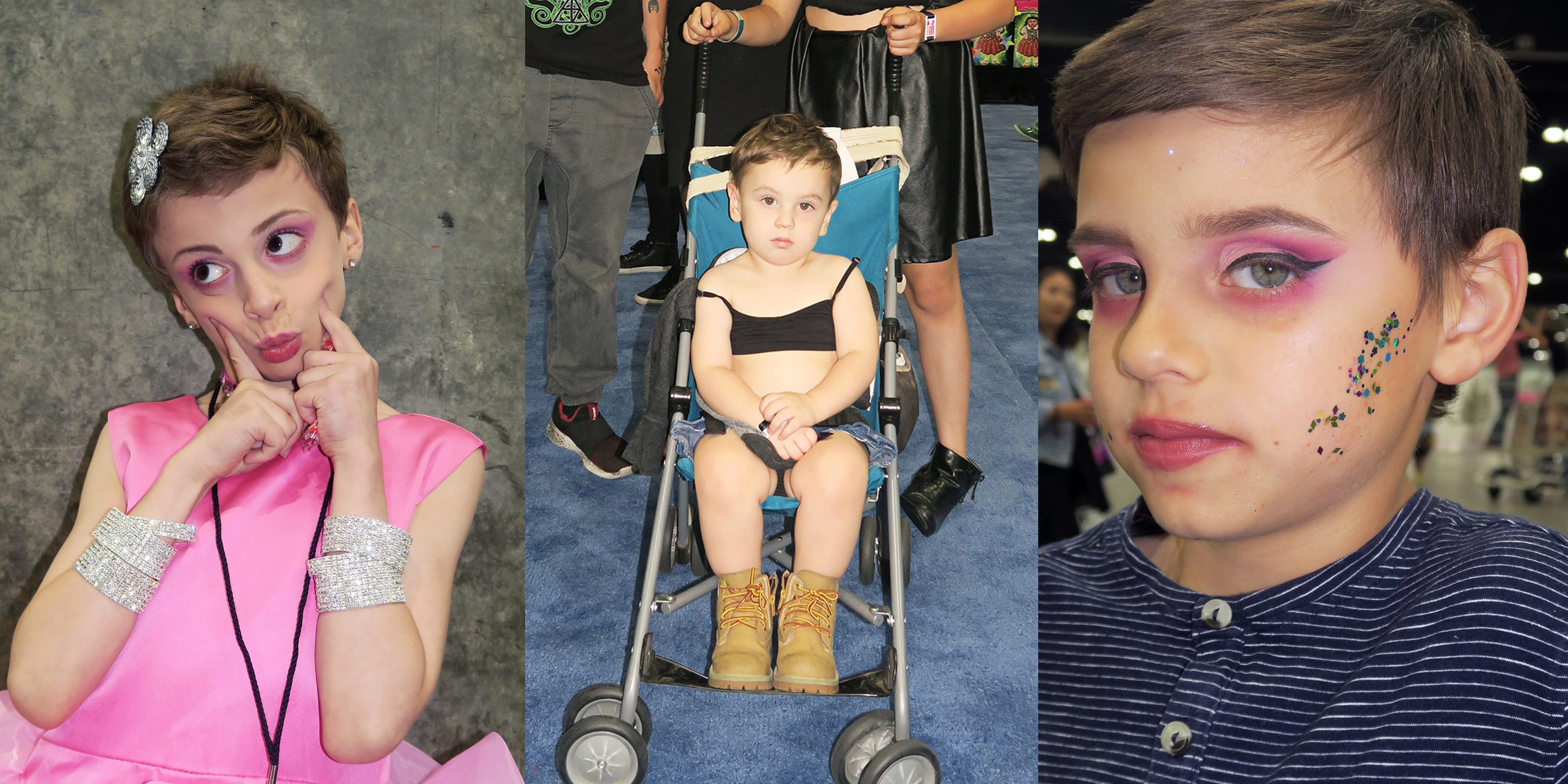 One of the signs that the LGBT movement has successfully moved the Overton Window to an almost unimaginable extent is the phenomenon of "Drag Kids," which features children in heavily sexualized performances in heavily sexualized settings, dressed in drag, dancing provocatively. Some performances have included adult men throwing dollar bills at a 11-year-old boy as he danced—and this young boy first appeared in a drag music video when he was six-years-old.
Despite limited backlash, the growing trend of taking children to Pride and the non-stop smut provided by Netflix, TV, and Hollywood seem to have inured much of the adult population to behavior that would otherwise have been considered unacceptable without questions. Here, for example, is how the Canadian Press covered the "theatrical world of pre-teen drag queens":
TORONTO — The dance music is thumping, the audience is giddy and 10-year-old drag artist Queen Lactatia is sashaying up and down a makeshift catwalk in a shimmering metallic dress. The enthusiastic crowd hoots in approval as the diminutive style phenom weaves between tables at the all-ages brunch event, where the Montreal grade-schooler is followed by three more big-haired pre-teen performers, each in varying degrees of glitter, eyelash extensions and rainbow-hued attire.
The crowd falls silent for a rousing rendition of Lady Gaga's hit "Shallow" by nine-year-old Laddy Gaga, who belts out the ballad with all the pained inflections of the original.
"I kind of feel like no one was prepared for that!" the show's drag host, Miss Fluffy Souffle, decked out in a lilac wig and pink tutu.
"Were you like, 'Oh, this is going to be cute.' Yeah. And then all of our hearts literally exploded," the seasoned Toronto performer declares as Laddy, a.k.a. Stephan Hirst of Spain, wobbles off in chunky heels.
Welcome to the world of drag kids, a burgeoning scene of wig-loving, sequin-covered, pint-sized showboats with all the gender-pushing attitude and sass of their adult counterparts. The over-the-top foursome who recently took over a bookstore/restaurant in Toronto's gay village are the stars of the Canadian documentary film, "Drag Kids," making its debut at the Canadian International Documentary Film Festival.
The film's director, Megan Wennberg, says drag culture has become increasingly mainstream thanks to the reality series "RuPaul's Drag Race" and YouTube videos that are exposing the culture well beyond adult-only bars and balls. She says it's drawing kids who love to dress up and lip sync, and enjoy "being fabulous." But it also taps into a deeper drive for some to define themselves in unconventional ways, even if it might be controversial.
"It's an incredible outlet for self-expression, it's really artistic, it's really creative, it lets them explore different parts of themselves," explains Wennberg, whose film is expected to air on CBC-TV after it completes a festival run. "They've all spoken about getting confidence and feeling powerful and just feeling more out there and more open. And also they're giving a message to others that it's OK to be different."
Criticism can be harsh, she adds, noting that each drag kid has faced bullies, most notably Queen Lactatia, a.k.a. Nemis Melancon-Golden. Arguably the most famous of the bunch, critics have seized on a photo making the rounds online in which Lactatia is seen alongside nearly naked drag star Violet Chachki, a former "Drag Race" winner.
Melancon-Golden and his mother Jessica Melancon dismiss critics' charges that drag is sexualizing the youngster, and explain away the photo by saying Violet was wearing a pubic wig — called a merkin — for an appearance at RuPaul's DragCon NYC in 2017.
"She was in costume; he was in costume. It was a two-minute interaction," says Jessica Melancon, dismissing the notion that nudity is always connected to sex and sexuality…If drag is about pushing boundaries, that means it should also be a welcoming space for kids, adds Bracken Hanke of Vancouver.
The only girl in the group, Hanke says she loves exaggerating female stereotypes as a "hyper Queen" — a female who does drag.
"Drag is super-duper fluid and there's a lot to it, so I think that it shouldn't just be limited to a certain group of people," says the 12-year-old, whose long pink tresses drape down the back of a sheer dress and white body suit. "Drag is an expression that should be for everyone. And also I like to surprise people."
Keep in mind while that this column is not referring to adults. It is referring to children. Specifically, pre-teen children. And if you have any doubt that what they are doing to these kids is heavily sexualized, take a look at the trailer for the new documentary Drag Kids, which is causing much buzz on the film circuit. Viewer discretion is heavily advised:
This is obviously evil, and it is obviously exploitation. Every previous generation would have recognized it as such. In fact, a very short time ago the sensibilities of the vast majority of North Americans would have been outraged and offended by pre-teen children being employed as cross-dressing, sensual dancers in heavily-sexualized atmospheres. Source
But that was then, and this is now. Even if then was only a few years ago.
What about the possibility that those suffering with transgenderism have a brain that functions as one gender while the rest of the body is biologically the other gender? The Bible does not even hint at such a possibility. However, neither does the Bible mention hermaphroditism (a condition in which a person has both male and female sexual organs), which undeniably occurs (although extremely rarely). Further, people can be born with or develop all kinds of different brain defects or malfunctions. How can it be said that it is impossible for a female brain to be in a male body (or vice versa)?
With hermaphroditism as evidence, it cannot be said that if the Bible does not mention something it does not occur. So, it might be possible for a person to be born with a brain wired in such a way that it contributes to gender dysphoria. This could also be an explanation for some instances of homosexuality. However, just because something might have a biological cause does not mean embracing the effects is the right thing to do. Some people are wired with a sexuality on hyper-drive. That does not make it right for them to engage in sexual immorality. It is scientifically proven than some psychopaths/sociopaths have brains with severely weakened impulse-control mechanisms. That does not make it right for them to engage in every deviant behavior that crosses their minds.
No matter if the gender distortion has a genetic, hormonal, physiological, psychological, or spiritual cause, it can be overcome and healed through faith in Christ and continued reliance on the power of the Holy Spirit. Healing can be received, sin can be overcome, and lives can be changed through the salvation that Jesus provides, even if there are biological/physiological factors. The Corinthian believers are an example of such a change: "And that is what some of you were. But you were washed, you were sanctified, you were justified in the name of the Lord Jesus Christ and by the Spirit of our God" (1 Corinthians 6:11). There is hope for everyone, transsexuals, transgenders, those with gender identity disorder, and transvestites included, because of God's forgiveness available in Jesus Christ.
StevieRay Hansen
Editor, HNewsWire.com
MY MISSION IS NOT TO CONVINCE YOU, ONLY TO INFORM…
Evil men don't understand the importance of justice, but those who follow the Lord are much concerned about it. ~ Proverbs 28:5
Jesus come quick, there is nothing left in society that's sacred….
Pharmaceuticals Home Made Pestilence Via Vaccines a.k.a Kill Shots: HNewsWire- Before arriving in San Francisco, the Ruby Princess, a Princess Cruises ship, reported a COVID-19…
Read More
We make every effort to acknowledge sources used in our news articles. In a few cases, the sources were lost due to a technological glitch. If you believe we have not given sufficient credit for your source material, please contact us, and we will be more than happy to link to your article.