the Truth — God and God Alone Controls the Climate…
Update: 12/25/20
Fast-Moving Wildfire Threatens Major Marine Corps Base Near San Diego
A major Marine Corps base in southern California is under emergency evacuation orders as a wildfire has grown out of control and is now encroaching on the area.
Marine base Camp Pendleton, which is home to the 1st Marine Division, Marine Expeditionary Force, infantry training schools and many other key units, is under threat by the Creek Fire.
The fast-moving brush fire resulted in the overnight emergency evacuation of about 7,000 residents. The fire is said to be burning entirely on Camp Pendleton, which given its vast mountainous training areas includes a lot of brush areas.
The fire has scorched some 3,000 acres of the base's about 125,000 total acres. The base lies along the coastline in northwestern San Diego County.
The fire is said to be at least 35% contained as of Thursday morning.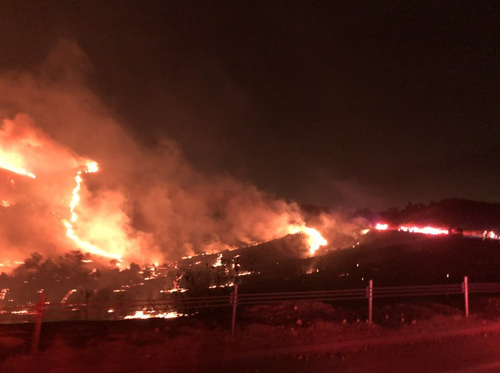 A number of grids on the county map identified by local North County Fire personnel were designated for a mandatory evacuation notice early Thursday.
"We have a lot of populated areas both on and off base, so we're still very concerned," Cal Fire Capt. Thomas Shoots said.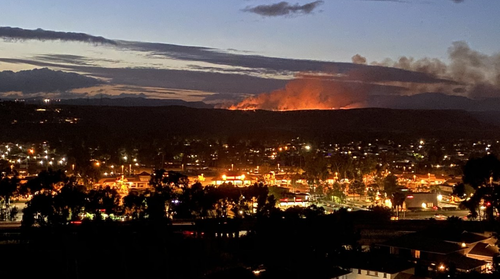 One local news report described conditions as follows: "Crews are battling the fire under critical conditions fueled by Santa Ana winds bringing 30-50 mph wind gusts over the county. A Red Flag Warning has been called for the inland and mountain areas until 12 p.m. Christmas Eve. Gusty winds and low humidity levels between 5 and 15% will create critical fire danger."
High winds are now said to be pushing the blaze further into the base. Source: ZeroHedge
Power Will Be Cut for More Than 466,000 Customers Across 38 Counties, Mainly Situated in Northern and Central California…
The Left, a broad term for Liberal Socialist Democrats that can only be explained fully by using the Bible explanation of the human race is as follows. A servant of Satan, because you are either saved or lost. This election has brought out the true nature of who you serve. Simply put, it's Donald Trump, Conservatives, and Christians against the rest of the world. The Left's Love applies only to those who believe as they do. They Love evil and commit Anarchy against those who love good. They are governed by lies and never tell the truth. On this Friday, Inaugural Day for the swearing-in of Donald Trump as the 45th President of the United States the Left wants to commit widespread Anarchy to shut down the swearing-in ceremony. Their goal of transforming America, which was founded in Judea Christian values into a Pagan Nation is almost complete. Their goal has always been the total removal of God from American society and the downfall of America. Donald Trump says he is a Presbyterian, but he left off the USA, an apostate church
Utility Pacific Gas and Electric's meteorology team warned Friday that one of the strongest offshore wind events of the fire season could arrive in Northern California beginning Sunday. Ahead of the wind event, PG&E may be forced to cut power to hundreds of thousands of customers to avoid trees and branches from blowing into power lines, sparking fires.
PG&E said more than 466,000 customers across 38 counties, mainly situated in Northern and Central California, could risk potential power shutoffs as early as Sunday morning. The outages could disrupt large swaths of the San Francisco Bay area, the Sierra Nevada foothills, the Central Valley, and the Central Coast.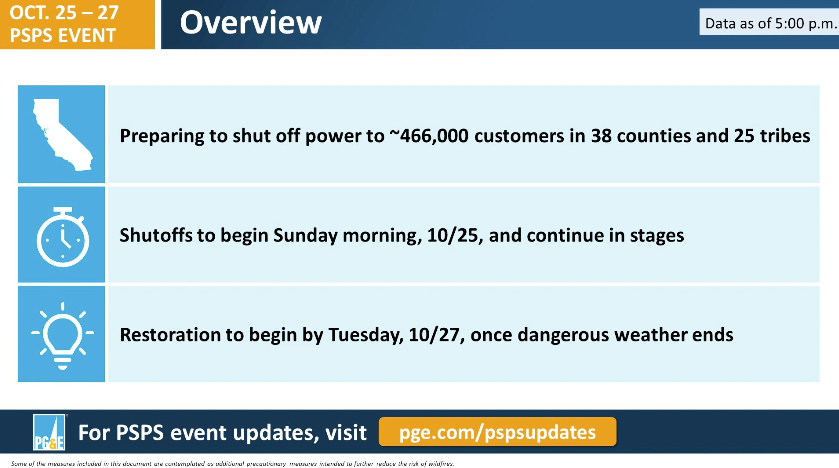 "Extremely dry, windy conditions with high gusts pose an increased risk for damage to the electric system that has the potential to ignite fires in areas with critically dry vegetation," the power company said.
The weather forecast for Sunday shows northerly gust of up to 80 mph and low humidity levels. Wind speeds are expected to stay around 20-30 mph, with temperatures in the low 70s, making it a perfect environment for wildfire conditions. The National Weather Service has issued Red Flag warnings for Northern California through Tuesday.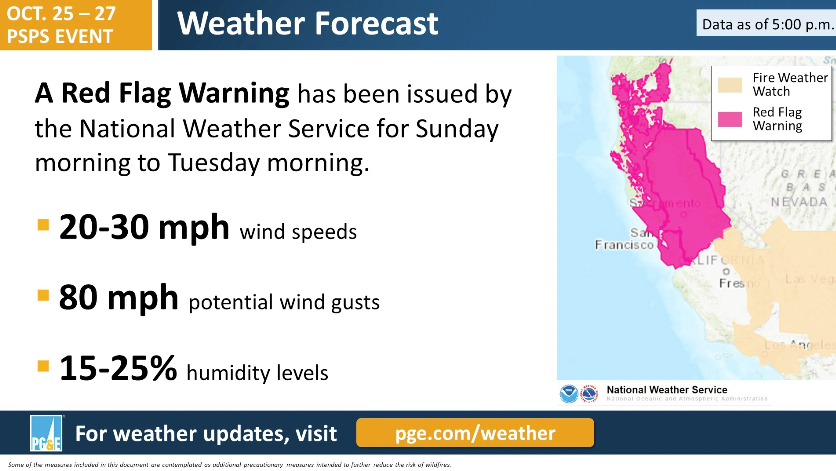 California has faced "extremely high winds, extremely low humidity, extremely dry fuels due to the hottest average temperatures over the last six months, according to records that go back 126 years, and extreme drought across the territory given lack of rainfall," said Scott Strenfel, PG&E's head of meteorology and fire science.
Another round of potential blackouts would be a devastating blow for the state, already battered by extreme weather this fire season, scorching more than 4 million acres so far. PG&E has preemptively cut power four times this season, though the new round of outages could be the largest one yet.
Here are the current wildfires burning in California: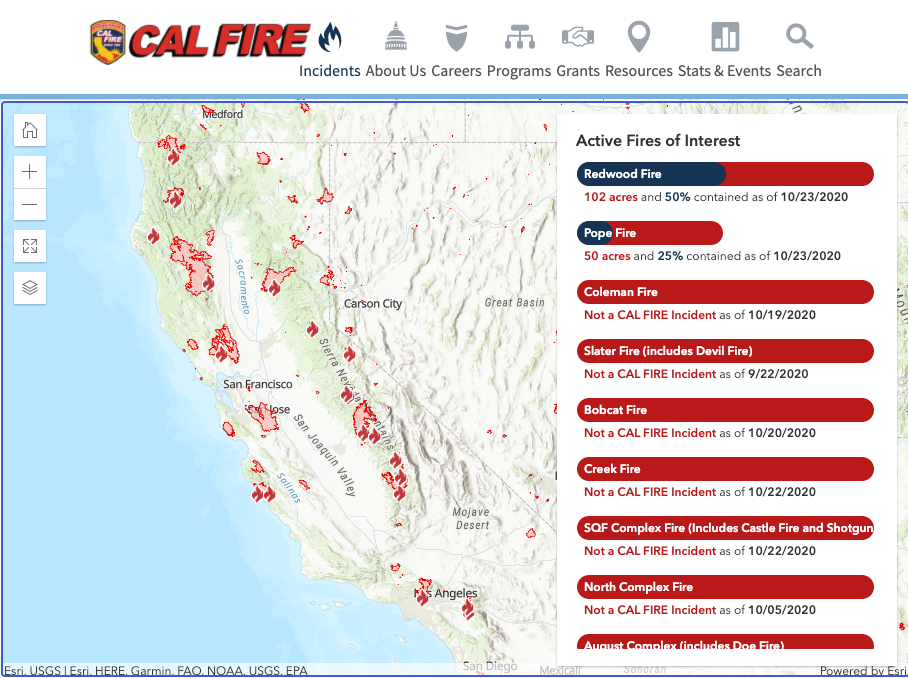 Video: PG&E's Public Broadcast Warning Customers About Potential Outages
Readers may recall La Nina in the Northern Hemisphere has turned the western U.S. into a tinder box.
The Death Angel Is Hovering Over California as Progressives Continue to Mock God and Glorify Evil
We are given a warning: we are not to be deceived, because these events are only the beginning of birth pains…
Over the last few days, a swarm of almost 600 earthquakes has shaken southern California, and a lot of people are becoming extremely concerned about what will happen next. In fact, if you go on Twitter right now you will find a tremendous amount of speculation that "the Big One" could be coming. The experts are trying to calm the general public by assuring them that it is probably not likely that "the Big One" is imminent, but they don't know for sure. Forecasting earthquakes is not like forecasting the weather, and experts will continue to tell us that a major event is not likely until the day when one finally happens.
But what everyone can agree upon is that earthquake swarms cause the probability of a major event to rise. Of course that doesn't mean that there will be a major event associated with this current earthquake swarm, and there may not be a major event if an earthquake swarm occurs next month. But without a doubt what is going on in southern California right now is worth watching.
According to the Los Angeles Times, this current swarm of quakes has been centered "around the town of Westmoreland in Imperial County"…
For years, scientists believed the mighty San Andreas—the 800-mile-long fault running the length of California where the Pacific and North American plates meet—could only rupture in isolated sections.
But a recent study by federal, state and academic researchers showed that much of the fault could unzip all at once, unleashing a rare, singular catastrophe. Now, insurers have used that research to come up with a new analysis of the damage that could be caused by statewide break of the San Andreas.
Transgender Summer Camp for Children as Young as Four, What's Not to Love?….
The ungodly now have their own state, California- much like Amsterdam's open society where children are a commodity and God has been asked to leave.
California conservatives are leaving the state in droves over what the LA Times describes as their "disenchantment with deep-blue California's liberal political culture," not to mention "high taxes, lukewarm support for local law enforcement, and policies they believe have thrown open the doors to illegal immigration."
Matthew 24:5–8 gives us some important clues for discerning the approach of the end times: "Many will come in my name, claiming, 'I am the Christ,' and will deceive many. You will hear of wars and rumors of wars but see to it that you are not alarmed. Such things must happen, but the end is still to come. Nation will rise against nation, and kingdom against kingdom. There will be famines and earthquakes in various places. All these are the beginning of birth pains." An increase in false messiahs, an increase in warfare, and increases in famines, plagues, and natural disasters—these are signs of the end times. In this passage, though, we are given a warning: we are not to be deceived, because these events are only the beginning of birth pains; the end is still to come.
The recent seismic activity in the state of California has taken a strange turn. According to the Los Angeles Times, there have been more than 80,000 earthquakes in the state since July 4th, and most of those quakes were aftershocks of the two very large events that hit the Ridgecrest area early in the month.
"And it shall come to pass afterward, that I will pour out my spirit upon all flesh; and your sons and your daughters shall prophesy, your old men shall dream dreams, your young men shall see visions." (Joel 2:28.)
John Wesley who said that what we tolerate in our generation, will be embraced by the next. Wesley is 100% correct! We are living in sick times.
Usually, the Lord doth no great thing for or against his people, without giving warning of it before it comes.
The World Is In Big Trouble, for Those That Believe We Will Go Back to Some Sense of Normal Life Here on Earth, You Will Be Sadly Disappointed, Seven Years of Hell on Earth Which Began January 1, 2020
"Our courts oppose the righteous, and justice is nowhere to be found. Truth stumbles in the streets, and honesty has been outlawed" (Isa. 59:14, NLT)…We Turned Our Backs On GOD, Now We Have Been Left To Our Own Devices, Enjoy…
While Mainstream Media Continues to Push a False Narrative, Big Tech Has Keep the Truth From Coming out by Shadow Banning Conservatives, Christians, and Like-Minded People, Those Death Attributed to the Coronavirus Is a Result of Those Mentioned, They Truly Are Evil…
Source: HNewsWire ZeroHedge HNewsWire HNewsWire HNewsWire HNewsWire HNewsWire HNewsWire
StevieRay Hansen
Editor, HNewsWire.com
Watchmen does not confuse truth with consensus The Watchmen does not confuse God's word with the word of those in power…
In police-state fashion, Big Tech took the list of accused (including this site), declared all those named guilty and promptly shadow-banned, de-platformed or de-monetized us all without coming clean about how they engineered the crushing of dissent, Now more than ever big Tech has exposed there hand engaging in devious underhanded tactics to make the sinister look saintly, one of Satan's greatest weapons happens to be deceit…
The accumulating death toll from Covid-19 can be seen minute-by-minute on cable news channels. But there's another death toll few seem to care much about: the number of poverty-related deaths being set in motion by deliberately plunging millions of Americans into poverty and despair.
American health care, as we call it today, and for all its high-tech miracles, has evolved into one of the most atrocious rackets the world has ever seen. By racket, I mean an enterprise organized explicitly to make money dishonestly.
All the official reassurances won't be worth a bucket of warm spit. The Globals are behind the CoronaVirus, It Is a Man-Made Bioweapon.
Cuomo to Trump:" He Better Have an Army If He Thinks He's Gonna Walk N.Y Streets, Governors They Are Haters of GOD's Truth–Neighbor Against Neighbor— For I have come to turn 'A man against his father, a daughter against her mother, a daughter-in-law against her mother-in-law. 36 A man's enemies will be the members of his own household.' 37Anyone who loves his father or mother more than Me is not worthy of Me; anyone who loves his son or daughter more than Me is not worthy of Me, Don't Watch a Calendar, Watch For Events, Its Here People, The Great Tribulation–People Against People, as Biblical Prophecy, has Predicted, the Enemy Will Be in One's Own Home, Your Children Will Turn On You, Birth Pains Are Growing Stronger…
The number of Orphans aging out of Child Protective Custody has grown at an alarming rate. The 127 Faith Foundation receives many requests each week to house them at our ranch. Our prayer is that the good people of our country will step up to the challenge and offer financial support for "the least among us." We need your help! StevieRay Hansen, Founder, The 127 Faith Foundation